PHILIPPE EXCOFFIER–A Diplomatic Success in the Kitchen, B-
September 13, 2012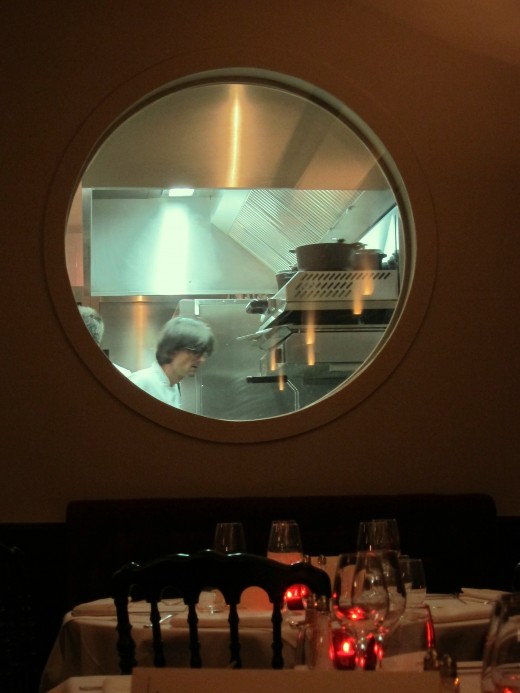 After a first visit to Restaurant Philippe Excoffier, I was underwhelmed by the cooking of the chef who ran the kitchens of the American Embassy in Paris for many years and who recently published a book of recipes of the dishes he cooked there for Dorothy Stapleton, the wife of the man George W. Bush sent to France as his ambassador. That early summer night, the dishes that Bruno and I ate with old friends from Los Angeles left us diffident at best. Charles and Kato were off to Switzerland to see her father early in the morning, though, and the three of us had most recently shared an exceptionally good meal at El Faro in Cadiz a few weeks earlier. So I later wondered if perhaps there wasn't something disjointed about the casting of this evening, which might have been unfair to the chef?
Ever since I almost jumped out of my shoes at the deep intimacy implied between my nationality and the man I consider to be the worst president in American history conveyed by the table loads of silver-framed Bush family photographs I spotted while wandering through the public reception rooms at the U.S. Embassy in Paris during those dark years, I'll admit I've harbored a certain a piori hostility towards anyone who might even have remotely abetted this destructive and wrong-footed presidency. With the distance of several weeks, however, I realized that the prejudice I brought to dinner that night was as unfair as any prejudice always is, since a prejudice is a prejudgment in advance of rational facts or meditated and learned experience.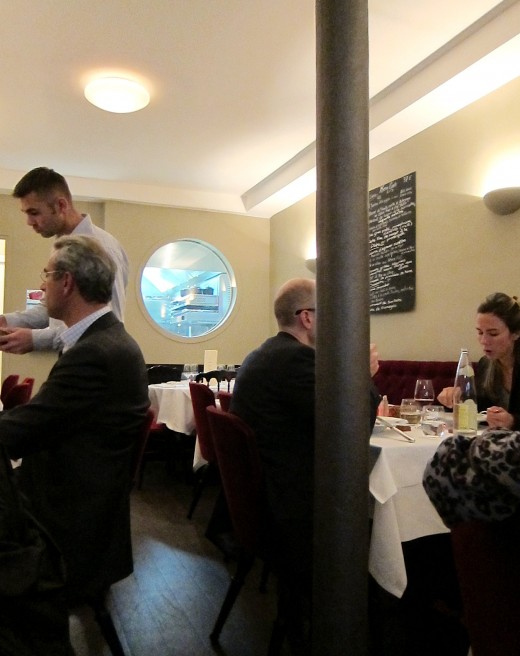 So when a recently divorced friend from Philadelphia whom I hadn't seen in years cast up in town the other night and invited me to join her at this restaurant around the corner from her hotel–Main Line ladies seem to be genetically wired to love the rue Saint Dominique and environs, I accepted with alacrity. To be sure, I had doubted my own first reaction to Excoffier enough to have remained silent about that meal in print, but as more time passed, I was actually a bit embarrassed that I should have so muddled food and politics, and very much felt that this particular chef deserved a fairer assessment than what I might have meted out the first time round.
On the way to dinner, I wondered what condition I might find Cynthia in, since she's a mother of four, and she'd been married for thirty years. Well, I almost didn't recognize the svelte and very young looking blonde at a table by the door as my old pal when I walked in–she'd always been a bit zaftig, so I guess we've swopped rolls, and she was in fine fettle, having just moved into Center City Philadelphia from the suburbs to launch a new handbag business.
I asked her why she'd chosen this restaurant, and she said she wanted something "dressier" and better than a bistro but not too expensive or stuffy, and that this place had been suggested by French friends. As we sipped a glass of Champagne while studying the menu, three little amuse bouche arrived–a delicious red pepper cake, two melon balls and a basil leaf on a tiny wooden spear–very 'embassy,' that; and a miniature canoe filled with very processed eggplant cream, and it occurred to me that her Gallic pals had hit the nail on the head in sending her here, since this place ticked all of the required boxes–nicely lit and decorated room with a long banquette for the ladies, 37 Euro prix-fixe menu and reasonable wine list, and an atmosphere that was formal (a little too much so for my tastes, actually) but relaxed.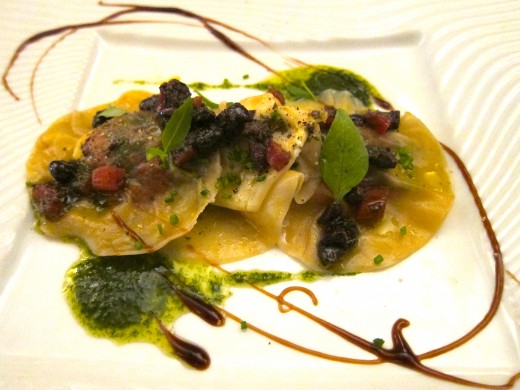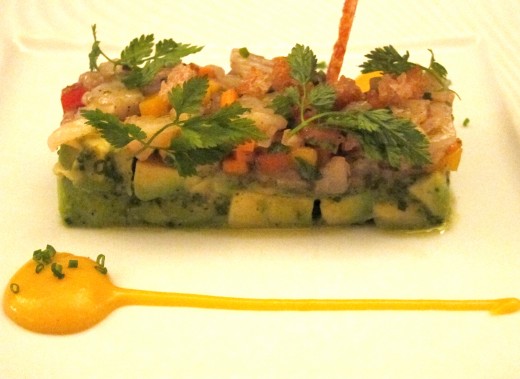 Our zealously well-mannered first courses–there was nary a flavor or a texture in either dish that could possibly have offended or displeased anyone, were beautifully cooked and plated, and I could just imagine them in the light of a silver candelabra on a broad backdrop of embassy damask embroidered with American eagles. I was surprised that my goat-cheese stuffed ravioli were served room temperature, but with a pleasant garnish of rehydrated chopped dried fruit and a persillade, it was great Indian summer eating. My only editing here would be to eliminate the squirt-bottle baroque flourish, because it always reads as both eighties and institutional to my eyes. Cynthia was delighted with her gently lime spritzed sea-bream-and-avocado tartare, too.
"You know what, though–I might have added a little pimenton to this dish," Cynthia paried after our plates were cleared, and I could tell she was wondering if I knew what it was. "But why would you put hair pomade in a fish tartare?" "No! No, it's not a hair pomade, Alec, it's–" "Smoked paprika, and a pinch would have been a nice idea in that dish." "We have some brilliant Spanish restaurants in Philadephia these days, which is how I know about pimenton–isn't it funny, for years and years, anything special in Philly was French, but now we've become completely promiscuous." "Have you?" "No! Oh, no! I'm talking about restaurants."
Our main courses were gorgeous haute bourgeoise dinner party dishes, too. As much as I adore old-fashioned bistro cooking, I've also been missing the type of haute bourgeoise cooking you used to find at restaurants like Le Recamier, Le Mercure Galant, Pierre au Palais Royal and all of those grown-up and worldly restaurants that used to form the middle-aged gut of the Paris food tree. In fact, I think a lot of people miss this cooking, which is why it's quietly coming back and Excoffier's restaurant is likely to become a solid word-of-mouth success over the next few months.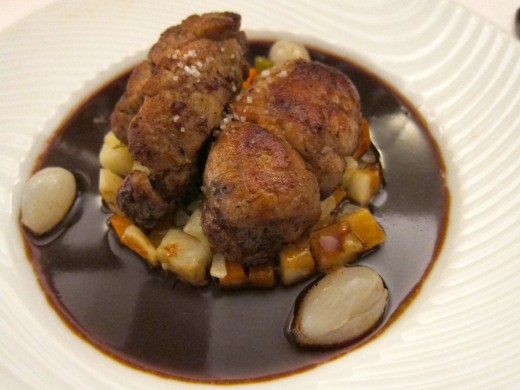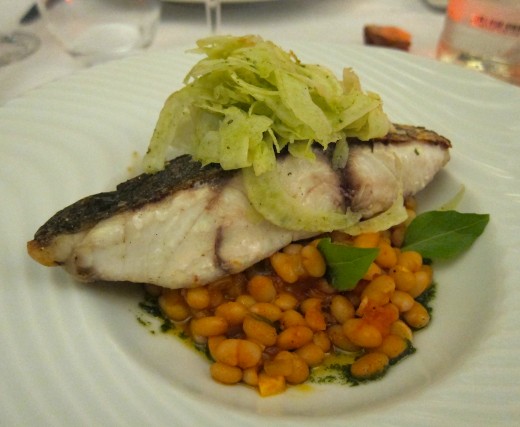 My veal sweetbreads could have been crispier but the pool of Port sauce that surrounded them on their mirepoix island was superb–lush with a distant velvet of Port and politely primal from a base of deeply reduced veal stock, and Cynthia was delighted with a thick slice of pearly wild seabass with cocoa beans and a corsage of finely sliced fennel bulb.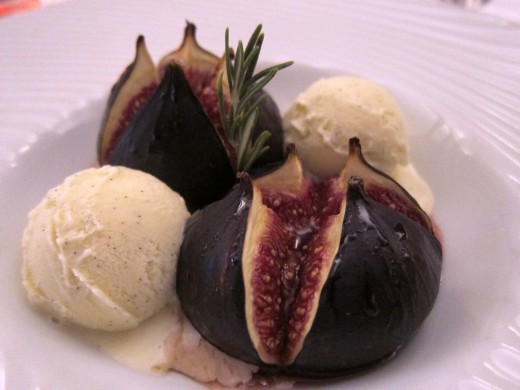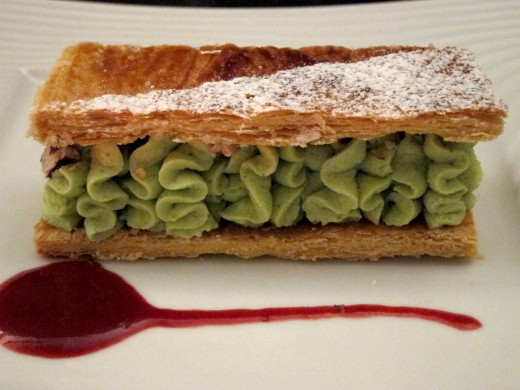 Our desserts–roasted figs for me, a pistachio millefeuille for Cynthia, were charming for being both delicious and so firmly in the firmament of embassy row cum cuisine bourgeoise classics. Cynthia was spot on, too, when she said, "This food reminds me of what you used to get at the old Le Bec Fin," the city of Brotherly Love's long-time temple to Gallic gastronomy, which closed, and then re-opened this past June. According to her, the new Le Bec Fin is very good and doing quite well, which makes me think that people all over the world are hungry again for the kind of black silk stocking cooking that Excoffier serves at his nice little restaurant.
Since I enjoyed 'Last Tango in Paris' a lot more than 'The Sound of Music' (although I liked them both), I don't know that I'd go here often, but I'm very glad that this restaurant exists–it'll be perfect for dinners like the one I had here with Cynthia and also for business dining. Excoffier is a consummate culinary professional, too, and as it turns out from a long chat when he made his rounds at the end of the evening, a really nice guy, so I'll never think of him as a Bush baby again. He's much too good a cook for that.
18 rue de l'Exposition, 7th, Tel.01-45-51-78-08. Metro: Ecole Militaire. Closed Sunday and Monday. Prix-fixe menu 37 Euros, average a la carte 40 Euros. www.philippe-excoffier.fr (on-line reservations on website, too)