RACINES 2–A Dumbed Down Duplicata, C
December 1, 2011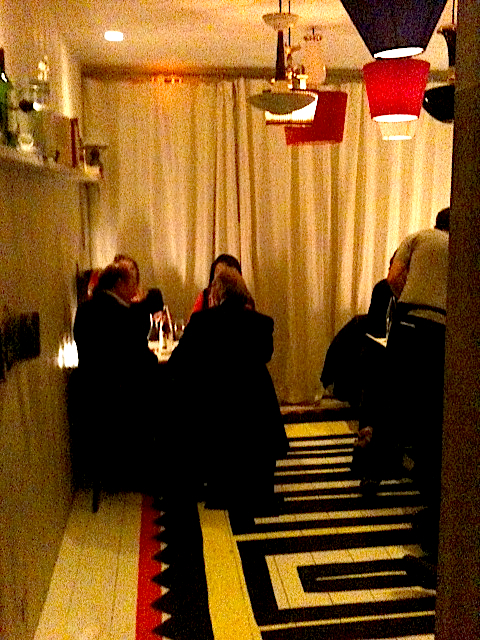 Maybe the most interesting thing about Racines 2, the new branch of the bistrots a vins in the Passage des Panoramas that was instrumental in launching the neo-bistrots a vins (neo-bavins) format is the clientele. Stopping in for dinner with my favorite fellow Connecticut Nutmeg man in Paris the other night, the abundance of leopard-print on ladies of a certain age led me to conclude that Madame Figaro must have recently annointed this trend, there were expensive eye-glasses galore, a distracting amount of pricey cosmetic surgery and that tell-tale sign of the 16th arrondissement, which is car keys–to big 4 x 4 environmental monsters–tossed on the table.
In any event, this dining room and Costes brothers type crowd come off as a sort of flying-saucer landing in the hip little 'hood that was put on the Paris food map by Daniel Rose at Spring and Adeline Grattard at Yam'Tcha. Their compass points, however, are a deep love of good food, a democratic amiability and a passion for old stone, since both chefs painstakingly renovated and exposed the ancient walls that surround them. At Racines 2, in contrast, there's a touch of old stone here and there but the main visual action is the Philippe Starck decor, some of it clever, like the mud-encrusted wicker bee-hive chandeliers but most of it deja vu for anyone who's been to Bon, the original Starck designed restaurant in the 16th arrondissement, or the Royal Monceau Paris Raffles Hotel. One way or another, this restaurant feels very out of place in the rue de l'Arbre Sec, which is one of my favorite little streets in the heart of Paris. Even more alarming than the decor or the crowd, however, was the menu.
For starters, it was short and difficult, because not only was it rather unappealing, it was also very expensive, with a risotto garnished with scallops, cockles and 'truffles'–I asked whether they were white or black and where they came from, which is the obvious prerequisite to deciding if this dish was worth 36 Euros, and to his credit, the nice young waiter went off to find out, told me they were from Burgundy, and I passsed on this dish, and a cote de boeuf both veering towards 40 Euros, a lot of money for a bistrots a vins. So Mr. Nutmeg started with a pastry wrapped package of boudin noir on a bed of salad, and I opted for the 'salade craquante,' which wasn't, of pedigreed vegetables from Annie Bertin.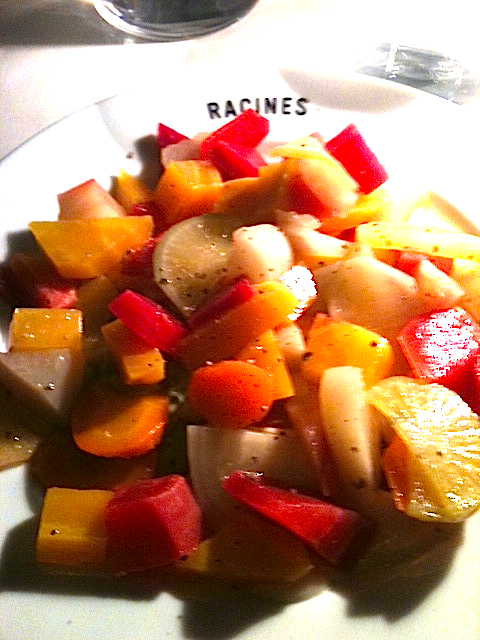 I have great respect for Madame Bertin, who grows organic vegetables on a farm in Brittany, and also for Joel Thiebault, the Yvelines legumes meister, for that matter, but seeing Madame Bertin's name on this menu made it apparent to me that the codes of locavore eating are being co-opted into Louis Vuitton style luxury brand names for conspicuous consumption. This isn't necessarily a bad thing, if it indicates an ever broader public awareness of where our food comes from and also means that the demand for organically raised produce will grow, but in this setting it came off as more of pretext to charge high prices.
And speaking of luxury brand names, the bread here is from Poujaran, which isn't named on the menu, but suffices by being very good. The wine list, in a student's notebook, was a curious little document, too. To their credit, there were lots of pleasant easy-drinking wines in the 20-25 Euro price range, including the very good red Corbieres we glugged down (they also carry a white Corbieres, which is a terrific wine) and also an assortment of foreign wines, a welcome development in a city where they're still too rare, but prices took off like a hot-air balloon from the low end of the scale, with a run of pretty ordinary Beaujolais wines clocking in at around 50 Euros, which is much too expensive for what they offer.
Both Mr. Nutmeg and I ordered the Basque pork belly with vegetables as a main course, and when it arrived at the table, it was a pretty unappealing looking hunk of fatty under-cooked meat without the gorgeous crunchy skin that Bruno Doucet pulls off with the same, or rather, a better version of the same product, around the corner. So we sent it back, and it was rapidly returned gray instead of pink. The side of organic vegetables was pretty much the same as what I'd had as a first course, and the meat was stringy, lacking in flavor and still not cooked correctly, so we both ended up leaving most of it behind.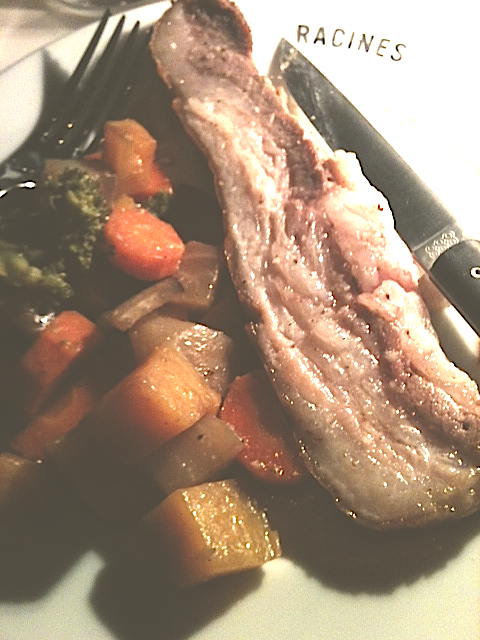 Since we're both cheese boys, we split some cheese to accompany the rest of our wine, and it came as a messy bunch of slices of Morbier and Cantal that had been ill-treated, i.e., the cheese had sweated too much from having been in and out of the fridge, and so had lost its appropriate textures. Since the restaurant was very busy, I wondered if the waiter would remember to bring us more bread, but he did, and in fact, the service here is noticeably cordial and efficient, a further sign that the heinous mode for haughteur in modish restaurants in Paris launched and perfected by the Costes brothers is finally going out on the tide.
Overall, there was something about this place that remind me of Marie Antoinette pretending to be a shepherdess in Versailles. To wit, the idiom of the neo-bistrots a vins had been hijacked for the purposes of aping something simpler and sincerer, or such real neo-bistrots a vins as the wonderful Verre Volee, Vivant, La Cave de l'Insolite or Au Passage.
And perhaps the oddest thing about this pastiche is that the original Racines was both so good and so directional in birthing the neo-bistrots a vins trend. Suffice it to say that if I want to spend 70 Euros on a meal, I can think of a lot of much better places to do so than Racines 2, and if you're curious about the Starck decor, you can take in from the street.
Racines 2, 39 rue de l'Arbre Sec, 1st, Tel. 01-42-60-77-34. Metro Louvre-Rivoli or Pont Neuf. Closed Saturday and Sunday. Average 50 Euros.