THAI REQUIRED: OTH SOMBATH, B+
November 28, 2008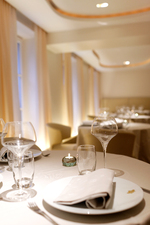 With Paris tucked under a quilt of low gray clouds for most of the next four months, a new Thai restaurants offers a welcome opportunity for a voyage gastronomique without leaving town.
OTH SOMBATH (pictured) is the new Paris address of the talented Thai chef of the same name. I first tasted his cooking a longtime ago when he had just arrived in Paris and was cooking at the Blue Elephant restaurant near the Bastille. Inspite of the fact that the Blue Elephant's main claim to fame was a dramatic mis en scene of an avalanche of air-freighted orchids, tropical greenery and a little foot bridge over a reflecting pool, I immediately noticed that Sombath, from the northern area of Thailand near its border with Laos, was a serious cook. He's also a charming man, so it was no surprise that he went on to build a brilliant career in Paris, which culimated with Le Banyan, his own little table in the 15th arrondissement, before he was tapped to move to Saint Tropez and set up a restaurant at the groovy Hotel Benkirai.
Now Oth is back in Paris, apparently with the backing of Eddy Barclay, and his new duplex restaurant on the rue du Faubourg Saint Honore in the 8th is one of the prettiest new restaurants to open in the city for a very long time. The serene ivory, gold, and saffron look, which seems to have drawn inspiration from sources as diverse as Courreges, NASA and Thai temples, is the work of interior designer Patrick Jouin, who has emerged as the most influential restaurant designer in Paris right now (his last opening, Le Jules Verne at the Eiffel Tower, is also stunning).
I went for dinner with a friend the second week that this place was open, and though service was still a bit unsure and portions were too small, we had a very good meal. In fact I loved his beef tartare with Thai spices, a starter and a dish that perfectly expresses what he's trying to do here, which is offer his own very suave version of a sexy meeting between French and Thai cooking. If his nems (fried spring rolls) were a little soggy, the shrimp in yellow curry were superb, and we both liked the banana nems with coffee ice cream and red wine sauce. Bravo, too, for such a terrific wine list, including the heavenly Willi Brundlmayr Austrian Gruner Veltliner we drank with our meal, a perfect wine to team with Asian food because its mineral spine stands up to all spices.
Unfortunately, however, it isn't likely I'll be eating here again anytime soon, since prices are high enough to nudge this place into the special occasion category, and since I actually like Oth Sombath's food so much, I worry for him in light of the strong head winds that are broad-siding the restaurant business in Paris right now. It might, in fact, be a good idea to offer a "Discovery" prix-fixe menu for the next six months or so to build up a clientele for this place.
184 rue du Faubourg Saint Honore, 8th, 01.42.56.55.55.