ZINC OPERA–Enfin, A Good Modern Brasserie, B
March 2, 2012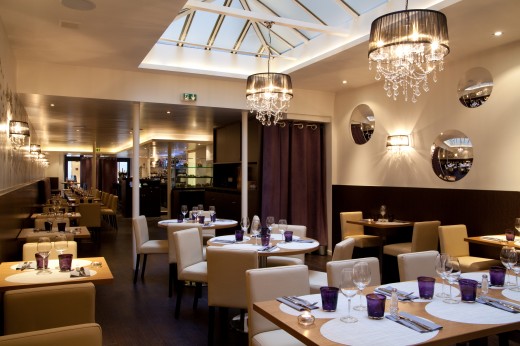 The dininig room at Zinc Opera
Ever since I escaped the suburban patch of New England where I grew up, I've been an avid student of big cities, among them Boston, New York, London and Paris. If everything about the world's great cities fascinates me, one one of the things I find most interesting is to observe they way in which their neighborhoods evolve, which is a process that occurs continuously and often in unexpected ways. Who'd have ever believed, for example, that shabby Fulham where I lived when I was a student in London would become a flower-box bedecked bourgeois neighborhood?
When I first arrived in Paris in 1986, the rise and revival of the Marais was still recent news, and after that the next part of the city to quicken was the neighborhood around the Bastille and beyond, or all of the traditionally working-class precincts of eastern Paris. Most recently, it's been the 10th arrondissement that's reawakened, and now, within the last few months, there's a new pulse in the warren of chopped up little streets behind and adjacent to the magnificent Opera Garnier that was created during the huge and rather heavy-handed 19th century overhaul of Paris by Baron Haussmann.
To be sure, these streets in the heart of the city were hardly sleepy forgotten little lanes. But the zone between the Opera Garnier and the big department stores was a suprisingly awkward and rather lifeless area. Now, though, with the recent opening of an Apple store and the new W hotel, there's serious foot traffic in this little quartier after dark for the first time in decades, and in a similar vein the Avenue de l'Opera is going upmarket as airline offices are replaced by shops like Bodum.
After being pretty much dominated by crummy chain restaurants and decidedly lacklust brasseries for a longtime, new restaurants are opening in the Opera district, too, and one of the better ones is Zinc, which is run by talented chef Frédéric Vardon, who just won a Michelin star at his excellent 39V just off the avenue George V in the 8th. Having already opened two other similar brasseries–one in suburban Gennevilliers and the other Courchevel, Vardon has shrewdly perfected his concept for a new-style French brasserie. What he's come up with is an appealing modern menu of affordable, good-quality contemporary French comfort food that's served in nicely designed settings by amiable well-trained personnel, and this is why I think Zinc just might be the seedling for a chain of restaurants that would be welcome in the busier parts of Paris.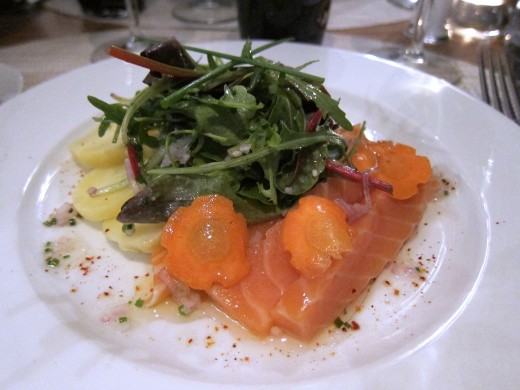 Stopping by for dinner with my gastronomically exigent pal Devreaux the other night, she began with a pleasant vaguely Thai inspired beef salad with fine stripes of tender meat, slivered red and yellow peppers and mango, while I had the marinated salmon with salad, sliced potatoes and horseradish cream. Both dishes were generously served, nicely seasoned and made with good quality produce.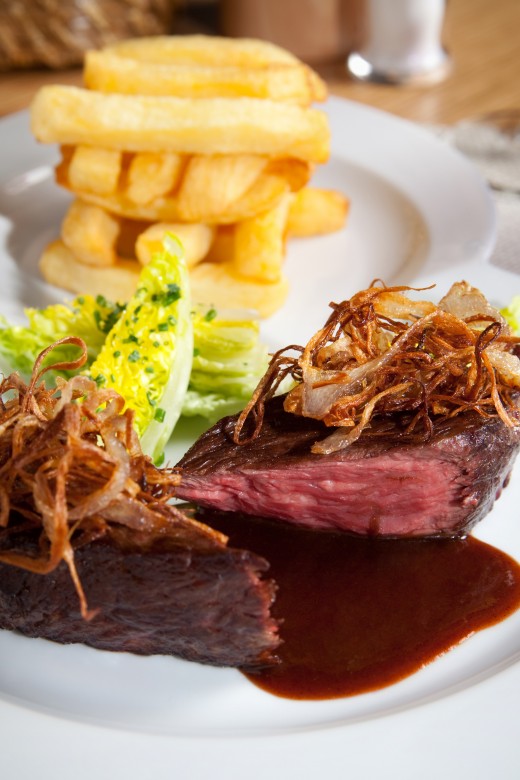 Next up, a juicy Black Angus bavette, one of my favorite cuts of beef, with homemade frites, a lamentable rarity in Paris these days, for me, and a wonderful dish of beautifully roasted gently garlicky free-range chicken with chunky lardons, and baby spinach for Devreaux. "This is delicious," she chimed, and was also very enthusiastic about the reasonably priced and well-selected wines, with 50 cl of Colombo cotes du Rhone coming in at 18 Euros.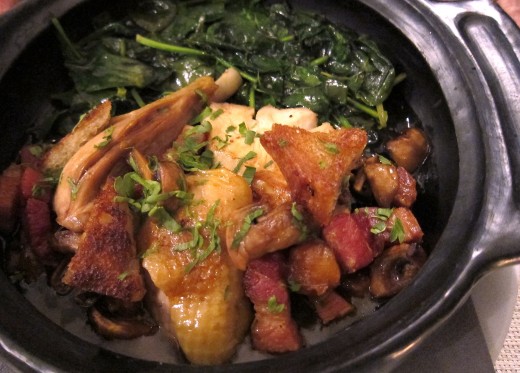 Ground breaking gastronomy isn't what this place is about, of course, but rather good quality affordable casual dining, and as far as I'm concerned, there's never enough of that in Paris these days, especially in expensive high-rent business neighborhoods like the Opera and environs. So this is a useful spot, especially since they'll also be serving three different lunch menus at 28, 23 and 17.50 Euros and offering a changes weekly bill of specials, which will run to interesting dishes like shrimp-and-sea-bream tartare, tomato and red mullet tart, Indian Ocean style tuna fritters and spiced pork ribs with sweet potato puree. Desserts could be a bit more interesting, although we were happy with pain perdu with salted-caramel ice cream and a delicious baked apple with lashing or raw-milk cream, but Frédéric Vardon's new style brasserie concept is solidly good and very clever.
8 rue de Hanovre, 2nd, Tel. 01-42-65-58-95. Metro: Opera or Quatre-Septembre. Open for lunch Monday-Friday, dinner Monday-Saturday. Lunch menus 28, 23 and 17.50 Euros, a la carte 35 Euros.