A Mere, Paris | The Delicious First Flowering of a Young Chef's Talent, B+
September 4, 2015
Most animals hibernate during the winter, but not me. My annual digestive downtime occurs every August during the ten days I spend in a small Catalan beach town. While I don't actually stop eating, I do look forward to the invigorating simplicity of the food I eat there. To wit, after dining in Paris and many other large European cities all year long for professional reasons, it's a pleasure to eat pan tomate, the olive-oil-and-garlic anointed tomato-juice smeared toast beloved of the Catalans, to make a whole meal of nothing but clams steamed in a little oil, garlic, parsley and white wine, and eat no dessert more complicated than melon or the succulent peaches that grow in the hills nearby. Stepping to one side and eating simply isn't only a pleasure, however, but a necessity, because I feel it's incumbent upon me to sit down to any meal I might write about with a real appetite, sincere enthusiasm, and honest curiosity, because cooking is such hard work that it would entirely unfair to present myself at the table otherwise.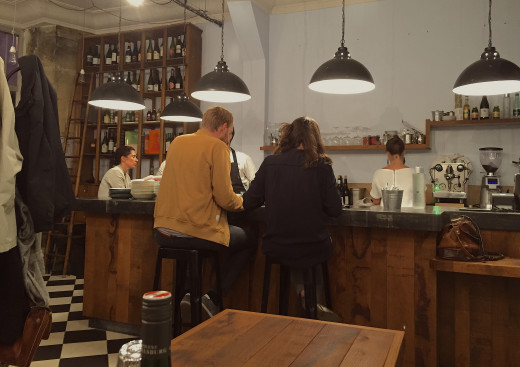 It's always exciting to return to Paris after this much loved annual break, too, since while I'm away my palate eventually begins to crave food that's more creative and complex than what I can find in the beach town, and this is why I was looking forward to dinner at A Mere, a contemporary French table that opened a few weeks ago in the gastronomically blossoming 10th Arrondissement, when I went the other night. Bruno was already drinking a nice glass of Austrian Grüner Veltliner, a preview of the excellent wine list created by Mikaël Grou, a sommelier who had previously worked at Le V at the Hotel George V, when I arrived. "We're back to menu haiku again," he said, pushing the nine-entry menu–three starters, three mains, three desserts–across the bare wood table to me. By this he meant that the dishes were somewhat obliquely described as just a list of three ingredients.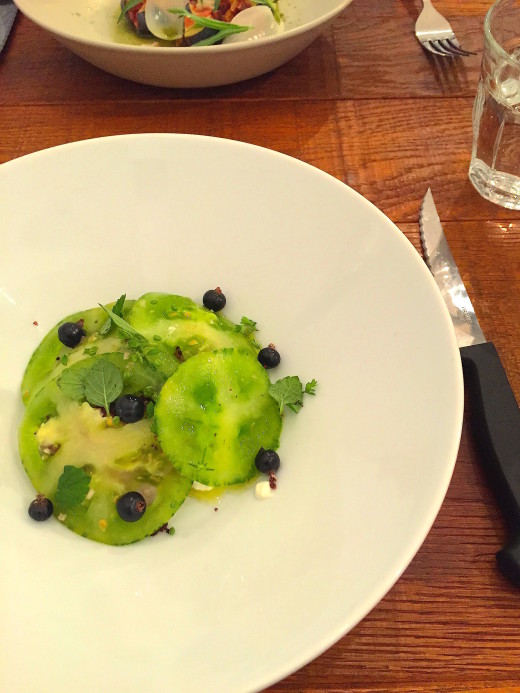 I knew what he meant, which is the rather tedious tendency of many young Paris chefs to mystifying menu minimalism,  but in this instance, I wasn't bothered, because this verbal feint was actually pretty accurate when our first courses arrived. The only important ingredient that hadn't been listed in my starter described as 'Tomatoes Green Zebra, Lieu, Cassis" (Green Zebra tomatoes, yellow pollack, currants) was faiselle, or the softy runny white cheese that provided the lactic base backdrop that allowed the varying tones of acidity in the other ingredients to become so interesting. The variety of texture in this dish made it exciting, too, since the currant skin and seed brought more mouth feel to the raw marinated fish and the pulpy tomatoes. Lemon balm leaves and flowers (Melisse, in French) provided some puckishly pertinent punctuation to this dish, too.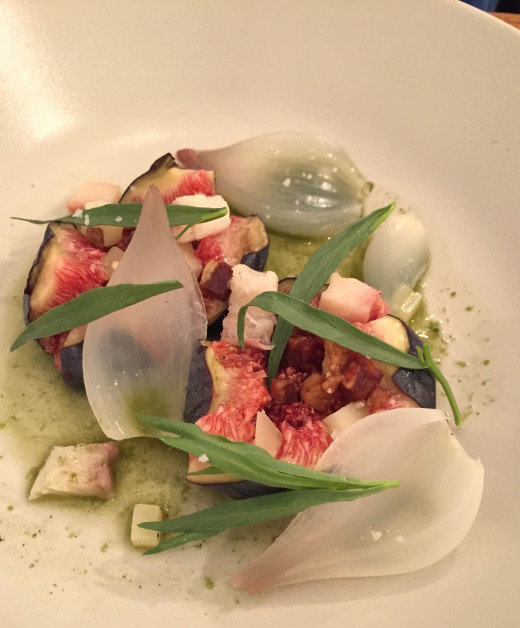 Entitled "Figue, Anguille, Roscoff," (Fig, eel, pink Roscoff onion from Brittany), Bruno's first course was similarly lush from the percusion created by a similarly construed construction of perfectly ripe fig, smoked eel, tiny cubes of Ossau Irate cheese and petals of gently sweet Roscoff onion. Tellingly, though, the waiter was visibly disappointed that we had so ably deciphered 'Roscoff,' without his help. And this made me wonder once again why young chefs attach such a fierce importance to the idea of 'surprise' in their cooking, since ultimately I'd rather be delighted than surprised, and the back-up insistence on surprise often seems more a out of ego than a desire to please ones clients.
Then again, many young Paris chefs actually loathe the idea of trying to please their clients, preferring to believe instead that people come to them on bended knee for magic-show-like manifestations of their brilliance. Sometimes this happens, sometimes the construction resembles the last scene of the "Wizard of Oz" more than it does any revelation in a temple, but one way or another, the two starters cooked by young Brazilian born chef Mauricio Zillo were pretty brilliant and incredibly original despite the fact that he's worked in a suite of famous kitchens, including Paul Bocuse, Santi Santamaria (in Dubai), Arzak, and Rebelot in Milan.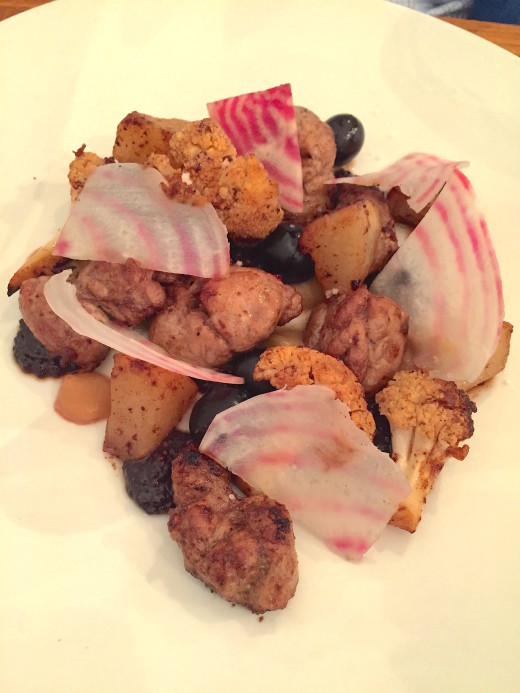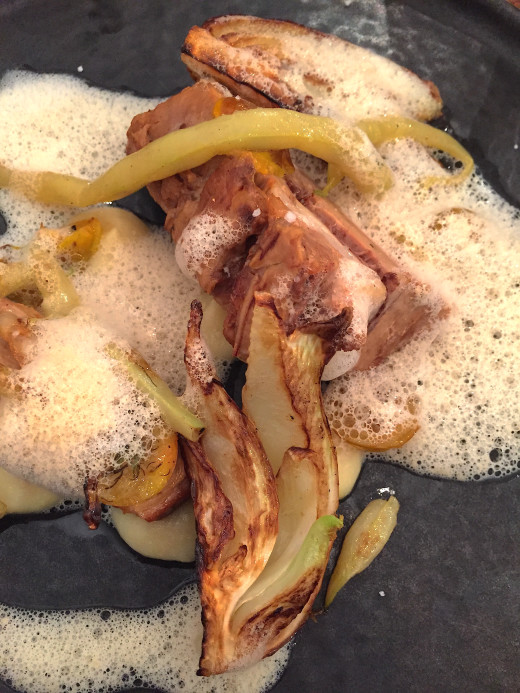 As is very often the case with this thrummingly eager and strivingly creative style of cooking, the main courses were less interesting than the starters. Bruno's dish of lamb sweetbreads with roasted cauliflower, candy beets, rhubarb and muscat grapes was the more successful of the two, since the sweetbreads and the cauliflower flattered each other and the various fruits add acidity and bite respectively. The waiter explained that my veal breast had been "cooked at a very low temperature for a very longtime, which has changed its texture." Perhaps. But not in any toothsome way, since the meat had become rather curiously dried out and compact. Still, it has a nice concentrated flavor that was drawn out by garnishes of grilled baby fennel and beans, but the mirabelle plum foam failed to provide the sweet-and-sour punch that would have given this dish more relief.
None of these flaws detracted from the fact that both dishes were pleasant if not exactly revelatory, and they also offered more insight into Zillo's winsomely turgid culinary imagination, which was quickly back on course with our desserts.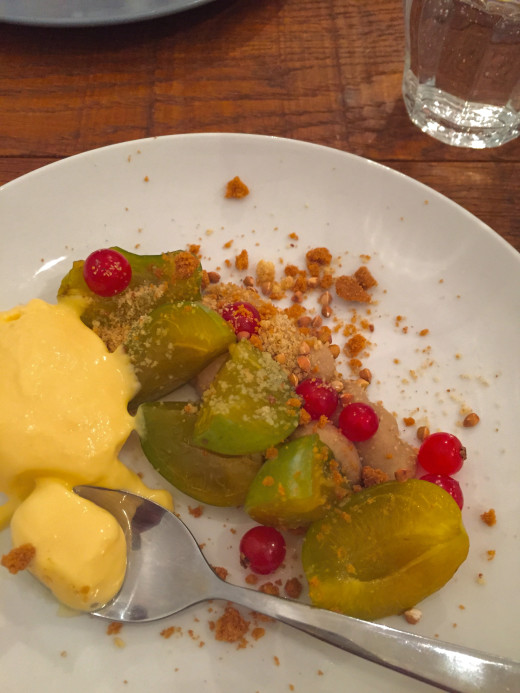 I couldn't resist "Reine Claude, Groseille, Mimolette" (Reine Claude plums from Lorraine, currants, and Mimolette cheese ice cream), because I love all three of these ingredients and they promised such an intriguingly seasonal panoply of tastes. The dish turned out to be a clever but very logical constellation of well-balanced flavors, too, since the sweet stone fruit loved the salt and nutty taste of the cheese in the ice cream.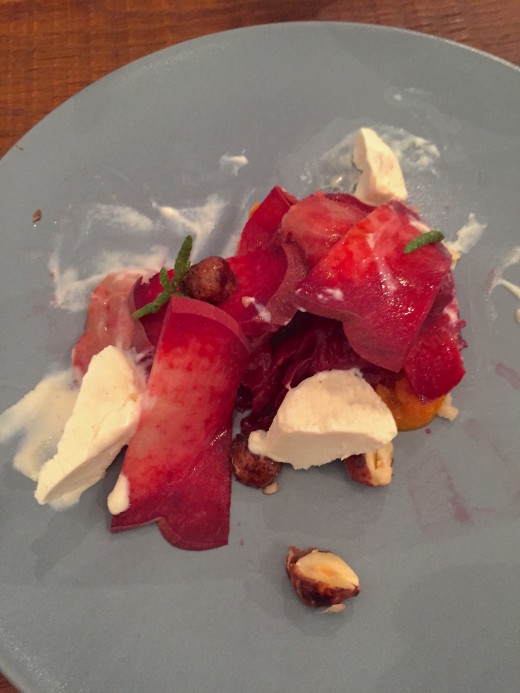 Despite the gorgeous juicy peaches, Bruno's "Peche de vigne, reglisse, noisettes"  (peaches, liquorice, hazelnuts) didn't mull together to produce the same pleasure my dish did. The liquorice was barely present, which was probably just as well, since I can't quite fathom why a perfectly ripened peach would have been flattered by this flavor, and the coffee-seasoned pastry cream seemed pretty extraneous.
All dishes demonstrated that Zillo is a really interesting chef with a wonderful mastery of technique and a nervy new mastery of the scores of taste and texture. I didn't find a signature in his cooking, yet, but I knowing nothing about his mother, I can only assume that the word play in the restaurant's name refers to his evident love of differing tones of bitterness and acidity as his vector of expression. Already a very good chef, he's obviously going to become a serious culinary contender in Paris.
A Mere, 49 rue de l'Échiquier, 10th Arrondissement, Tel. (33) 01-73-20-24-52. Metro: Poissonnière, Bonne Nouvelle, or Château d'Eau, Open Monday to Friday for lunch and dinner. Closed Saturday and Sunday. Average three-course meal 35 Euros. www.amere.fr