La Table de Breizh Café, Cancale | A Culinary Romance Between Brittany and Japan, A-/B+
August 14, 2015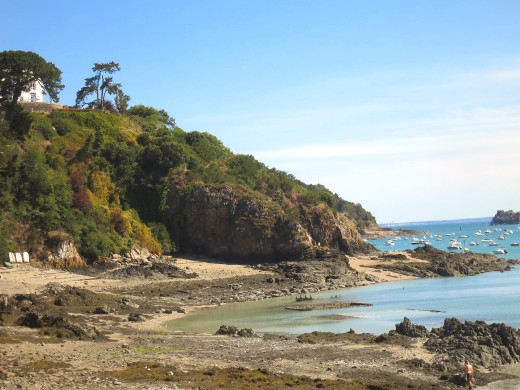 I've been in love with Brittany for nearly thirty years, which isn't surprising, because I grew up in New England. From my very first visit, this friendly delightfully shaggy and craggy green Celtic province of western France that's lapped on its back and belly by the Atlantic Ocean has always struck me as an even better version of my own much loved home turf. Why? Well, the food, among other things.
If I've always loved the tourist Brittany of crepes, oysters, langoustines and homard (lobster) a l'amoricaine, over the course of the decades I've lived in France, Brittany has become one of France's foremost gastronomic regions. Today it rivals, maybe even trumps, parts of Gaul with more established and deeply rooted gastronomic cultures, places like Burgundy and Provence, for example.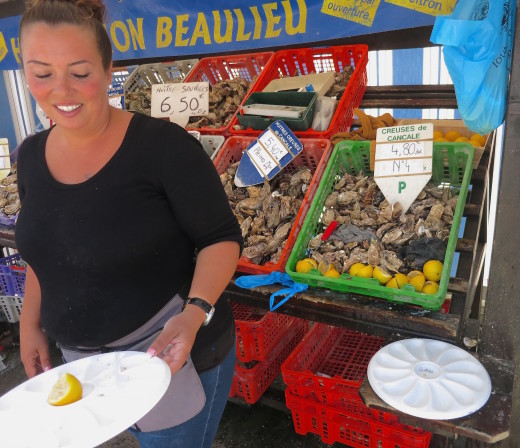 These were the thoughts that were bobbing around in my head as we greedily scarfed down a half dozen wild oysters on the edge of the port of Cancale before heading to a superb Sunday lunch at La Table de Breizh Café on a beautiful recent summer day. Since I first dined here a year and a half a go, Japanese chef Raphaël-Fumio Kudaka's restaurant has become one of my favorite tables, and I was looking forward to having a meal here with Bruno, who loves Breton produce and Japanese cooking as much as I do.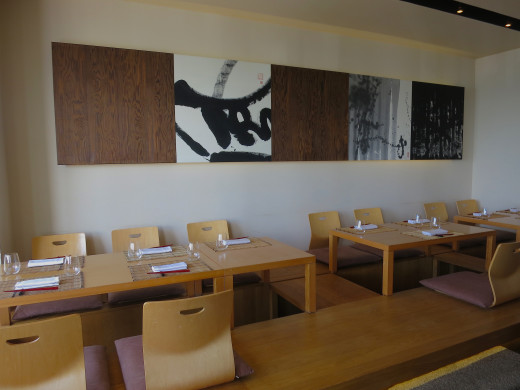 Arriving, we were the first customers of that Sunday lunch service, so we eschewed the Japanese style tables, and opted to sit at the counter where we could watch Kudaka and his team at work and also enjoy the sweeping views and salty breezes of the aquamarine-colored Bay of Mont Saint Michel , which was dotted with exposed oyster parks at low tide.
Since there are only two tasting menus available here on Saturday and Sunday, 75 Euros or 135 Euros, it was easy enough to make a choice. With a train ride back to Paris before us after lunch, and having lavishly well eaten during the previous days, we went with the former, to which we added a tempura course at a supplement. That taken care of, I was able to explain the genesis of this restaurant to Bruno.
After hotel school in Dinard, Breton Bertrand Larcher worked in Switzerland and then moved to Tokyo, where he opened that city's first Breton crêperie in 1996. Eventually he returned to France and opened crêperies in Cancale, Saint-Malo and Paris that rebooted a genre made stale by tourist induced mediocrity by using seriously good quality produce, much of it organic, and making his crêperies into little showcases for the superb foods of his home province. When Larcher met Raphaël-Fumio Kudaka, who had previously worked with Olivier Roellinger in Cancale, they decided to open a restaurant where Kudaka would cook his own very personal Breton-Japanese cuisine.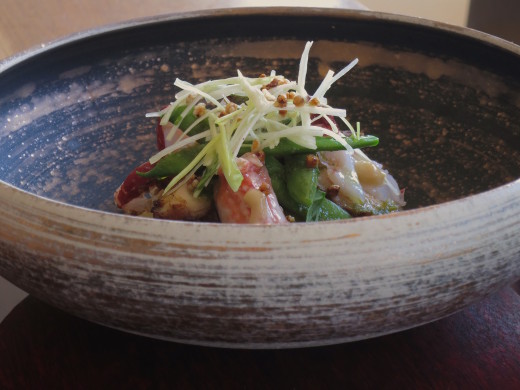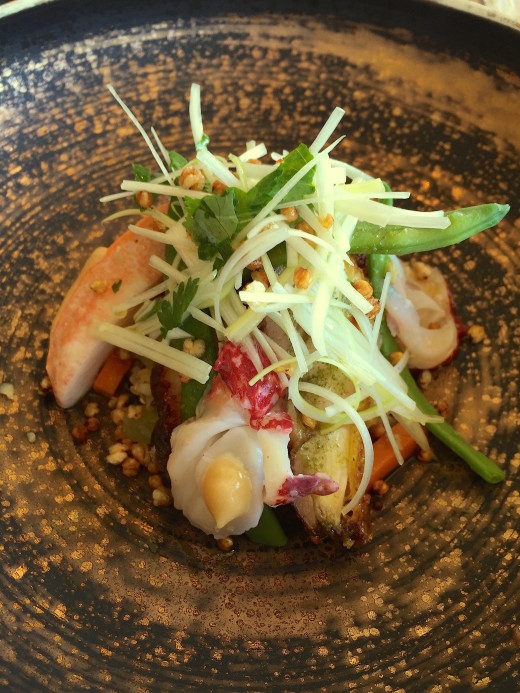 The opening course of the meal was a spectacular composition of grilled chicken and shelled lobster with toasted buckwheat grains and a thatch of cucumber, snow peas, kohlrabi, coriander, ginger and parsley in a miso-spiked vinaigrette anointed this perfect coupling of products from the Armor, the Breton word for "land near the sea," the Argoat, "land of the forest." This is the recurring yin and yang of a meal at La Table de Breizh Café–creating perfect balance in dishes that include both Brittany's superb fish and shellfish and its extraordinary meat, vegetables, fruit and dairy produce, and it's also the defining signature of contemporary Breton cooking across the province.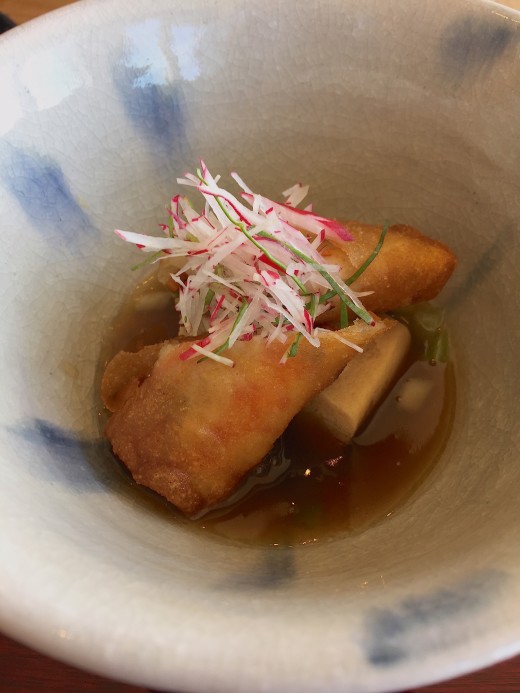 "I couldn't imagine what Breton and Japanese food might have in common," said Bruno, "But now it seems quite logical," as he said as he tucked into a deep-fried scallop roll on a cushion of dried tofu in a deeply reduced lip-smackingly gelatinous sauce of shellfish bouillon. Both kitchens are informed by a great humility, venerate the produce they work with, prize subtlety, layer textures and are aesthetically alert without ever becoming twee.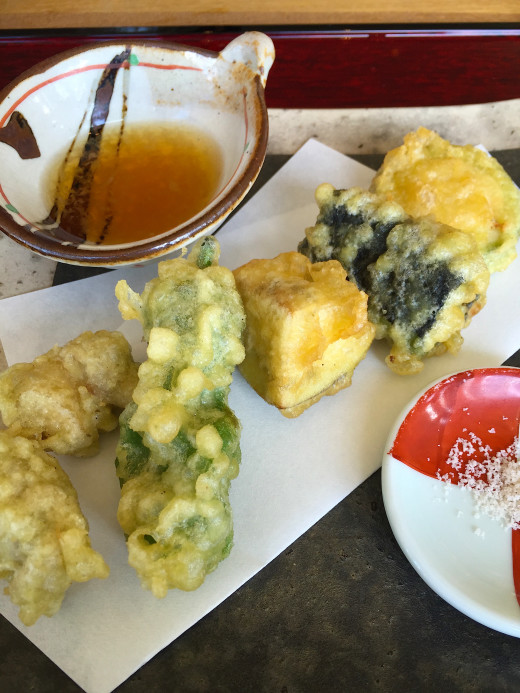 The tempura plate included a slice of creamy Japanese eggplant (aubergine), a jalapeño pepper, a cube of tofu, a slice of shrimp mousse bound in a ribbon of leek, and, best of all, a crispy bon-bon of veal sweetbread wrapped in a shiso leaf; this was a brilliant dish, because the gently mentholated taste of the shiso tempered the rich animal custard without overwhelming its delicate earthiness.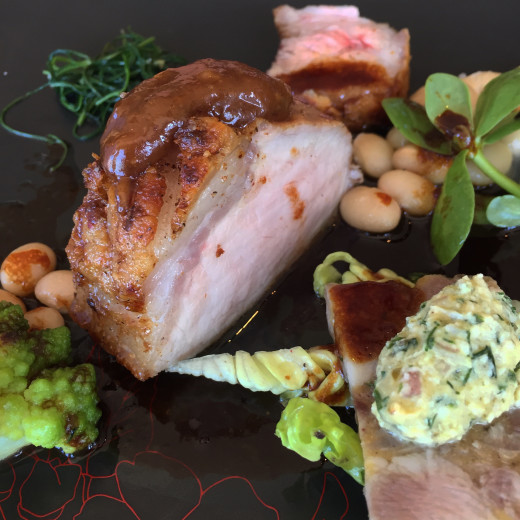 The last dish was the most Breton of the meal and also demonstrated Kudaka's ability to sublimate the region's best produce through his deep knowledge of both French cooking and the Japanese kitchen. The impeccably cooked rack of Breton pork came with a blaze of red miso on its crown of crunchy golden crackling and was garnished with Paimpol beans, romanesco, seaweed, purslane and a slice of excellent head cheese topped with a wasabi-spiked sauce gribiche. What made this composition so deeply satisfying was that it had nothing to do with 'fusion' cooking but reflected an almost painterly understanding of taste, since the umami-rich miso and racing wasabi were such distinctive and quietly exhilarating signatures.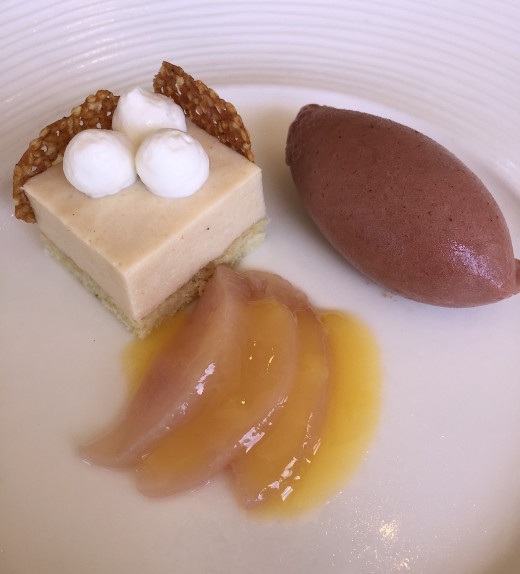 Though the Japanese have an admirable capacity to master the technical skills necessary to become great pastry chefs, the seductive drama that's at the heart of creating great pastry does not figure into their gastronomic geometry as the grand finale of a meal. Instead, Japanese desserts are intended to be as sincere, consoling and innocent as a kiss from your grandmother. And this was exactly the winsome pleasure delivered by a composition of cheesecake like tofu flan, peach and red miso ice cream, and poached white peaches.
Adding to the experience of Kudaka's spectacularly good cooking, service at this restaurant is very Breton, which is to say professional, friendly and good-humored, and there's an excellent wine list–we drank a beautiful 2013 Gauby Vieilles Vignes Blanc with our meal–and a superb selection of sakes.
La Table de Breizh Café, 7 quai Thomas, First floor, Cancale; Closed Tuesday and Wednesday. Lunch menu 38 Euros (Monday to Friday only), Prix-fixe menus 75 Euros, 135 Euros. Tél. (33) 02-99-89-56-46. www.breizhcafe.com