ALBION–Rule Britannia in the 10th, or a Good Bistrots a Vins, B-
December 22, 2011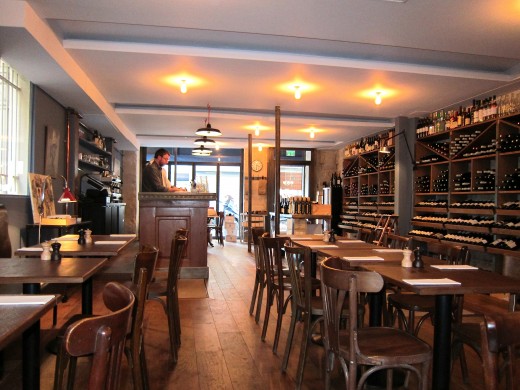 Over the past year, the shaggy heart of the 10th arrondissement–as opposed to the already trendy part along the banks of the Canal Saint Martin, has emerged as one of the more interesting up-and-coming food neighborhoods in central Paris. I love Vivant, Pierre Jancou's beautiful new bistrots a vins here, and also really like L'Office, which has a 9th arrondissement postal code but is really part of this neighborhood, and now just at the year's end, Albion, another sweet little bistrots a vins (bavins) has added more momentum to this really charming–because it's still not completely gentrified, corner of the city.
This relaxed and good-looking new place is the brain child of Hayden Clout et Matt Ong, former bartender and chef respectively at the very popular Fish la Boissonnerie on the rue de Seine in the 6th, and stopping by for lunch the other day, there was a great atmosphere in the room, because so many of the tables were occupied by office parties out for a Christmas lunch. I haven't worked in an office on a daily basis for years, but observing these gatherings from a safe distance, the pleasures and perils of office life came rushing back to me from the days that I worked at New York publisher Harper & Row and my office 'window' opened on to the air shaft that ventilated the kitchens of La Grenouille so that day in and day out I'd eat my nasty little hot dog from Paley Park or slice of pizza while inhaling sumptuous gusts of sauteeing shallots and roasting meat many floors below. Office life had its bright spots–if I got in before my colleague Tony and he wasn't there by 9.15am, I'd fill his coffee mug and leave half of my bagel on his desk as an "I'm here" decoy for our persnickety clock-watching boss, a maiden lady (she actually referred to herself as such) from northern Maine, and low spots. My other neighbor left me pink "While You Were Out" phone messages with the time written in large red numbers and circled, so that same maiden lady would know that I hadn't come back from a rare lunch out at the New York Women's Exchange–grilled cheese or tuna salad and a Martini for $4, and not surprisingly very popular, by 2.30pm on a Friday afternoon.
Ultimately, I wasn't cut from the cloth of office obedience, I mused as I watched a table of ten ladies haggle over who owed what on their lunch bill. As I've mentioned before, I don't often go out to lunch unfortunately because I can't often desert this keyboard, but I hadn't seen my friend Tina since June, and if she could manage lunch after staying up until 3am with her feverish son, so could I.
The brief comfort-food menu here was very appealing, so much so in fact that we dithered for a while before making up our minds. Vichyssoise with oysters sounded good, but not on drisly day, ditto a salad with Roquefort, apples, pancetta and walnuts, and foie gras with a reduction of balsamic vinegar predicted a nap I didn't have time for, so we decided to split an order of fusilli with pancetta, spinach, and mushrooms in a light cream sauce.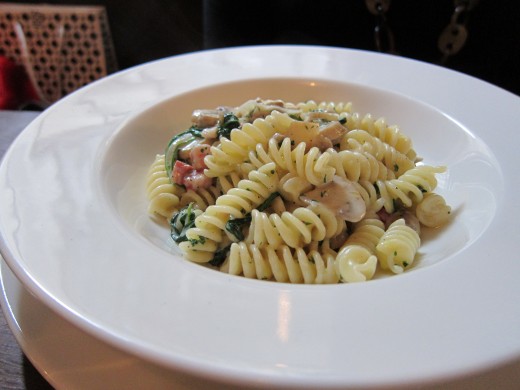 It was delicious and generously served, and the white Coteaux du Giennois Domaine Villargeau that amiable Kiwi Hayden Clout suggested went down a treat with this starter. Next, I went for the roasted pork with carmelized onions and an emulsion of white onions, which pleasantly surprised by being garnished with thick slices of boudin noir, and Tina opted for the grilled duck breast with winter vegetables. Both were delicious, although I found the seasoning a bit timid–maybe a little cumin in the onion emulsion? Some crushed coriander seeds with duck? A little piment d'Espelette for both dishes?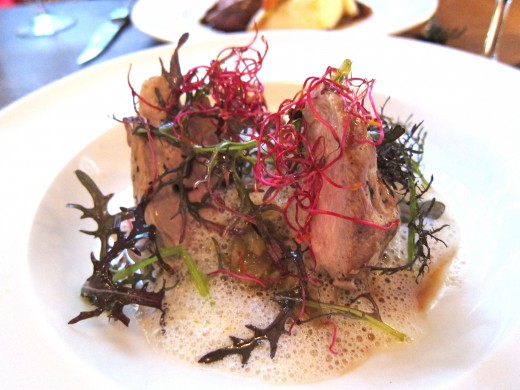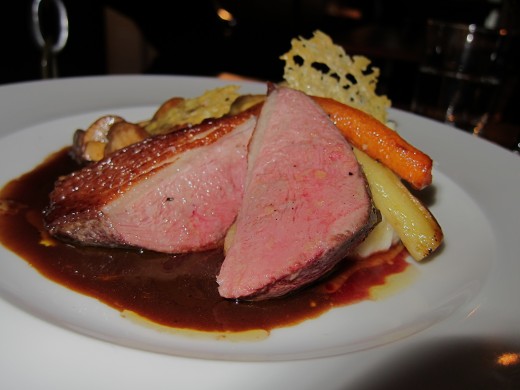 The food was good, though, and it was very pleasant to sit at a large table in this attractive, well-lit room. We both liked the friendly, laidback service, and nice if brief selection of wines. Though we were curious about the lemon posset–a sort Elizabethan pudding, for dessert, we decided to split a cheese plate instead, and the Brillat-Savarin, Roquefort and Etivaz were well-ripened and came with a dab of chutney and a little mesclun.
Ultimately, Albion is an agreable neighborhood restaurant, and would also be a great spot for lunch on your way to or from the Gares du Nord or L'Est, both of which are black holes in terms of their gastronomic offerings; the last time I was hungry at noon near the Gare de l'Est, I had an underwhelming frankfurter at Traiteur Schmid, which, for a place in business since 1904, could and should do much better than what they serve up at a little counter here. Next time round, I leave time for a good lunch at Albion.
80 rue du Faubourg Poissoniere, 10th, Tel. 01-42-46-02-44. Metro: Poissoniere. Closed Sunday and Monday. Average 35 Euros.