LE PETIT CHEVAL DE MANEGE–A Good Neighborhood Bistro, B
December 15, 2011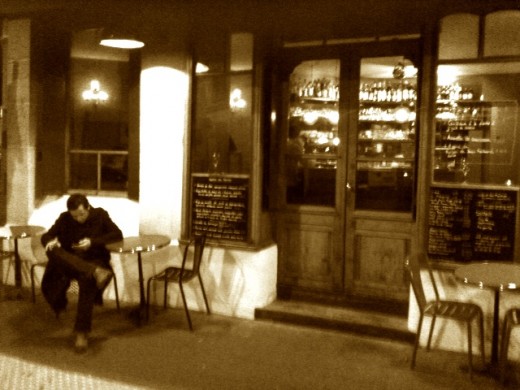 Ghastly though it may have been in some ways–the American political situation comes to mind, 2011 has been a brilliant year for eating well in Paris, and the 11th arrondissement continues to thrive as one of the most reliable incubators of new culinary talent in the city, as the recently opened Le Petit Cheval de Manege so deliciously proves. Alerted to this place by my friend Nadine, who lives nearby, I met her for dinner on a Friday night at the end of a frantically busy week, and as soon as I spotted it, I knew from its warm Edward Hopper like facade that we'd probably have a really good meal, especially since there was some great cheese on display when I came through the front door.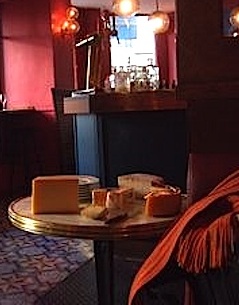 She was already ensconced with a glass of white wine at a table in this pretty dining room with a beautiful Belle Epoque tile floor and ox-blood red walls when I arrived, and an alert and friendly waitress proved the verity of something that talented American-in-Paris chef Braden Perkins of Verjus had said to me earlier in the week. To wit, "Even if you're cooking great food, a restaurant just isn't going to work without good service."
I've known Nadine since both of us worked as editors at Fairchild Publications, she in Milan as their bureau chief, and me in their Paris office, and since we have such a long and deep-rooted friendship, there was a lot of catching up to do before we could even begin to pay any attention to the chalkboard menu. So we did a generally hilarious long first lap of conversation before we zeroed in on dinner.
Ultimately, both of us decided we wanted the same things, which was just fine, since the short menu didn't offer many options, and I wasn't going to bully her into having something different just for the sake of a review I wasn't even sure that I would be writing. So we ordered their last bottle of white Gaillac, a wonderful food wine, and tucked into a surprisingly excellent ceviche of sea bass.
I say surprisingly excellent, because I instinctively doubted the chef here would get this dish right. Too often in Paris, this dish is over seasoned and the fish flacid from having sat in a cold citrus bath for hours before coming to the table. As I learned during a trip to Peru, the best ceviche (shellfish or fish 'cooked' by the acid in freshly squeezed citrus juice) is prepared shortly before being served. Here, though, the exquisitely fresh fish was just tinged with citrus and beautifully garnished with orange segments, pitted black olives, avocado and ribbons of cucumber. Light, vibrant and precisely cooked, it was how I discovered Belgian chef Thierry Xavier's cooking–impressed, I asked our waitress who was in the kitchen, and she explained that Xavier had worked at Lapérouse and Lucas Carton before taking the reins here.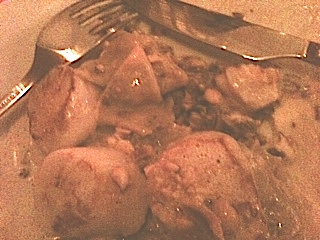 Doubt, it would seem, was to be a theme of this very pleasant meal, since as much as I love scallops, those on offer that night were part of a preparation that included one of my least favorite 'condiments' and true bit of cuinary quackery–'truffle' oil. Since the truffle taste in 'truffle' oil is produced with an artificial flavoring that decomposes into something unpleasantly sweet tasting to my palate when exposed to heat, I kept my fingers crossed that the scallops would survive unscathed as part of a dish that otherwise sounded appealing–a sort of large open ravioli described as 'lasagnette' filled with celery root and hashed mushrooms and garnished with crushed hazelnuts and truffle-oil spiked chicken bouillon. Happily, this dish was truly excellent–four plump grilled scallops perfectly cooked, feather-weight pasta enclosing the duxelles of mushrooms, nice texture added by the crushed hazelnuts and no trace of the dreaded truffle oil. This dish was so good, in fact, that I'd love to offer it up as a retort to the whiners who continue to insist that "you don't eat as well in Paris as you used to." Not true, full stop, since at 16.50 Euros, this was leagues better than most of what you'd come across in a similar low-key neighborhood restaurant in any major North American city.
Nadine and I finished up with a shared plate of very good cheeses, and with two glasses of white wine, and a bottle of same, and no dessert or coffee, this fine feed came in at under 40 Euros, further proof that the real-people gastronomic loam of Paris is offering up better day-in-and-day-out eating than it has in a longtime, since Thierry's food was well-sourced, original and assiduously well-cooked in terms of timing, texture and heat at the table, i.e. politely hot but not so heat-blasted that it continued to cook as you ate it.
Though not in the same league as Chatomat or Le Galopin, to say nothing of Septime, Verjus or Spring, this is a very good restaurant that's great for casual dining and a good place to see just how cosmopolitan contemporary French cooking has become during the last few years.
Le Petit Cheval de Manege, 5 rue Froment, 11th, Tel. 09-82-37-18-52. Metro: Bréguet – Sabin or Chemin Vert. Closed Saturday lunch and Monday dinner. Average 40 Euros.