AU BON ACCUEIL–A Crowd-Pleaser in the 7th, B
August 23, 2011
When it first opened some twenty years ago, Au Bon Accueil became a huge hit as a precursor of what is today known in Paris as 'La Bistronomie,' or market-driven contemporary French bistro cooking. I wrote it up for a long-gone but still lamented travel magazine called European Travel & Life, which was one of the best travel magazines ever to come out of the United States, and we went often for inventive and delicious dishes that came with generous garnishes of what were then a great novelty–fresh, carefully cooked vegetables. As seems to be the inevitable evolution of any popular restaurant in the French capital, this place eventually found its way into most of the world's major English-language guidebooks, raised its prices and became difficult to snag a table at without booking a longtime in advance, so I drifted away.
On a rare night this summer in Paris when it was possible to sit outside, I was racking my brains for a place that would be open in August, serve outside, have good food and not be too expensive. So I thought of this place, was surprised that they were open, and went off to meet a friend from London for dinner.
Jenny was sitting inside with a rather waspish expression on her face when I arrived, and listening to the crowd, I instantly knew why. The dining room was almost exclusively American. "This place certainly doesn't seem or sound like Paris," she huffed, and I ignored her and studied the menu, which looked appealing. To be sure, the couple next to us were bickering and oddly dressed, but America's a huge country, and they could as easily have been from Belfort as Memphis. And does a prevalence of American diners necessarily mean that a restaurant won't be good? I don't think so, and especially not in this case, because these people had all cared enough about where they were eating to have done some research, albeit in the same half-dozen major guidebooks.
Fortunately, we were able to move to a sidewalk table before our first courses arrived, and so avoid a conversation about my nationality that might have set both of our nerves on edge. Yes, some Americans can be very loud, but on the other hand, the elegant single man sitting next to us in a well-cut blazer and a saffron-colored linen shirt spoke perfect French in a moderated tone of voice and turned out to be from Philadelphia's Main Line. "I'd never have guessed that he was American," Jenny said, and I again insisted on the fact that my fellow Yanks come in multitudinous variety.
"What a lovely view of the Eiffel Tower," she observed, happily closing this subject, and we concentrated on our first courses–decent enough but unremarkable foie gras for her and a very good millefeuille of finely sliced apples, crabmeat, baby artichokes and herbs for me. Though the restaurant is still owned by Jacques Lacipière, the kitchen team is now Alexandre and Alexandra Elia, who worked at Le Bristol and La Table de Joel Robuchon respectively before they came here.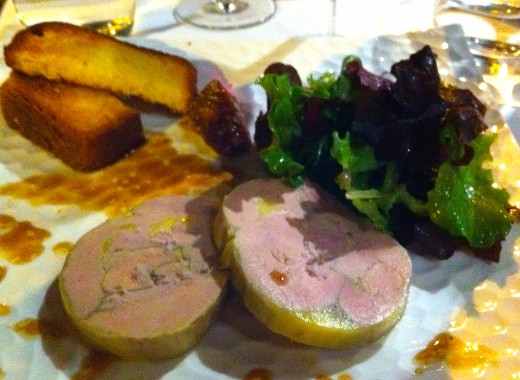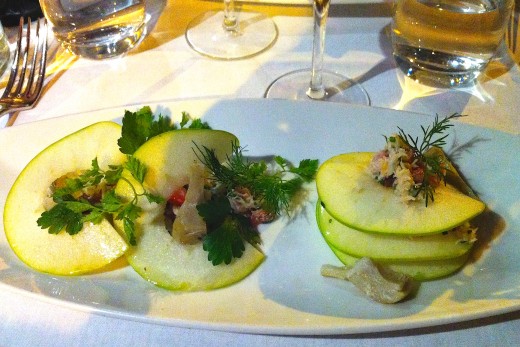 "The food's good, but the portions are rather dainty for these prices," Jenny observed, and she was right. We could have ordered the 32 Euro prix-fixe, but not fancying what was on offer there, we went a la carte, and the foie gras was a hefty 24 Euros, the millefeuille 22 Euros. In between courses, Jenny fired up a Marlboro Light and I dreaded the inevitable, which came quickly enough when an American lady sitting behind us came to inform her that smoking is dangerous for her health. Of course it's dangerous for her health, but she knows that, and I can't quite understand why it's become such common practice for Americans to police the public tobacco usage of total strangers when her smoke was not even remotely curling in their direction. It's almost as though some Yanks just can't wait to pull the trigger on the entitlement to criticize that our societal loathing for tobacco has given them.
Main courses were also very good, if served in rather stingy portions, but the dazzling precision and freshness of the original Au Bon Accueil has gone missing–if you want to find out what the food here used to be like, try a more recent modern French bistro like Septime. To their credit, they haven't succumbed to the temptation to cut corners in the face of their heavily touristed clientele, though, and service was prompt and cordial despite the fact that it must be a strain to serve an almost exclusively Anglophone crowd all night long. Jenny's roast lamb (38 Euros) was cooked rare and came with a lovely garnish of baby vegetables and 'salicorne,' a Breton seaweed that teams brilliantly with lamb, and my veal sweetbreads (36 Euros) were accompanied by coco beans and tiny girolles mushrooms in a very nicely made jus de veau. From a short Bordeaux heavy wine list that carries mostly bottles from Joel Robuchon's left-bank wine shop, we drank a decent Cotes du Bourg that was overpriced at 40 Euros.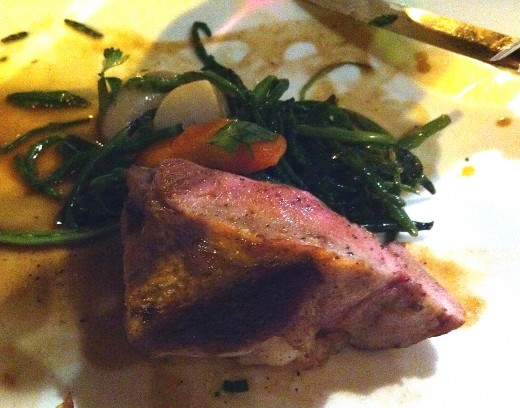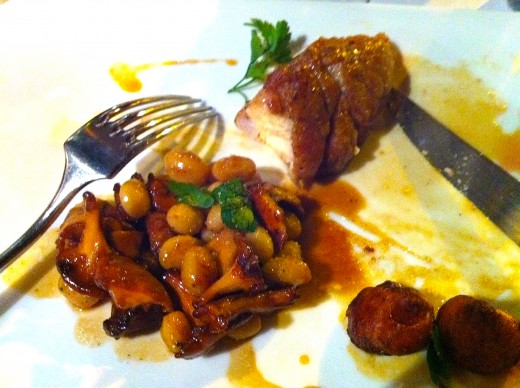 Desserts–a mirabelle millefeuille and rhubarb crumble, continued the gastronomic theme of this meal, which was cooking that was polite, competent and overpriced. Au Bon Accueil is no longer a destination restaurant, but if the 7th arrondissement is your turf, it's a good choice for well-prepared contemporary cooking with the side attraction of an encyclopedic display of American tourists who actually care a lot about good food.
14 rue Monttessuy, 7th, Tel. 01-47-05-46-11. Métro: Alma- Marceau. Open Monday to Friday 12-2.30pm and 7-10:30pm. Saturday dinner only. Prix-fixe menu 32 Euros, a la carte 75 Euros.