CAL PINXO, SITGES–The Disdain in Spain Falls Mainly on the Plain, C-/D+
August 31, 2011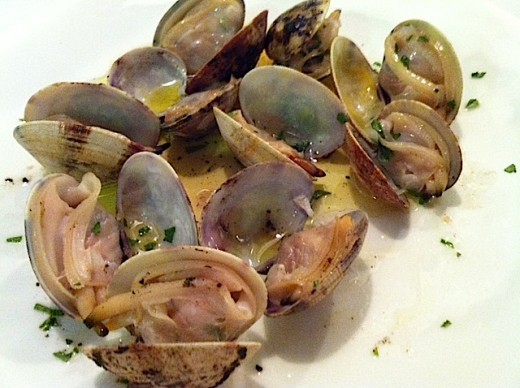 Grilled baby clams at Cal Pinxo
Happily shacked up in a seaside house on the coast between Tarragona and Barcelona, Bruno and I have been binge-reading, napping, and swimming all week, but we bestirred ourselves when friends from Perpignan who are vacationing in Sitges, the lovely resort town just south of Barcelona, called to see if we'd join them for dinner. Having worn nothing but a T shirt, shorts and flip flops all week, it was sort of a grind to get dressed to drive up the coast a little ways for dinner, and truth be told, I wasn't wild about the idea of finding myself in a restaurant again. Avidly covering the Paris and French restaurant scenes all year, it's vital to me to hang up my hat every once in a while and eat simple food that I've cooked, and knowing Sitges well, I also very much doubted that we'd have a good meal. Why? Despite its rightful popularity–it's a charming little town with a peaceable kingdom mix of vacationers of every stripe from all over the world, the restaurants are generally mediocre at best.
As if they'd read my mind, our pals reassured us that they'd booked in a wonderful seafront restaurant where we'd get to eat really good traditional Catalan food. Bruno wrote the name and address down, and I was docile enough not ask any questions in the car. When we parked under a stumpy palm tree on the waterfront, though, I had a sinking feeling we might be going to Cal Pinxo, the Sitges branch of a Barcelona restaurant that has repeatedly disappointed me during the last few years. And this is exactly where we ended up. I have had a couple of better than average meals at the Sitges branch, though, so I kept my fingers crossed.
Oh well, whatever, I thought, we'll eat simply and I'll keep my mouth shut, since as I've said here before, there's nothing more tiresome than the relentless expert. So we settled in over a bottle of middling white Catalan wine–I'd sort of hoped for a white Priorat, one of my very favorite Spanish wines, but there were none on the list, and ordered grilled clams and arroz negros, or rice cooked in cuttlefish ink and garnished with cuttlefish, clams and fish. Even though SItges is a major international resort town, the waitress's boredom in dealing with three French nationals and an American was grand opera, which set me to wondering why the tourist factor is such a relentless snare when it comes to good eating. Tourism is, after all, the world's largest service industry, and most people from western countries, if they're lucky, are tourists more than a few times in their lives, so why is it that there's so much prevailing contempt for foreigners in the restaurant industry? Today, more than ever, these supposedly know-nothing foreigners are likely to have a pretty deep knowledge of the food and wine of the country they're visiting, but this just doesn't seem to permeate the membrane of hauteur that often wiltingly prevails in major tourist centers, Paris included.
Well, the clams were delicious–sweet, succulent, fresh and sauteed in parsley and olive oil until they popped open and drained their juices to create a simple, natural mop-it-up sauce, but the black rice was such a letdown that I wondered if the nefarious international food-service industry hasn't come up with a factotum of squid's ink (it doubtless has). And the shrimp in this preparation were obviously frozen, the chunks of cuttlefish flabby, and the small chunks of fish anonymous and mushy.
With a languid sea breeze and great conversation, this was a pleasant evening, but I was very happy to return to our white-washed bougainvillea blazed bungalow and our own cooking for the rest of the week, since I could happily eat barbecued prawns and tuna steaks grilled with petals of really good chorizo until we head back to Paris. One way or another, Cal Pinxo in Barcelona or Sitges is not a restaurant that I'd recommend to anyone craving good Catalan cooking.
Cal Pinxo, Passeig de la Riberos, Sitges, Tel. 34-93-894-8637. Average a la carte 45 Euros.