BENOIT and LOULOUCAM–A Distinguished Parisian Grandfather (A-/B+) and One of His Yearling Grandsons (B-/C+)
May 27, 2012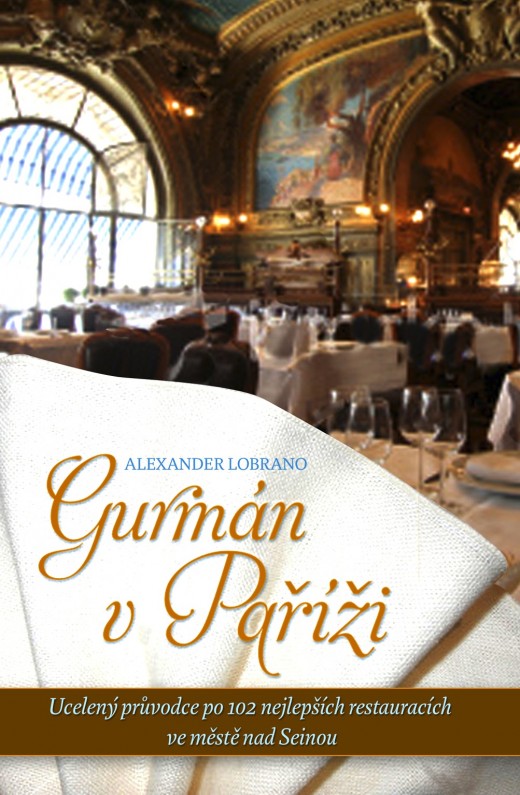 Over coffee in a cafe, I recently spent an interesting hour chatting with a brilliant and charming journalist for a nicely produced economic journal in Prague who had contacted me for an interview, because Slovak language rights to HUNGRY FOR PARIS were acquired by a Bratislava publishing house when the book was first published.
Food is Petra's beat, and passion, and if she loves Paris like I do, I spent months and months in Prague in the early nineties and have a deep affection for the city and the Czech Republic, so we seemed fated to get on. Usually on the other side of the pen and notebook, I also admired her confident manner and good questions. On my way to meet her, it occurred to me that she'd invariably ask me if Paris is still the world's best food city. And if this is an obviously loaded question, it's a much more complicated one to answer fairly and intelligibly than it may first seem.
Sure enough, no sooner than we'd introduced ourselves and ordered, then Petra shot her first arrow. I won't attempt to recreate my response, except to say that I basically believe that today Paris remains first among many equals, because of the spectacular excellence of French culinary training, a public with a deep knowledge of and pride in the country's gastronomy, and Europe's nec plus ultra produce. I also added that as much as I rejoice in the remarkable talent of young French chefs like Betrand Grebaut at Septime, I despair at the ongoing erosion of traditional bistro cooking in Paris. Every great food city needs a gastronomic ballast, and for me, in Paris that has always been really great bistro cooking. "So when was the last time you had an excellent traditional bistro meal at a place that you could recommend?" "That would be at Benoit a few weeks ago," I said, with the precision that I had gone expressly to eat the special 100 Euro menu they're offering to celebrate the restaurant's 100th birthday. It was was nearly flawless.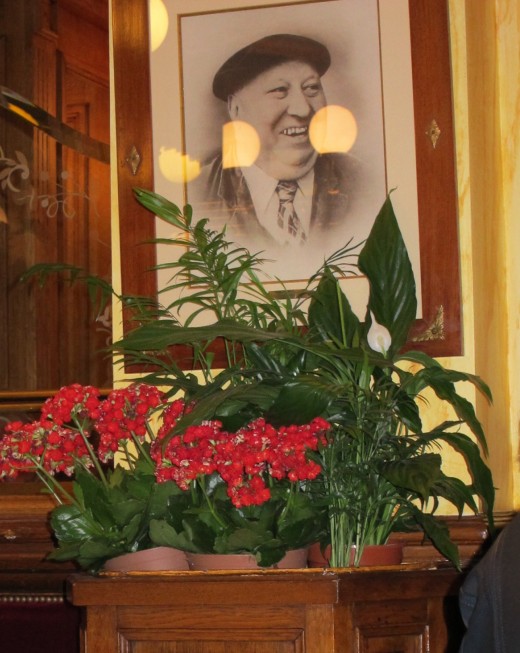 "One hundred Euros…." said Petra. "I know, no small change that," I replied, "But when it's becoming sadly easy to spend 70 Euros on a middling mid-range meal in Paris, I'd rather go out less often and spend more, if I must, to eat well. Today in Paris, it's become very expensive to cook honest traditional bistro food, because it's so time-consuming. To wit, the chef needs to be in the kitchen for long costly hours," I added. "Otherwise, I'm very happy to enjoy some of the city's outstanding and very good value contemporary French cooking."
"Tell me about the meal at Benoit," said Petra, with a faraway look in her eyes. I did, but first I explained that ithis table had been created by butcher Benoit Matray in 1912 and remained in the same family until chef Michel Petit, one of his grandsons, sold it to Alain Ducasse in 2005. Since the transfer, I've always found the food irreproachably sincere but uneven. Now, though, since former sous chef Eric Azoug became head chef, the food is often once again as excellent as it was in the Petit era.
"We ate exquisite rabbit rillettes with hot toast and glasses of Champagne, then Monsieur Bonneau, one of the best maitre d'hotels in Paris, slipped in some Langue de Veau Lucullus, because Bruno, my partner, had become all puppy-dog excited when he spotted this speciality of his hometown of Valenciennes in the north of France on the menu–it's a sort of surprisingly light construction of fine layers of smoked veal tongue bound with a mousse de foie, followed by fat green Provencal asparagus in a truffled mousseline. Real Victor Hugo or Gustave Flaubert food!" "Was there more?" "Bien sur! We had turbans of sole on creamed spinach in a sauce Nantua, which is always made with crayfish, in this case from Lake Geneva, and then roast lamb with baby Spring vegetables." "My God, Alec! Do you have pictures?"
Side by side we furtively scrolled through the snaps I took that night several weeks ago (the menu, by the way may have changed, should you decide to go, but they'll be offering this centenary feed through the end of the year); these were Petra's favorites.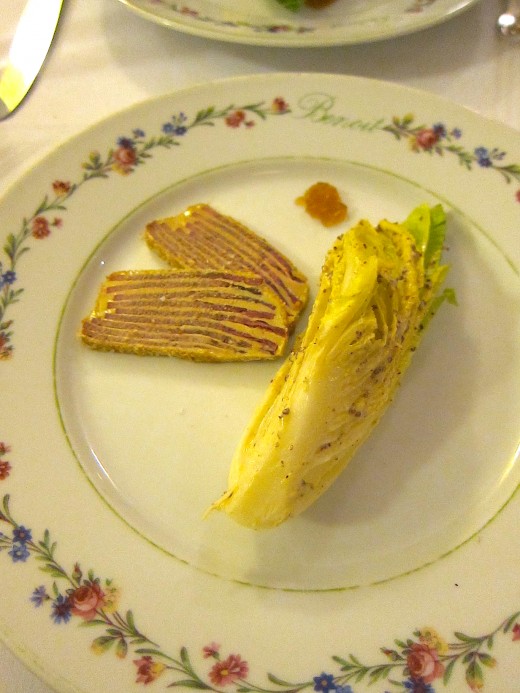 Langue de Veau Lucullus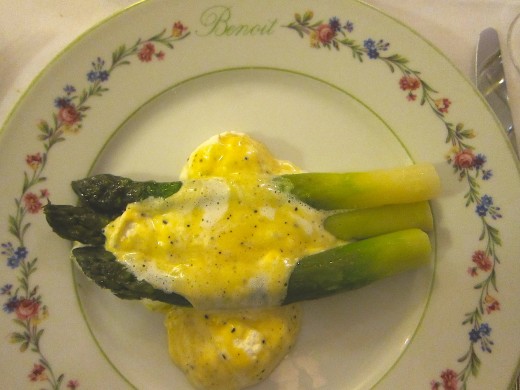 Asperges Vertes, Mousseline Truffee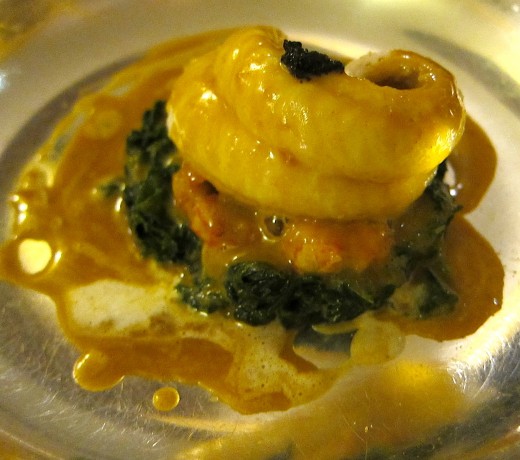 Sole Nantua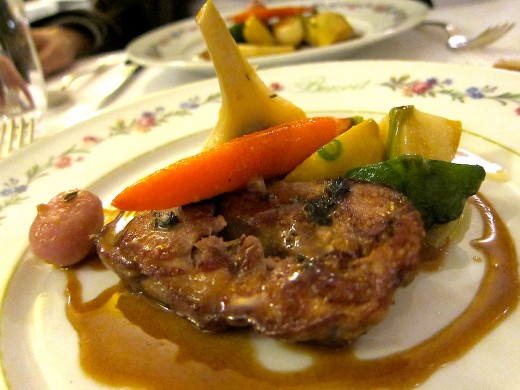 Lamb with Spring Vegetables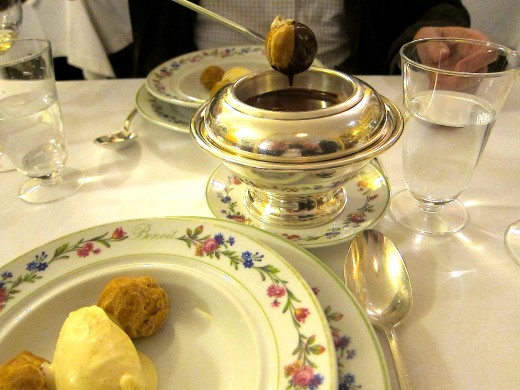 Profiteroles, or the Temptation of Bruno
"And do you have a reasonably priced new place that I might try tonight, Alec?" I asked Petra where she was staying, which was with a friend near the Canal Saint Martin, and Louloucam, a very sincere new bistro with an intriguing two-speed menu, or a mix of French classics and some clever modern dishes, by chef Jean Matthieu Frédéric, ex La Tour d'Argent, Le Meurice, and Chez Géraud, immediately came to mind. I'd eaten here with a couch-surfing pal in town from New Orleans on a Saturday night, and we'd loved our fun waitress, who'd lived Australlia for a while, the excellent terrine de foie gras, poached leeks cleverly spiked with lemongrass–now that's one to copy, entrecote with pommes Maxim, and great desserts–poached pear in caramel sauce and cream-filled choux as part of a 31 Euro menu.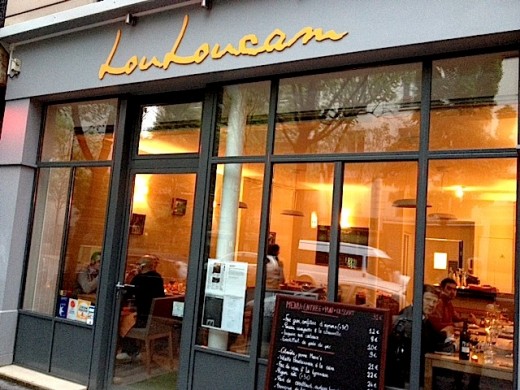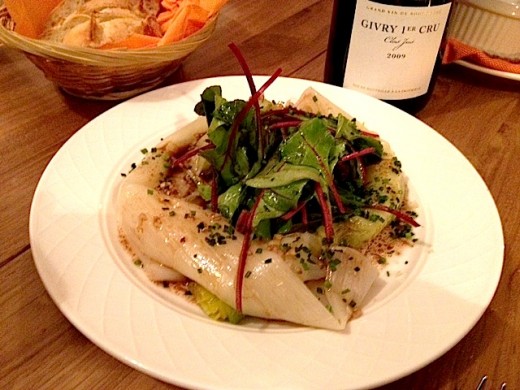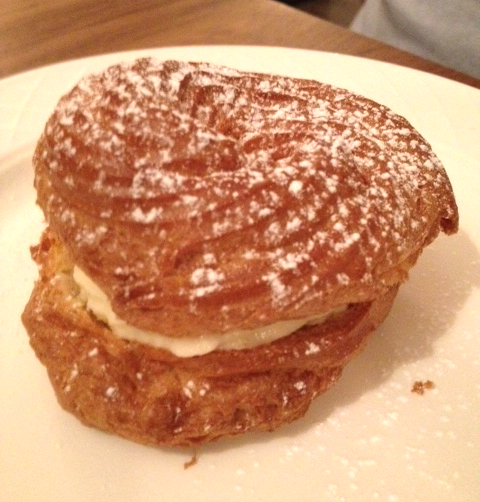 No, I wouldn't rush across town to eat here, but the excellent quality of Frédéric's produce–his meat comes from the Boucheries Nivernaises, his quick but perhaps appropriately cautious creativity, and the relaxed friendly setting make it both a great neighborhood bolt-hole and a fine coda to those who'd doom-say the French kitchen.
Benoit, 20 rue Saint Martin, 4th, Tel. 01-42-72-25-76, Metro: Hotel de Ville. Open daily. Lunch menu 36 Euros, 100th anniversary menu 100 Euros, average a la carte 100 Euros.
Louloucam, 264 rue du Faubourg-Saint-Martin, 10th, Tel. 01-40-34-76-87. Closed Saturday noon, Sunday and Monday. Metro: Jaurès, Louis Blanc or Stalingrad. Lunch menu 16-20 Euros, Dinner menu 31 Euros.