A LA MARGUERITE–The Price Isn't Right in Paris These Days, B-/C+
May 16, 2012
A Table a la Marguerite
Last week through this website I received an email from a nice lady in Toronto who'd recently been in Paris and who'd had a very disappointing experience at one of the city's most famous bistros, Chez Georges. Following a response from me, she wrote again, and her message was not only a polite plea in favor of continued exigency and honesty in writing about food in Paris, but an entreaty to remember and respect socio-economic diversity. Here's what she said:
"What this restaurant, their owners, chef and staff may not appreciate is how rare an opportunity it can be for one to travel to Paris, and to be able to reserve a table at what is reputedly one of the best bistros: one works long hours and saves one's money for such a trip. The evening of the special dinner is meant to be a memorable occasion with delicious food. They do need to take care to be reminded that their customers may not be privileged and/or rich, but workers/professionals like themselves who come with respect to appreciate French cuisine of 'excellence' , to a place of 'high standards'. It was so disappointing."
Musing on this message, I realized that this was a real cri de coeur, and it really struck home with me, because I still remember sleepless nights in a lumpy New York City sofa bed in a tiny studio apartment in Greenwich Village following the crown molding around the room over and over again and wondering how on earth I'd ever find my way back to Europe on a very modest Assistant Editor's salary.
So what she was saying is that much of the Anglophone world's food and travel press has drifted off course in the direction of catering to the 1%, or the world's wealthy, instead of the 99%, which is, of course, where I live. This media tack has been for mostly commercial reasons, of course, and its unintended result is to have fertilized demand for the increasingly rich, diverse, well-produced and ecclectic offer of gastronomic information available on-line. One way or another, I am as deeply committed to good value as I am to good food, and in any event, the two often go together like hand in glove.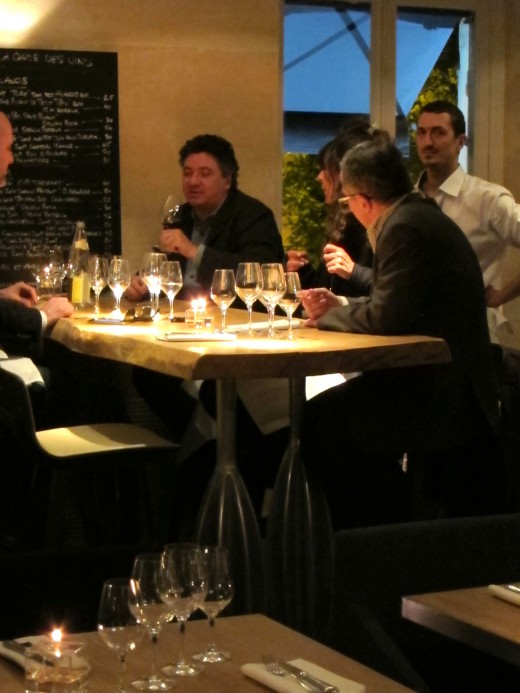 The truth of what my Canadian correspondent was driving at had already been much on my mind during the last few months of Paris reporting, too, because this year restaurant prices have just plain gone through the roof. The Beef Club, Les Jalles, and now the just opened A la Marguerite are all practicing prices that make my head spin, and which also evidence a serious disregard for rapport qualite prix, or value for the money. To wit, A la Marguerite, which is the sister of the very good Les Fines Gueules, is a place where it's really easy to spend 65 Euros/$84 a head on a casual meal. And if proprietor Arnaud Bradol's sourcing is outstanding, the quality of the cooking just doesn't warrant such vertiginous prices. For much less money, I could eat better at the nearby La Regalade Saint Honore, and kicking it upstairs a bit more, I could go to Yam'Tcha or Spring, also in the neighborhood.
I didn't know this when I arrived, though, and was musing over the really interesting question of why some restaurants of more or less equal quality thrive while others don't survive–this space was previously occupied by L'Atelier Berger, an earnest restaurant that I went to two or three times after it was opened by a Franco-Norwegian chef a longtime ago but never found compellingly good enough to return to, when I climbed the staircase to the first-floor dining room to meet a friend, Nola Fairhope, who's an old Paris hand like me. We sipped at white Cheverny that wasn't worth 6 Euros for a short pour and studied the chalkboard menu.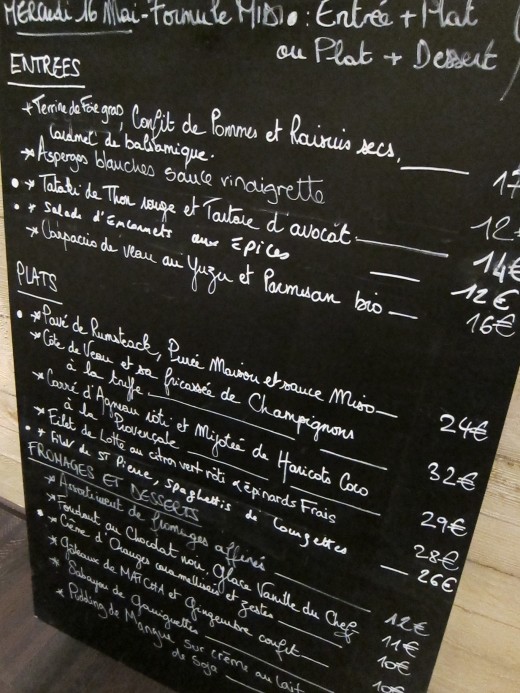 "Good grief, these prices are rather stiff for a bistro in Les Halles, aren't they?" said Nola. "Hate to be a wet blanket, but I think all of you who write about food have become a bit too cavalier about how expensive many of the city's new restaurants are. You know I can get a very good meal at Lilane, my little local go to behind the Place Monge, for a lot less than we're going to end up spending here."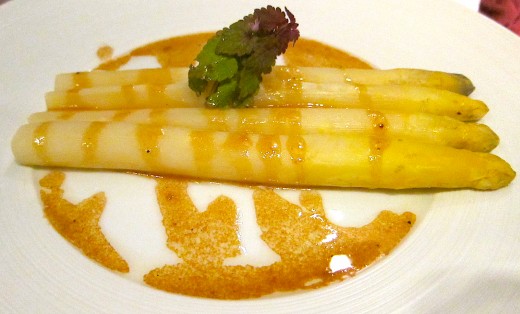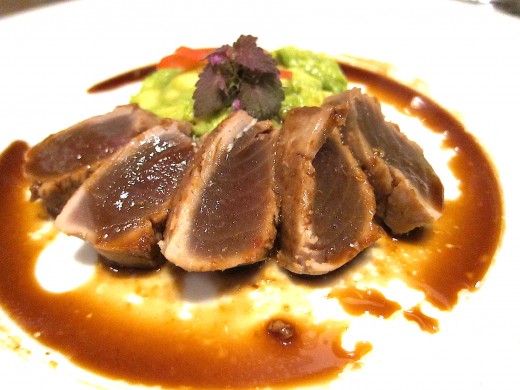 By the time the friendly young waiter came to take our order, I'd already decided I'd pick up the tab for our wine. I'd liked to have invited Nola to dinner for that matter, but unfortunately–contrary to what many people assume, most food writers have only the most paltry of budgets, if they have any at all. So our first courses arrived, white asparagus with a meaty vinaigrette for Nola and seared tuna with an avocado condiment for me. Four spears of asparagus seemed a stingy serving for 12 Euros–a whole botte (bunch) of white asparagus from Greece was on sale for 2 Euros this weeks at Lafayette Gourmet, but they were perfectly cooked and complimented by their sauce. Served cold, my tuna was a bit dull–more my fault for ordering it though than the kitchen's in this case. Still, I was puzzled by the way that this restaurant had almost none of the edgy and delicious mojo of Les Fines Gueules. Obviously, something had been lost in translation here, and it seemed to me that the desire to coin more or less the same formula as that served up at the original restaurant but with a higher price tag was something that wasn't going to fly. Or at least not for me anyway.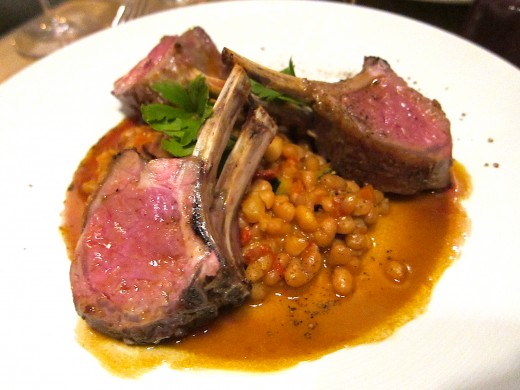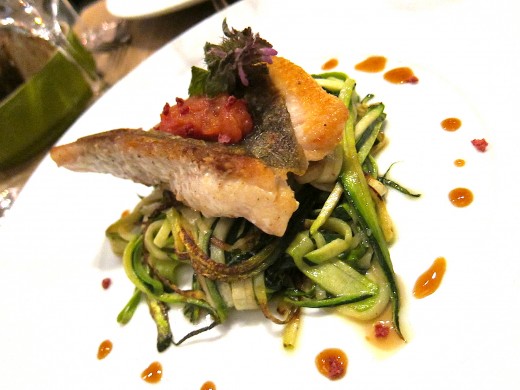 To be sure, my main course–an exquisitely cooked rack of butcher Hugo Desnoyer's lamb on a bed of white beans with piquillo peppers and garlic–was so good that it almost warranted its 29 Euro price tag, but Nola's fish was overcooked and the courgette 'spaghetti,' a fun idea for a home cook perhaps, but a bore in a restaurant for having become such a cliche, was a letdown, especially at 26 Euros. Neither of us much liked the 28 bottle of Papaton, an organic Coteaux de Loir wine that we'd ordered as much by price as anything else, since it remained as rigid and square shouldered a half hour after it had been opened as it was when I took a first slightly fizzy sip.
Since Nola never eats dessert, and I was so well-fed from my fine rack of lamb, we demured on a sweet and called the meal to a close. "There wasn't much emotion in that cooking," she said as I walked her to her bus, and after it had carried her off into the night, I found myself even more perplexed by the rather charmless offspring of a restaurant that I'd always liked so much than I'd been a few minutes earlier until I finally realized what A la Marguerite was really all about. All of the enthusiasm of really good locavore sourcing and the excitement about organic and biodynamic wine that had made Les Fines Gueules such a hit has been turned into a marketing ploy for a restaurant that's gunning for high-spending hipsters–a jazz club will be opening in the cave here sometime soon, and with Les Halles on a obvious upswing due to the renovation of the ghastly cement wart of a shopping mall that replaced the main food market of the city of Paris in the seventies, it's inevitable that shrewd restauranteurs are already packing into a neighborhood that will surely enjoy a serious redux once the dust has cleared.
One way or another, I have to doff my hat to Bruno Doucet and the remarkably good food he continues to serve at the very reasonably priced La Regalade Saint Honore, just a hop, skip and a jump from A la Marguerite. It's my go-to address in their neighborhood.
Restaurant A la Marguerite, 49 rue Berger, 1st, Tel. 01-40-28-00-00. Metro: Les Halles; Louvre-Rivoli; Pont Neuf. Open daily. Lunch menu 29 Euros, average a la carte 65 Euros.