Bouillon, Paris–A Simmering New Bistro in the 9th Arrondissement, B-/C+
January 29, 2015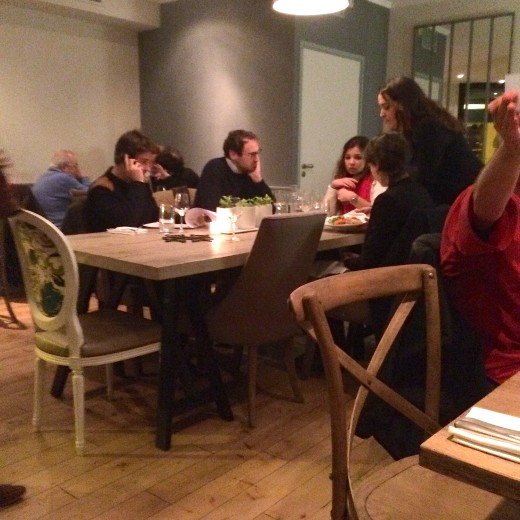 Chef Marc Favier's new restaurant Bouillon in the 9th Arrondissement in Paris has been getting very good reviews, but while I liked it, I'm not sure I'd go back. Why? It's expensive for what it serves, and I found a perceptible lack of generosity in the restaurant's DNA. To wit, there was no amuse bouche, or little madeleines served with the coffee. Instead, the waitress offered a jar of cheap brightly colored hard candies that were of no interest whatsoever, and when we didn't finish our 50 Euro roast duck, the leftovers were spirited off to the kitchen while I was outside taking an urgent phone call and Bruno was in the WC; they might have made for a nice parmentier du canard the following day and should have been offered.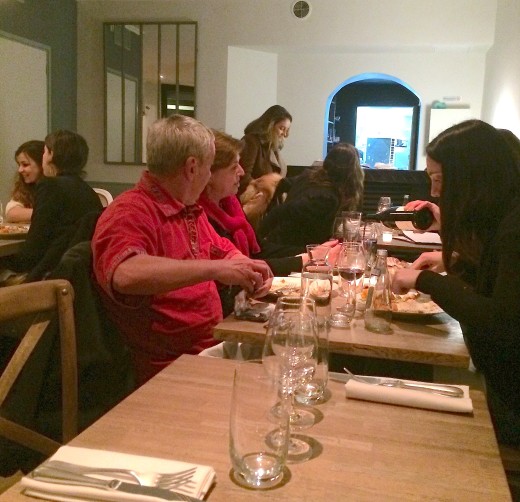 So am I right and the others who liked it more eagerly wrong? No, since there's broadly no 'right' or 'wrong' when it comes to having an opinion of a restaurant. What brought this to mind was an interview I did the other day, when one of the journalists told me that she'd had lunch with a French food critic who "really didn't like Hexagone," a place I've recently reviewed on this site and like very much. Pause. Longer pause. I wasn't sure what she was after, so I finally said "Chacun a son gout," and left it at that.
Of course everyone has a right to their own opinion, and that's what makes reading restaurant reviews both useful and interesting, since you can usually tease out some sort of reliable truth from the considered judgments of a group of experienced food writers and critics. The thing is, the sacking of critical expertise brought on by the internet and crowd-sourced reviews is still having a huge impact on the way we think about food and judge restaurants for the simple reason that most of the English speaking world has always disdained arts de vivre experts as being pretentious and bit too fancy for their own good. The internet has put this suspicion of pointy-headed experts on steroids, with all sorts of attempts to extrude the truth about food and eating out of the general public through means that are occasionally statistical but more often just everyman (or woman)-gets-a-turn-at-the-mike. So that's where we are today, and the complicated and finely tuned balance between the subjective and the objective that's at the heart of all professional reviewing, whether the object being reviewed is a play, a film, an automobile or a meal, goes missing. And this is not a good thing, either for anyone who loves great food or for the chefs who produce it.
For my part, these days in Paris, when prices have been rocketing up at an eye-watering rate, I find myself becoming more exigent than ever for the simple reason that we're good cooks, so when I go out, I'm not only looking for good food, although that's always my priority, but charm, generosity, atmosphere and value-for-the-money. Otherwise, I'm very happy to go down the road for a good bottle of wine and a nice sea bass or pork roast and hit the pots and pans in my own kitchen. What I'm less likely to do, however, is roast a duck, since weekday dinners usually have to be a bit more expedient than that with Bruno often getting home late from work, and so I was totally game when he suggested we have the roast Bugaud duck with baby potatoes, jus de viande and salad.
While the duck was roasting, we nibbled on some stale bread while waiting for our starters, a 'Coca' for Bruno and some ham with guindillas, or Spanish pickled green peppers for me. Coca is a Catalan dish of flatbread with various different possible garnishes, so I asked the waitress if the chef had worked in Spain. "Mais non!" she replied, explaining that he was from the Roussillon, or that leaf shaped southeastern corner of France that the Spanish ceded in 1642 after the Thirty Years war. To do this day, though, it has a decidedly Catalan tint, and given the prosperity of Catalonia and the allure of Barcelona, the Roussillon is increasingly being drawn back to its Catalan roots for reasons both cultural and economic.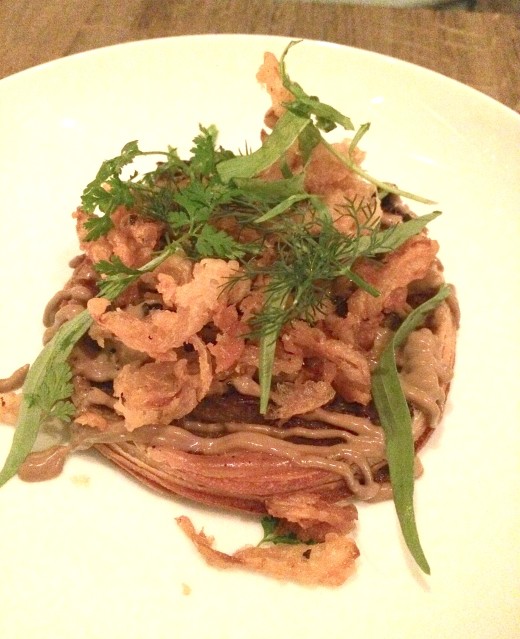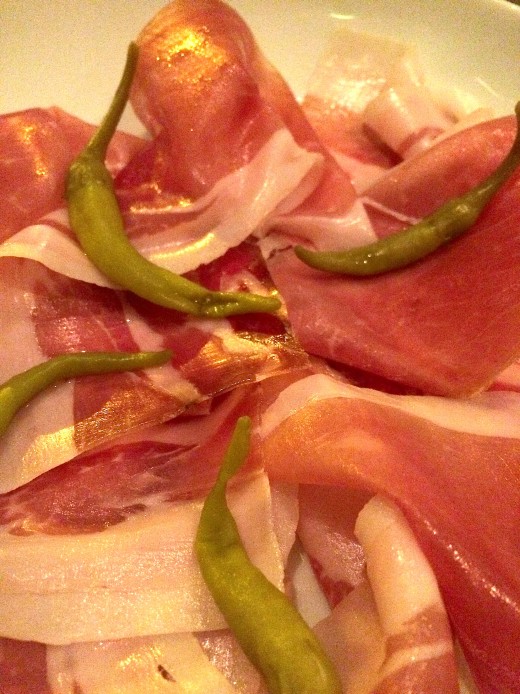 Bruno's Coca was a curious hybrid of French and Catalan when it arrived, since it was made with puffy pastry instead of the flatbread the Catalans use. Then it was topped with sautéed onions and an anonymous sort of fritto mist, a few squirt-bottle blazes of anchovy cream and some fresh herbs. "It's okay," said Bruno when I asked, and I offered the same response re my plate of curiously wan-tasting ham. When I asked the waitress where the ham was from, she replied, "France!" So I left it at that.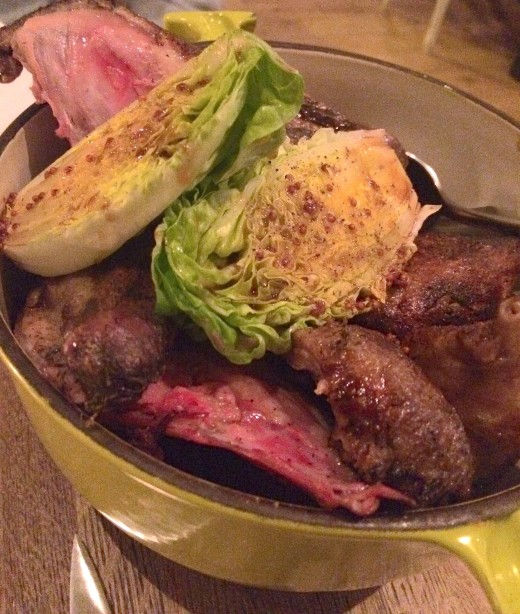 The duck was a beautifully roasted bird when it came to the table in an enameled yellow casserole some minutes later. Some people looking at the photo may conclude that it was under-cooked, but the French like their duck rare, and I agree, since the bird loses all of its flavor and juicy goodness when it's overcooked. If the salad garnish was a nice idea, the somewhat crudely carved bird awkwardly sat on top of a generous pile of baby potatoes in a lush and deeply flavored jus de viande.
All things being equal, this was not a very successful or logical presentation, since the bird seemed crammed into the casserole and it was difficult to get at the nice little nest of spuds below. The other thing that went missing, however, was the flickering sense of having ordered anything special. I don't expect that a bistro with a single server could possibly undertake table side carving every time an order for the bird comes in, but there should have been some cue from the staff and the kitchen that they knew we had decided to treat ourselves to something nice. The duck was delicious, and so it should have been for 50 Euros, but deprived of any sense of the ceremonial, our pleasure was somehow dented.
So since the desserts weren't very appealing, we concluded our meal with a coffee, and then refused the canister of hard candies which were presented when the bill–over 120 Euros for two starters, the duck, a small bottle of water and a very good Cotes du Roussillon–came to the table. For the same money, I'd have happily gone back to Clover, Jean-Francois Piege's delightful new bistro in Saint-Germain-des-Pres, or Le Bon Georges, our local go-to bistro, or the wonderful nearby Pantruche if it hadn't become so difficult to get a table there.
A proper restaurant meal is almost always an optional choice, and this is why a certain joyful ceremoniousness and generosity is required to make it a success.
Bouillon, 47 rue de Rochechouart, 9th Arrondissement, Paris, Tel. (33) 09-51-18-66-59. Metro: Poissonnière, Anvers, Cadet, Closed Sunday and Monday. Lunch plat du jour 14 Euros, average a la carte 50 Euros.