BUVETTE–A Pretty Yankee Pastiche of a French Wine Bar in Pigalle, C+
November 8, 2013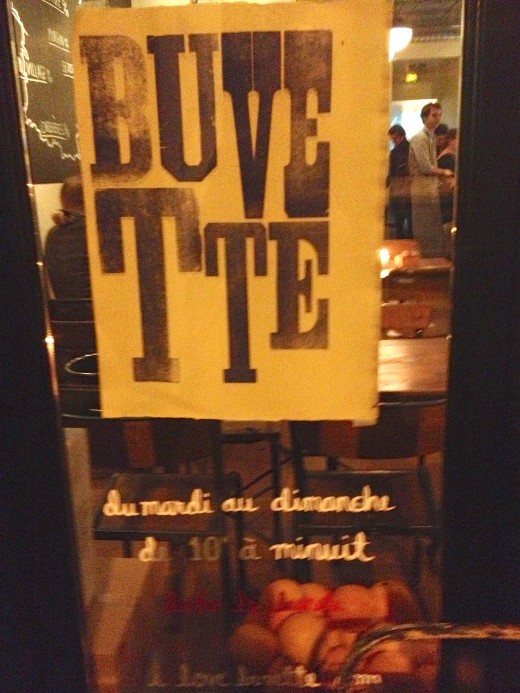 When I was growing up in Westport, Connecticut there was a wonderful old farmstand on the Post Road (U.S. 1) called Rippe's that sold fresh corn, tomatoes and bunches of twine-bound zinnias grown in the fields out back. During the Fall, an ancient cider press filled big glass jugs with delicious caramel-colored cider made from apples that came from the farm's orchard, along with gourds and pumpkins, and then Rippe's annual season ended for the year after a few weeks of selling locally grown Christmas trees, pine boughs, holly and mistletoe. Rippe's is long gone–a gated condominium community now occupies the former farmland–but several years after it vanished, I was amused to discover that Westport had acquired a new store called Hay Day (now also closed), which was a highly styled but completely ersatz riff on a real farmstand. What the new store told me was that someone had figured out that there was money to be made from the nostalgia people feel for real farmstands, a genus that could no longer be sustained in this wealthy suburb due to exploding land prices.
This same strange and strained convergence of forces that replaces the authentic with a pastiche of what's gone missing is also at work in Paris right now, and a perfect example is Buvette, a new cafe-restaurant cum wine bar in the alarmingly ever trendier 9th arrondissement where I live. Odd though it may sound, it's the Paris branch of a France inspired restaurant in New York City's West Village by the same name and it has the same owner, American chef Jody Williams. Stranger still is that the reason I was incited to visit what I assumed would be another Bobo corral in South Pigalle is that French friends who'd been to New York recently came back raving about William's original address.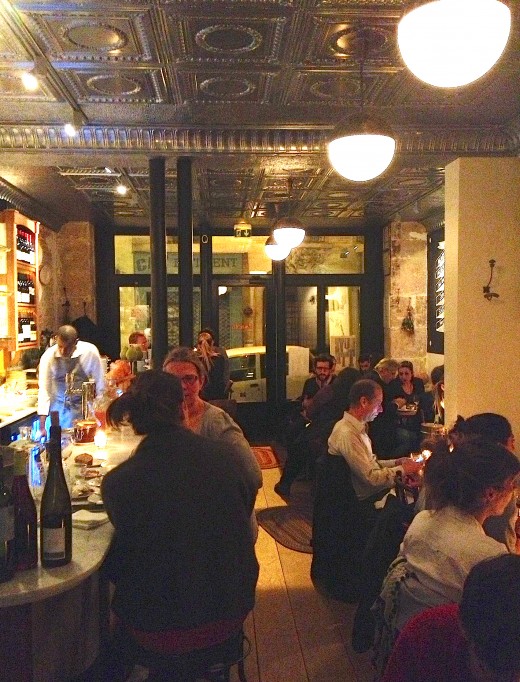 So on a rainy night, I met a friend for dinner, and as soon as I came through door, I was impressed by the impeccable mis en scene of this place, which looks as though it had been sourced from the Williams Sonoma, (the upscale U.S. kitchenware purveyor) and West Elm (the urban hipster home-furnishings supplier) catalogs. Apples were piled in pretty pyramids on the bar, which was awash in very handsome glass cake and pastry stands displaying various desserts. There was something rather Hollywood set-decorator about the shiny stamped tin ceiling–handsome though it might be, and the globe lamps, though, and good-looking though the room was, it looked like it might be a Paris set for a Woody Allen film. The crowd of stylishly dressed bobo locals paying as much attention to their iPhones as their dining companions might have come from central casting, too.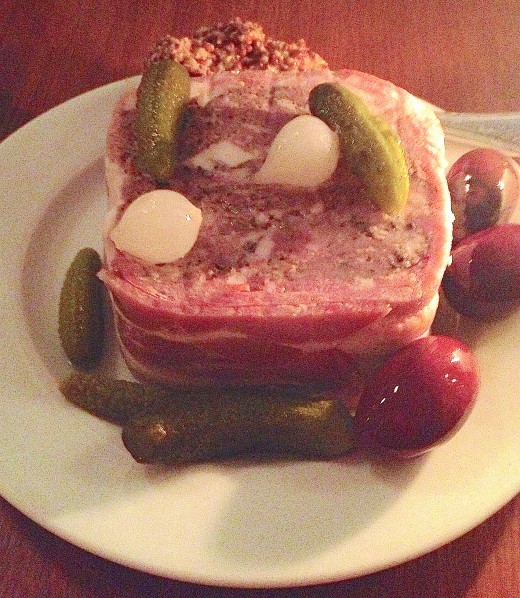 The format of the menu here is small-plates grazing, something I'm always wary of, since so often after meals like this one, I find myself wanting to make some spaghetti around midnight, but the pretty little menus offered a variety of nice-sounding dishes, and we agreed to just order away and share. The first course that arrived at the table was a nicely made slice of terrine, which was served with good bread and garnishes of whole-grain mustard, cornichons and Kalamata olives. Since I love these olives, I didn't mind the fact that they're not a particularly French garnish for a terrine, and similarly, I loved the streaky bacon wrapped around the well-seasoned terrine, which actually reminded me more of a very well-made meat loaf than something a master charcutier like Gilles Verot might produce.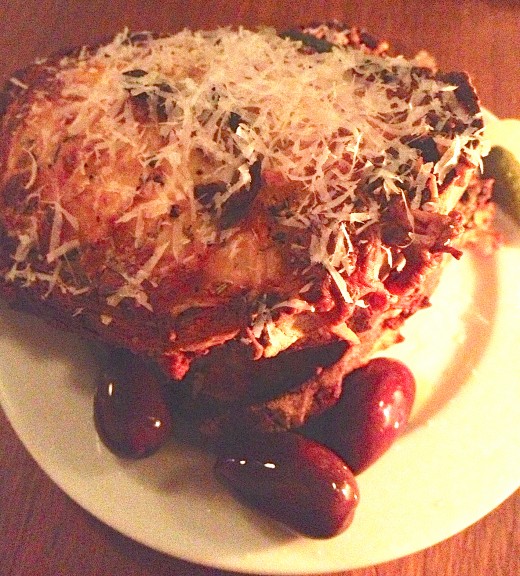 Unfortunately, the Croque Forestière–a Croque, or toasted bechamel and grated cheese topped sandwich, that followed was a big disappointment. It lacked the lush emolience of a really good croque–a fried egg might have helped, but there wasn't one, and the bread was sliced too thick, the Forestière, or wild mushroom, filling had more texture than taste, and it was awkward to eat on a small plate that came with the same olives and cornichons that became the recurring gastronomic punctuation of this meal.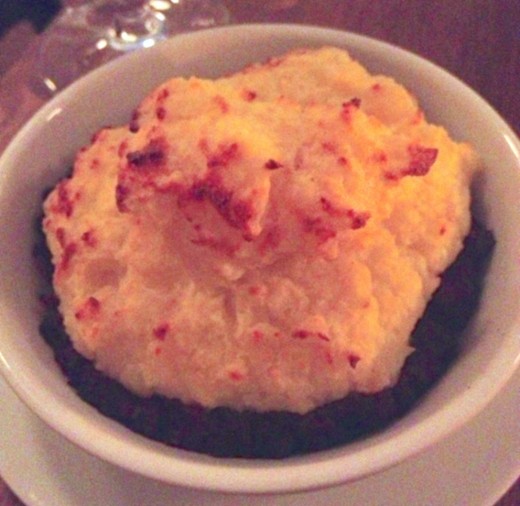 Hachis parmentier, one of my favorite cuisine ménagère dishes, was oddly interpreted here, too. Made to order in a small shallow dish, it had none of the alluring juiciness of a proper long-baked hachis parmentier and instead was just a mound of mashed potato sitting on a bed of underseasoned chopped beef. The walnut oil used to dress a chewy brussels sprout salad had gone off, and a tartine of purple kale ordered out of curiosity came as a woefully unseasoned mounded of chopped vegetable on another piece of thick bread.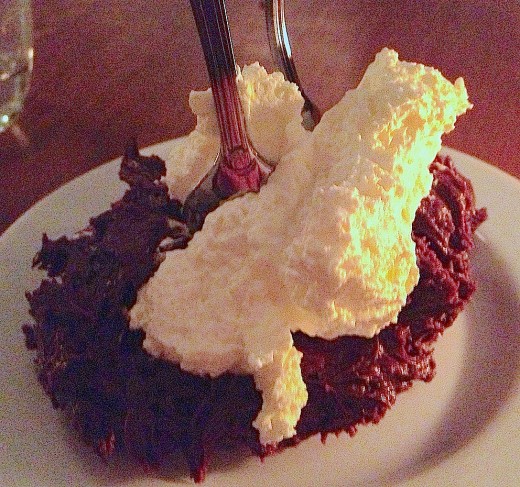 While my friend was off in the men's room, the handsome well-dressed older French professional woman who was dining alone next to us volunteered her verdict on Buvette. "It's very pretty, mais un peu Disney, and even though the young staff are sweet, they need a real cook in the kitchen," she said. The off-center strangeness of eating what Americans think of as French country food in Paris was somewhat blunted by the very good chocolate mousse with which we finished our meal, but I left with over fifty fewer euros in my wallet–the wines by the glass are expensive here–and had to fight off off the temptation to whip up some spaghetti carbonara when I got home. Ultimately, the hugely popularity of this address has more to do with its admirable success as an exercise in style–it really is very pretty–and the demand for places with non-stop serving hours than it does with a successful gastronomic signature.
28 rue Henri Monnier, 9th, Tel. 01-44-63-41-71. Métro: Saint Georges or Pigalle. Open non-stop from 10am to midnight, Tuesday through Sunday, Closed Monday. Average 35 Euros.