LE PARIO–A Very Sincere New Bistro in Search of a Gastronomic Signature, B-
November 14, 2013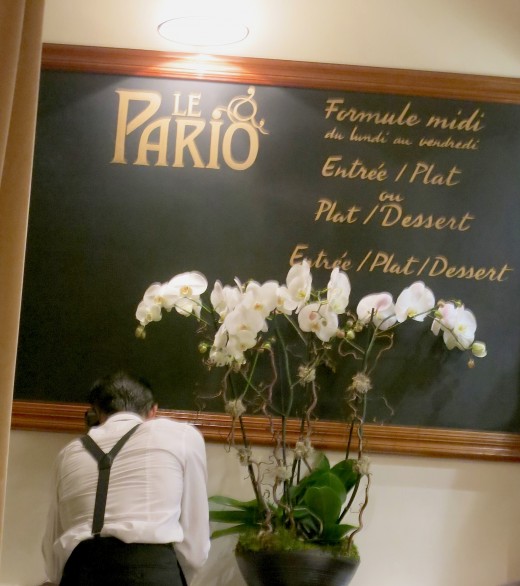 In the recent Time magazine article about the world's most influential chefs, there were many omissions, but among the most important of those in France who weren't mentioned is surely chef Christian Constant. He trained the whole generation of chefs who created modern French bistro cooking, Yves Camdeborde (Le Comptoir du Relais), Christian Etchebest (La Cantine du Troquet and others), and Franck Baranger (Le Pantruche), and talented young chefs continue to emerge from the kitchens of his constellation of restaurants–Le Violon d'Ingres, Le Cafe Constant and Les Cocottes, on the rue de l'Universite in the 7th arrondissement.
The latest Constant student to spread his wings is Brazilian born Eduardo Jacinto who recently opened Le Pario, a handsome new bistro in the 15th arrondissement in a former cafe. I actually heard about it from Carla, a Brazilian friend who lives in London and who was very keen to try it while she was in Paris on a business trip, so we arranged to meet there on a rainy week night, and aside from the pleasure of discovering a new restaurant, I was really looking forward to seeing Carla again, since she's the only friend I've ever made as a result of being seated side-by-side during a long flight from Rio to Paris many years ago.
She got teary looking out the window at beautiful Rio as the plane took off, and so when she struck up a chat when dinner was served, I was not only happy to provide some distraction to a distraught young woman, but inevitably curious about what was causing so much emotion. It turned out that she was moving to Toulouse to live with a new boyfriend, a Frenchman she'd met on the beach a few months earlier, and never having been to France before, she was full of questions about the country. I think I put her at ease when I told her that I, too, had made an impetuous move or two during my life for romantic reasons, but discretely avoided her question as to whether or not those relationships had worked out, since they didn't. So instead I said that I regretted nothing, which I don't, because it was only by having taken a chance on an unknown future that I ended up with the very happy life I have in Paris today. Well, Carla only lasted a year in Toulouse, but today is happily married to a delightful Englishman and has a terrific job as an art director at a big ad agency in London.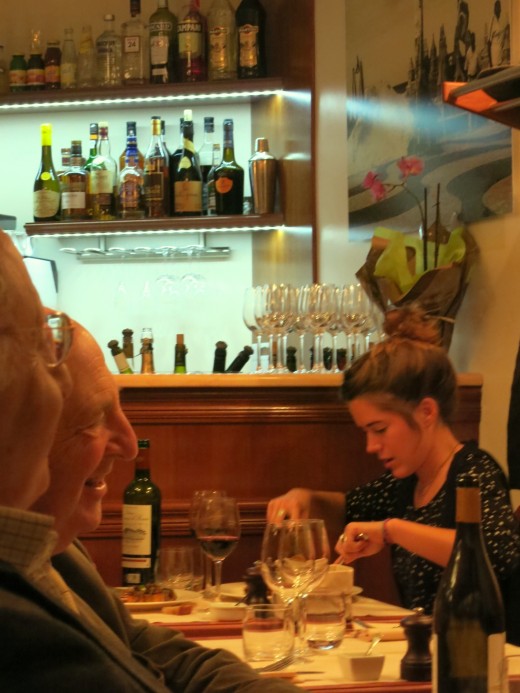 When I arrived at Le Pario, she was chatting away in Portuguese with one of the waiters and introduced me as her "American airplane friend," which is the first time I've ever heard myself described that way before. In any event, the solidarity she'd established with the staff meant we were waited on with kid gloves all evening, but even if she wasn't so attractive and Portuguese speaking, I'm sure the service would have been more or less the same, since the young staff here are warm, friendly, alert, and very eager to please.
With its globe lights, service bar, and heavy velvet drapes at the door, Le Pario immediately seemed like a settled in sort of restaurant that had been around for a longtime, and it was full with a crowd of men and women in well-cut tweed jackets, who I guessed might have followed the chef to his new digs after enjoying his cooking in the 7th arrondissement. So we settled in over glasses of white wine and looked at the menu, which was an appealing roster of contemporary French dishes that very much recalled chef Jacinto's former master.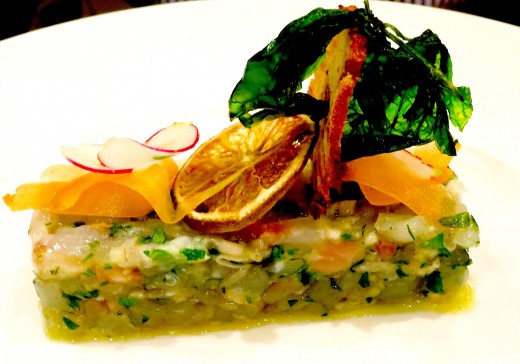 Though Carla was a little let-down not to find anything Brazilian on the menu, the waiter offered that they do serve feijoada on Saturday nights and also told us that the restaurant's name is a contraction of Paris and Rio. So she ordered a tartare of sea bass and oysters to start, and I went with the artichoke veloute with a cepe-and-bacon stuffed ravioli. If her tartare was well-made, it certainly wasn't breaking any new ground, while my soup exhibited a disappointing absence of artichoke and instead tasted most of warm cream. The ravioli stuck to the bottom of the bowl was pleasant enough, but also timidly seasoned.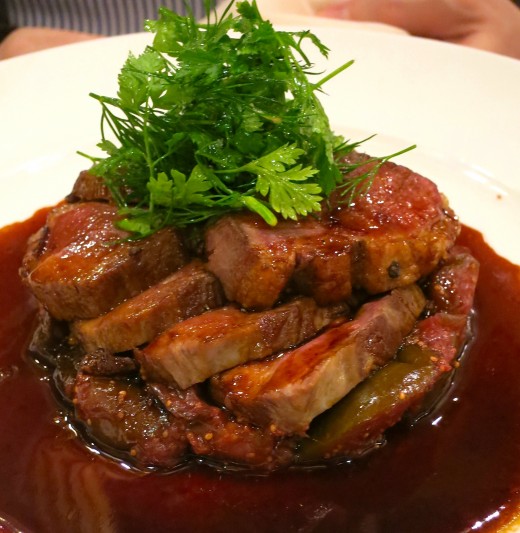 With rain streaking the window next to our table, Carla confided that she still dreads the arrival of the European winter, "all those months of wet and grey that make people so grumpy," and also that she misses what she described as "American exuberance–in both of the Americas, the people are so much livelier and less reserved than they are in Europe," but she brightened up considerably when her wild duck breast on a bed of figs stewed in Port arrived. Cooked perfectly rare, it had a beautifully made fully flavored sauce of roasting juices and gizzards and the compote had a winsome high Victorian seriousness that brought old-school London men's clubs to mind.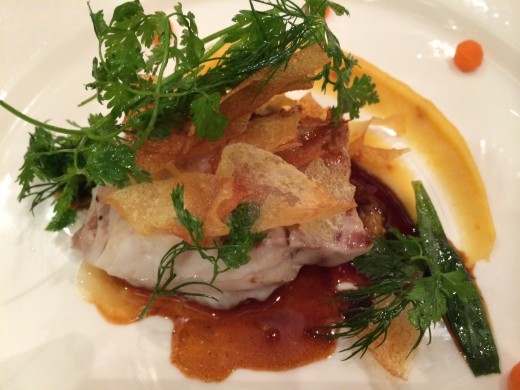 My cod steak came with an unfortunate 'crust' of potato chips, a gimmicky garnish that added nothing to an otherwise pleasant piece of fish, and the accompany jus de viande reminded me again that Jacinto had worked for Constant, since this sort of pairing is a signature of his cooking. It was pleasant enough, but lacked any culinary distinction that might have made it memorable. Instead, I intuited that while Jacinto is a good cook, he remains very much a student of his former master. This isn't necessarily a bad thing, but I'd like to see him reference his Brazilian roots a little bit more, in the same way that the many Japanese chefs cooking French food in Paris still manage to infuse it with a subtle touch of their country's exquisitely refined culinary culture. I suspect, however, that Jacinto will become a more authoritative chef a few changes of menu from now, and for the time being he's working with excellent produce and certainly knows how to run a restaurant well.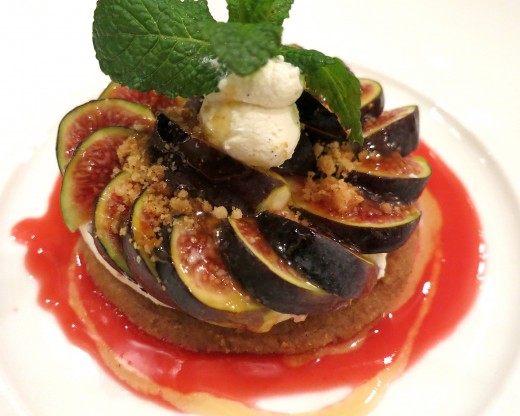 I concluded with an excellent selection of cheeses from the superb cheesemonger Laurent Dubois, who has a shop nearby, and Carla finished up with a fig-and-marscapone tart on a sable base with a red-fruit coulis. She enjoyed it a lot, too. Then after a warm farewell in lushly whirring Portuguese, we stepped outside and opened our umbrellas. "He cooks like a man who was very close to his grandmother," said Carla. "His food is sweet and gentle and good, but maybe he needs to be a little naughtier." I agreed with this shrewd assessment of our meal, and then Carla added, "Wouldn't it be nice if we were in Rio and could go for a walk on the beach barefoot right now? There's just too much wet pavement in my life these days." And with that, I bid my Brazilian airplane friend good night, and was certain she'd return to her hotel near the Porte de Versailles to dream about romping in some warm Atlantic waves in a bikini. One way or another, Carla is the nicest thing Air France has ever done for me, and I'll definitely be going back to Le Pario some Saturday night for some feijoada.
Le Pario, 54 avenue Emile Zola, 15th, Tel. 01-45-77-28-82. Metro: Charles Michel. Open Monday-Saturday. Closed on Sunday. Average 35 Euros.