CAFE DES ABATTOIRS–The Meat of the Matter in Paris, B
December 4, 2013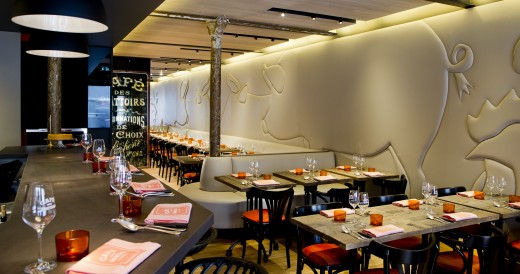 @ Serge Detalle
As the holidays approach, Paris grows busier like most cities, but even as the shopping-bag-carrying throngs thicken, the French capital retains a refreshing insouciance at odds with the atmosphere of amped-up consumer frenzy in so many other western cities. It's not that the French don't enjoy the holidays–they do–but rather that they're admirably resistant to all and any calendar-generated hype. Blessedly, there's nothing in France that approximates "Black Friday," the first day of super-discounted Christmas shopping in the United States after Thanksgiving. You don't find Santa Claus lurking in Parisian department stores, and the canned Christmas music in public spaces–garages, restrooms, malls, elevators–so common in English-speaking countiries would rightly drive the French to indignation shading to rage.
The commercial trimmings of Christmas aren't completely absent from France, of course–most major French magazines include Best Gifts Guides in the shrink-wrapped subcribers' editions and sprinkle some bird seed in front of luxury watch producers and Champagne houses with stultifying 'special' supplements on Champagne and luxury watches. Visually, the city veers from elegance–the beautiful lighting on the Avenue Montaigne–to the bizarre retro-disco horror of 'ornamenting' the trees along the Champs Elysees with ugly hula-hoop style lighting in garrish colors.
Myself, I've long since escaped from conventional Christmas shopping by gifting books, theater tickets, or–best of all–meals to my friends and family, and the first holiday gift meal of the year that I offered was to one of my very oldest friends in the world, who just happened to be in Paris before I went away on much-needed holiday in Vietnam. Thing is, when you gift a meal, it's all about the person who's receiving the gift, but this time round, I had an ace up my sleeve with the Bistrot Bellet, one of my favorite new restaurants. My pal–a New York lawyer, was in town for twenty-four hours on a fraught call to a major French corporate client, so I knew he'd be exhausted and frazzled when we met for dinner, which ruled out most of the more innovative modern bistros in Paris for the simple reason that he wouldn't have understood or liked them, and the meals most of them serve would have taken too long. So I treated him to some blanquette de veau and a good bottle of wine, and he went off into the night purring with pleasure.
The other day, though, I was walking home from meeting someone for a drink in a cafe and my messenger bag was full of the tubs of red and yellow miso paste and kimchi I'd bought along the rue Sainte Anne (A much needed January diet is already planned). Bruno had been scooped up for a business meal, so I was on my own, and for the first time in a long time, I hadn't made plans with other friends or even given much thought to dinner, an extremely rare event in my food-centered life. I was hungry, however, but didn't feel like cooking, and so it suddenly dawned on me to take myself out for a nice but simple meal somewhere. Though I often dine alone when traveling for work reasons, and enjoy it thoroughly–having learned to eat solitary in public settings is one of the life lessons I prize most of the years I've lived in France, I rarely do so in Paris.
So I was vaguely thinking of ducking over to a favorite Vietnamese restaurant in the rue du Mont Thabor Indochine, the right-bank branch of Au Coin des Courmets), or even seeing what the rock of ages bistro Lescure is like these days, when I found myself peering through the window of a new restaurant just off the Place de Marche Saint-Honore in the heart of Paris. The Cafe des Abattoirs, which I'd read about, looked very appealing, so I went in and lucked out with a seat at the counter. I immediately liked the looks of this place, which had a long taupe leather mural of farm animals on one wall and a beautiful black-and-gold antique mirror that said 'Cafe des Abattoirs' at the head of the small, cozy dining room.
The nice guy in chef's whites behind the bar set me up with a glass of white wine and some slices of delicious country ham served on a piece of white butcher's paper, and suddenly all was well in the world. Caroline Rostang, who runs the restaurant with her sister Sophie–both being the daughters of estimable chef Michel Rostang, he of the eponymous Michelin two star restaurant in the 17th arrondissement, commented the three prix-fixe menus–32 Euros, 38 Euros and 45 Euros–offered here with some of her family's signature charm, and I decided on the 38 Euro menu, which opens like all of them with a suite of hors d'oeuvres, followed by a Josper grilled bavette (skirt steak), and a choice of desserts.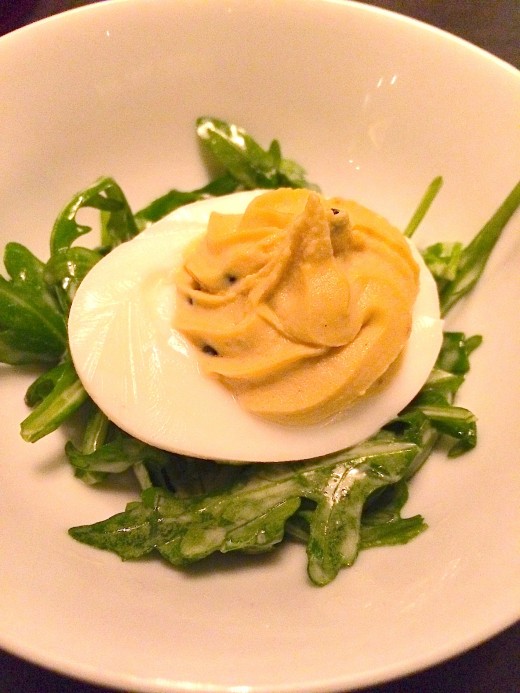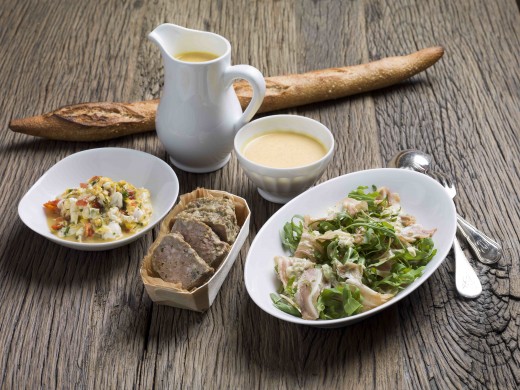 @ Serge Detalle
Enjoying a great glass of Bourgeuil with oeufs mayonnaise, some charcuterie, and a tiny cup of deliciously earthy cream of mushroom soup, I eve's dropped while Rostang told the couple sitting next to me that the mirror in the dining room had belong to her great-grandmother and once ornamented a hotel the family had owned and that this new address is the sixth Rostang table of the sixth generation of Rostangs to work in the restaurant business. There was a festive atmosphere in the dining room, which was populated by a mix of foreigners and well-heeled young executive types from the surrounding neighborhood, and the setting and mood reminded me of the kind of good neighborhood meat restaurant you often find in American cities.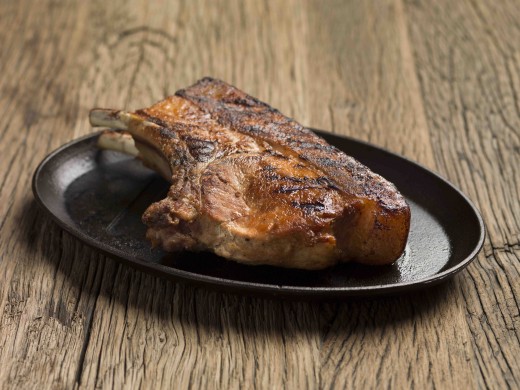 @ Serge Detalle Since I was uncharacteristically without a camera that night and my iPhone ran out of juice after I snapped the deviled egg, I'm not able to depict the superb Scottish Black Angus skirt steak I tucked into, but it was a beautifully cooked piece of meat and came to the table with both fries and Lyonnaise potatoes and a chrome condiments caddy that contained homemade ketchup, barbecue sauce, mustard and a tomato-horseradish relish that was so good I'd happily have bought a bottle or two if it'd had been on sale.
I finished up with a perfectly ripened quarter camembert, and in the space of an hour and a half was homebound again with that warm feeling of well-being that follows a good well-served meal. Thinking about this guileless off-the-cuff feast the next day, the obvious occurred to me–this is a very good restaurant and a useful one two, since it's open seven days a week, so I called Caroline Rostang and scrounged some photos so that I could write about it here. She sent me some nice meatcake shots, too, including the Gascon cote du porc (above) and kefta style lamb kebabs (below).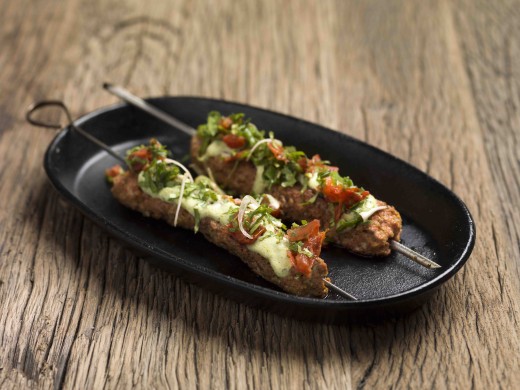 This is a friendly well-conceived restaurant in a very convenient location, so if you're looking for a good timeout feed during your holiday shopping or want to treat a friend to a meal as a gift, the Cafe des Abattoirs is a terrific choice.
Cafe des Abattoirs, 10 rue Gamboust, 1st, Tel. 01-76-21-77-60. Metro: Opera, Pyramides, or Tuileries. Open daily. www.cafedesabattoirs.com Prix-fixe menus 32 Euros, 38 Euros and 45 Euros.