CAILLEBOTTE–Artful Modern French Bistro Cooking in the Heart of Paris, B
July 9, 2014
It was good news last winter when I heard chef Franck Baranger had opened Caillebotte, his second restaurant in the 9th Arrondissement of Paris where I live. Why? I love Le Pantruche, Baranger's first bistro, and as a Parisian for almost 30 years, I find the work of the 19th century painter Gustave Gaillebotte, who's well-known in the U.S. for canvases like "Paris Street, Rainy Weather" (1877) in the collection of the Art Institute of Chicago, more astutely and sentiently summarizes the city I live in than almost any other. This is because Caillebotte was working in the 'new' Paris that had just been created by Baron Haussmann, an elegant city of new bourgeois rigor, the carefully constructed good bones of which survive to this day.
So I wondered if Baranger's food might be as ur Parisian as Caillebotte's paintings, and after nearly a year of frequenting this restaurant, I've decided this modern bistro cooking actually does say a lot about Paris today, since Bobo poses–a recherché gastronomic connoisseurship among them, are basically just a re-coining of the codes of the French bourgeoisie for a new century, the 21st one.  My slowness in deciding about this restaurant actually answers a variety of questions I'm often asked about how I work, too. To wit, how do I go about judging a restaurant?
Suffice it to say that if I always want to give any chef the benefit of the doubt, I'm more likely to err in your favor. Whether you're traveling to Paris from Sydney as a first-time visitor to the city or just going out the door to the Metro as a local, I really want you to have a good meal.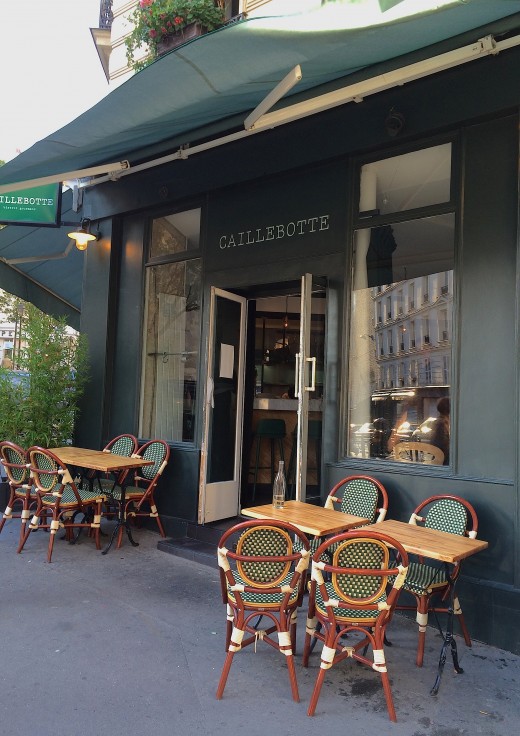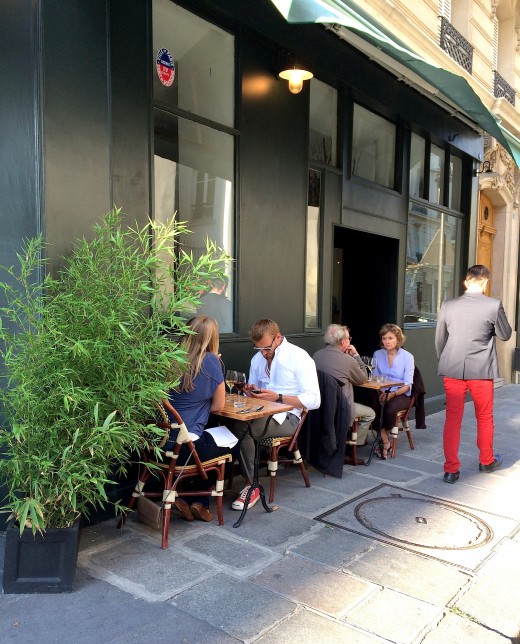 So if I have any doubts or reservations, I'll go back to a restaurant again and again until I'm certain it's a place I can solidly recommend. In this instance, I know Baranger is a very talented chef, but if the first three meals I had at Caillebotte were pleasant they never measured up to the excellence of Le Pantruche. So I assumed the kitchen needed some time to settle in, and I kept going back. Every time I went, the food was incrementally better, but as friendly as the service usually was, it lacked the professionalism of Le Pantruche. This meant the food often came to the table from the open kitchen lukewarm, and it that it was often a trial to flag someone down for more wine, water or a salt shaker. Then, too, several of the staff members here do that thing that drives me and other long-term foreign residents of Paris mad, which is insist on speaking to you in English the moment they detect the faintest trace of an accent.
I know, I know, a case could be made that they're trying to be helpful, but my most recent meal here, the dinner for six during which I finally decided that I really like this place,  the linguistic pushback made everyone (three Americans, an Englishwoman, and a Venezuelan) but the Valenciennes born Bruno unhappy. What one does in such a case, however, is insist, and insist we did, until the message was somewhat grudgingly received that we preferred to speak French. And with this seen off, we ate very well indeed.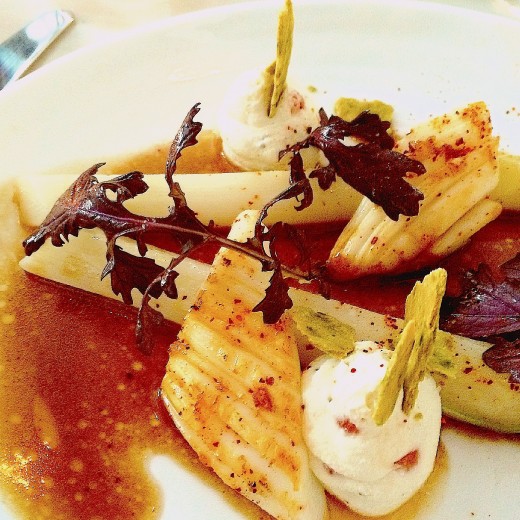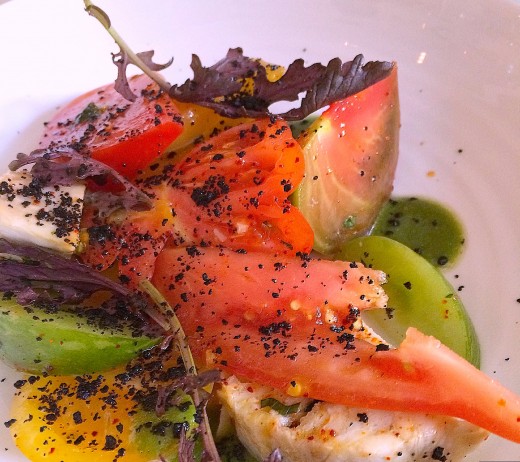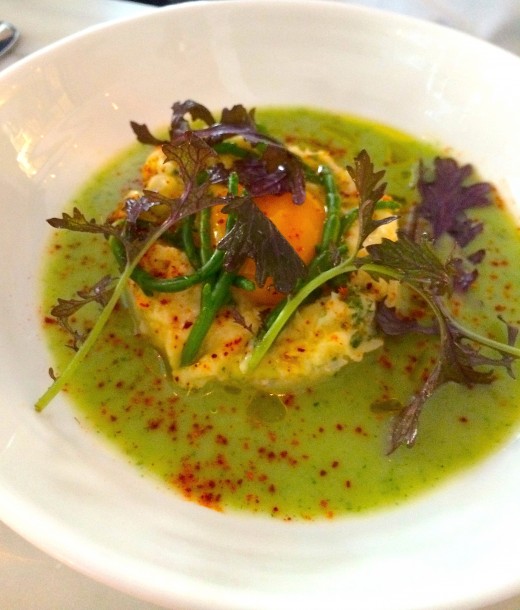 Since we were six, we managed to eat our way through the entire menu that night as well. If I loved my white asparagus with grilled cuttlefish in meat juice and ricotta with salmon eggs–a dish that beautifully straddled the end of spring and the beginning of a cool, wet, slow starting summer in Paris this year, the tomato-loving Bruno and Roberto both pounced on the heirloom tomatoes in a bouillon enhanced vinaigrette with a nice chunk of poached skate. Richard described his luminous looking cream of fennel soup with shaved fennel bulb, crabmeat and crushed roasted hazelnuts as "consoling and sort of elegant in a low-key way," and the other two were delighted by a deconstructed brandade de morue (salt-cod with mashed potatoes and garlic) that read as salt-c0d garnished with a slow-cooked egg yolk and crunchy salty samphire (a sea plant) in a pool of beautifully made potato soup.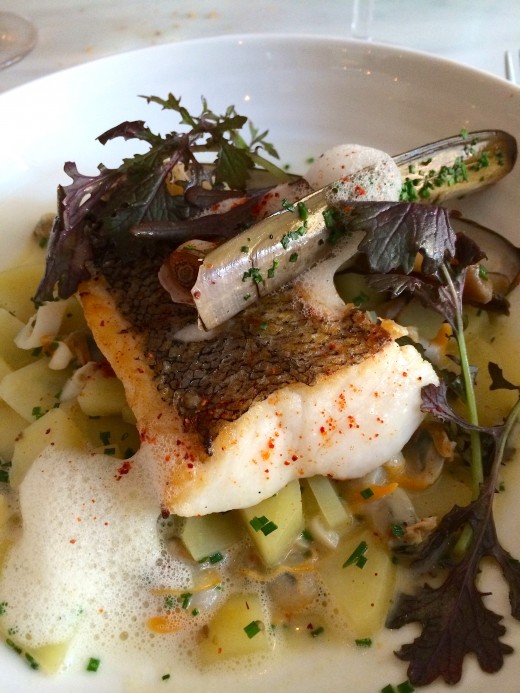 There were five main courses on the menu that night, including lamb sweetbreads (doubtless from Terroirs d'Avenir) prepared a la meuniere with raw and cooked artichokes and a blue-cheese crumble, white tuna with baby peas and lemon verbena, and free-range pork with sweet-potato puree with grilled sesame and Swiss chard with pan drippings. With me as the exception–I had the braised lamb with aubergine mousse line, which was delicious but a dark and murky looking plate of food that needed a third garnish with more texture and color, everyone else had the hake with potatoes, cockles and razor-shell clams in a lactic but iodine rich foam. And before anyone gets exercised about the foam, a contemporary cooking feint that's becoming a lightning rod for gastronomic animosity, let me say that it worked perfectly on this dish for the very reason that chefs fell in love with foam to begin with–it conveys flavor without the heaviness of a more conventional sauce.
Desserts were homey but clever, like recipes you'd find in the trendier young French food magazines: roasted apricot with 'crumble' and marjoram ice cream, sautéed cherries with marscapone and vanilla ice cream, and chocolate mousse with tonka-bean sauce and praline.
There was a nice atmosphere in the dining room as we ate, and the people-watching was first-rate, too, especially at the bar, where locals can show up alone or with a friend without a reservation, a very clever idea that anchors the restaurant firmly in the quartier.
So if Caillebotte painted a canvas of this namesake table in the 9th Arrondissement today, would it have as much Parisian resonance a century later as his superb painting "The Floor Scrapers"? There's no way of saying for sure, but my guess would be, yes, since this dining room says so much about how affluent Parisians like to eat today and the crowd offers a perfect tableau of the neighborhood. One way or another, it's nice to have another first-rate and fairly priced local.
Caillebotte, 8 rue Hippolyte-Lebas, 9th Arrondissement, Paris, Tel. 01-53-20-88-70  Metro: Notre-Dame de Lorette, Saint-Georges, Cadet or Le Peletier Closed Saturday and Sunday. Lunch menu 19 Euros, Prix-fixe dinner menu 35 Euros, Average a la carte 40 Euros.