CAMELIA–The Mandarin Oriental Paris Hotel's 'Second' Restaurant, B-/C+
August 14, 2011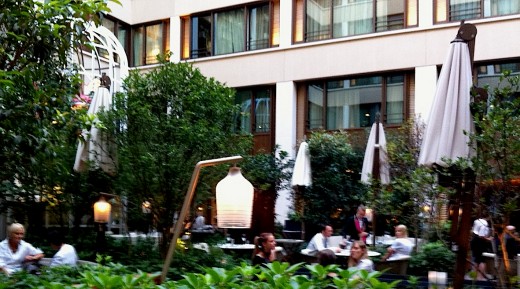 With a name that makes it clear they're making a play for the fashion-business lunch crowd in the heart of Paris, including, rather panderingly, staff from nearby Chanel, Camélia is the 'second' table of the just opened Mandarin Oriental Paris hotel. It's also under the aegis of the hotel's chef Thierry Marx, and weather permitting they serve outdoors in the hotel's attractively landscaped interior courtyard garden. So deciding to take advantage of a woefully rare break in the ceaseless rain falling on Paris this summer, and also curious about what Marx would get up to at a 'second' table, Bruno and I made a dash for it and went to dinner here the other night.
Both of us found the fiber-optic pin pricks of light in the carpeting at the entrance to the hotel alarmingly Dubai in terms of taste, but the garden itself, which is divided in half between the restaurant's terrace and the bar's outdoor serving area by a shallow black stone fountain, is lush and lovely.
The ivy cascading from layers of planters on the back wall of the atrium added an odd Seventies touch, though, since this vegetal arrangement reminded me of the first John Portman designed atrium-centered hotels for Hyatt Regency, and with this visual cue, I kept expecting Captain & Tennille to turn up on the unfortunate Musak that aurally inhabits this space.
The service from the nice young women who work here was immediately charming, though, and we settled in over a glass of bone-dry sparkling Montlouis, a very nice wine and much more reasonably priced than any of the Champagnes they serve by the glass. I was surprised that the menu was so short, but not that it was so expensive–the Mandarin Oriental is positioning itself to compete with such estimable grande dames as the Ritz, the Bristol and the Plaza Athenee as one of the first 21st century luxury hotels in Paris.
After nibbling on olives and some surprisingly mediocre bread, our first courses arrived. I was in a smoked salmon mood and got a dainty chunk of same accompanied by a salad of herbs and a candy-bar shaped potato cake that was saved from being hopelessly bland by four little salmon eggs and the salt I added.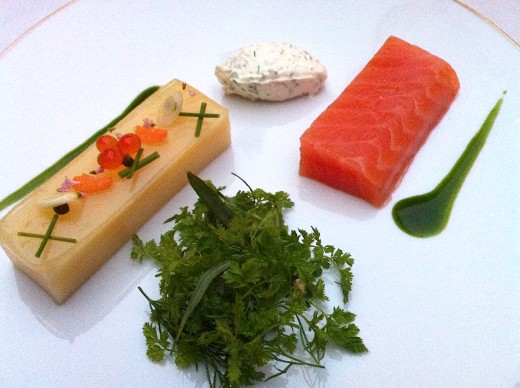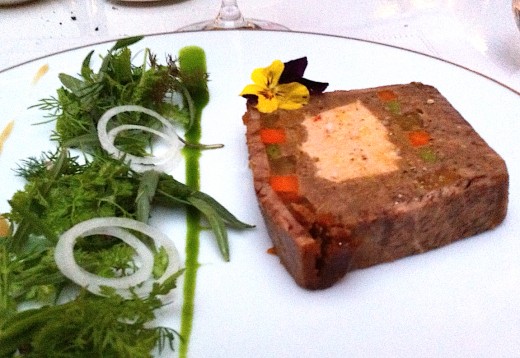 Bruno did much better than I did with a sublime terrine of beef–shredded braised meat that was full of flavor and surrounded a somewhat superfluous nob of foie gras. The little pansy garnishing this earthy, old-fashioned profoundly Gallic dish was as silly as spotting Arnold Schwartzenegger with a red hibiscus blossom behind one ear, but it was heart-warming to come across such an impeccable example of this rock-of-ages and very labor-intensive French treat. The accompanying salad of herbs included a few sprigs of tarragon that flattered the terrine, too.
My curiosity got the better of me when the waitress explained the sliced Hereford beef filet as being like "Le Tigre qui Pleure," which is served at the Hotel Costes next door. Surely the Mandarin Oriental Paris doesn't think it's going to pull the same crowd as the Costes? One way or another, I didn't see a lot of people alighting in front of the Mandarin Oriental from one of those in-your-face four-wheel drive gas-gulping brazonly environmentally unfriendly monsters favored by Costes customers. And the garden here was curiously absent any of the many face-softening candles that this same crowd likes when they're strutting their Roberto Cavalli or Gucci.
Anyway, for anyone who doesn't know it, this modish dish is a sort of a riff on beef carpaccio, served at the Costes with a gingery sauce, and at the Mandarin Oriental with a puckery sauce that tasted mostly of Worcestershire sauce. It came with a tiny side dish of undercooked turned potatoes and a couple of braised shallots and was completely forgettable.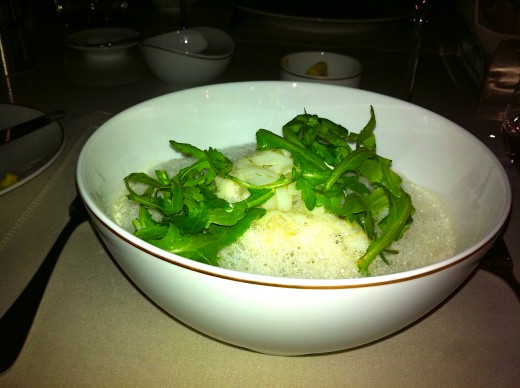 Bruno, on the hand, had a wonderful spelt risotto with finely shaved ribbons of squid and a bright lemony sauce, a much happier example of Thierry Marx's cooking than my beef. The highlight of the evening here, during which we drank the cheapest wine on the short wine list, a red Crozes Hermitage at a thumping 50 Euros, was spotting Carole Bouquet and Jacques Attali seated inside of the raised egg-shaped VIP table at the back of the garden. Marx was chatting them up, and she was beautiful and drop-dead chic in a fluttery oyster-colored toga-like dress.
Desserts here are a selection of the pastries that the hotel sells at a pastry counter–a popular amenity in Asian hotels, just inside the entry to the restaurant. We had our hearts set on splitting a slice of lemon tart, but the last piece was sold before we could order it, and we settled for a slightly soggy slice of peach tart instead.
The bill for this meal was almost 200 Euros, a thumping sum that led me to some musings on what the 'second' restaurant in a luxury hotel should be. Supposedly they exist as both a service to hotel clients who don't want to go out or as a way of enticing Parisians on to the premises and creating a link between these sanctuaries and real life in the city. Oddly, almost none of the luxury hotels in Paris gets this type of restaurant right, although I do find the very occasional meal at the Relais Plaza at the Plaza Athenee amusing for its beau monde crowd and pretty good food. If it were up to me, though, I'd create a knock-down good Paris bistro on my premises that serves all of those foods that people dream of when they're sitting in a Paris-bound air-plane cutting up chicken with plastic knives–onion soup, escargots, terrine de foie gras, boeuf bourguignon, blanquette de veau, and roast chicken, for example. "Real" old-fashioned Paris bistros have become so sadly rare that it would be terrific to see one of the city's palace hotels deploy their ample resources towards adding to this diminished flock, and I suspect that any such address could be a huge success.
Camélia, Mandarin Oriental Paris, 251 rue Saint-Honoré, 1st, Tel. 01-70-98-74-00, Metro: Concorde or Tuileries. Open daily. Lunch menu 45 Euros. A la carte 75 Euros.