L'OPERA RESTAURANT–Business-Class Dining at the Opera Garnier, B-
August 8, 2011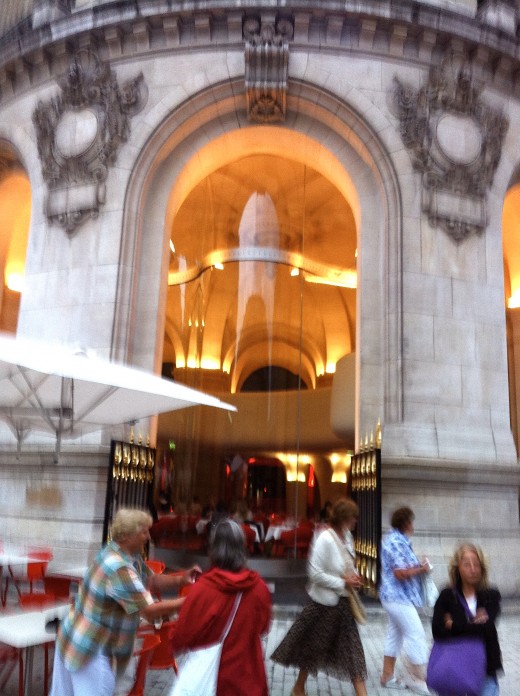 It's taken 136 years, but there's finally a restaurant at Paris's Opera Garnier. Architect Charles Garnier had always envisaged a restaurant in one of the city's most beautiful and iconic buildings, but it was never realized for financial reasons. Other attemps were made in 1973 and then again in 1992 by Pierre Bergé and Hugues Gall, but both plans fell short for lack of funding. Now, after a seemingly eternal wait–the latest project has been muted for at least three years, and the launch chef seems to have changed every fifteen minutes, too, with Lyon's Nicholas LeBec said to be in the wings for years only to be purportedly replaced by Alain Senderens at the last minute, L'Opera Restaurant is finally open, with chef Christophe Aribert of the two-star Les Terrasses in Uriage near Grenoble running the kitchen.
Looking to cheer ourselves up on a rain-swept Saturday night during a disappointing summer, I suggested to Bruno that we give the pots and pans at home a rest and walk down the block for what would hopefully be a good dinner. Wending our way through a group of high-spirited Czech tour-bus passengers, we finally found the entrance to the dining room, which is located in the rump of the Opera and dramatically distinguished by undulating glass walls between its limestone arches.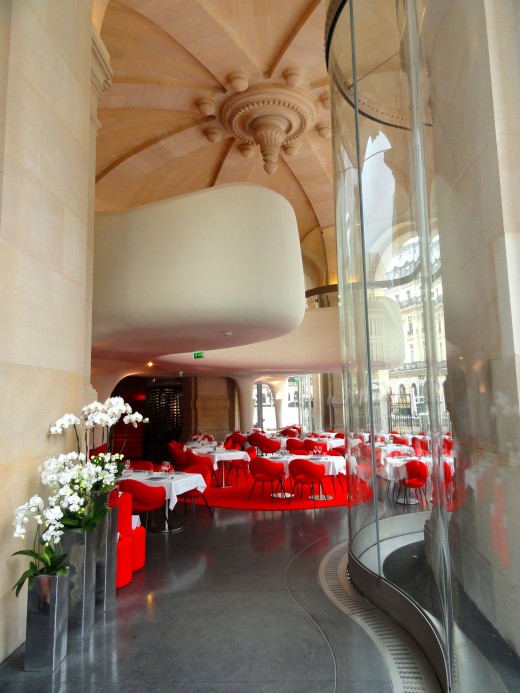 Stepping through the front door, the smile-free hostess forgot to greet us and then marched us across the room to a hidden niche with no view of the dining room. Since we were decently dressed and the place wasn't full, I couldn't understand this decision, but she did the same thing with all of the couples who followed us, and they reacted the same way we did, which was to request a table in the main dining room. The main features of the dining room, which was designed by French architect Odile Decq, are its big streamlined white-framed mezzanine, which looks like something from a "Life in the Future" pavillion at the 1964 New York World's Fair and a flock of tomato red chairs. My instant impression of this space was upmarket airport waiting room, a perception that wasn't improved upon by the rather awkward service of our waiter or the cold sushi-like rounds of rice and salmon served on teaspoons with our glasses of Moet Chandon Champagne at an eye-popping 16 Euros.
Since we were dining during the dog days of August, it's not really fair to draw hasty conclusions about the clientele this place is likely to attract based on the crowd the night we were there, but that didn't stop Bruno from deciding "Parisians aren't going to go for this–this place feels too corporate and doesn't have any charm."
And if it was true that the staff weren't very impressive, I reminded Bruno that they'd just opened and decided to reserve judgement until we'd had our meal. That said, most of the other diners were tourists or business people at work dinners, with only a scattering of visibily Parisian couples who were obviously here for the same reason were were—they were curious about this long-heralded and much-hyped project and had decided to give it a go.
Since starters are where a chef introduces his or herself, they should have impact. Unfortunately, it took us a while to find first courses here that promised much excitement. To my surprise, they came before we'd even tasted our wine, a decent white Crozes Hermitage at 39 Euros from the very short and very expensive list, and though Bruno's salad of Champagne vinegar splashed beef-steak tomatoes with summer truffle shavings was very pretty, it was also steakhouse-in-a-shopping-mall dull and cost a thumping 17 Euros.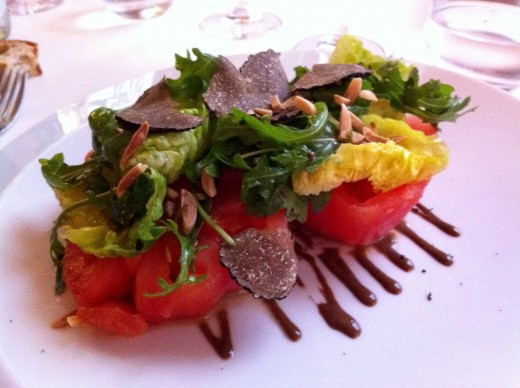 I did better with my marinated salmon, which came with a scoop of inspired mustard-and-vinegar sorbet and a small hunk of seared brioche. Still, it hardly seemed worth 19 Euros, and between the squirt bottle scribbles on Bruno's plate and the timid seasoning of both dishes, it was hardly an auspicious debut.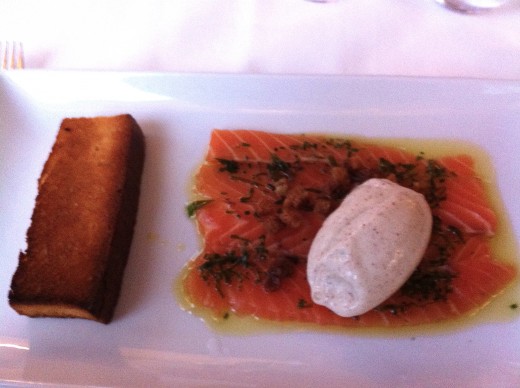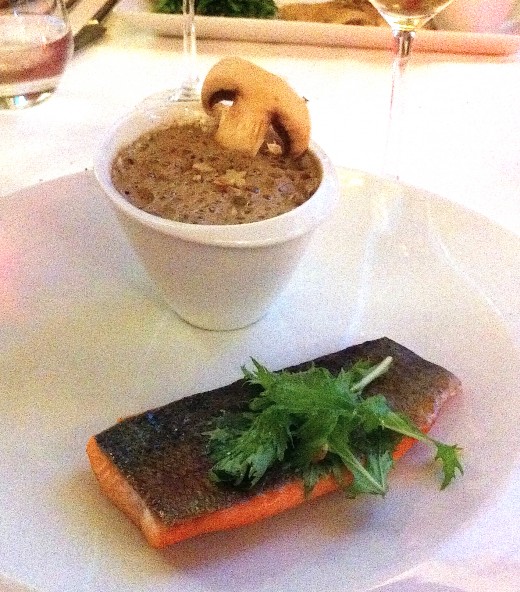 Happily, our main courses were considerably better, although this time round I got the short end of the stick, since Bruno's smoked trout was succulent and perfectly cooked and came with an interesting garnish of tiny ravioles de Royans (delicate little ravioli from the Dauphine region of France) in a delicious Comte cheese, mushroom and walnut sauce, a stylish regional feint at Aribert's home turf. Hidden under a wan pane of Melba-toast-like bread, my sole Grenobloise was decorated with silvery snippets of anchovy but the garnish of chopped lemon, capers and parsley its name implies was dully parsed out as a few caper petals and a superfluous side of Hollandaise sauce. I can't for the life of me imagine why they're charging 39 Euros for this dish either.
Though we were tempted to split a slice of "classic" Opera cake (layers of almond sponge cake soaked in coffee syrup, layered with ganache and coffee buttercream, and covered with chocolate icing) as opposed to the other version they offer, a modern one made with yellow Chartreuse, milk, walnuts, chocolate and massala bread, for dessert, we decided on the equally appropriate peche Melba, which chef Auguste Escoffier originally invented for Australian soprano Nellie Melba in 1892. In its classic version, a poached peach rides atop vanilla ice cream with lashings of raspberry sauce. Here it was served as a trying too hard version with a peach poached in lemon verbena on a plate with a slash of very good fresh raspberry puree, but it certainly wasn't worth 12 Euros. No mignardaises were served with coffee either, and though Aribert is clearly a very able chef, my overall impression of this meal was that it was the terrestrial equivalent of a very ambitious business-class airplane meal and certainly not deserving of a curtain call, especially when we paid 198 Euros and left the premises without so much as a "Bonsoir."
The only reason I might become a phantom of the Opera again is that they're introducing a 40 Euro menu in September, and because this place is open daily. Otherwise, I can think of lots of other tables in Paris where I can drop 200 Euros for a better meal, and this restaurant is still very much in need of fine tuning and major rehersal time.
L'Opéra Restaurant, Place Jacques Rouché, 9th, Tél: 01-42-68-86-80. Metro: Opéra, Open daily, Average a la carte 75 Euros, www.opera-restaurant.fr