Copenhague, Paris | Suave New Nordic Cooking on the Champs-Elysées, B+
February 13, 2017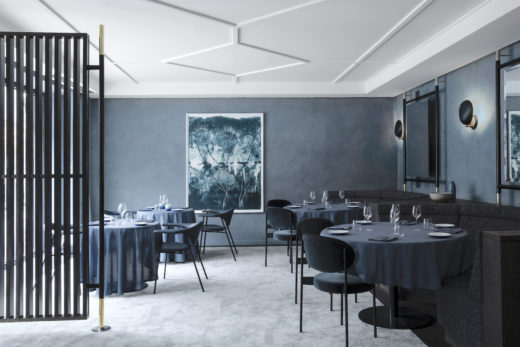 Ever since it opened in 1955, Copenhague in the Maison du Danemark, has been a showcase for Danish gastronomy and one of the lamentably rare good restaurants on the Champs-Elysées. Now this serene dining room on the first floor overlooking the famous avenue has been updated to reflect the remarkable evolution of Danish cuisine during the last fifteen years.
Young Danish chef Andreas Møller, who worked with Erwin Lauterbach, one of the founders of the New Nordic Cuisine (explained by this manifesto) and at Danish gastro czar Claus Meyer's The Standard, helms the kitchen at Copenhague, which is Paris's first New Nordic restaurant. With an emphasis on angelic aesthetics, a purity of flavors, short cooking times and seasonal produce, the menu here shakes up a stale local perception of Danish cooking as being all about Smørrebrød (open-faced sandwiches), herring and salmon. In fact for many years, the signature dish of Copenhague was saumon a la l'unilatéral, or salmon slow-cooked skin side down to give it a soft consistency just fractionally beyond raw. It was delicious, but it did little to refute an ingrained French idea that Scandinavian cooking is more about austere sustenance, a la the film "Babette's Feast," than 'real' gastronomy.
What many people who've never been to a cutting edge Copenhagen restaurant like Noma or Geranium will quickly notice is how much of an impact New Nordic cooking has had on Parisian bistronomie, or modern French bistro cooking, in terms of aesthetics and a deep commitment to locavore sourcing. This is explained by the fact that Copenhagen has become the de rigueur destination for young European chefs, with chef Rene Redzepi's MAD symposium also disseminating these Scandinavian ideas across Europe and the rest of the world.
Scrubbing the former a la carte menu here, along with the oil painting of Queen Margrethe II that dominated the dining room for years, Copenhague now proposes tasting menus, four courses and five course for 55 Euros and 70 Euros at lunch, five and eight courses at 85 Euros and 115 Euros at dinner, instead.
Settling into the sleek graphite colored dining room designed by Danish design team Stine Gam and Enrico Fratesi, the honky-tonk atmosphere of the avenue below immediately receded in a first visual encounter with a space that emitted a quiet chic and serenity, and the outstanding sommelier set us up with excellent Champagne while another waiter explained the menu.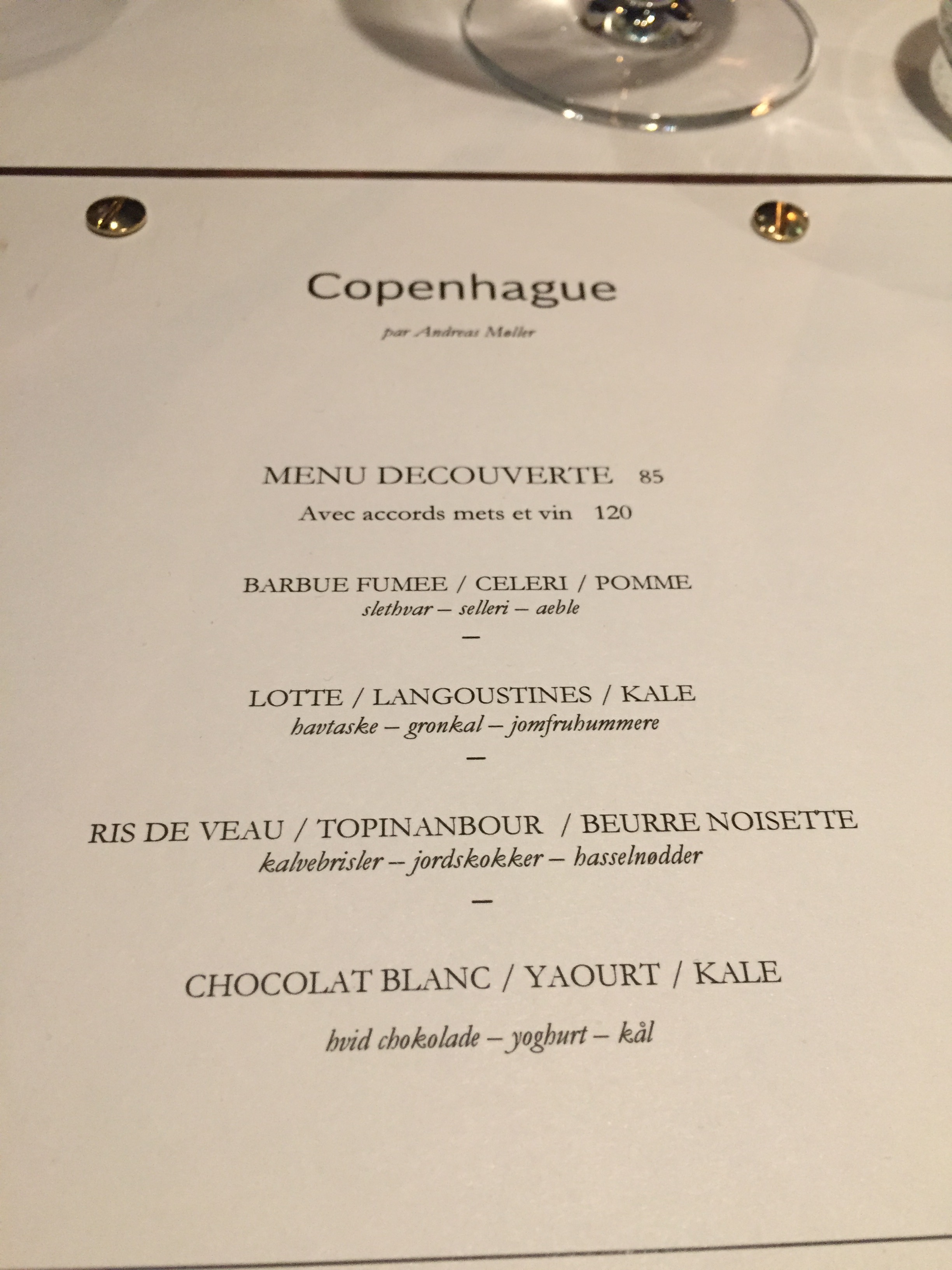 Since I have become habitually wary and weary of tasting menus, which I rarely enjoy and which usually last too long, we chose to have the shorter four-course Menu Decouverte, which runs to 120 Euros a head with the wine pairing we also opted for. I'm also not a great fan of wine pairings, since they too often lead to overkill in my experience, but not knowing much about what was coming, it seemed like a good idea. And it was. In fact, it was one of the best wine pairing experiences I've ever had anywhere, since the sommelier has assembled a spectacular list and his pairings were point blank brilliant.
Our first course was a pretty rose of shaved celery root and apple with kale oil on top of smoked brill, and it was a subtle, pleasant composition of flavors and textures that was distinctly Nordic and very refreshing. Wine: Macon-Uchizy Les Maraches 2012 Domaine des Comtes Lafort.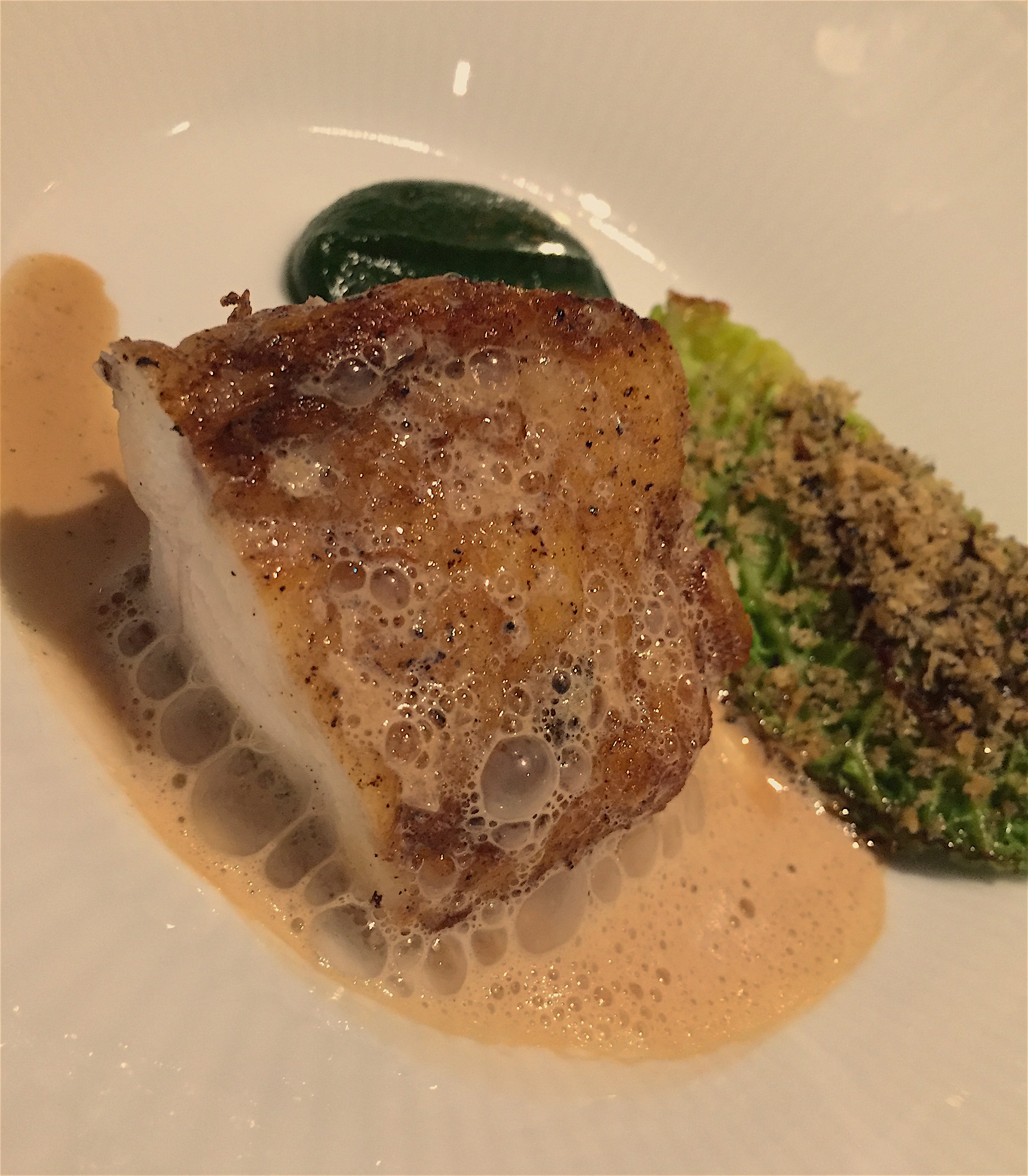 Next, a juicy chuck of monkfish cooked meuniere style with a large chewy kale leaf sprinkled with bread crumbs and the same vegetable presented as an invigorating emerald green puree, all three napped by a delicate langoustine cream sauce. Very pleasant again, but devoid of the more brute side of New Nordic cooking. On the other hand, Copenhague has always been a favorite with French corporate brass, so the wilder shores of modern Scandinavian cooking–dishes including wild foraged foods like moss and shock value ingredients like blood and Cro-Magnon offal like heart and tendons were probably judged ill-suited to the tastes of its gray flannel clad clientele. So what you get at Copenhague is New Nordic Cooking with French good manners. Wine: Domaine Cassiere Ogier Condrieu 2013, liquid proof of human genius.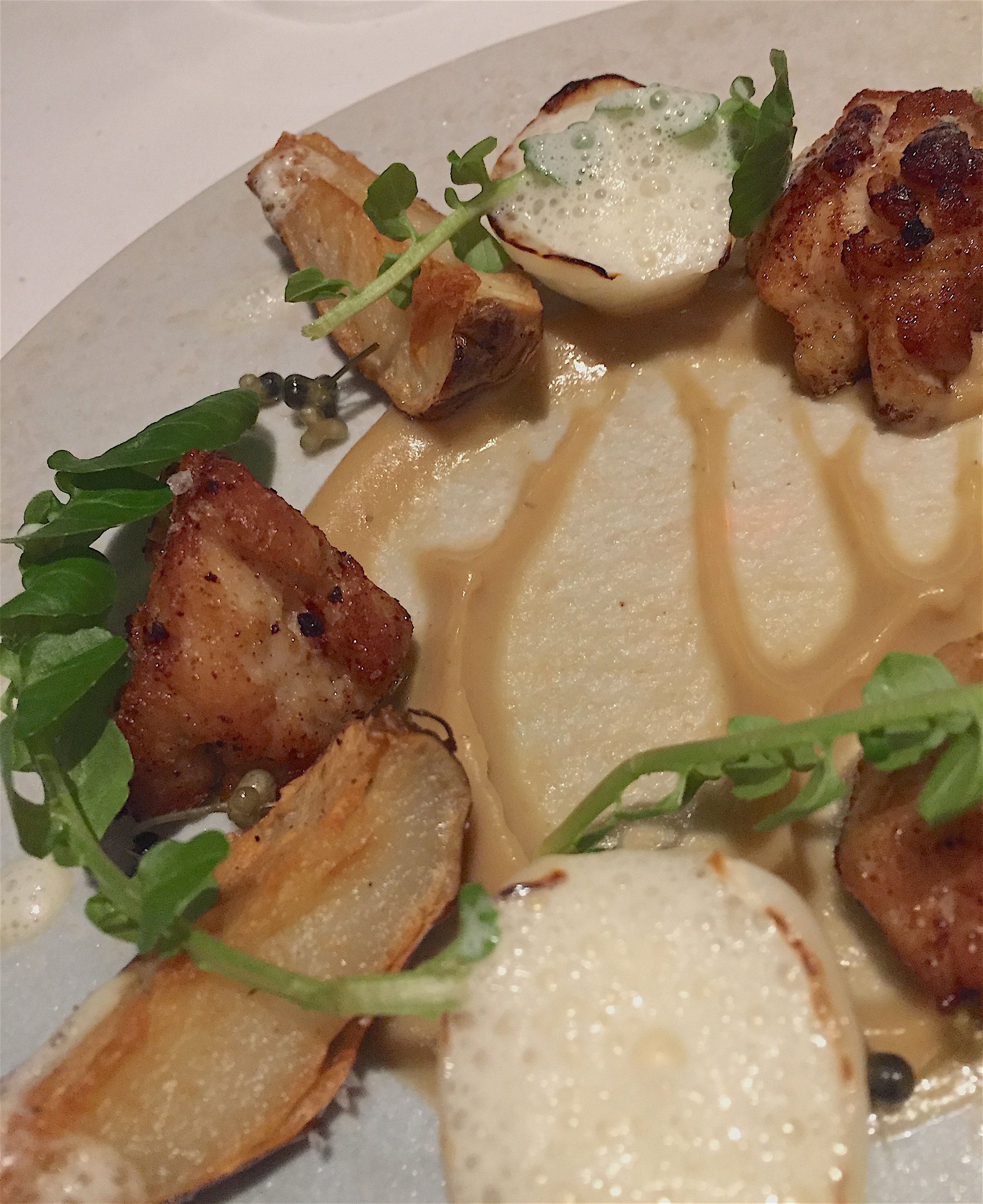 Even though there was only one other table occupied in the dining room on a rainy Monday night, I doubt the service we enjoyed would be any less charming, informed and well timed when this restaurant is full, since the team of natty young servers has worked all over Europe, and especially London, and clearly enjoys their work.
Bruno, who's eaten much less widely in Scandinavia than I have, was intrigued by the delicacy of the cooking and its gentle cherubic palate. For my part, I loved this food, too, but occasionally craved an acidulated garnish or two to contrast with its otherwise appealing shyness.
Sautéed veal sweetbreads with roasted Jerusalem artichokes, a frond of turnip green, and foamy beurre noisette in onion petal cups was winsomely feral, and the pretty trellis of Jerusalem artichoke puree against which the food was plated made me wonder if there isn't some kind of mold that produce this lattice, since I'd seen it before in both Oslo and Stockholm. Wine: Poulsard 2012 Sur Charrieres Domaine Labet.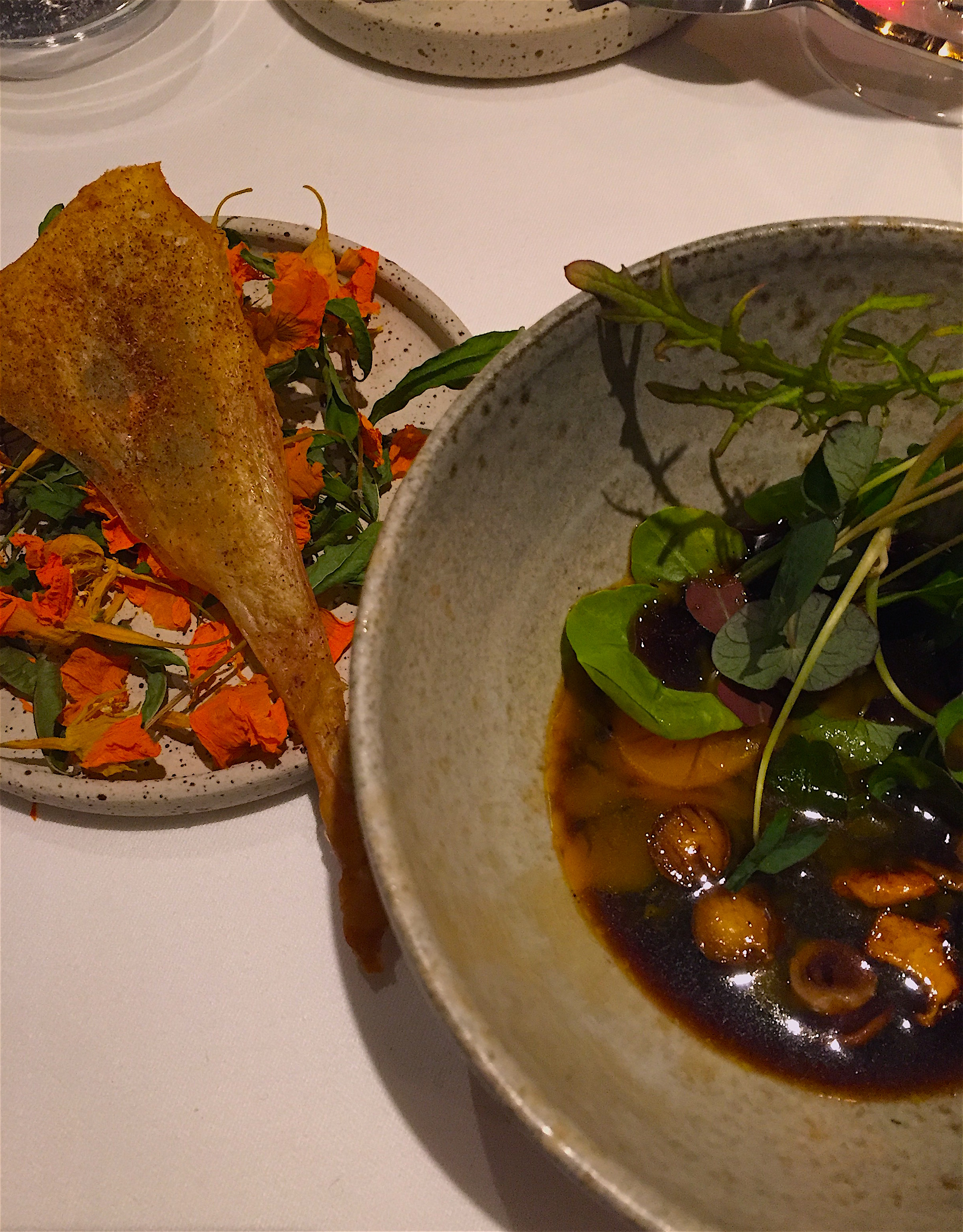 Our next dish wasn't part of the menu, but something the chef wanted us to taste, and I'm so glad he did. Assorted winter mushrooms, including mousserons and girolles, came in a rich deeply reduced bovine broth under a thatch of peppery salad leaves with a side garnish of crispy dried chicken skin on a pretty bed of dried nasturtiums that were there for decor. "I suppose you could eat them, though," hazarded the waiter. This was a deeply solacing and wonderfully bosky dish that paired perfectly with a 2015 Morgon Domaine Anthony Thevenet.
"It's very earnest this cooking, isn't it?" said Bruno, and it was indeed, with a perfect equilibrium of  creativity in the service of flawless technique. The delightful and unexpected harmony of a gastronomic encounter between France and Denmark had been the winsome and consistently charming theme of our meal.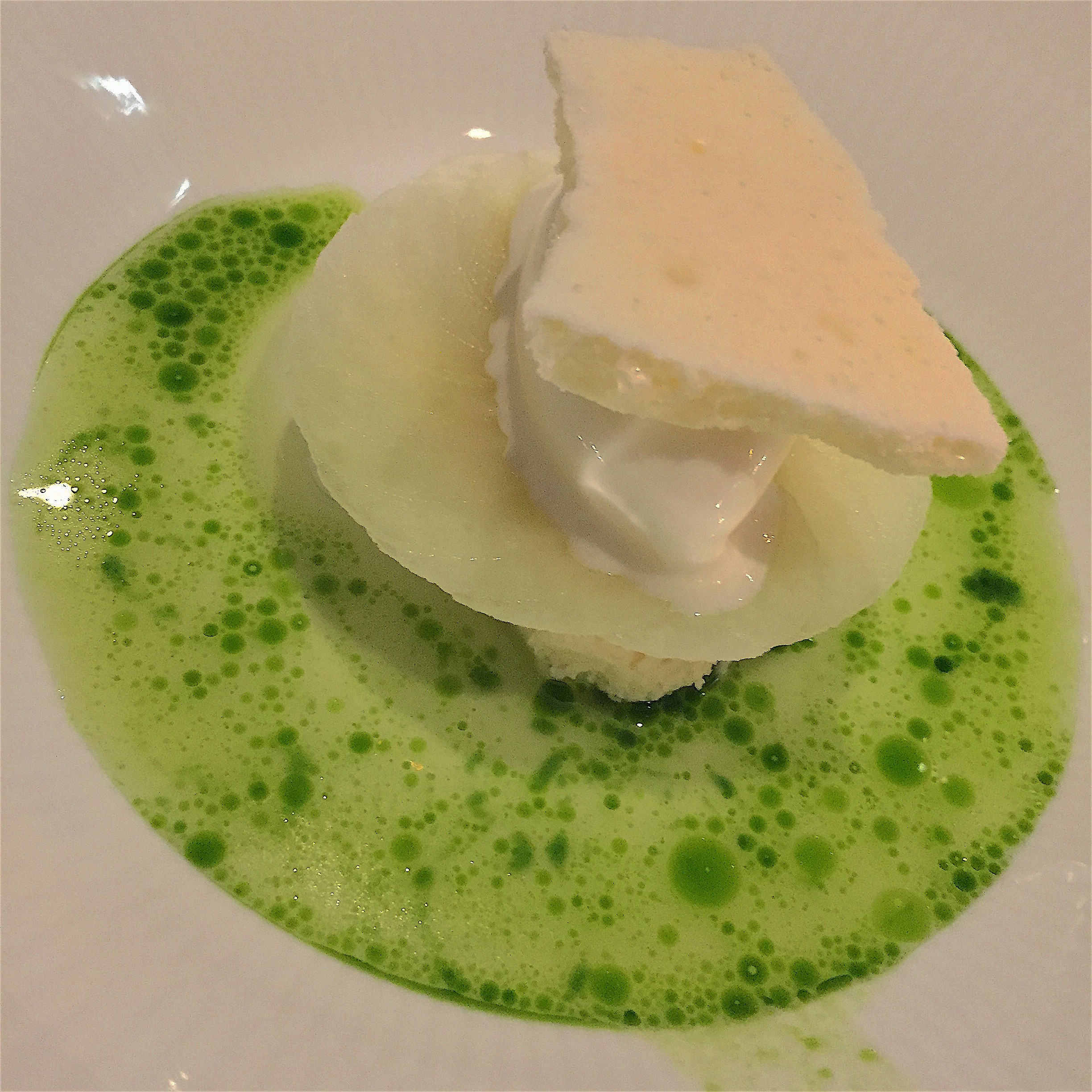 The meal ended with a dessert that was so purposefully naive and sincere it had us both hearing angels' wings batting against the ceiling. A fractured wafer of meringue road a scoop of fresh white-chocolate ice cream on a wafer of candied celery root atop a sponge biscuit in a pool of herby bright and slightly tart sauce dotted with kale oil. It so cleverly reprised the deepest themes of the dishes that had proceeded it–seasonality and innocent direct flavors, that it was an ideal conclusion to a notably pleasant meal. Wine: a 2014 Cap Corse muscat from the Domaine Yves Leccia.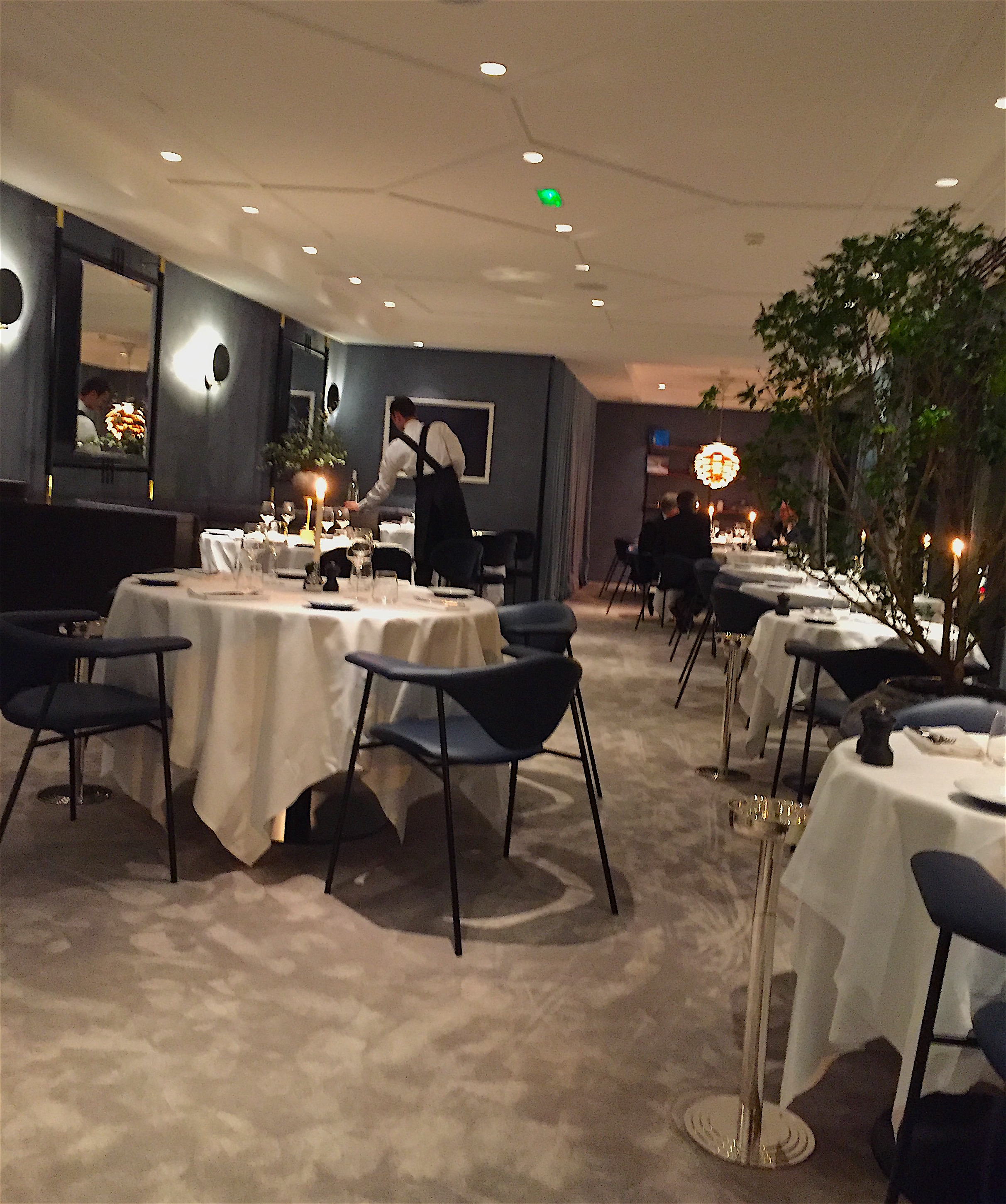 The quality of Andreas Møller's cooking also made me keen to return and try Copenhagen's sister restaurant, Flora Danica, which serves a more conventional herring and salmon heavy menu downstairs and in the garden out back in good weather. One way or another, Copenhagen's new incarnation indicates that the axis of European gastronomy has tipped quietly northward in search of inspiration.
142 Avenue des Champs-Elysées, 8th Arrondissement, Paris, Tel. (33) 01-44-13-86-26. Metro: George V or Charles-de-Gaulle-Etoile. Open Monday to Friday for lunch and dinner. Closed Saturday and Sunday. www.restaurant-copenhague-paris.fr