Tavline, Paris | Excellent Israeli Cooking in the Marais, B+
March 15, 2017
Just in time for spring, Tavline, a new Israeli restaurant, brings cooking with an invigorating herbaceousness to the Marais, the 4th Arrondissement in Paris. In doing so, it resets the culinary offer of an historically Jewish neighborhood in the French capital for the 21st century, too, since Israeli cooking, as popularised by London based chef Yotam Ottolenghi, bespeaks the earthy, vegetable-loving, umami-rich allure of this exceptionally appealing modern kitchen, an immigrant mash of dishes from Eastern Europe, North Africa, and the Arab countries, plus ancient dishes that issue from the Sephardic diaspora, or the Spanish and Portuguese Jewry expelled all over the world in 1492.
Tavline, which means 'herb' in Hebrew, is the brainchild of a delightful and very talented young couple, Keren Benichou and her husband chef Kobi Villot Malka. Both of them have Moroccan-Israeli origins, but Villlot Malka worked for Alain Ducasse for five years after studying at Le Cordon Bleu in Paris, which explains the suaveness of his cooking. What he proposes at Tavline is Israeli comfort food, but with a certain finesse in terms of its flavors, technique and plating.
Stepping into this casual dining room on the rue du Roi de Sicile, you leave Paris behind for Haifa or Tel Aviv, since the atmosphere here recalls the casual restaurants and cafes that have made both of these cities seriously good food destinations. The Israeli background of the owners notwithstanding, the crowd on a recent rainy night was decidedly cosmopolitan when Bruno and I arrived for dinner. To my right, four ladies from Denmark, to our left, a French Jewish and Palestinian couple, and at least five languages other than French could be heard in the room. This diversity was immediately bracing in a world that's so fraught today over issues of identity, religion and ethnicity, too. To wit, we were all happy to share the same space and enjoy some delicious food in a place that is radiant with warm hospitality, a love of good cooking, and a respectful and very deep appreciation of human variety. As Tavline rather guilelessly shows, restaurants can have a big impact on a neighborhood or a city in terms of affirming those humanist values that invariably govern any happy well-run kitchen.
As a longtime Parisian and someone who loves the Marais for its history, architecture and magnificent mixture of different cultures–if the neighborhood's essential DNA is Jewish, it's also long been Paris's gay neighborhood and a place of refuge for those who are unconventional, off-beat, or just plain different, it gladdens the heart to see a new restaurant opening here instead of another cold anonymous luxury boutique. For anyone who's not in the know, after colonizing and damaging such storied Paris neighborhoods as Saint-Germain-des-Pres, global luxury retailers are now making big eyes at the Marais, a part of the city with the kind of affluent, style-conscious foot traffic they crave. Their arrival has been predictably disruptive, since rents are climbing, which threatens the brilliantly eclectic variety of small businesses in this ancient, loved and very settled part of the city.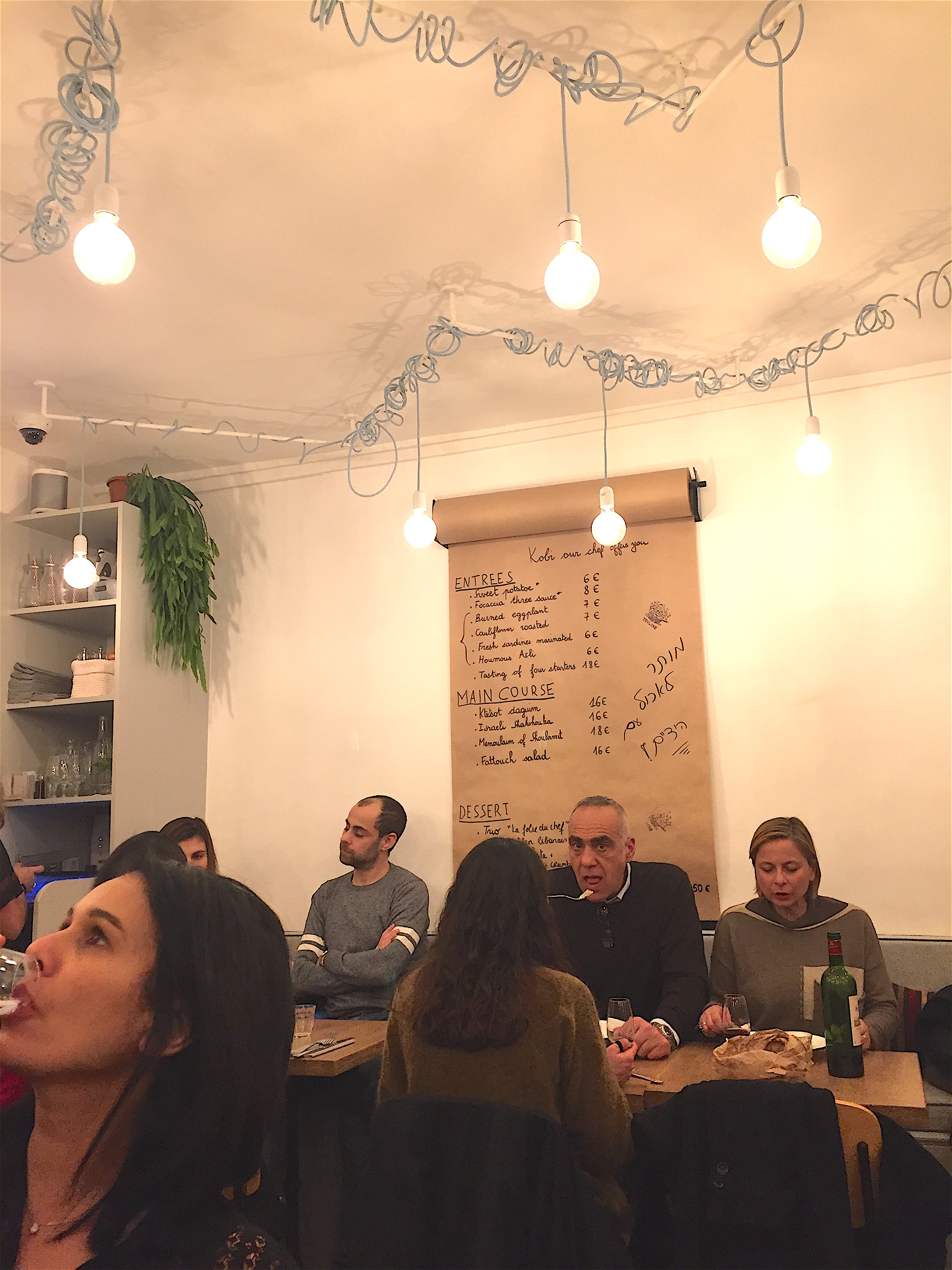 This particular night, we were both really hungry, since we've often been deprived of our cuisine during a period of exile from home created by a nightmare of leaking water pipes, so we sat down and eyed the menu eagerly.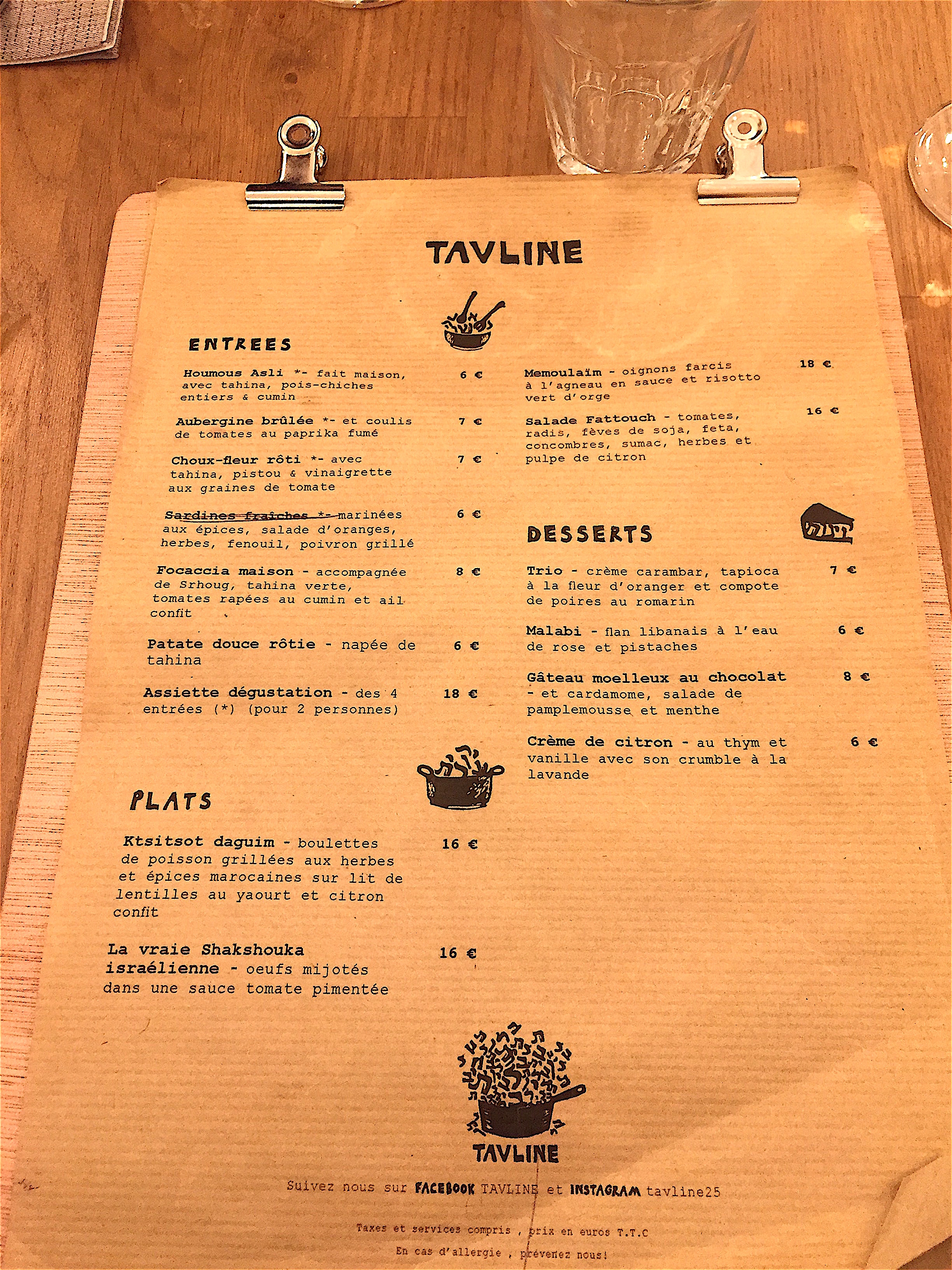 So I immediately wanted everything on this menu, which is why Keren Benichou brightly suggested we share the 'assiette degustation' (tasting plate) of starters, which included roasted beets with labnah, roasted cauliflower with a tangy pistou sauce and a vinaigrette of tomato pulp, charred eggplant with a coulis of tomates and pimentos, and roasted sweet potatoes with tahina. Every dish was vivid with flavors and textures that invoked an oriental sensuality that was a long way from Paris on a rainy night, and my only regret is that the sardines marinated with spices and served with orange salad, fennel and grilled peppers had sold out before we arrived.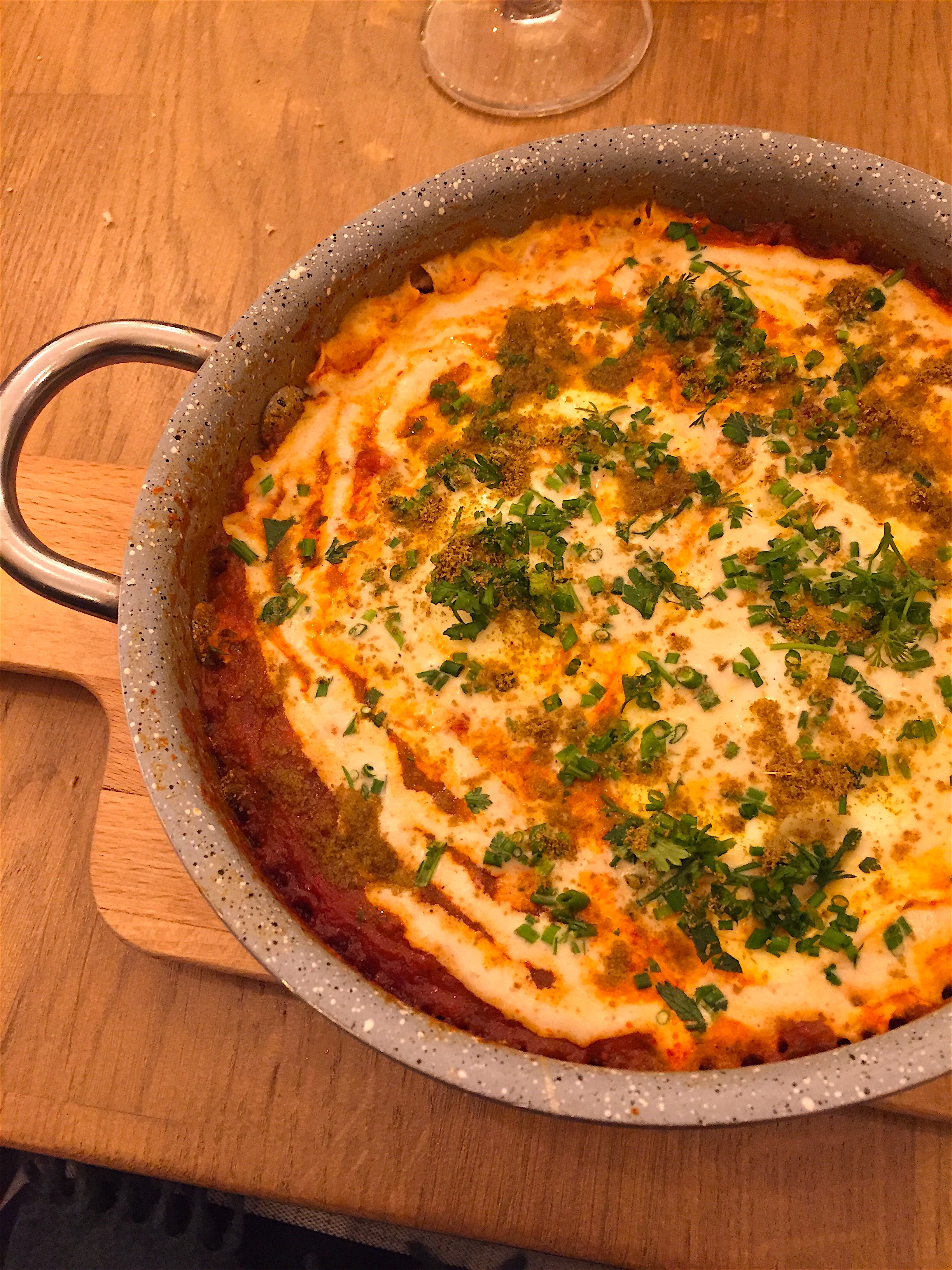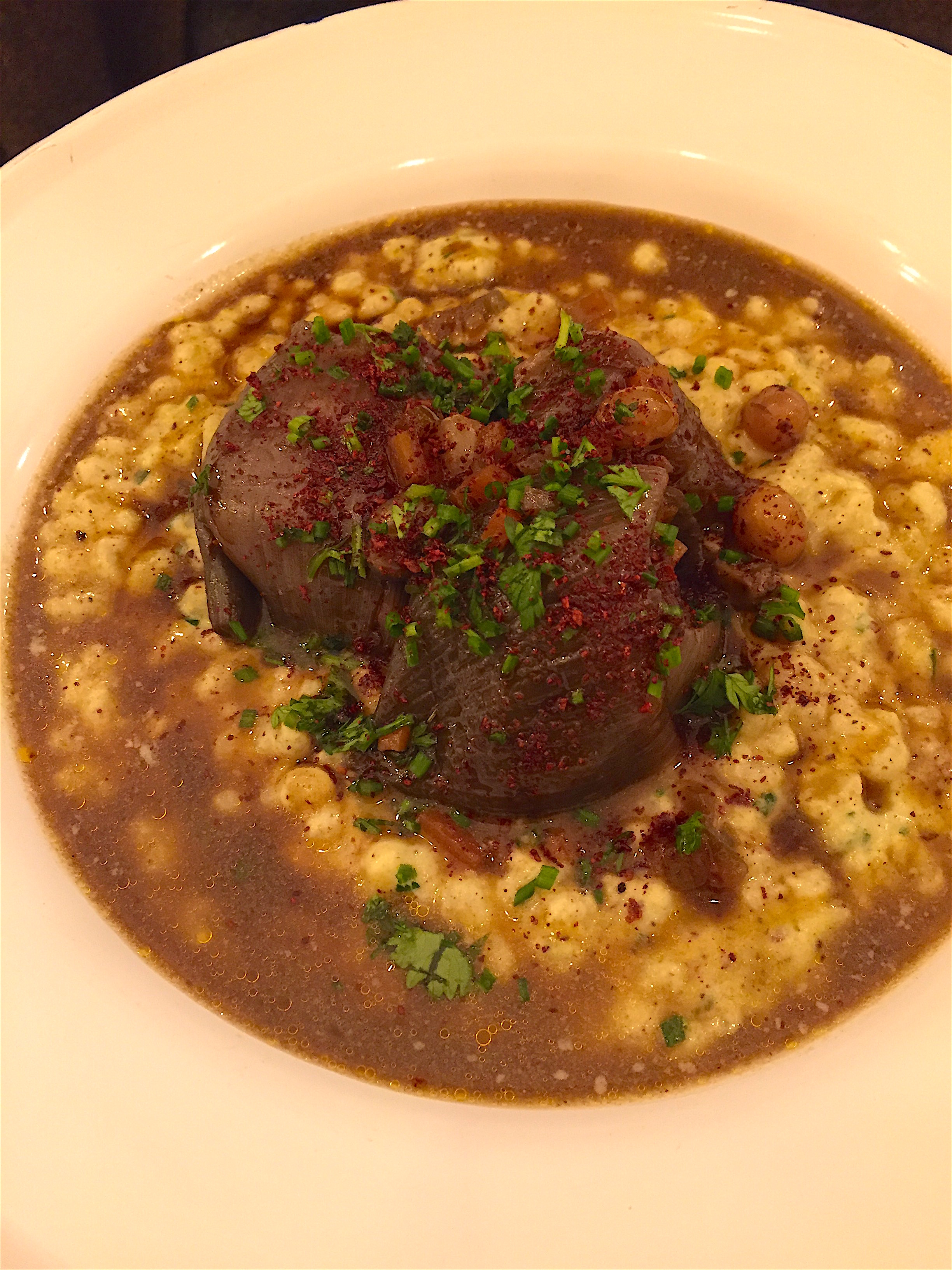 Shaksouka, or eggs coddled in a ruddy puree of tomatoes and peppers, must be one of the most delicious and consoling dishes ever invented, and they offered a lot of comfort to my bruted nerves, although I could easily have eaten a portion twice or even thrice the size of the one served here as a main course. Bruno, whose been the point man with the feckless plumbers, chose the memoulaim, or onions stuffed with lamb on a bed of barley in a ruddy sauce of roasted lamb juice brightened, I think, by sumac and maybe some pomegranate molasses, and I had trouble getting a fork into this dish, which was intriguingly pastoral and unexpectedly delicate.
On a next visit–and there will be one, I want to try the ksisot, or grilled fish balls sauced with yogurt on a bed of lentil and preserved lemon. Oh, and the sardines.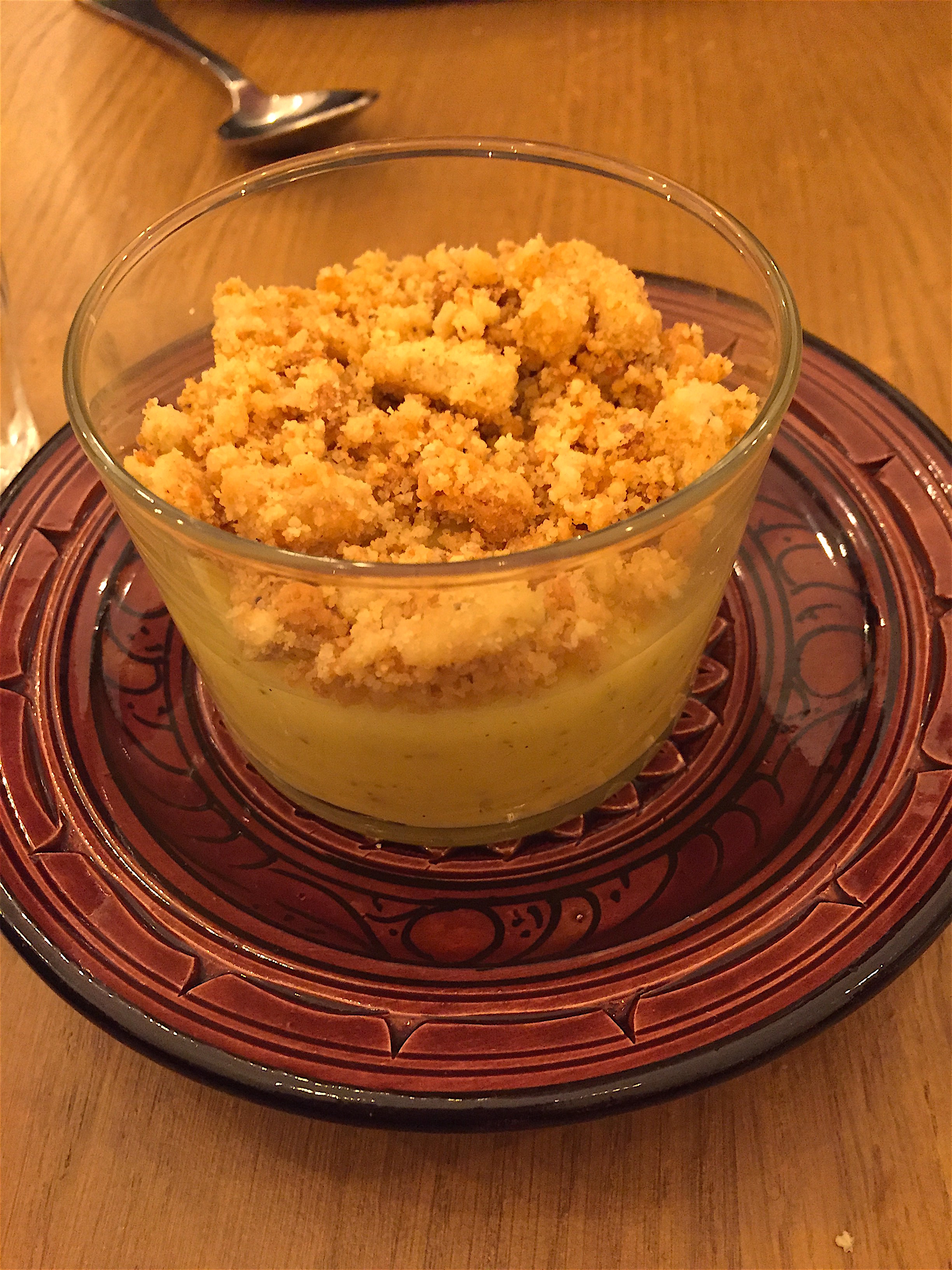 For dessert, we shared a delicious lemon cream with a crumble crust, and it was wonderfully tart and satisfying at the end of a meal of food that was so clearly cooked from the heart. Tavline is terrific little restaurant.
Tavline, 25 rue du Roi de Sicile, 4th Arrondissement, Paris, Tel. (33) 09-86-55-65-65, Metro: Hotel de Ville or Saint Paul. https://www.facebook.com/TAVLINE/ Closed Sunday and Monday. Open Tuesday to Saturday for lunch and dinner. Average 30 Euros.