Detour, Paris | A Bistro Worth Going of Your Way For, B+
April 27, 2017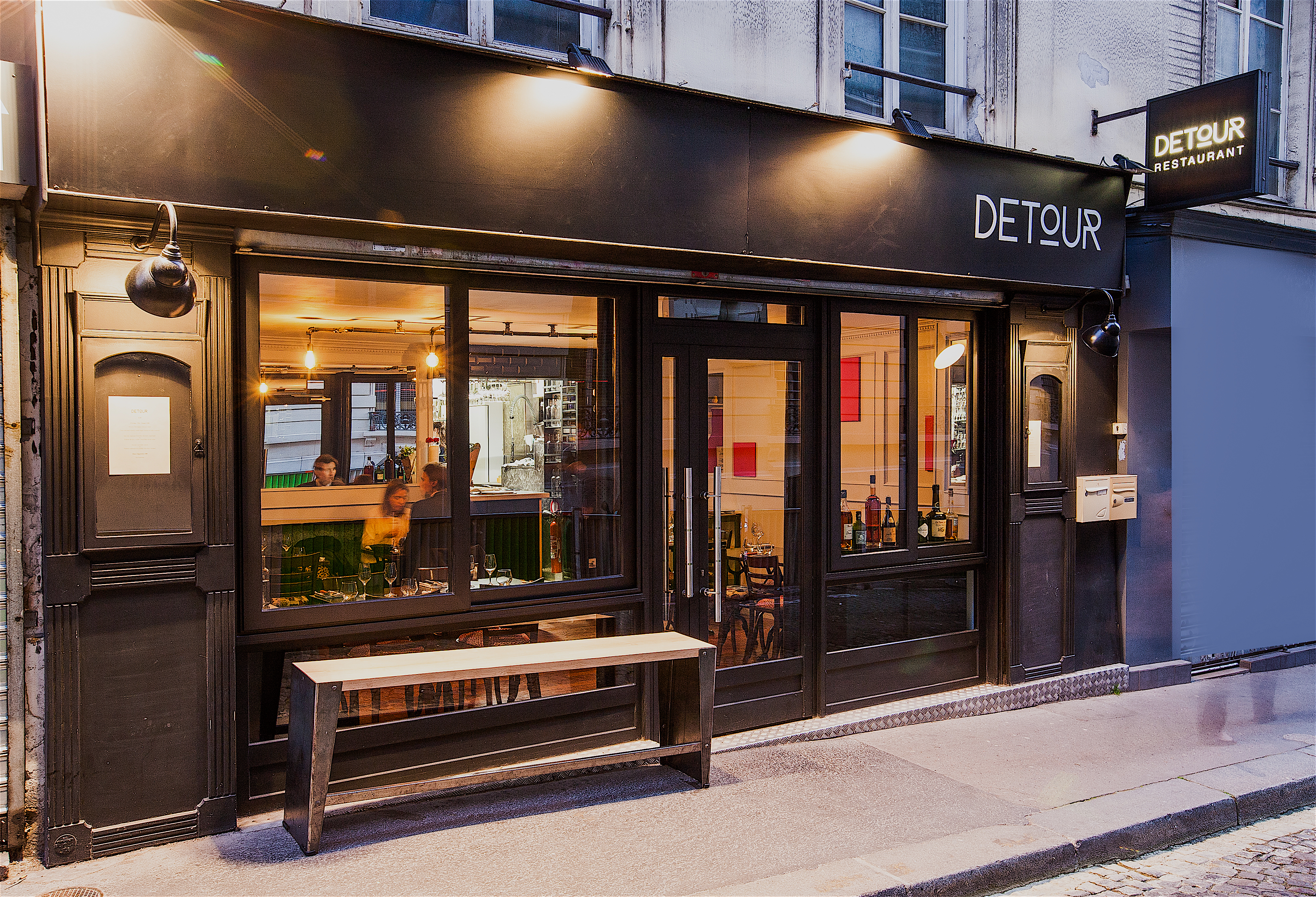 Not long after we were seated for dinner at Detour, a delightful vest-pocket bistro just a few minutes from my front door in the 9th Arrondissement of Paris, the thought recurred to me. For the last few months, I've found myself thinking that the remarkable number of excellent new restaurants which have recently opened in Paris are making the city a better destination for food-lovers than it has been at any time during the more than thirty years that I've live there.
Why? Well, consider Detour. It's a perfect example of the type of small, charming, reasonably priced restaurant with excellent and very inventive cooking, friendly service, and a short but interesting and affordable wine list that gets harder and harder to find in cities like New York or London. This is because the economics of giving birth to such a small, sincere, personal place have become almost impossible in those cities, along with many others. Mind you, the restaurant business is hardly easy in Paris these days either, what with hefty labor costs and ever rising rents. But that said it's still possible for a talented young chef like Adrien Cachot to hang out his shingle in a pretty cobbled side street with an intriguing name right in the heart of Paris and just a ten-minute walk from the Opera Garner and the big department stores on the boulevard Haussmann.
Small wonder then that it was packed on a rainy Tuesday night with a large table of young executive women having a night out, a well-advised solo business diner or two and the insatiably curious and gastronomic Parisians couples who assiduously read restaurant reviews and try the city's latest new addresses with a mixture of exigence, delight and curiosity.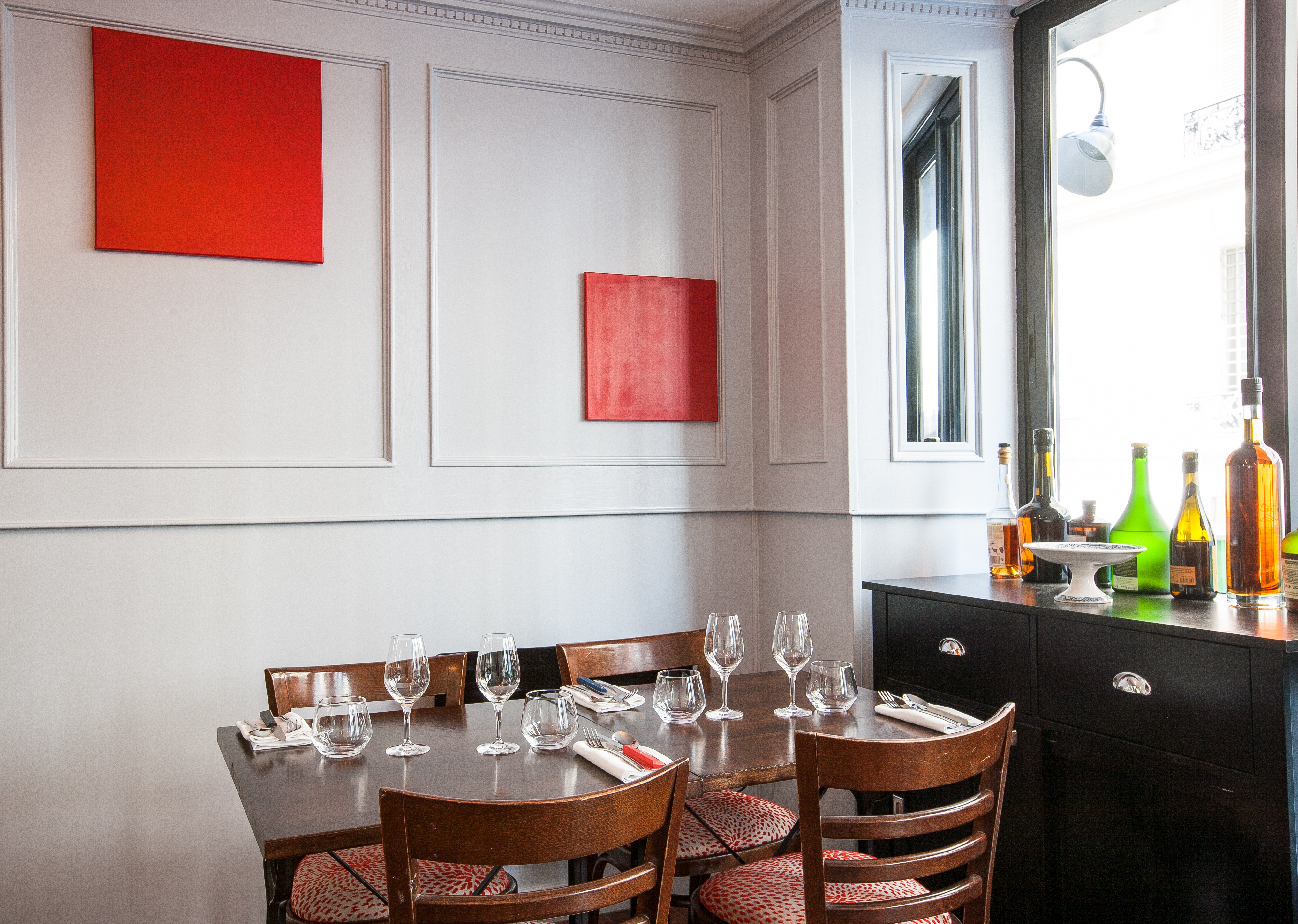 Even before we looked at the short menu printed on Kraft paper, however, I had a hunch we'd eat well here, because Cachot cooked at La Cantine du Troquet, Petit Pan and Saint James in Bouliac in southwestern France before going out on his own, and these are all excellent tables serving contemporary French cooking that's inventive but appealingly rustic at the same time. The menu followed the slightly cryptic haiku style preferred by many young French chefs today, though–Bulots, bettetraves, béarnaise (sea snails, beets, béarnaise sauce), which made it rather mysterious, however, and this, I suppose, was the point.
So from the exceptionally good-value 32 Euros menu, we ordered everything, and sat back to enjoy our Domaine Philippe Gilbert Montlouis, one of my favorite Loire Valley whites, while waiting for the meal to begin.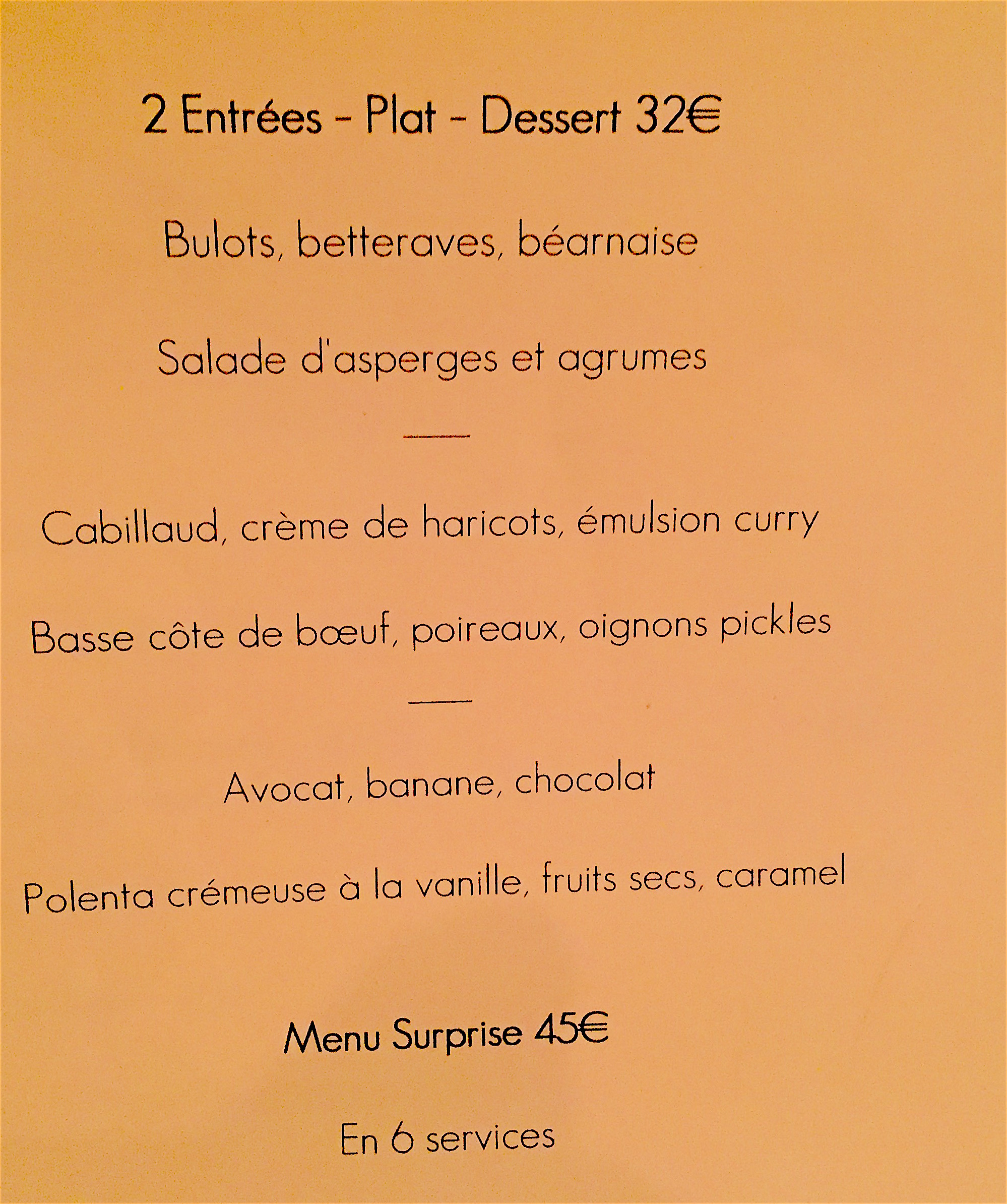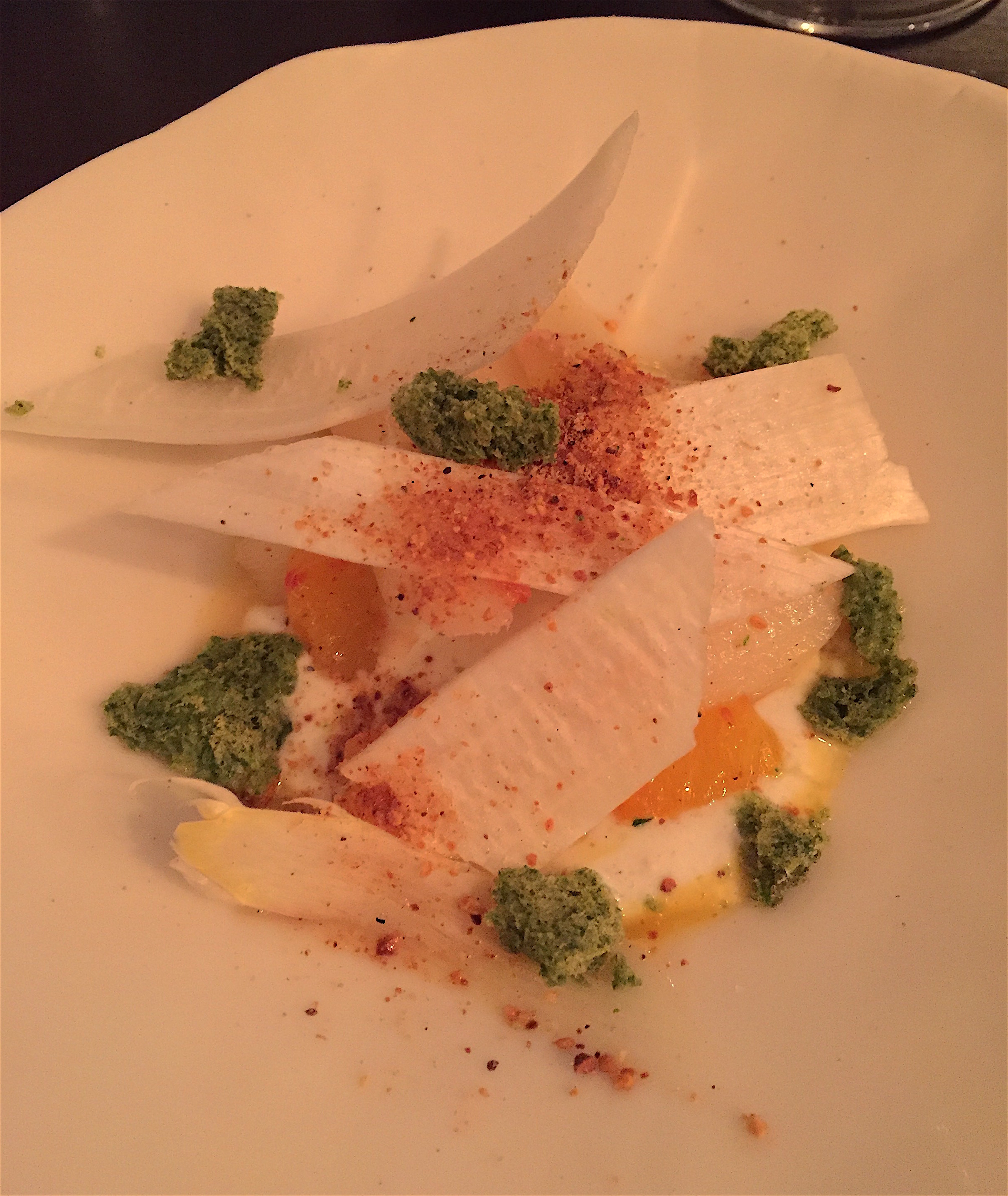 It's always sort of fascinating to try and decipher the gastronomic logic of a young chef, since they seek to surprise and seduce with their fledgling styles. By these lights, a salad of shaved white asparagus with grapefruit segments, a coddled egg and shards of pleasantly crunchy herbal biscuit was more winsome than daring, but eminently seasonal and refreshing.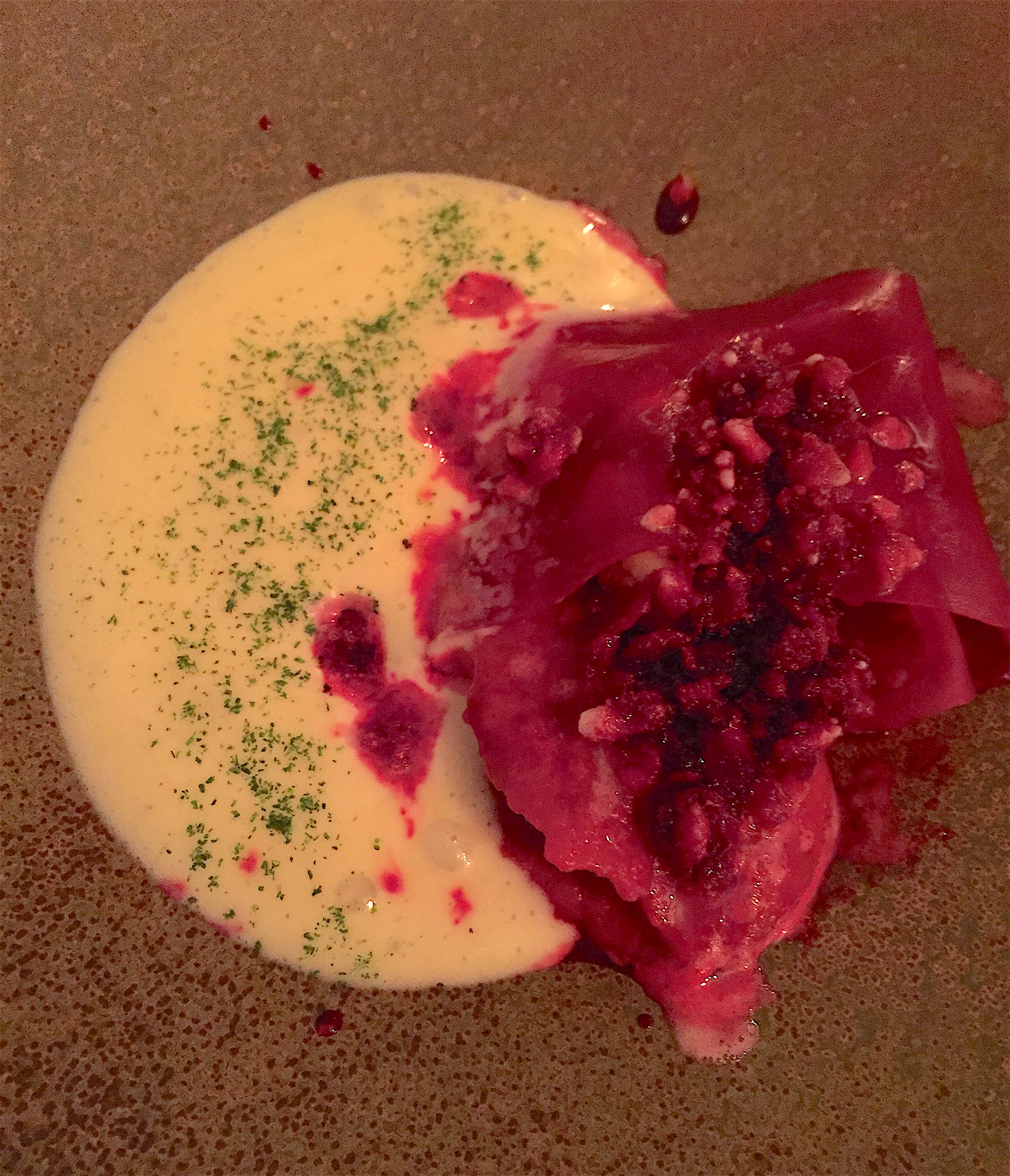 Much more intriguing was a very original composition of vinegar-spiked beet coulis, beet slices, chopped sea snails and a voluptuous Hollandaise sauce, since the bite of the iodine-rich crustacean was a good foil to the earthy sweetness of the beets, and the Hollandaise played the part of a sort of gastronomic duvet that soothed it all together.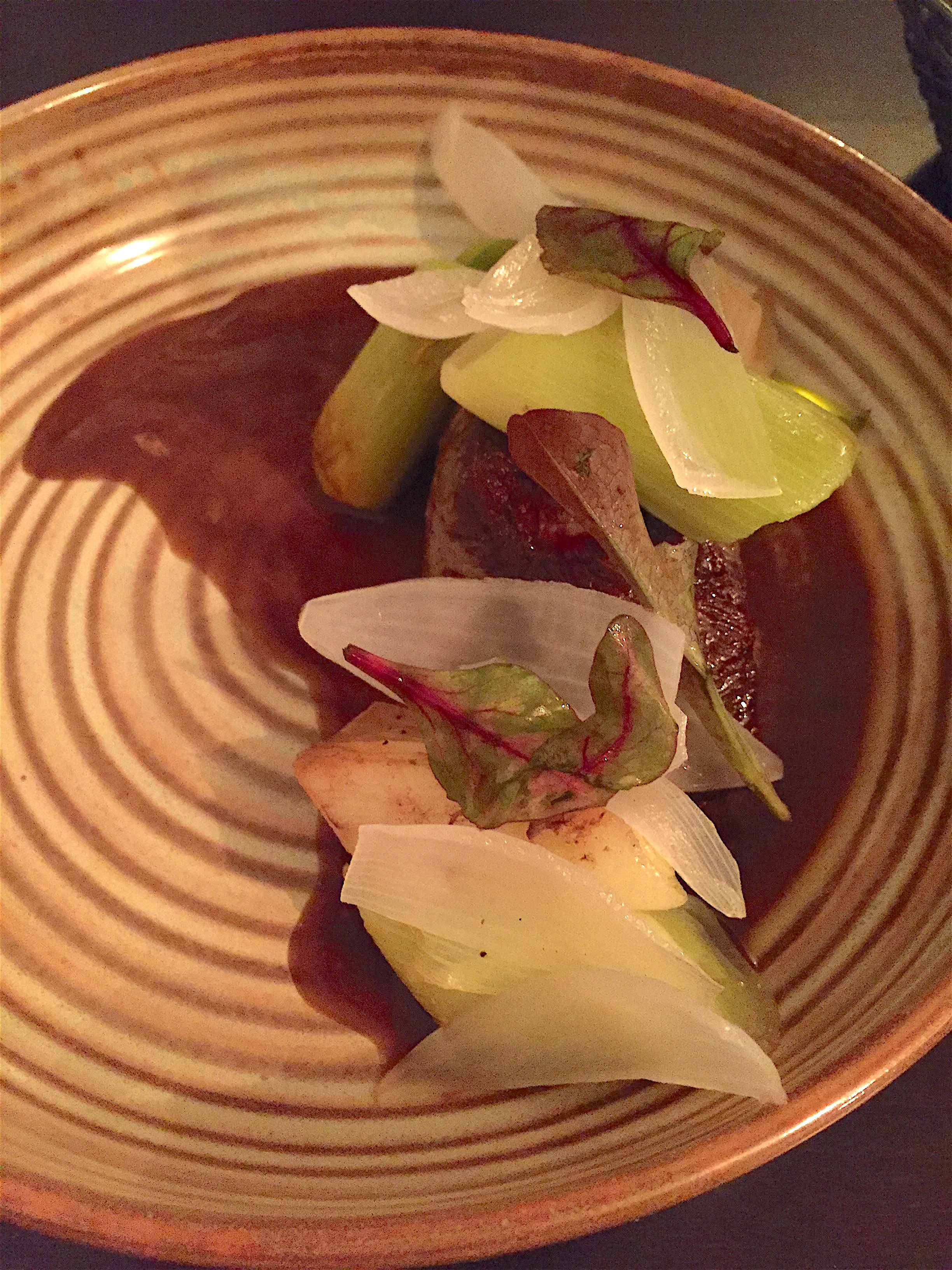 Bruno loved his beef rib with leeks, onion pickles–pickles and other fermentations are finally arriving in Paris, where they are most welcome, and I enjoyed a soothing dish of cod with white bean puree and a lively green-curry emulsion. Shyly clever and very satisfying, this was the kind of cooking you could eat every night. So it was no surprise when the waiter mentioned that a large number of locals like us are regularly making a detour to Detour.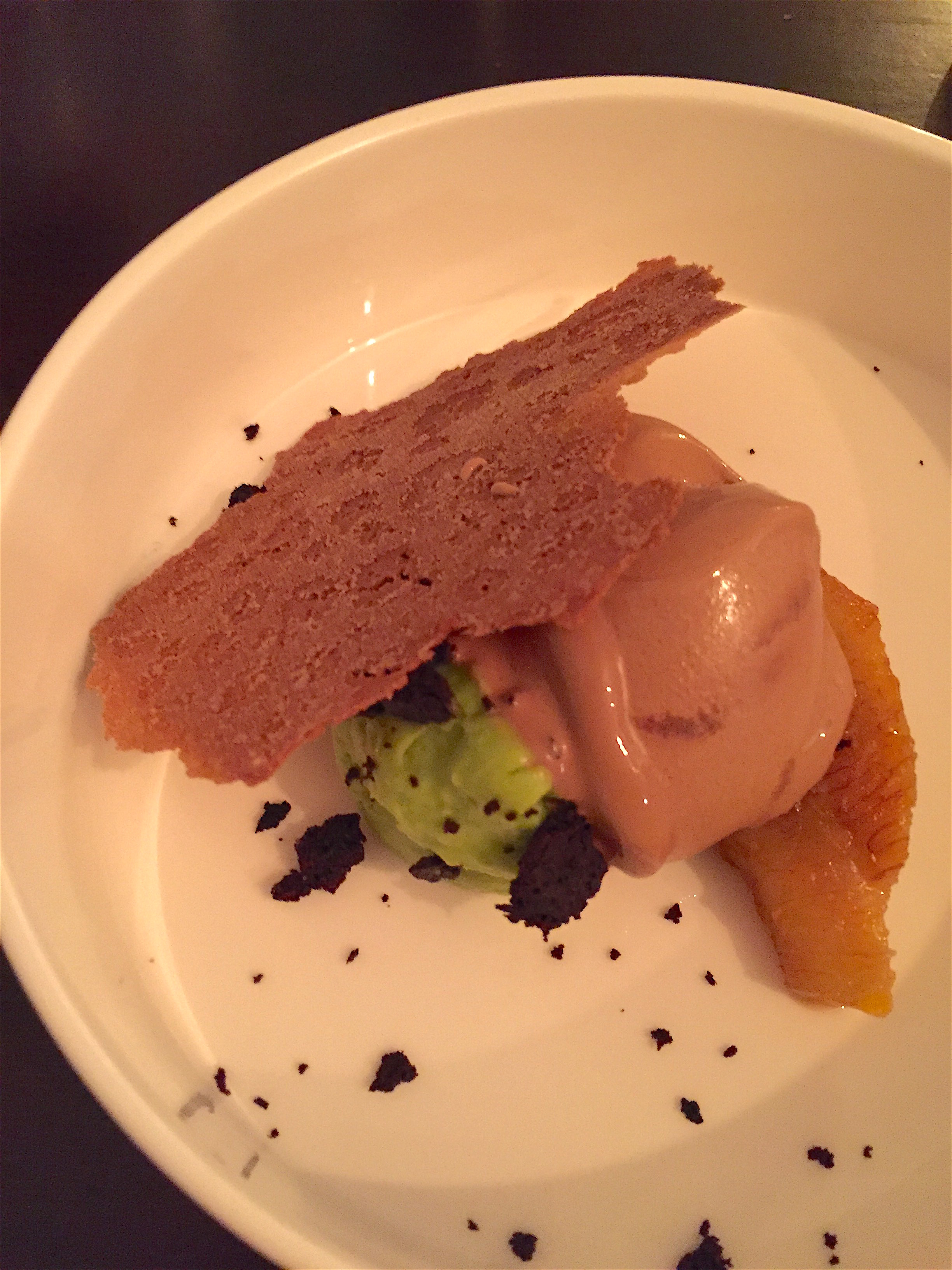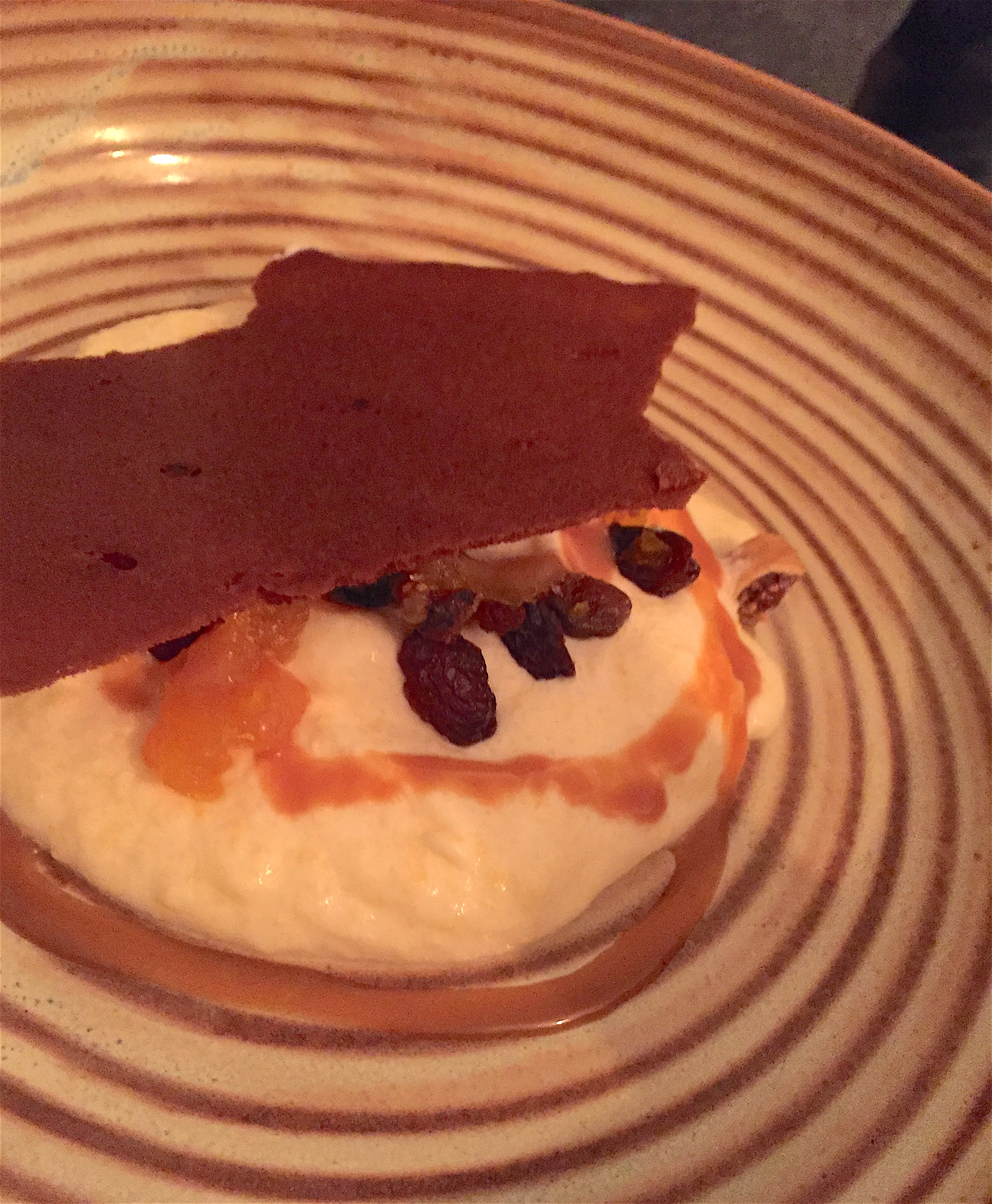 For too many young chefs, desserts are sort of an after-thought, but not Cachot. Avocado cream with chocolate ice cream, cocoa crumbs and a brittle tile was an unexpectedly sexy conclusion to my meal, while Bruno lapped up his fluffy vanilla-brightened polenta with dried fruit and caramel sauce.
Walking home after dinner, I couldn't help but marvelling over the fact that we'd eaten so well with an excellent bottle of wine and change back from a fifty Euro note for both of us. Detour offers exceptional value for money for some very good cooking, and I look forward to becoming a regular.
Restaurant Detour, 15 rue de la Tour-des-Dames, 9th Arrondissement, Tel. (33) 01-45-26-21-48. Metro: Trinite-d'Estiennes d'Orves. Open Tuesday-Saturday for lunch and dinner. Closed Sunday and Monday. Lunch menu 22 Euros, 28 Euros; Dinner menus 32 Euros, 45 Euros.