East Mamma | Good Casual Italian Dining in Paris, B
April 28, 2015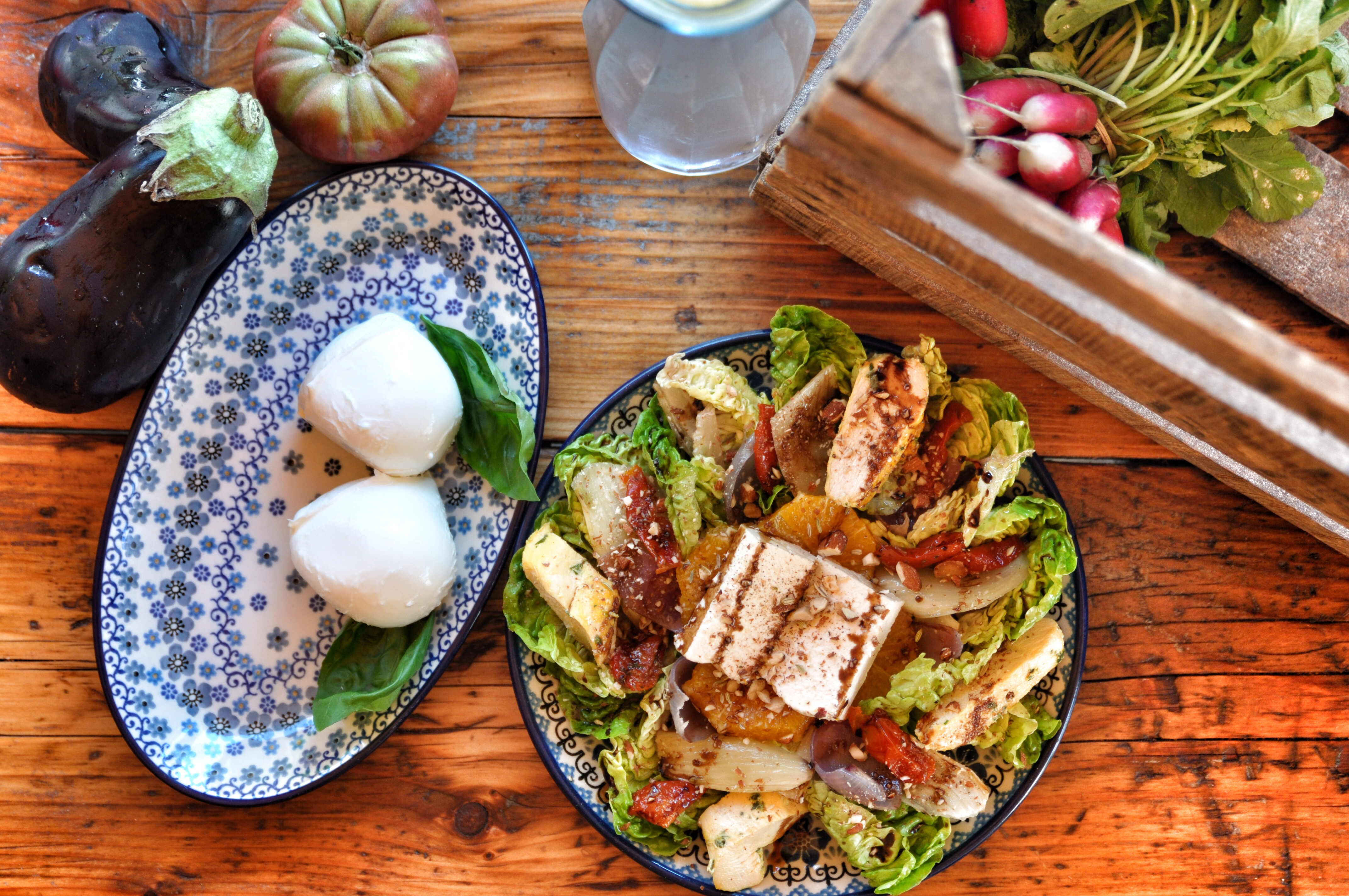 "Before, there were just a few really good Italian tables in Paris, but they were also really expensive, or the usual neighborhood Italian places, which were generally pretty mediocre," says Tigrane Seydoux, co-owner with business partner Victor Lugger of the hugely successful new East Mamma restaurant just across the street from the Square Trousseau in the 11th Arrondissement. "So our idea was to open a 'casual-dining' sort of restaurant inspired by the trattorias of Italy that offered good food made with really great Italian produce, which we import ourselves, at reasonable prices," says Seydoux, who adds that his love of Italian food came from growing up in Monaco, "where you probably eat Italian more often than you do French."
"Everything chef Ciro Cristiano works with is imported directly from Italy, including our prosciutto, which comes from Bagatto in the San Daniele region, and the wood-burning pizza oven, which was built by Salvatore Acunto in Naples," says Seydoux proudly. Not surprisingly, this handsome restaurant designed by London interior architect Martin Brudnizki, who's Jamie Oliver's preferred designer, has been packed ever since it opened a few weeks ago, with the no-reservations policy leading to a big hungry crowd waiting on the sidewalk outside.
Despite the excellent word-of-mouth on this table, I still couldn't help but being reflexively skeptical when I came for dinner the other night with Bruno. Why? Though hope may spring eternal, my passion for great Italian food has been so consistently disappointed during the twenty-five years I've lived in Paris that I make it a point to avoid Italian restaurants here, since what I can cook at home is always so much better. I dislike the fussy, stuffy overpriced Italian places in the 8th and 16th Arrondissements as a general rule–the only exception being Penatti al Baretto, where the food is excellent even if the service is, well, let's just say over-groomed, and know better than wasting a meal in any of the dozens of neighborhood joints where they sprinkle industrially made pizza dough with grated Emmental–yes, Emmental–on top of a swirl of pre-seasoned tomato sauce that's bought in huge cans at Metro, the restaurant wholesale supply store that has a lot to answer for.
If Metro is a big part of the problem with the Italian food in Paris–you can effectively buy almost any Italian dish or sauce ready-made in its aisles, one of the other big stumbling blocks has long been the erroneous but entrenched ideas about Italian food that many Parisians have. To wit, for most, it's a red-sauce story with pasta and pizza as they main players. That said, it's doubtless the most popular foreign kitchen in Paris, and though it remains flagrantly overpriced in France, good quality Italian produce is more available today than ever before; I mean, when I first in arrived in Paris, mozarella was an exotic cheese that was hard to find, to say nothing of the now omnipresent burrata.
At East Mamma, the names of the Italian producers that supply that restaurant form an alluring banner at the top of the kraft-paper menus that also serve as placemats, and it's an impressive list, too, since they've not only gone to the trouble of finding organic mortadella, that pistachio-and-fat speckled Emiglia-Romagnan forcemeat meat that became unhappily known as 'Bologna' after it crossed the Atlantic and morphed into a cheap lunch-meat staple in the sandwiches of children' bag lunches, but also bring in the excellent Ortigia line of handmade soaps from Siracusa in Sicily for the restrooms. Touting brand-name produce is, of course, all the rage in Paris right now–is there anyone who dines out regularly left in this city who hasn't heard of star vegetable growers Annie Bertin and Joël Thiébault, for example?–but alas good produce doesn't necessarily translate to good cooking.
Studying the menu over a spritz–apple-basil for me, and the classic Aperol for Bruno–we decided we'd try the bresaola that the friendly waiter touted–"It's nothing like regular bresaola, because it's made with pork" (Oh. Okay. Traditional bresaola is made from air drying beef and comes from the Valtellina region)–and a burrata to start, and then share some pasta and a pizza. The porcine 'bresaola' arrived as a plate of appealingly succulent, savory fat-free pieces of cured pork loin, and the burrata pleased by gushing sharply lactic cream when cut into and being remarkably fresh. Other possibilities for the create-your-own antipasti first course included the tempting mortadella, several grades of Italian ham, smoked mozzarella, fresh mozzarella, and Parmesan aged for twenty-four months. Aside from constituting a pleasant bald appeal to anyone's gluttony, this first course also made it possible to build out for a group, and there were many large groups having dinner here the other night.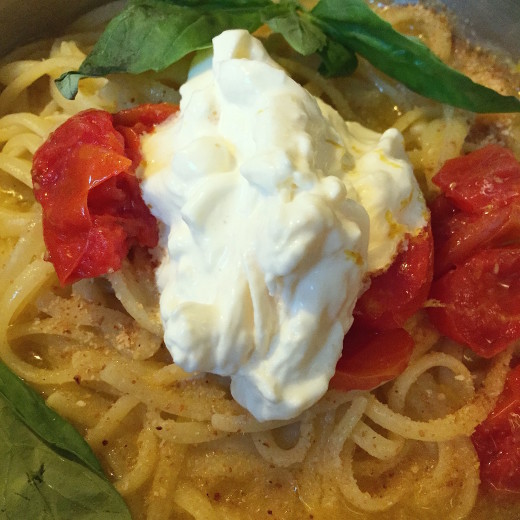 All pasta at East Mamma is made freshly daily, and the Bruno's linguine with San Marzano tomatoes, stratcciatella cheese, a fine grating of lemon rind and several sadly taste-free basil leaves had the reassuring ivory color that comes only when good flour is used, in this casa di Benedetta flour from Altamura.
My big puffy pizza with an alluringly black-blistered crust was excellent, too, although I was a bit puzzled by the decidedly non-Italian scattering of raw button mushroom slices on the pie. The Italians usually prefer their pizzas plain, but if mushrooms are used, they're generally sott'olio, or preserved in oil. But this 'White Regina' made with tomato sauce, mozzarella, Tuscan ham and mushrooms was a perfect expression of the excellent produce used to make it, and was amply large enough not only for one but two. The Trediberri Sauvignon from Le Langhe that I wanted from the excellent list of Italian wines here was out the other night, so we drank a very pleasant San Antonio Scaia Bianca from the Veneto (incorrectly labeled as being Tuscan on the wine list; thanks, Nathalie) instead.
I cringed when I saw a pail of Nutella being brought to a neighboring table–one of the desserts here is an all-you-can-eat smear-it-yourself Nutella pizza, an idea the provenance of which strikes me as decidedly more inspired by The Cheesecake Factory than anything in Italy, but Bruno's lemon tiramisu was pleasant, with a lemony taste that fell between lemon hard candies and limoncello (too sweet for me, but nicely made and surprisingly light).
Ultimately, East Mamma makes a commendable and generally successful effort to offer some respectably authentic and well-sourced trans-Alpine cooking to the French capital, but I'd never mistake it for a trattoria. It's much too shrewdly high-concept for that, which is what places it squarely in the camp of the generally welcome new breed of–well, sorry, I hate the term, too–"casual dining" restaurants being brought to Paris by a growing tribe of clever gastronomically alert entrepreneurs with very good taste. So I think almost any Parisian who loves Italian food would be glad if they opened a branch in their neighborhood, and it's a place I'd go back to again for another simple, pleasant, fairly priced meal.
133 Rue du Faubourg Saint-Antoine, 11th Arrondissement, Paris, Tel. 01-43-41-32-15. Open daily for lunch and dinner. Average 30 Euros.www.bigmammagroup.com