La Marée Jeanne | A Good Catch for Seafood Lovers in Les Halles, B+
April 7, 2015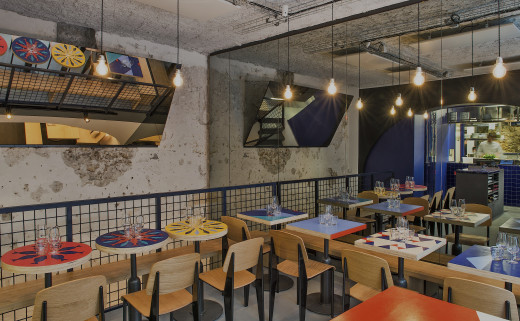 Seafood in Paris is so popular that I was more amused than taken aback when my butcher recently confided that he increasingly prefers fish to meat. It's no surprise then that innovative and charming Paris restaurateur Frédéric Hubig-Schall's new restaurant La Marée Jeanne has been packed ever since it opened in early March. Since I love seafood, and the accomplished Hubig-Schall also owns Astier, Jeanne A, Jeanne B and Sassotondo, I was especially eager to discover his newest table when I went to dinner there with Bruno the other night.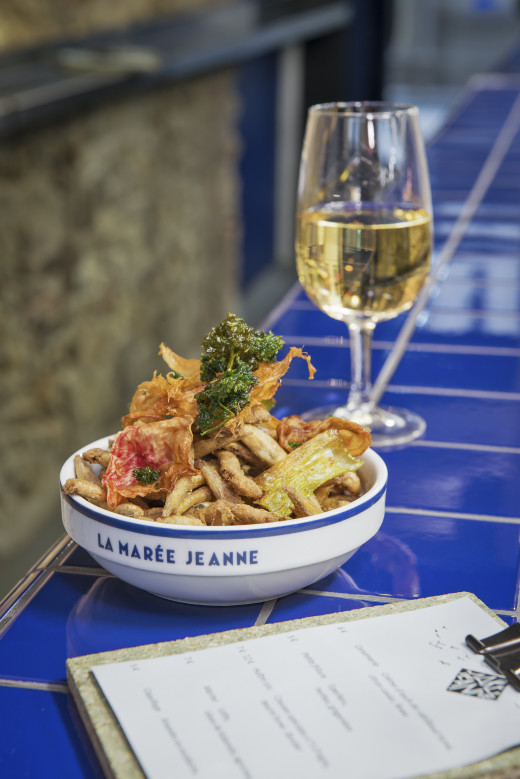 What we discovered tucked away in a side street off of the pedestrians-only rue Montorgueil is a lively restaurant that offers a winning French take on the casual good-value sea-shack style seafood restaurants that make any summer vacation in New England such a pleasure. Since La Marée Jeanne is in the heart of Paris and not overlooking Narragansett Bay or Boston harbor, however, a very different decorative idiom was necessary, in this case a sort of jaunty cross between a classroom in a Danish elementary school and an artist's loft with the requisite industrial fittings of dangling Edison bulbs and gray cement walls and floors, and metal railings.
Studying the menu over an order of deep-fried whitebait cleverly brightened by garnishes of flash-fried ginger, parsley and other vegetables, I couldn't help but thinking about how shrewd it was. Not only did it offer the opportunity for a light bite, a large meal and everything in-between, because so many dishes are offered in 'small' and 'large' portions, but the fact that so many of the alluring Gallic comfort-food preparations were prepared in advance means the small open kitchen won't become too strained by the constant turnover here. The limited amount of on-the-spot cooking during any service precludes the possibility that you'll end up scented of your supper for the rest of the week, too.
The menu happily navigates between tradition, as in mousseline soufflée, sauce homardine  (pike-perch dumplings, in creamy lobster sauce) and more modern French favorites, including marinated monkfish with Kalamata olives and citrus vinaigrette. And it also implicitly favors the admirable recent local restaurant trend towards privileging fish from sustainable fisheries; to wit, there's whiting on the menu but not turbot and grilled croaker instead of sole.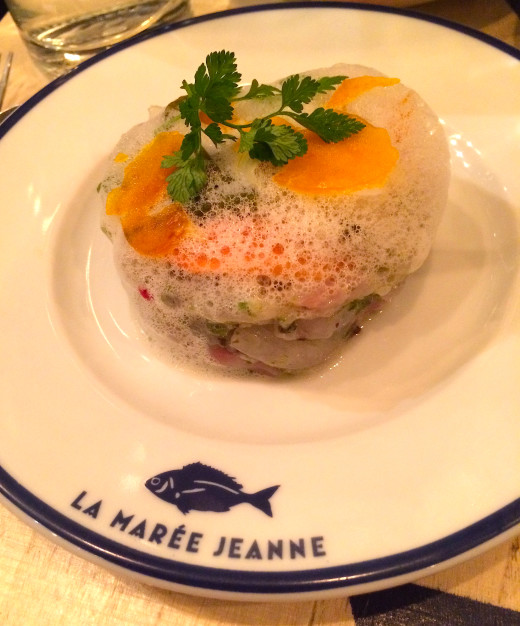 Once we'd finished the usual delicate business of constructing our meal–the problem between us is that we so often both want the same things, a quandary that's usually resolved by the decision to share the desired dish, I had a chance to appreciate the intriguingly diverse tableau of Parisians at the restaurant. To our right, two immaculately dressed and coiffed blonde Parisian career women with good jewelry and wry senses of humor were discussing possible seaside destinations for a summertime trip together–"Brittany! God, no! The water's too cold and it's trop famille! I was thinking Greece or Turkey," and to our left a French guy with spectacularly tattooed forearms, a Rutherford B. Hayes style beard and Clark Kent glasses bragged to the Irish twin sisters on the wooden bench in front of him that he'd lived in Brooklyn for three years. "What did you do while you were there?" one of them asked. "I made knives," he replied. There were also couples on dates, a table of men in dark suits, and some singles reading their iPads while they dined at the bar. So a love of seafood unites the tribes of Paris.
If I loved my vaguely Mad Men vintage gastronomically retro mousseline soufflée, sauce homardine–beautifully made and very satisfying with an additional pinch of salt and pepper, Bruno's sea-bass and seaweed tartare with chopped oysters and a veil of citrus emulsion was the one dish I saw on most tables, since Parisians have now become nearly as enamoured of raw seafood preparations as the Japanese, yet another cross-hatching in the culinary cultures of the two countries.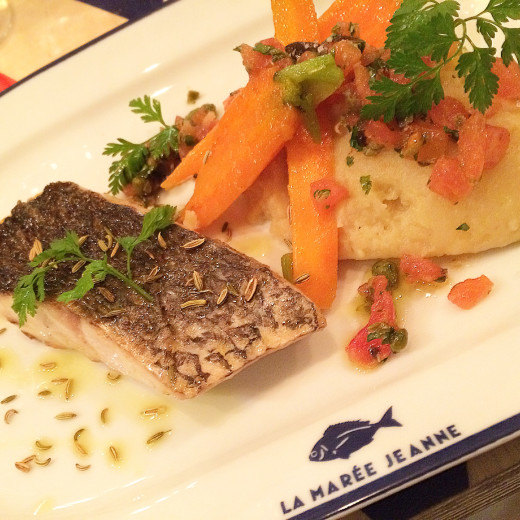 Maigre, which is infelicitously known as croaker in English, is a firm but delicate white fish popular in southwestern France, and happily it's not as endangered by over-fishing as cod, that longtime European favorite. At La Marée Jeanne it came to the table as a perfectly grilled filet with a drizzle of olive oil and a scattering of fennel seeds, a super easy garnish that adds flavor but no calories, and homey side of mashed potatoes topped with carrots braised with cumin and a nicely made sauce vierge (chopped tomatoes in olive oil) with capers. This was a generous, impeccably prepared and deeply satisfying dish, and at 18 Euros, it's easily one of the single best seafood buys in any Paris restaurant right now. Bruno's "Bonne Mère," a riff on bouillabaisse, had a primal Mediterranean richness rarely found in Paris, where this delicious gruff specialty of Marseille is too often pretty up–read over-refined and dumbed down in terms of its taste profile, and was so generously served it might easily have fed two; a great buy as well at 24 Euros.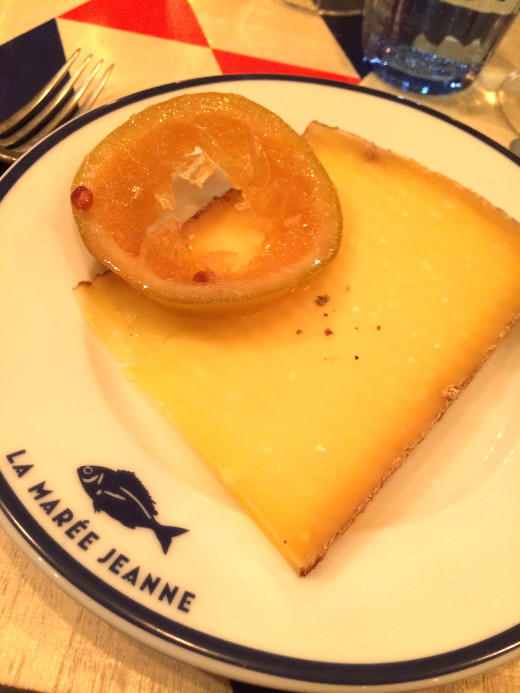 My slice of two-year old Vieux Compté from master butter maker and cheese monger Jean-Yves Bordier in Saint Malo was pleasantly garnished with a slice of candied green orange, and Bruno happily lapped up his Oeufs a la vanille (floating island) with black currant compote.
This was a very good meal, and a place that immediately wins a spot on my go-to list for visiting friends and family. Not only is the cooking inventive and very satisfying, but it's one of the very rare restaurants in Paris where you can wander in for a late lunch after a morning in the city's museums or an early dinner at 5pm if you're jet-lagged, because of it's non-stop service. So hats off to Frédéric Hubig-Schall for shrewdly figuring out a way to serve good quality seafood to fish-mad Parisians and also for opening a restaurant that frees us of the usual tight corset of Parisian dining hours.
La Marée Jeanne, 3 rue Mandar, 2nd Arrondissement,  Tél. (33) 01-42-61-58-34. Métro: Les Halles, Étienne-Marcel. Open daily with non-stop service from noon to 11pm. https://www.facebook.com/lamareejeanne Average a la carte meal 30-35 Euros.