EVI EVANE, A Very Good Greek in Saint Germain, B+; LE LOTUS BLANC, A Badly Vetted Viet, D
November 10, 2011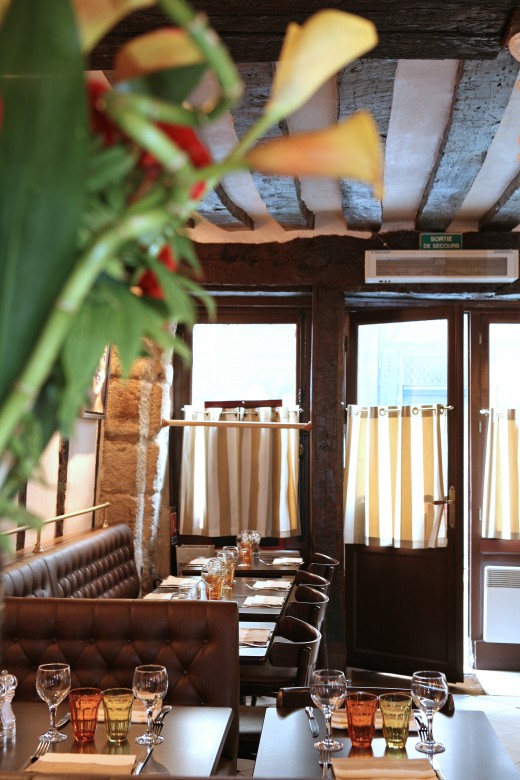 For several summers running, Bruno and I spent our holidays on the beautiful Greek island of Paros, but this year, because I needed to do research for my next book, we did a pair of long wonderful drives through France on our way to a house by the sea in Spain. I love Spain, too, but I missed the delicious food we'd eaten on Paros. The house we stay in there has a whole shelf of Greek cookbooks, and I cooked my way through them with the pleasure of discovering real Greek home cooking, and Paros also has many good restaurants. So on a rainy night in Paris when a busy day had left the fridge pretty bare, I found myself craving a good Greek meal. A friend who lives near Sevres-Babylone had told me she often picks up take away meals from Evi Evane, a nearby Greek traiteur, and when I investigated, I discovered that they also run a restaurant in the rue Guisarde.
I'm usually a little wary of dining on the rue Guisarde, which is part of the lively little precinct of bars and pubs that comprise a still very popular party destinations for unattached twenty and thirty something Parisians, because this 'hood is more about booze than good food. But motivated by potent Hellenic cravings, and curious, we decided to give this small place the benefit of the doubt.
With an exception or two, Greek cooking is badly represented in Paris, with all of those ratty restaurants in the Latin Quarter with identikit kebab menus constituting the real nadir of a generally lackluster local offer, but Evi Evane surprised right off the bat because it was a very pretty dining room with old stone walls, a beamed ceiling and well-set tables. This was a chic Greek. The welcome was warm, too, and most importantly of all, it smelled good as soon as we opened the front door. And even the Retsina that we drank as an aperitif while nibbling fat Kalamata olives tasted good–I'd sworn this stuff off ever since an imprudent New Year's Eve on Corfu many years ago had nearly left me and my friends walking with white sticks.
The menu was appealing, too, and the presence of many AOC (Appellation d'Origine Controle) ingredients was a promising sign as well. When I mentioned the feta from Limnos specified on the menu, the waiter explained that chef Dina Nikalaou, a well-known Greek culiinary personality who divides her time between France and Greece, and her sister Maria, who runs the traiteur, import much of their produce directly from Greece. So Bruno began with the best white tarama I've ever tasted–an airy cream of salted cod eggs, bread crumbs, milk and olive oil subtly brightened by microscopic pieces of pickled lemon and served with the first pita bread I've ever had in Paris that didn't have the texture of a hot floor tile. My shrimp saganaki was superb, too–crunchy shrimp in an anise-spiked tomato sauce with melted chunks of feta, which is a brilliant cooking cheese even if most people know it only from Greek salads.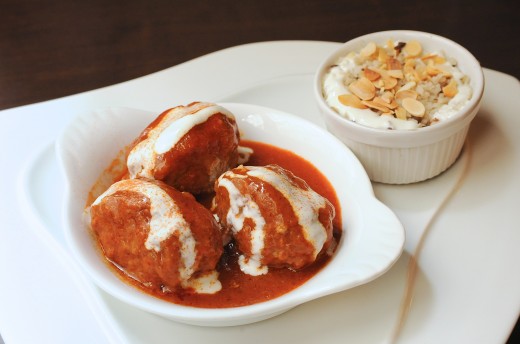 Though very tempted by the stifado rabbit with feta polenta, I couldn't resist the soutzoukakia, or delicate baked veal meatballs with tomato sauce and good thick yogurt and a nice side of rice with Corinth raisins and pine nuts. Though I'd learned how to make them from the wife of the butcher we go to in Paros, these were, I'd humbly admit, much better, with an almost creamy texture that has somehow or another eluded me. Bruno loved his fig-stuffed pork loin, too, and both dishes were generously served and exuded the gentle solicitude of good Greek home cooking instead of the anonymity of precisely prepared restaurant food.
I'd very much have liked to try the plate of three different Greek cheeses, but being amply well-fed, I finished up with portokalopita, a warm orange cake with chocolate ice cream that also conveyed the maternal good intentions of the kitchen here, and Bruno chose the sampler of Greek yogurt with three different toppings–honey and walnuts, strawberry preserves, and black cherry preserves. "It was like a little trip to Greece," Bruno said when we traded this sunny dining room for the wet sidewalks of Paris, and he was right. This was an excellent meal, and I look forward to returning to try the Nikalaou's moussaka, a favorite dish I never order in restaurants, because it's invariably gorged with oil. I'm sure it would be good here, and it's great to know that there's a place in Paris I can head to when I get a craving for sincere, serious and solacing Aegean cooking.
10 rue Guisarde, 6th, Tel. 01-43-54-97-86. Metro: Mabillon or Saint-Germain-des-Pres. Closed Sunday and Monday. Average 35 Euros.
————–
Sometimes it's best to be laconic. I love Vietnamese food, as do some friends who were recently visiting from California, and this is why we ended up at Le Lotus Blanc, a dusty little restaurant in the 7th arrondissement just a few steps from their hotel. Suffice it to say that they were seriously jet-lagged, but game for dinner, because this was the only night that cross-hatched in our schedules. I hadn't been here for many, many years, and quickly realized why–though our nems were decent enough, the steamed Vietnamese ravioli came to the table in an alarming bath of murky water and had no taste whatsoever. Travers de porc, or spareribs, turned out to be gristly, boneless pieces of pork with a slightly gritty texture and no hint of the lemongrass mentioned on the menu, curried shrimp with mint tasted like the peppermint candies left behind by turndown service in a motel, and slabs of tofu came in a variant of the same unfortunate sauce. I probably wouldn't even bother to mention this place were it not for the fact that I happened to notice a framed TripAdvisor Certificate of Excellence 2011 on the wall amidst snap shots of Jacques Chirac and various other politicians who've dined here. The moral of the story? Be very wary of the gastronomic endorsements of the French political establishment.
Le Lotus Blanc, 45 Rue Bourgogne, 7th, tel. 01-45-55-18-89. Metro: Varenne or Solferino. Closed Sunday. Average 35 Euros.