L'OFFICE–Good Eating in This In-Box, B
November 16, 2011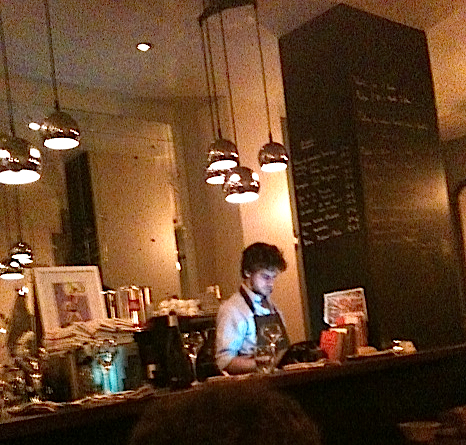 N.B.: Chef Kevin O'Connell is imminently to leave this restaurant; Charles Compagnon is a smart guy who knows good food, though, so stay tuned.
If I very much liked L'Office in its previous incarnation, the new one is terrific, too, and the change in chefs and ownership here adds momentum to one of the most welcome and interesting trends in Paris right now, which is that the city continues to be a magnet for talented chefs from all over the world. This internationalization of the city's culinary talent pool mirrors what happened in the French fashion industry a longtime ago, and it's adding a lot of energy, creativity and good food to the Paris dining scene. Among really good recently opened Paris restaurants with foreign-born chefs in the kitchen, there's of course Chicago-born Daniel Rose at Spring, but also Mexican-born Beatriz Gomez at Neva Cuisine, Australian James Henry at Au Passage, Italian Giovanni Passerini at Rino, and a whole brigade of exceptionally talented Japanese chefs.
Meeting Judy for dinner the other night, a lunch-less day meant that I was really hungry, and so a ravenously receptive audience for the cooking of the latest American chef in Paris, Kevin O'Donnell, who worked in Italy and at New York City's excellent Del Posto before teaming up to take over this restaurant with Frenchman Charles Compagnon, whom he'd met at a dinner at the James Beard Foundation in New York.
Arriving, Judy was already set up with a good glass of Riesling at a table with an L-shaped banquette up-front, and the dining room looked very handsome after a recent redecoration, which gave it sea green walls–a beautiful color that was likely Farrow & Ball, parquet floors, a couple of stag's heads on the walls, and draped lighting fixtures with exposed copper colored filaments that created a warm, pretty light. The welcome was charming, too, and the very brief menu–three starters, three mains, a cheese plate, and a dessert, was helpfully explained by the waiter. We ordered, and moved on to a wonderful bottle of Rui Priorat, one of my favorite Spanish wines from a really good wine list, and were chattering away when a couple sat down at the table in front of us. Since this small shared space created an automatic intimacy, I discreetly screened them out of my vision, until the gent in front of us with an attractive blonde woman greeted me by name. I hadn't seen Benedict Beauge, one of my favorite French food writers, in a longtime, and it turns out that Charles Compagnon is his cousin. Le monde est petit!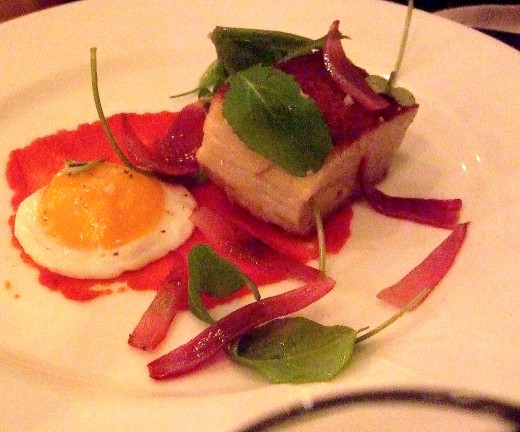 Served with excellent bread, my first course was a clever comfort-food composition that came off as an Italianate riff on a really good breakfast, or a chunk of tender oven-roasted pork belly with a fried egg, a swirl of rich puree made with slow-baked tomatoes, a few leaves of arugula and a scattering of pickled red onion.
It was delicious, as was Judy's white bean soup, which was intriguingly garnished with a tiny island of toasted bread topped with laser-fine slices of lardo si colonnata and a few sprigs of wild fennel.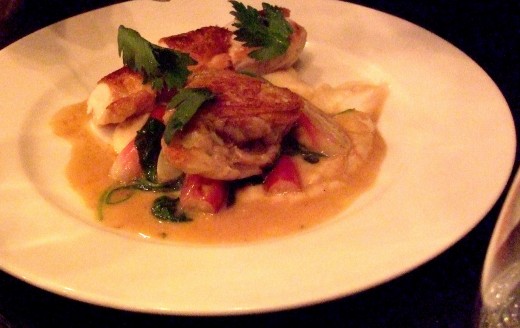 Meanwhile, the restaurant had completely filled up with the sort of hip attractive young crowd that indicates that buck-shot style word-of-mouth is working on this address. Judy was a little puzzled by the texture of her chicken, which had been cooked at a low temperature for several hours to give it firm but creamy consistency, but served on a bed of girolles and garnished with a blanched baby radish of two and a dollop
of airy celery root puree, I thought it was excellent. My main was described as 'pot au feu' on the menu, but was actually a deboned osso bucco with tender chunks of braised meat and a marrow-filled bone in a rich reduced beef bouillon deepened with tomato coulis and garnished with soft carrots and crunchy slices of celery. Served in a bowl, it was deeply satisfying on a cool night, although a side of grilled polenta might have been nice.
If I was impressed by O'Donnell's technically impeccable and very personal Italian accented bistro cooking, the meal tapered off with dessert, a square of brownie-like cake with hazelnuts, grilled bananas, and freshly made banana ice cream. Though perfectly pleasant, it lacked the quiet but authoritative elegance of his savory dishes. This is a terrific little restaurant, though—and also an excellent buy for the money at 27 Euros for two courses, 33 Euros for three, and as O'Donnell settles into Paris, I suspect his food will just get better and better, and that this place is going to be very popular.
3 rue Richer, 9th, Tel. 01-47-70-67-31. Metro: Cadet or Bonne Nouvelle. Closed Saturday lunch and Sunday. Lunch menus, 19 and 24 Euros; dinner, 27 and 33 Euros.