Frenchie to Go | Summertime, and the Eating is Easy, B
August 1, 2015
While we were enjoying a good, casual, off-the-cuff lunch at Frenchie to Go, chef Gregory Marchand's breakfast-and-lunch eat-in or takeaway place next to his home table, Frenchie, I thought of the note a friend in New York who follows my Instagram feed sent me recently. "Don't you ever just want to stay home and eat a big messy Reuben sandwich?" she asked, teasing me about the often beautiful and elaborate dishes that I share from the restaurants I go to of a given week in Paris as a food writer. Well, um, yes, in fact, I love a good Reuben sandwich. And sometimes I also like a good Saturday morning lie-in so much that we end up missing our two favorite Saturday morning markets–the organic one in Les Batignolles, which is officially known as the Marché Biologique des Batignolles and is located on the boulevard des Batignolles, and the lavish one on the Avenue du Président Wilson, which is held on Wednesday and Saturday mornings.
There are few things that make me happier than going to either of these markets, especially because I try to avoid going to restaurants on the weekends in favor of cooking at home, which both Bruno and I love. There are times, however, when Morpheus just pulls you back into bed, and when this happens, we'll make a run to Terroir d'Avenir, a terrific pair of boutiques in the rue du Nil where you can get your hands on the same superb fruit, vegetables, herbs, cheese, fish, and meat this small select company supplies to many of the best young chefs in Paris. And so on a recent Saturday morning, we decided to make a run to this shop, because it's tomato season, and I trusted they'd have good heirloom tomatoes (they did, too).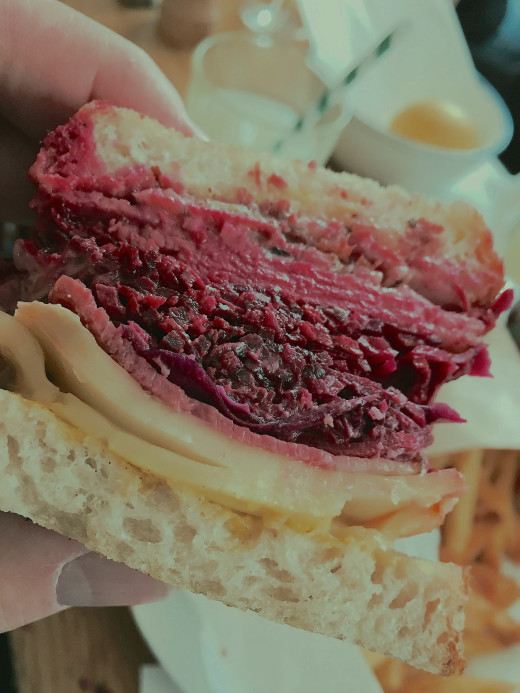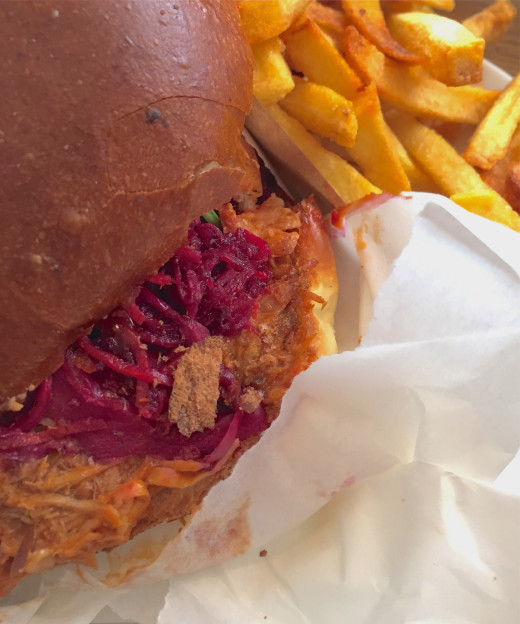 After we bought some of the best white peaches I've ever eaten, several kinds of tomatoes, herbs, yellow squash, eggplant, fennel, and enough other vegetables to stuff the drawers in both of our small fridges at home, we were hungry. So Bruno suggested we go next door to Frenchie to Go. It's been open for a couple of years now, but never finding myself in this neighborhood in the middle of the day, I'd never been for lunch, just breakfast, and so this was the perfect occasion. Right from the start, I've loved the fact that this place serves non-stop, so that if you tumble out of the Louvre starved at 2.43pm, you can hoof it over here and get a bacon sandwich with egg and cheddar, the best lobster roll in Paris,  a hot dog (homemade, mind you, in a roll from star baker Gontran Cherrier), a pastrami sandwich, fish-and-chips, a Reuben or a pulled pork sandwich.
We went with the latter two, plus a large order of fries, and homemade ginger beer. Now the Reuben was a beauty, or just the kind of over-stuffed New York deli style sandwich I sometimes get misty eyed for. The pulled pork sandwich was a good savory munch, too, but would have been better with more pork and less pickled cabbage. Alas, my fries were cold and rather dried out, so I thought of returning them, but than decided to eat some of Bruno's much fresher ones instead.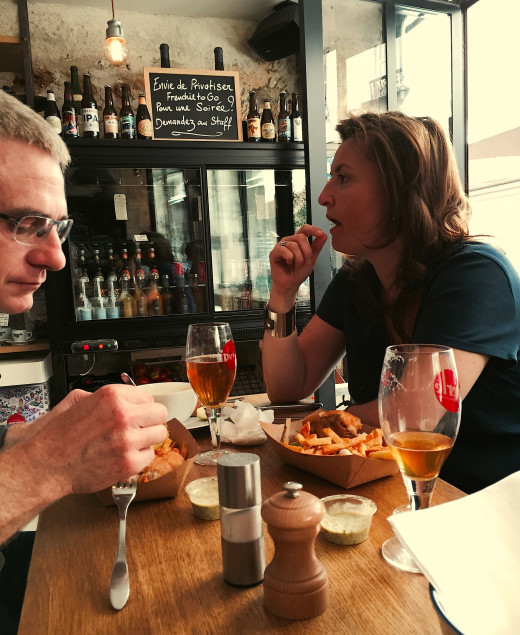 What's great about this place is that it hits a near bull's eye in terms of catering to a certain atavistic roster of Anglo-American comfort food dishes created by someone who profoundly understands how they're built in terms of layering tastes and respecting texture that aren't easy to find in Paris (For anyone who doesn't know, Gregory Marchand worked for Jamie Oliver in London and then Danny Meyer in New York before he returned home to found his wonderful little empire–Frenchie, Frenchie Wine Bar, and Frenchie to Go, in a then quiet shabby street on the edges of the Sentier, Paris's old garment district).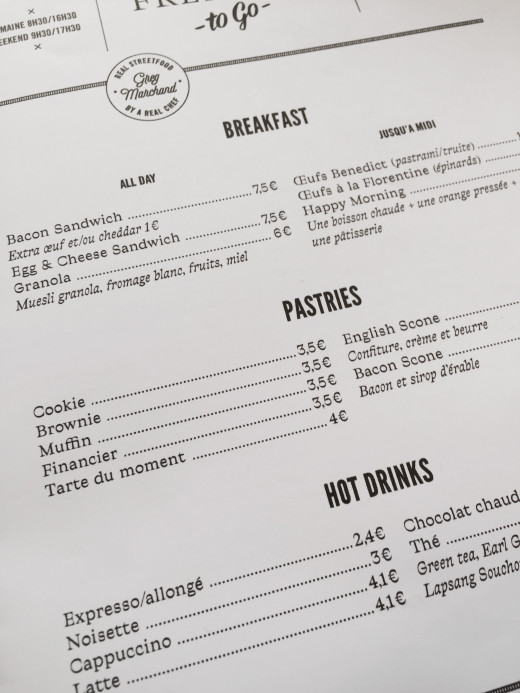 Frenchie also serves breakfast, and you can eat on stools at a couple of shared tables, or takeaway and look for a quiet corner. Given the fact that breakfast can be a boring and/or expensive letdown in Paris hotels, I often tell friends to head over here if they want a sturdy breakfast (my favorite is that bacon sandwich with egg and cheddar, and a bacon scone with maple syrup). And it's also a good place to pull together a picnic before a train or a plane, especially with some fruit and cheese from Terroir d'Avenir.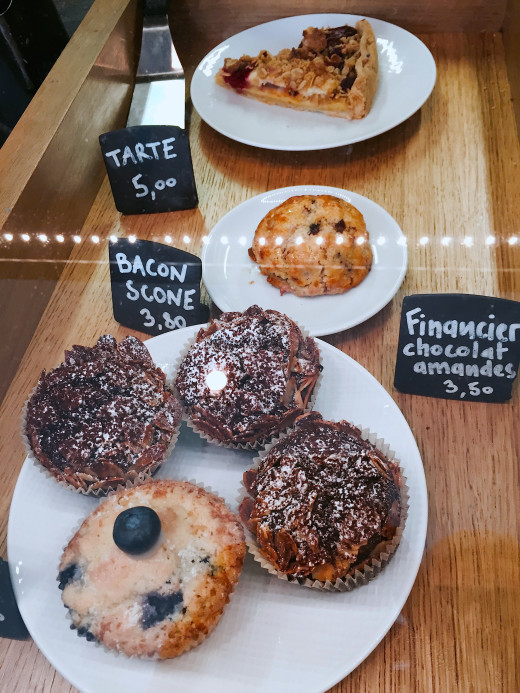 Don't miss the wonderful tromp l'oeil wallpaper in the WC either (it's based on a photograph of a stamped-tin ceiling, like you might find in London or New York), bien sur.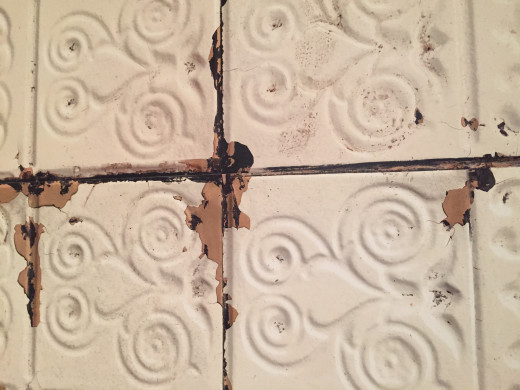 9 rue du Nil, 2nd Arrondissement, Tel. (33) 01-40-26-23-43, Metro: Sentier or Réaumur Sébastopol. www.FrenchietoGo.com Average meal 14 Euros. Open Monday-Friday 8.30am-4.30am, Saturday-Sunday 9.30am-5.30pm. Closed for the summer holidays from August 10 to August 16.