Gare au Gorille, Paris–A Great New Beast of a Bistro in Les Batignolles, B+
December 14, 2014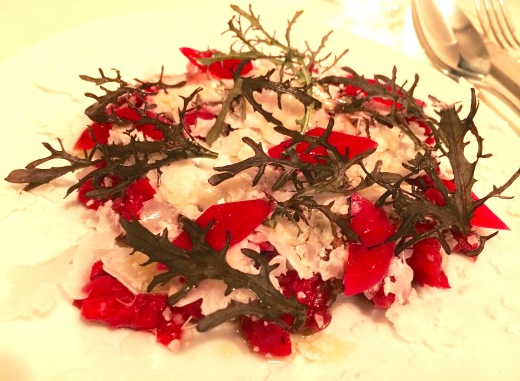 Though Gare au Gorille is both a bad pun** and the title of a 1952 song by French musician Georges Brassens, what you really need to know is that it's also the name of a charming and very good new bistro in the Batignolles district of the 17th Arrondissement in Paris. And that this engaging address comes with an impressive pedigree  which really delivers, since chef Marc Cordonnier was formerly Bertrand Grébaut's sous-chef at Septime, where his business partner and good-natured maitre d'hotel Louis Langevin was sommelier and picked up the relaxed but gracious serving style created at that restaurant by Théo Pourriat. Finally, if you have any interest in dining here any time soon, it might be a good idea to take a pause and pick up the phone, since it's very quickly become almost as popular was Septime itself. Be forewarned that they don't answer during serving hours, which can make it even more of a vexing challenge to snag a table here, too..
Having persisted, I bagged a table and found myself walking up the rue de Rome on a rainy night to meet Bruno for dinner. Despite its grand name, this street parallels the broad, deep, stone-lined train cut that leads into the Gare Saint Lazare, and several times I stopped to watch the wonderful urban spectacle created by an arriving or departing train. Since every lit window in every train car framed a miniature portrait on someone on a journey, there was something winsomely fascinating about these metropolitan film strips, which also brought Eadweard Muybridge to mind. Many people seem to find this scenery a bit drab, but not me. Instead, I found myself envying the people who occupied a high apartment with a large artist's studio window overlooking the tracks, since the promise of travel, the fact of travel has been such a life long passion of mine. With no train ticket in my pocket that night, I was, however, looking forward to a good meal, but found myself vaguely wondering if this popular new spot would be one of those places where I'd encounter a display of bored and sort of slatternly hauteur from the young staff for being fifteen minutes late.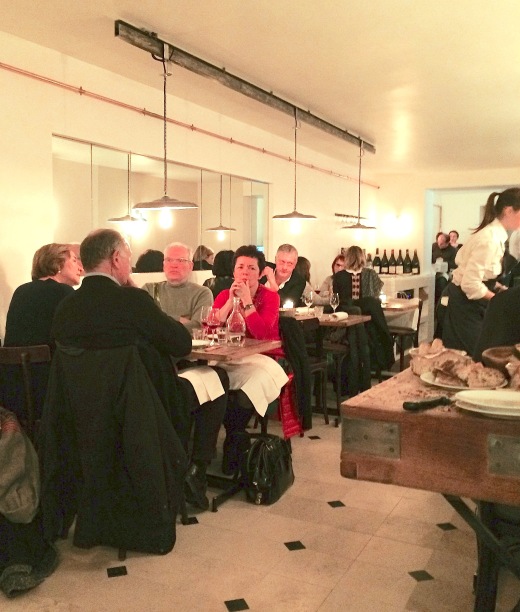 Happily, nothing could have been further from the case. As soon as I stepped in the door to this warm rail-carriage-like room with white walls, a stone floor accented with black slate spades, suspension lamps with Edison bulbs and a couple white tabled tiles up front by the service bar at the head of the dining room, the welcome was warm and service was cheerful, informative and prompt. In fact it was some of the best service I've had in Paris in a long time and made me think yet again that a new generation of restaurant owners and their staffs have coined a terrific new style of Gallic hospitality that's warm without being familiar, alert without being intrusive, consistently well-informed and charmingly good-humored. So maybe we can put out to pasture the dog tired idea of Parisians as being ill-tempered and off-handed once and for all. Since they're not. These days, they're most often lovely.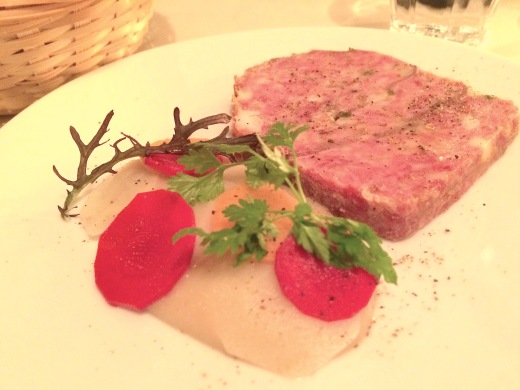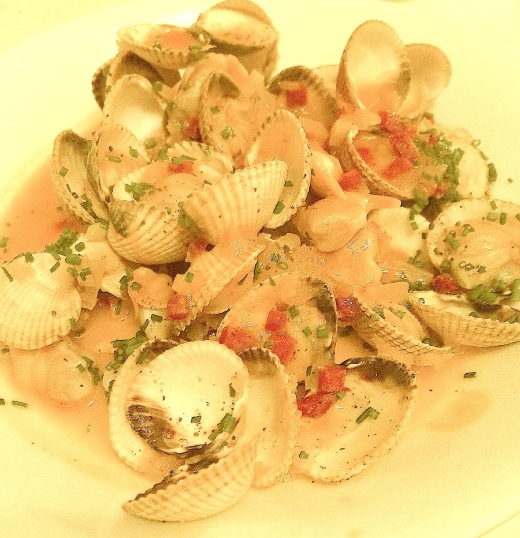 The dinner menu is constructed as a generous list of small plates, and then two more substantial meat entrees to be shared by two, and possibly garnished with pommes darphin, grated sauteed potatoes rather like a Swiss rosti but finer, and a butter-glazed vegetable plate. So we chose three small plates, and our meal began with a succulent composition of beef carpaccio, sea urchin tongues, pickled red onion, shaved cauliflower and mustard greens that looked like some kind of edible Christmas decoration and woke up to become something satisfying with the addition of a tiny pinch of requested sea salt. Next, one of the the best duck terrines I've had during all my years in Paris with a lush garnish of quince and garlic puree decorated with carrot coins. Rich, emollient and distantly redolent of the barnyard like any great terrine, this one was a homely Gallic triumph so good that we briefly considered ordering another portion.The arrival of a dish of coques (cockles) sauced with their own pimeton (smoked paprika) spiked juices and strewn with tiny chunks of chorizo and sliced shallots saw off that idea, because the succulent crustaceans were generously served and their taste profile tacted away from fine French farm food. As delicious cameos of modernity, tradition and cosmopolitan, this appealing trio beautifully summed up the range of the kitchen here, however. Refreshingly, Cordonnier, who trained at Alain Passard's Arpege, is an experienced and adroit young chef who steers clear of the provocative style of his Top Chef (a French culinary television show that aspires to a king-making influence) anointed colleagues. Instead, his compass in the kitchen is the pleasure of his clients. Fancy that!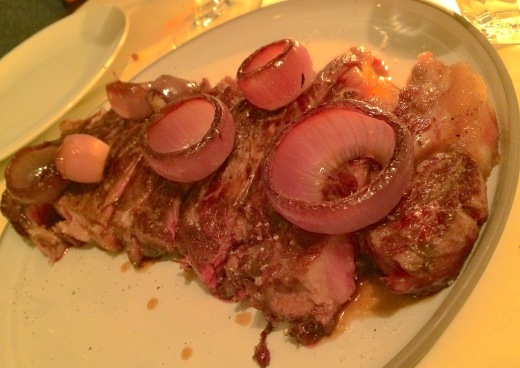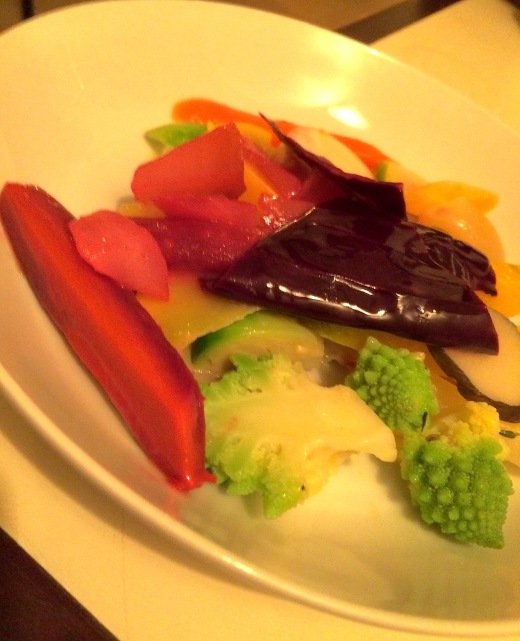 The aged Norman steak for two was a fine mineral rich slab of beef garnished with grilled shallots, and it was generous enough to tip us into a doggy-bag request (the leftovers became an excellent steak sandwich with a smear of Gold's horseradish cream the next day). While we were eating, Bruno asked me a question that's come over the transom a few times recently: "How do you chose which restaurants to review on your blog and which ones to mention on your Facebook page (HungryforParis,HungryforFrance) ?" I explained that with dozens of restaurants opening in Paris every week, I review the ones I deem to be most important in longer format here, and mention other good ones on my Facebook page, which is more of a news feed.
So why did I chose Gare au Gorille? The chef 's background was promising, the Batignolles neighborhood is emerging as a great new food destination in Paris, and I know that the world has an insatiable appetite for seriously well-prepared and fairly priced contemporary French bistro food. Gare au Gorille doesn't pretend to be blazing new local food trends or making a statement, thank goodness, but instead aspires to feeding people well in a pleasant setting with very amiable and professional service.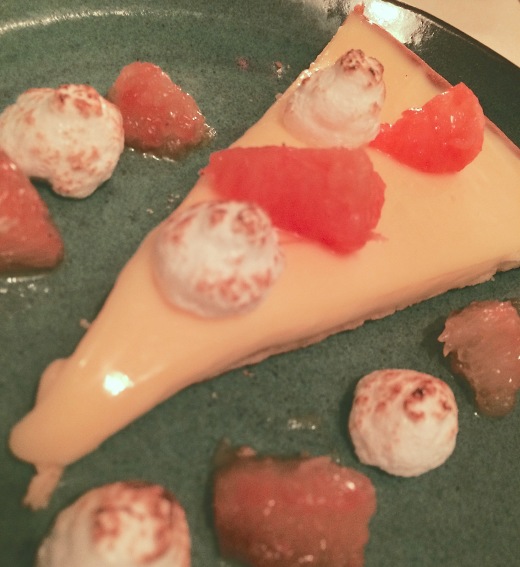 In the interests of research and in deference to Bruno's sweet tooth, we shared a slice of lemon tart garnished with miniature meringues and pomelo segments, and though it won't find it's way on to the cover of a food magazine anytime soon, it was nicely made and very satisfying. With an excellent wine list–we drank a terrific Greek red, a 2011 Oenos – Xinomavro Naoussa, and a convivial atmosphere in the dining room, Gare au Gorille will doubtless become just as popular as Septime, but that doesn't mean I won't be willing to continue making the necessary effort to land a table here, because this is exactly the kind of restaurant that inspires an instant desire to become a regular.
**Be careful of the gorilla
68 rue des Dames, 17th Arrondissement, Tel. 01-42-94-24-02, Metro: Rome, Open Tuesday-Saturday for lunch and dinner, Closed Sunday and Monday. Average lunch: 25€
Average dinner: 50€ for two small plates and a shared main course, without wine.