La Table de Hugo Desnoyer, Paris | A Great Place to Meat, B+/A-
May 22, 2013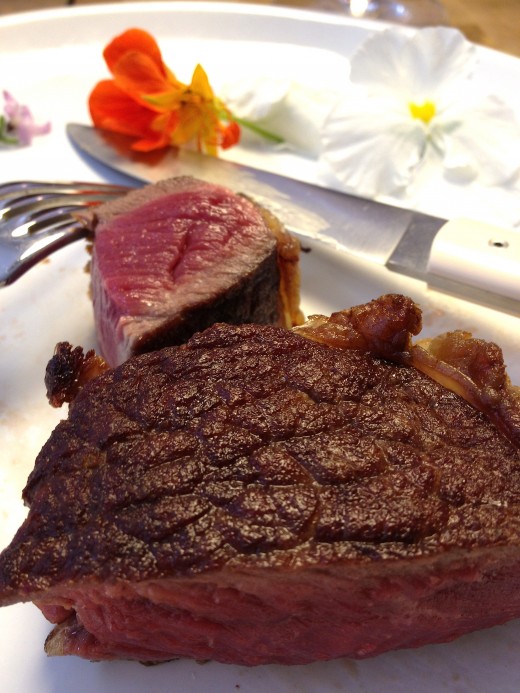 Often there's no faster route to high spirits than a sudden surge of spontaneity and a good dose of extravagance (deeply considered penuriousness somehow just never seems to work). So on a gloomy Saturday morning, Bruno and I set out on a gastronomic expedition that I was certain would raise our weather-dampened spirits. We were heading to the new butcher shop that Hugo Desnoyer had opened in such a remote and very quiet corner of the remote and very quiet 16th arrondissement that it barely seemed like Paris when we got there.
Or at least the Paris I know, but then everyone inhabits the same city differently. Almost from the moment I arrived here in 1986, I developed an indifference shading to aversion to the 8th and 16th arrondissements, which have always struck me, with the exception of certain small neighborhoods, as epitomizing a certain bourgeois smugness. And since none of my friends live in this part of the city and most of them feel the same way that I do, I very rarely find myself in these western arrondissements. Still, there's some handsome architecture deep in the 16th, and it's also very green. And at this time of year, rain-filled lilacs are tumbling over wrought iron fences, and you catch a glimpse of an occasional bank of peonies on a private garden here or there. (Oh, how lovely it would be to have a private garden in the city! But failing that, I'm awfully glad to have the Jardins de Luxembourg).
In any event, Monsieur Desnoyer's new butcher shop turned out to be neat as a pin, and the staff just as polite and helpful as they are at Tiffany's—if you find other similarities between these two businesses, you're not wrong either. But our destination was the solid butcher block table d'hotes on a raised platform in a corner of the this immaculate white space. What we'd decided, you see, was to take ourselves out for a carnivore's feast, something Desnoyer only previously offered in a do-it-yourself version.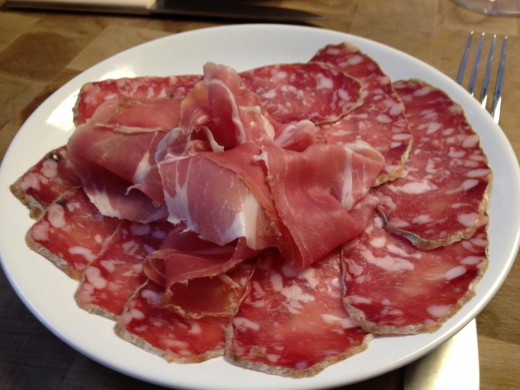 So we settled in at the table, and decided to share the faux-filet for two with a very good bottle of Haute Cotes de Beaune. No sooner than we'd ordered than the handsome and courtly Monsieur Desnoyer arrived with a complimentary plate of charcuterie, not because he knows me from a hole in the ground, but rather because with the opening of this new address, the butcher's shop where he began his career as an apprentice many years ago and is now the boss, he's celebrating his good fortune and hard work by sharing. Not only was it a generous and charming gesture, but it reminded me of why he's my favorite Paris butcher. In the suddenly testosterone jumped up big bad ego world of star butchers in Paris, Desnoyer is the quiet man who gets on with his craft and who's real pleasure is in selling people the very best meat he can possibly find.
There were three other people sitting at the table, and if we were reciprocally polite, no conversation with our neighbors occurred until a kindly and very familiar looking man and an Asian friend sat down at the table, and I racked my brains trying to figure out why I knew him. When our meat arrived and we grinned wolfishly, he wished us a "Bon appetit!," and we fell into conversation. He told us he owned a a little restaurant on the Left Bank, a steakhouse, and I suddenly recognized William Bernet, the owner of the wonderful Le Severo in the rue des Plantes. Mais bien sur! He'd come along for lunch to support his star supplier, and because these two gents are really good friends beyond anything having to do with commerce. So then he ordered a really good bottle of Burgundy, and insisted we try it, and the table suddenly became very jolly as a previously shy crew recognized one another as lovers of la bonne chère (and chaire).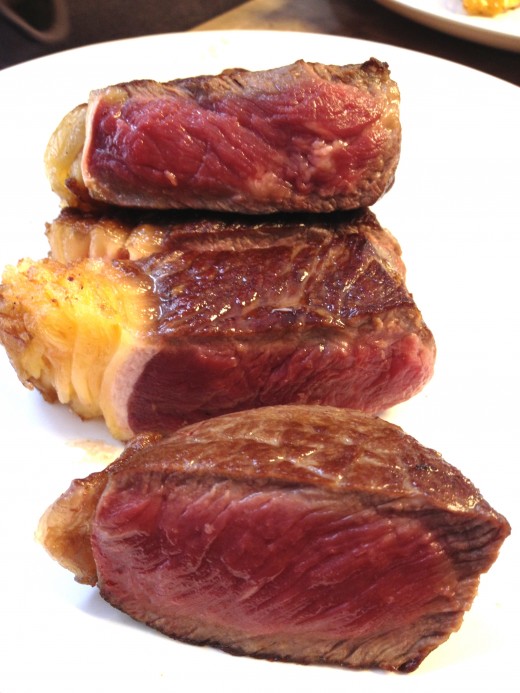 Just as our meat arrived–a sublime and perfectly cooked piece of Limousin beef so big we took half of it home and ate it for the next three days (here, parsimony is much advised as the basis for real delectation), the brilliant and voluptuous Valerie Solit arrived for lunch. Perched on six inch heels, wearing a turban and a sexy but demure A-line coat dress the likes of which I surely hadn't seen since some long distant Easter Sunday, Solit, with her sapphire eyes, galvanized the shop. A charming lady, she's a press attache, and among her clients are the Federation Francaise de Boucherie, so of course she was coming by Hugo Desnoyer's new shop for Saturday lunch and to see how her chou-chou was getting on. I didn't dare photograph her, by the way–I just don't see myself brandishing my iPhone, which is all I had with me that day, at such a lovely lady, but there's always Google for the curious.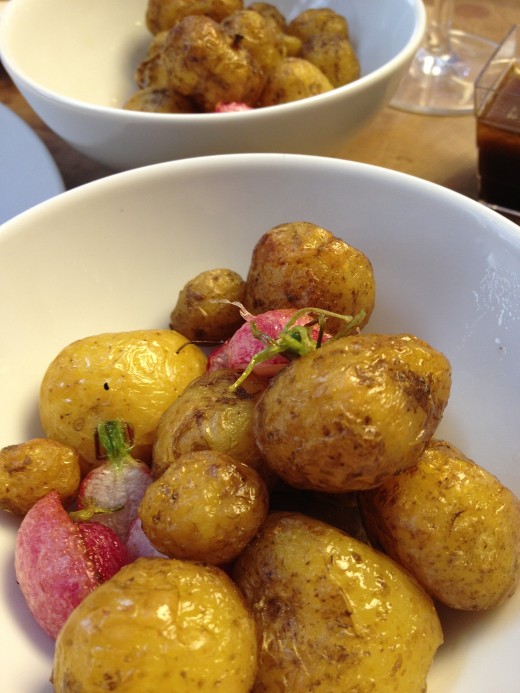 William Bernet nicely offered us a bit more of his wine, which we refused (uniquely out of politeness, since it was superb), and an atmosphere of great conviviality blossomed during what had unexpectedly started to feel like some sort of primal tribal feast. I was delighted by the only element of our meal that wasn't animal derived–a copy-this-idea medley of tiny new potatoes and radishes sauteed in salt butter, but by the time we'd eaten half of our steak, it didn't even occur to me to wonder if there was a dessert option on the brief table d'hotes menu.
During lunch, we'd discussed what we'd agreed would be our v. reasonable butcher's order. It was, we decided, time to stop being so open-handed everytime we went shopping together for food and wine, we really needed to start saving more money, and after such a good lunch, it would surely be easier to be more reasonable. So we joined the polite but wide-eyed line of customers waiting to be served. Staring into the cases at Desnoyer, one's pulse really does quicken, too, which is why our very recent self-exortions promptly derailed the moment a polite young butcher in a pressed white jacket started serving us. So we'd have a veal chop, and some of that goreous jambon a l'os (ham on the bone), and a slice of the pistachio-studded veal terrine, which I just can't resist, and some of the head cheese Bruno likes. Oh, and also that nice little rack of lamb, and the pork loins look good, too, and finally another faux filet to put in in the freezer.
Watching the butcher trim the meat that needed it (before he weighed it, thank you), and then wrap it–first in waxed white butcher's paper, then in brown paper, before he tied it up with red string and wrote the name of the contents on the edge of the package in loopy black script, I was very happy, since the precision of these details communicated an ample but humble pride. And he also took the time to offer a warm, low-rolling set of suggestions as to how the morsels we were buying might best be cooked. So not only had I just eaten a wonderful lunch, and not only did I know I'd be eating very well again for a few weeks to come, but I so admired the art and grace with which these butchers practiced their craft. Of course we left after paying a big thumping bill, but that's okay, because we actually don't eat very much meat anymore, and besides that, the only logo sweat shirt I think I'd ever be comfortable wearing would probably say: Carpe Diem.
Boucherie Hugo Desnoyer Table d'Hotes, 28 rue du Docteur-Blanche, 16h, Tel. 01-46-47-83-00. Metro; Jasmin or Ranelagh. Average a la carte 50 Euros. Lunch only. Closed Sunday and Monday. www.hugodesnoyer.com Reservations essential.