LES CLIMATS–Suave Contemporary French Cooking, Brilliant Burgundies, B+; WANDERLUST–Good Eats Where the Wild Things Are, B
May 14, 2013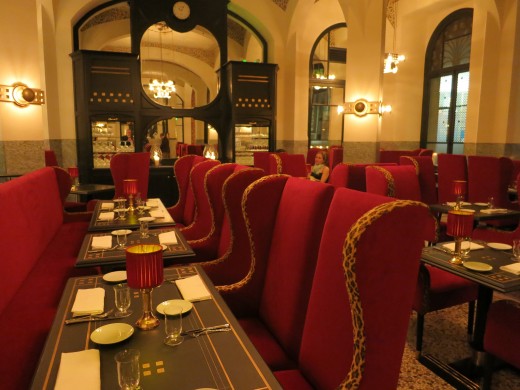 This year in Paris, a late, damp and often overcast Spring has been pushing and pulling my appetite in all different directions. To be sure, I've eating as much French grown asparagus–both green and white, as I can get my hands on, but the gray skies and cool temperatures have left me yearning for sturdier comfort food than I'm accustomed to craving at this time of the year. Then I went to dinner the other night at Les Climats, a very pleasant new restaurant in one of my favorite restaurant venues in Paris, the elegant Belle Epoque dining room of a handsome old dormitory building that once housed young single ladies who worked for the P.T.T. (Poste Telegramme, Telephone), and found my seasonal groove again.
In the early nineties when this place first became an open-to-the-public restaurant, it was called Le Telegraphe, and it enjoyed a two or three year run as one of the most fashionable restaurants on the Left Bank, despite the fact that the food was never better than a little better-than-average. Tipped off by a friend who lives nearby that it had recently re-opened yet again–it's been through several middlingly successful incarnations since it was Le Telegraphe, Bruno and I decided to treat ourselves to what we hoped would be a good dinner on yet another drizzly cool Friday evening. I knew nothing about the chef, but my friend did tell me that it had a 'lush' decor and that the wine list was all Burgundies, right down to a Cremant du Bourgogne instead of Champagne, and since I find Burgundies, especially white ones, absolutely perfect drinking for Spring, I thought we might be able to will the season into existence over a good glass of Burgundy or two.
Arriving, we had a choice to two different settings, the dining room up front with lots of scarlet wing chairs with leopard print trim and some very beautiful Secessionist style art-nouveau reproduction chandeliers, or a pretty terrazzo-floored terrace with white wicker chairs and a greenhouse walls overlooking the lush courtyard back garden where meals are served at noon only in deference to the neighbors. Since the dining room was one of those spaces that look too designed to be comfortable, we opted for the terrace, with its mix of British colonial and art-nouveau references.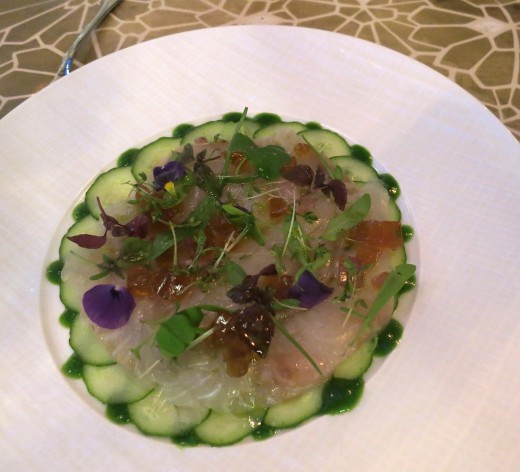 Over a glass of very good Cremant de Bourgogne–I long ago learned that these sparkling wines not only offer exceptional value for the money but are often excellent, we studied the menu, which had clearly been been constructed to flatter the restaurant's remarkable wine list. Willing summer to begin, Bruno ordered the sea bream carpaccio on a bed of razor-fine cucumber scales garnished with ambered colored gelee flavored with Xerex vinegar, a brilliant idea, and I had an impeccably well made Opera de foie gras on a bed of spice-bread sponge with Gewurtztraminer gelee. The steely artistry present in both of these dishes made me curious about the chef, and whom our very nice waiter informed me is Phan Chi Tam, a young Frenchman of Vietnamese origin who had most recently been working for Thierry Marx at Sur Mesure, his restaurant at the Mandarin Oriental Hotel in Paris.
The smart counter-casting of the eager young serving staff, most of whom commute to this plush corner of the Left Bank from far afield suburbs, leavened the atmosphere of the restaurant in a useful way as well. To wit, even the stuffiest B.C.B.G. poseurs were guilessly brought to heel by the sincerity of this trying-so-very-hard-to-please young crew.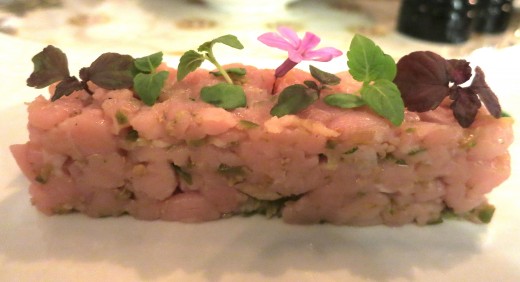 Our main courses were excellent as well. Bruno loved his steamed turbot with baby clams and a rich foamy dashi broth and was delighted to get his hands on a glass of the same sublime Puligny Montrachet I'd had with my foie gras (in addition to the spectacular wine list, they also offer a terrific variety of pours by the glass). My veal tartare, a fine foil for good wine, was coarsely chopped excellent quality meat that was garnished with a puree of fava beans and baby peas and very timidly seasoned with a little bit of citrus zest. Even though it was lovely with a glass of Hautes Cotes de Beaune, a little pinch of piment d'Espelette and a light sprinkle of coarse sea salt with sea weed would have given this fine product more personality.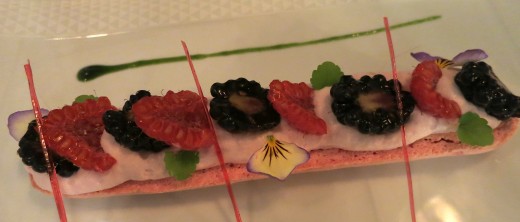 Desserts were excellent, too, including the Pierre Herme inspired litchi and fresh raspberry macaron I enjoyed and a lime-flavored 'boule de neige' (frozen dairy confection) with ginger-and-passionfruit coulis that Bruno chose. Though it's rather expensive at dinner–you could easily spend 130 Euros a head with a glass of wine or two, I suspect this sophisticated, worldly and well-conceived place will be hugely popular this summer at noon, when they serve two reasonably priced prix-fixe lunch menus (36 Euros and 45 Euros) in their secret garden. And after all of the years during which this type of restaurant–serious tables with seriously good French cooking for a well-heeled and well-dressed clientele, have been dying out, it's nice that even during this balkish Spring, a welcome trend to their renewal continues not only with the charming Les Climats, but Goust and places like Les Tablettes de Jean-Louis Nomicos, this latter restaurant being a real forerunner of this gastronomic redux.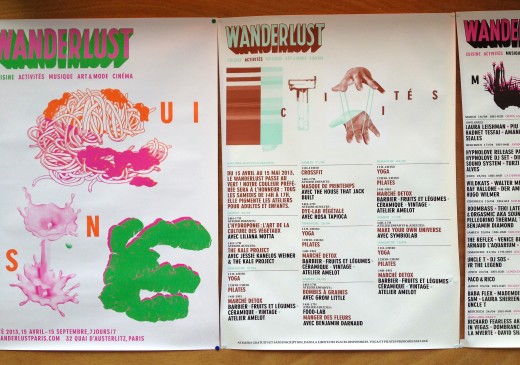 A few days later, an old friend came to town and expected me to pull a rabbit out of a hat. She'd read about Septime, which is probably at the top of the list of almost every visiting foreign food-lover this Spring, and wanted to go for dinner. Needless to say, Septime had been full for dinner that night for many weeks, but as it happened, I'd read that chef Bertrand Grebaut had designed a menu that's being served at Wanderlust until June 21, and never having been to this table at the curious-looking lime-green Cite de la Mode et Design perched on the banks of the Seine near the Gare d'Austerlitz, I booked us a table.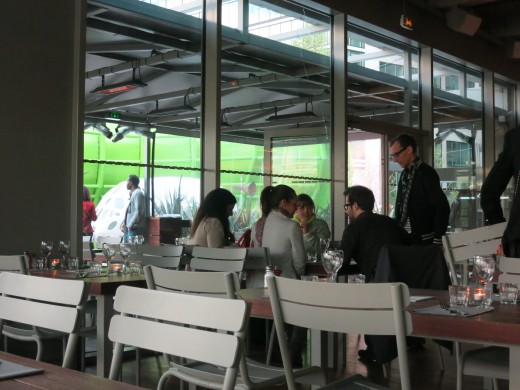 Arriving, I could see that Laurie hadn't changed a bit from the days that we worked the night shift at a bakery on the Upper West Side of New York. Her blonde rasta plaits were bundled up in a sort of scarlet do-rag and she still sported the same surgical steel ring in one nostril that she had all those years ago. As serious but slightly crazy kids who liked to have a good time, we spent many lost nights together at Paradise Garage, a big thumping night club on the Hudson, before she moved off to the woods of Pennsylvania with a Puerto Rican lady mechanic. These days, though, she lives in Austin with her cow-girl partner, whom I've never met, and we hadn't seen each other in well over twenty years. "Well, aren't you looking all Euro guy these days, Babe," she said and gave me a hug. I noticed that she'd put on a fair amount of weight, inevitable, it seemed, for a professional baker, but certainly wouldn't have said a word about it to her. "Hey, you've, um, filled out a bit, huh!? You used to be skinny as a reed, but your face still looks good." Small mercies, or something.
Both of us liked the restaurant, any airy open space with an outdoor terrace, too cold for that night, overlooking the Seine and a staff of good-looking hipsters who also happened to be incredibly professional about their work. After we'd muddled the passage of time a bit with Bourbon cocktails–a sort of a riff on a Julep, we ordered, and if the food lacked a little bit of the finesse of Grebaut himself, it was still delicious and more generously served than what you get a Septime.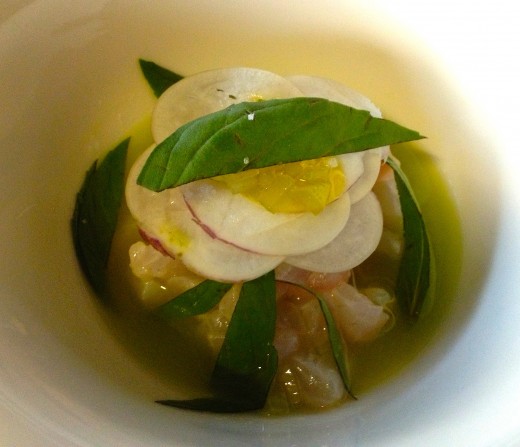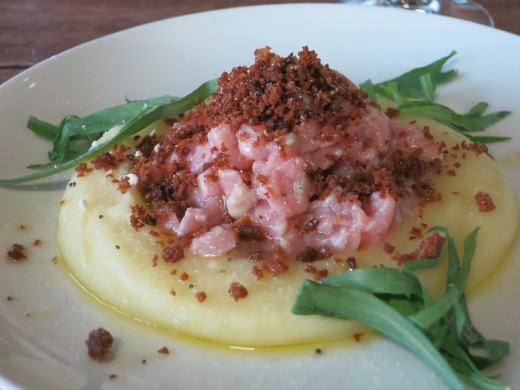 I loved the buttered bread crumb garnish on veal tartare (I'm single-handedly denuding the pastures of France this Spring) on potato puree with tassels of fresh tarragon, since it was sensual study in textures within a shy band of flavors, and Laurie, who says she misses really good fresh fish in Austin, was delighted by her sea bream tartare.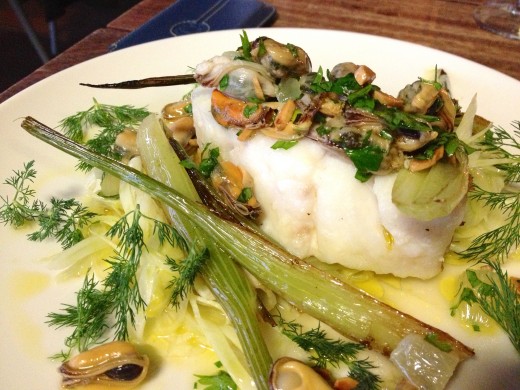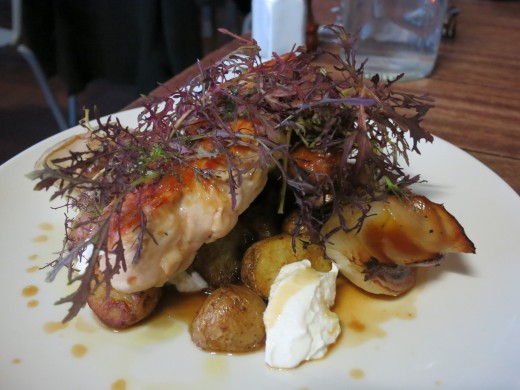 Our main courses were very good, too. A perfectly cooked cod steak with a mussel-garnished vinaigrette and grilled baby fennel for me, and baby chicken with faiselle and new potatoes for Laurie. "I love this food. It's generous and hearty, but delicate and original, too," said Laurie.
When I asked her if she wanted dessert, she shook her head and said no, "I need a smoke, and I have a little surprise for you." So I invited her to dinner and paid the bill, and then we found a bench on the quai next to the Seine and she got out a tin of the oatmeal cookies she'd carried all the way from Austin and a little bottle of Southern Comfort. "You've probably gotten too fancy for Southern Comfort, but I'm here to remind you that you used to love a Southern Comfort and Coke when we'd go clubbing."
I don't like Southern Comfort anymore, as it turns out, but Laurie's cookies were delicious. She's still a wonderful friend, too, and Wanderlust is a great idea for anyone who wants to eat Bertrand Grebaut but can't land a reservation at Septime. Oh, and as their guest-chef menu rolls on into the summer, the next up will be Christophe Pellet, who used to cook at La Bigarrade in the 17th arrondissement.
Les Climats, 41 rue de Lille, 7th, Tel. 01-58-62-10-08. Metro: Solferino. Open daily. Lunch menus 36 Euros, 45 Euros. Average a la carte dinner 120 Euros. www.lesclimats.fr
Wanderlust, 32 Quai d'Austerlitz, 13th, Tel. 01-70-74-41-74. Metro: Gare d'Austerlitz. Open daily: Lunch noon-3pm, dinner 8pm-midnight, Sunday brunch noon-4pm. Lunch menu 20 Euros, 25 Euros; dinner menus 35 Euros, 40 Euros. www.wanderlustparis.com