Juste, Paris | A Great Catch for Seafood Lovers, B+
August 29, 2017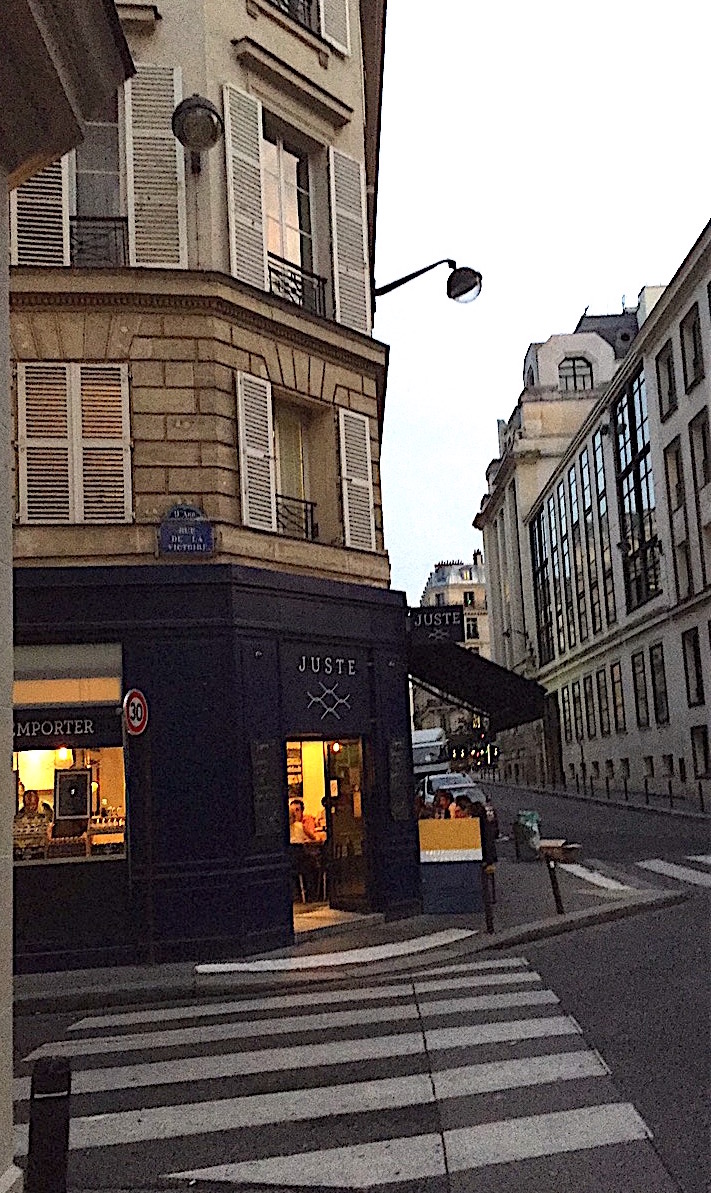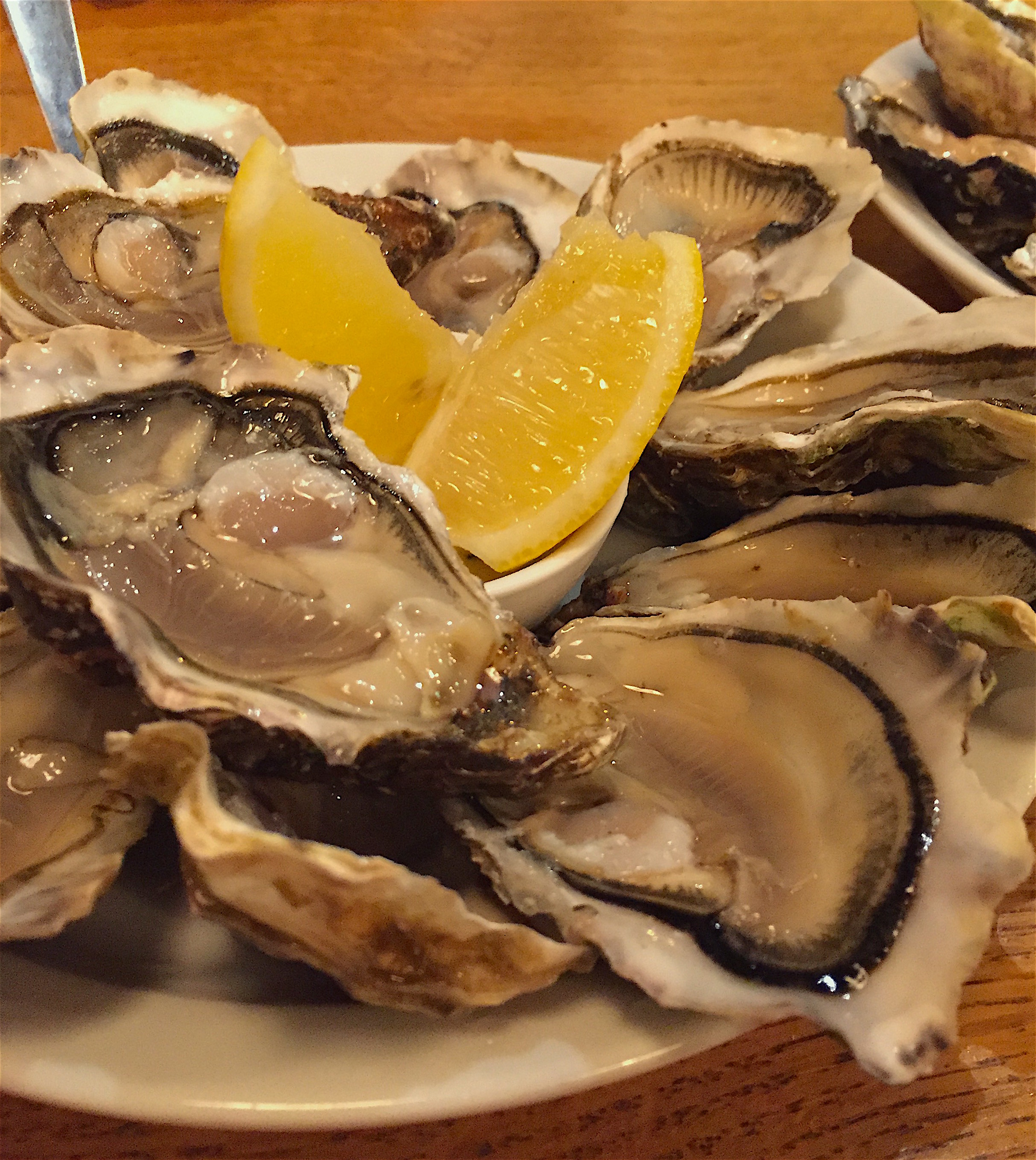 Juste, a stylish raw bar and seafood takeaway place just down the street from the exquisite neo-classical church of Notre-Dame-de-Lorette in the 9th Arrondissement, is an address we've been meaning to try for a longtime. This is because we both love oysters and liked the idea of a place that offered them outside the usual local context of mostly mediocre brasseries or the expensive fish restaurants.
So when a certain jet-lag induced inertia meant that our larder was still pretty much bare the second night after we'd returned from vacation last week, we called to make sure they were open, and then walked down the pleasantly quiet rue de Châteaudun–normally its a polluted, traffic-choked mess of street that begs the question of why the city of Paris, purportedly so green, doesn't heal this artery by planting it with trees, to Juste.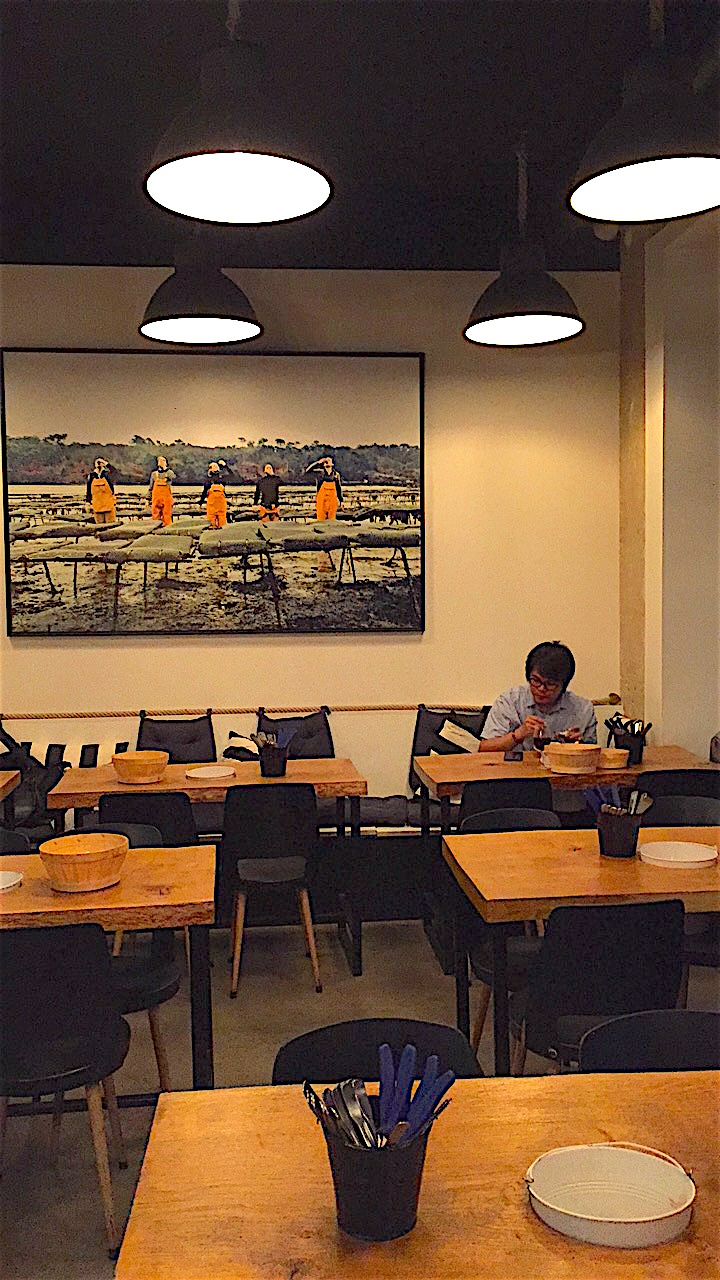 Since I've told Bruno the story of how I ate my first oyster too many times for him to hear it again, I kept it to myself, but suffice it to say that some thirty years ago during a truant getaway to Cabourg in Normandy, an insistent Frenchman with eyes the same dark green color as the waters of the English Channel cornered me into giving the bivalves a chance.
We'd gone for a long walk on the beach on a beautiful Indian summer day, a pleasure enhanced by the fact we'd both taken sick days in the fullest flush of good health, when we rounded a bend and much to my horror, I saw a sea shack with folding chairs on a little bluff overlooking the dunes. "I bet they'll have some oysters," said Marc, and I feared they might, since ever since an unhappy encounter or two with same many years ago in New Orleans, I'd given them a wide berth. Why? I thought I didn't like their slipperiness, strange texture and unappealing gray appearance.
Despite my protestations that I wasn't even the least bit hungry–it was only 11am, Marc headed off to the sea shack and waved to me to follow. When I did, I arrived just in time to see him slurping a freshly shucked oyster from its shell. He held one out to me.
"I can't eat oysters," I said. 'For religious reasons."
"I thought you were a Protestant?"
"I am, but I'm a Congregationalist, and Congregationalists should never eat oysters."
"Oh," said Marc. "I think I can fix that." He dipped an index finger in his glass of Muscadet, crossed himself, muttered something, made a moist mark on my forehead, and said, "I've made you a Catholic for as long as is necessary for you to eat some of these excellent Norman oysters."
So I took a swig of wine, slurped an oyster and swallowed it whole. Truth be told, I loved the taste of the sea the little critter left in its wake. "Now, you'll actually taste one," Marc insisted, holding out another one. "Just bite it gently once or twice." Reluctantly, I did, and in that bolt of iodine-richness, a head-spinning passion was born, one that's never left me and never will. And this gift of oysters was one of the best anyone's ever made me during my whole life.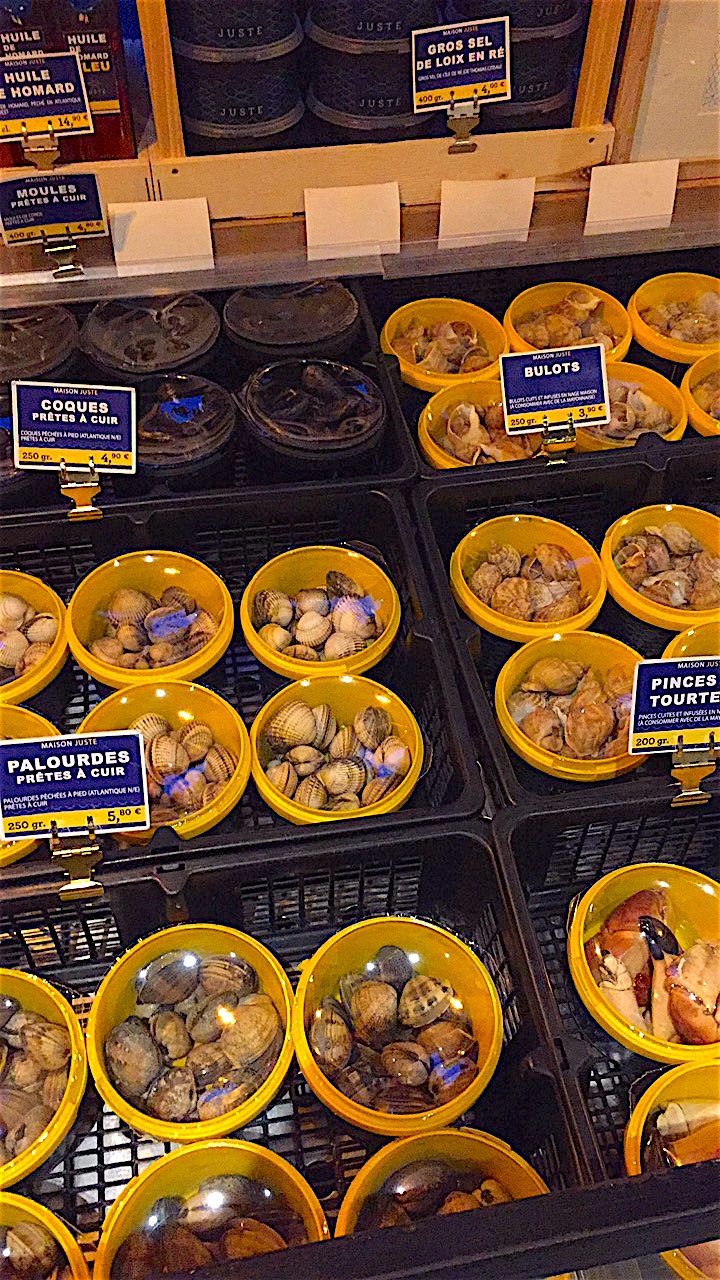 Arriving on a warm night, Juste was a relaxed, friendly place, and all of the picnic tables outside were full, so we snagged a first-come, first-serve table by the door with a built-in metal bucket for the empty shells our meal would generate. We also inspected the short but appealing menu, which includes Thaëron oysters from Riec-sur-Belon (the spats are hatched in the waters off Arcachon in the southwest, then the baby oysters are raised near Morlaix in northern Brittany, and finally they're finished in a bay on the same province's southern coast).
There was also a lot of other fresh seafood on display, to be cooked and consumed on the premises or for takeaway, including clams, cockles, crab claws, mussels, and other sea treats, plus a big bubbling lobster tank by the counter where you place your order.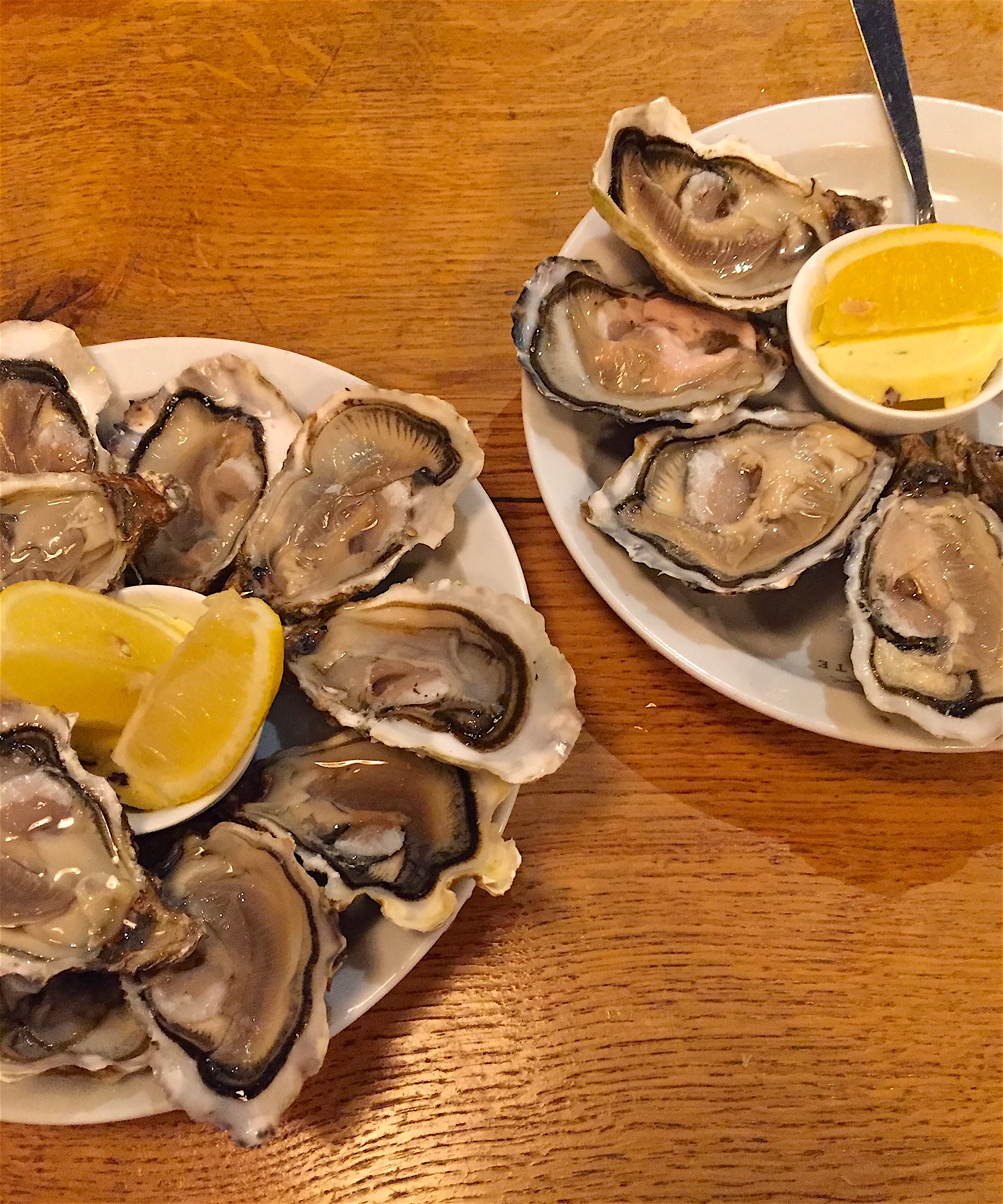 So we ordered a dozen on the smaller oysters, and six of the larger ones to start, along with an excellent and very reasonably priced 50cl carafe of white wine from the Domaine de Gournier in Sainte-Anastasie, a village that's about five minutes from our new house outside of Uzes. I think I just found our house white….
The gorgeous firm oysters were served with good bread and seaweed-flecked butter, and were a revivifying treat, especially during that period of drudgery that follows a vacation, a time of re-accustoming yourself to stress and busyness again and catching up on all those dreary things–bills, taxes, etc., you'd just let go of long enough to have a real vacation.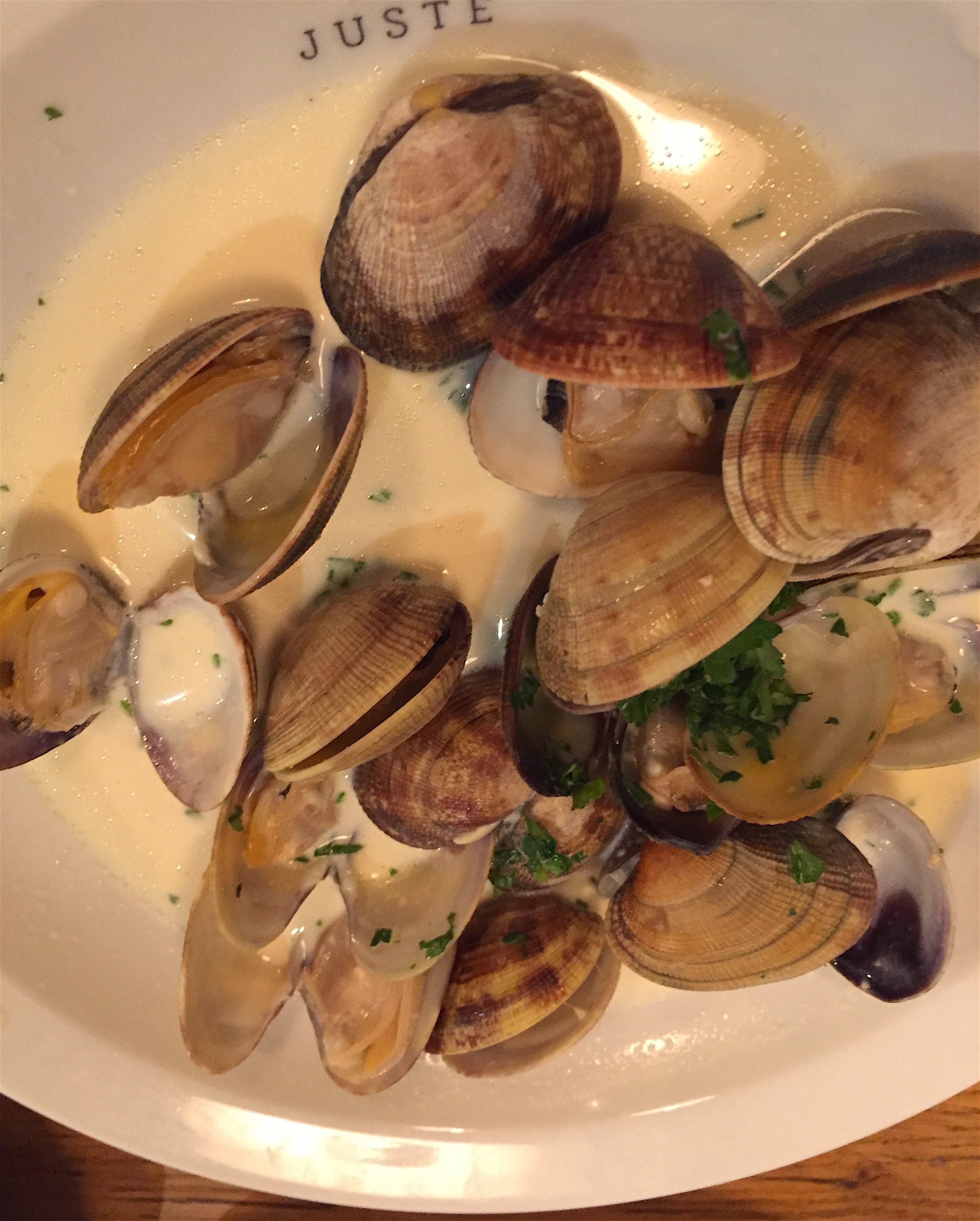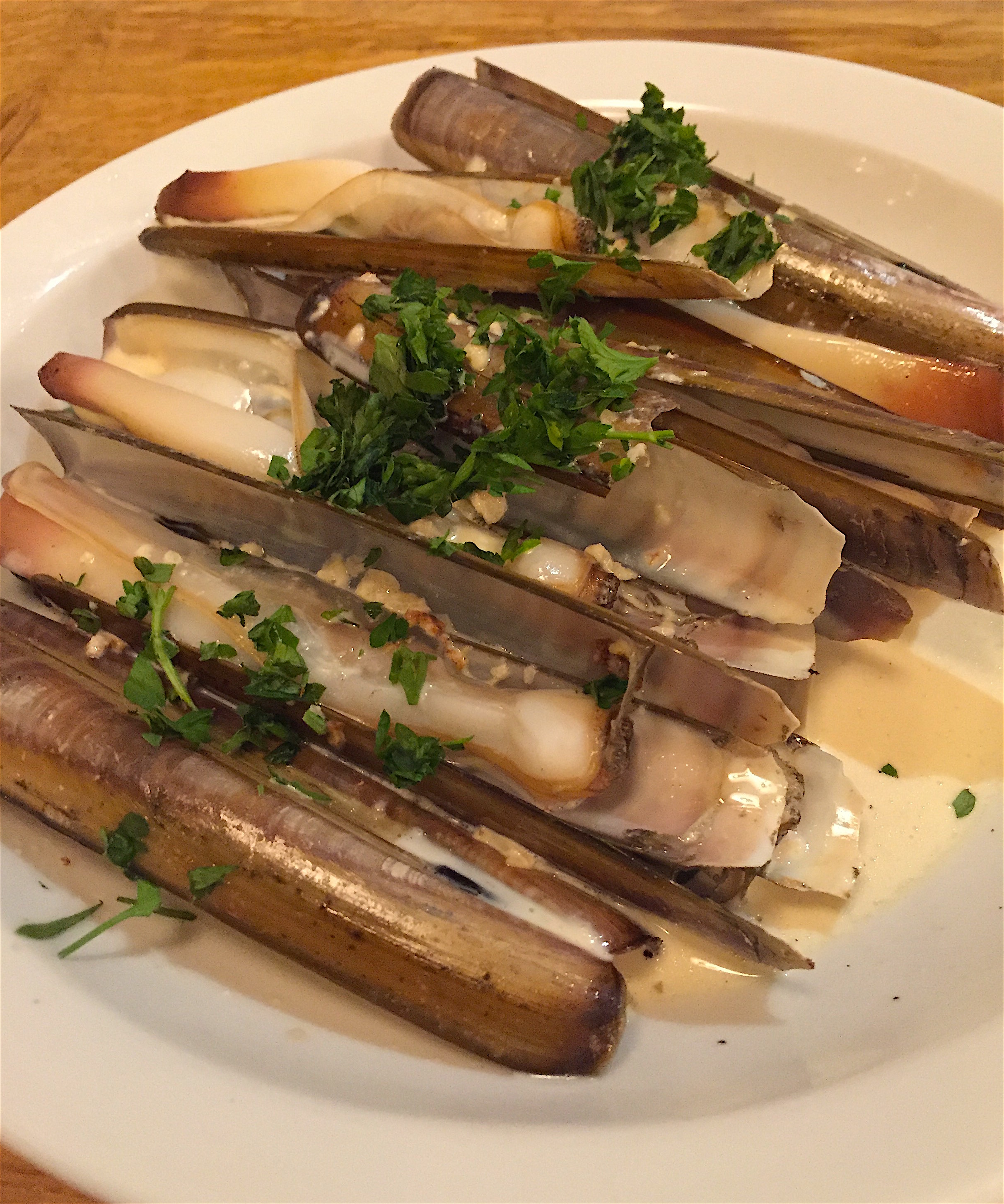 Then, because we were still hungry that night, we ordered some baby clams in garlic cream sauce and some grilled razor-shell clams, and the freshness of this seafood was exemplary. It was perfectly cooked, too, and the dining room, filled with a mix of office employees who'd ditched their ties and jackets, local residents and tourists, had that nice low-key thrum that fills a room when people are eating well without making too much of a fuss about it. That, you see, is the point of Juste–you come here on the spur of the moment–they don't take reservations, for some really good, simply cooked (or not cooked) reasonably priced seafood.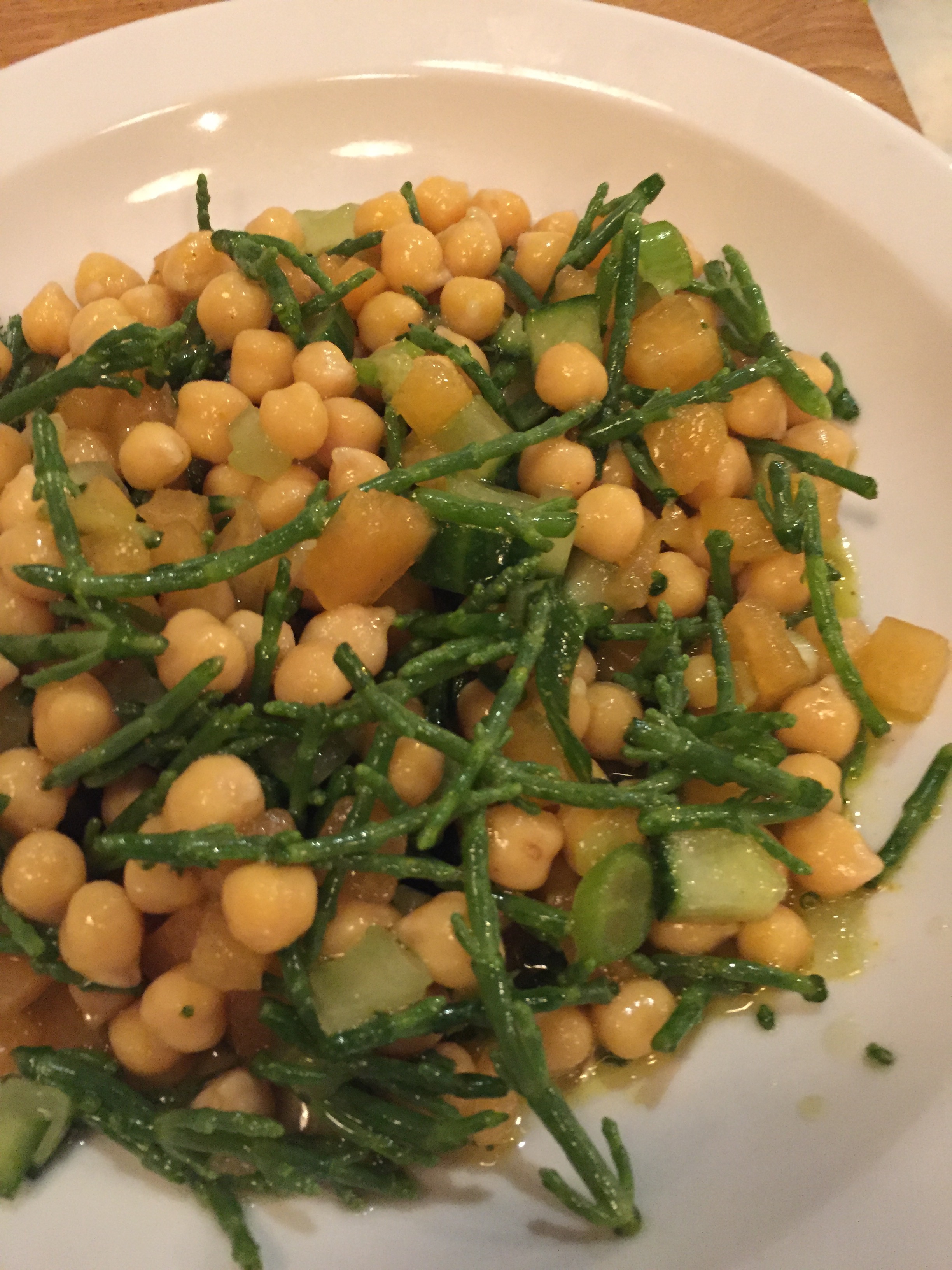 Curiosity, and my huge love of seaweed, prompted us to order a side salad of chickpeas, chopped orange, green onions and samphire, that crunchy Breton seaweed I buy whenever I see it in the market, because it makes a terrific garnish for risotto, pasta or grilled meat or fish. The chickpeas were cooked perfectly al dente and the seasoning of this salad was beautifully balanced.
While sharing a baked apple with a lashing of caramel sauce and some creme fraiche, I thought about how Juste is a perfect, sincere, friendly expression of the way Parisians want to eat in their own neighborhoods these days. What we want is really good casual dining with pedigreed produce, affordable prices, friendly service, and a total absence of fussiness or pretention. This is what Juste delivers, and I know I'll be going there often this Fall.
Juste, 48 rue Laffitte, 9th Arrondissement, Paris, Tél. (33) 09 82 33 93 47. Metro: Notre-Dame-de-Lorette or Chausee d'Antin La Fayette. Open Tuesday to Saturday for lunch and dinner. Monday lunch only. Closed Sunday. Average a la carte 30 €.
http://juste-producteur.com/restaurant/  https://www.facebook.com/RestaurantJUSTE/?fref=ts