Le Drugstore, Paris | Stylish Sustenance on the Champs Élysées, B
August 17, 2017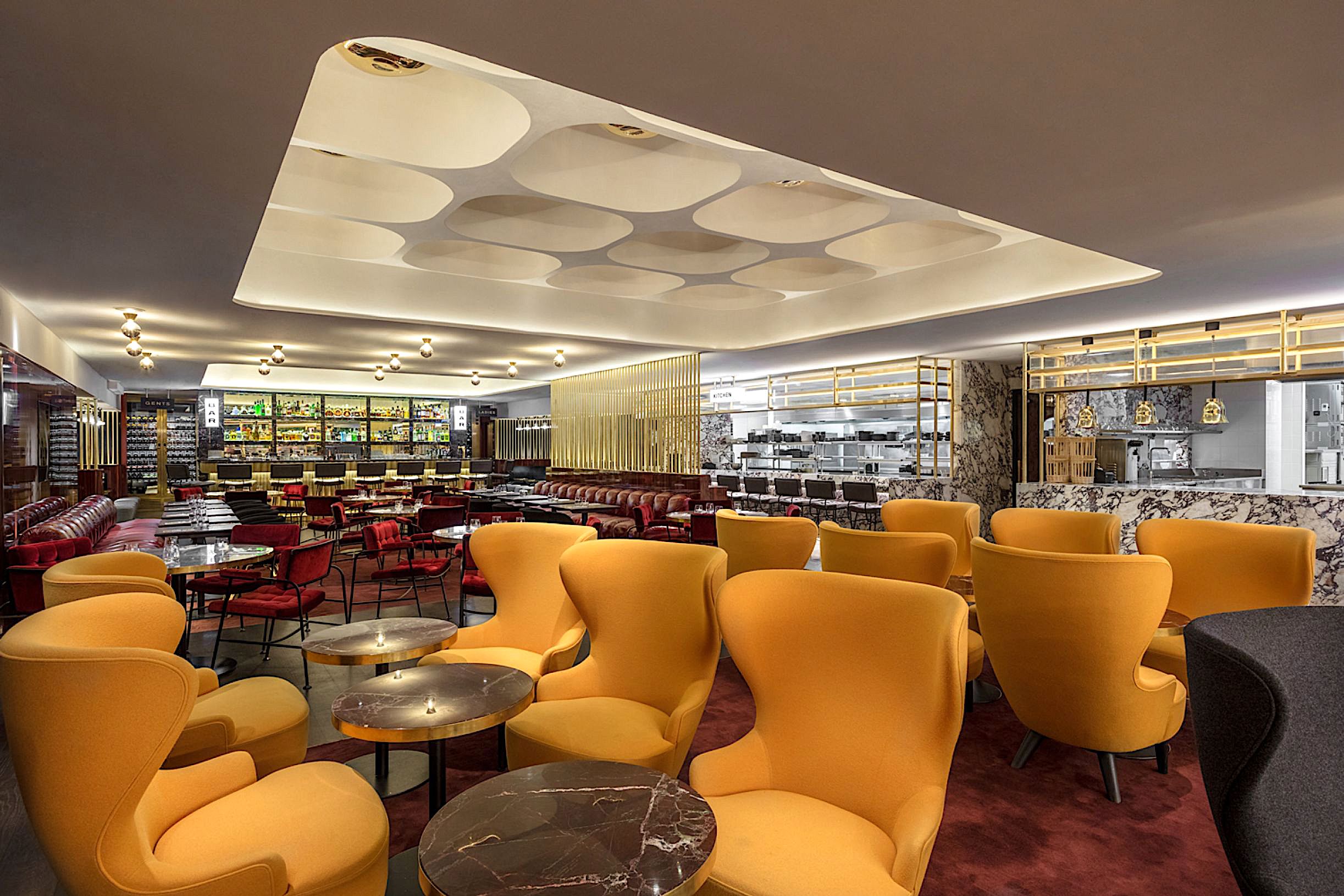 With a striking redesign by British designer Tom Dixon and a tempting new menu by three-star chef Eric Frechon, the legendary Le Drugstore at the top of the Champs-Élysées once again offers a good reason to stroll up the most famous avenue in Paris.
This is good news, too, since with one or two exceptions, the Champs-Élysées has long been a gastronomic wasteland from one end to the other. A case in point: the Pizza Pino restaurant where I ate my first meal in Paris in 1972 is still there, and still serving the same sad pizzas, including those with sunny-side up eggs that made us laugh out loud when we saw them. These were what we we ate on the hot August night my father overruled the reservation my mother had made at La Tour d'Argent.
My two brothers and I had been traveling on our own for over six wonderful weeks (Rome, Pompeii, Perugia, Florence, Sienna, Venice, Vienna, Switzerland, a cruise on the Rhine) when we met my father and sister, who'd just flown in from New York, at a hotel in the rue Marignan. The reunion was fraught in a variety of ways, which is why we ended up at Pizza Pino instead of La Tour d'Argent (my father thought it would be a waste of money to take children to such an expensive restaurant; my mother, who had decided to spend an unexpected inheritance in an uncharacteristic act of well-moderated extravagance, wanted us to enjoy the views of Notre Dame by night and have an experience of real French haute cuisine). The saving grace of Pizza Pino, however, were those egg garnishes, which brought the relief of mirth to a table of people who hailed from one of the world's great pizza belts, coastal Connecticut from Norwalk to New Haven. I mean, who in their right mind would put an egg on a pizza?!?! Clams, mushrooms, sausage, bacon (oh, bacon!), meatballs, yes, but an egg?
Le Drugstore originally opened in 1958 when French advertising maestro Marcel Bleustein-Blanchet, founder of the Publicis agency, returned to Paris after a stint working on Madison Avenue in its "Mad Men" heyday as the center of the advertising industry in the United States. Impressed by the 24/7 life of New York City, Bleustein-Blanchet decided to create a multi-faceted address that would cater to a full-spectrum of consumer self-indulgence on what was then one of the world's most storied boulevards, the Champs-Élysées. So Le Drugstore became a pulse-point where you get everything from a bottle of Champagne to the latest records, along with a well-made Martini and a then decidedly exotic bite to eat like a cheeseburger, since the restaurant's D.N.A. was always avowedly American, a reflection of an era when post-war America exemplified modernity and technological innovation.
The concept was a huge hit, and there were once two other Drugstores in Paris, one in Saint-Germain-des-Prés across the street from the Cafe des Deux Magots on the boulevard Saint Germain, and the other at the Rond Point des Champs-Élysées. They thrived during the sixties, seventies and into the early eighties, when Paris nightlife guttered out, never to really recover again. To the horror of local residents, the Saint-Germain-des-Prés Le Drugstore became an Emporio Armani some twenty years ago, and then the one at the Rond Point des Champs-Élysées went belly up, too.
If the Champs Élysées Le Drugstore survived, it was mainly due to tourist traffic, because Parisians themselves became disaffected with the avenue a longtime ago. Recently, there have been several attempts made to revive Le Drugstore, including an unfortunate Frank Gehry like renovation of the building by Michele Saee in 2004, which happened at the same time that Alain Ducasse was brought in to reboot the restaurant. Neither Saee's redesign, nor the Ducasse concept went over very well, so fast forward to the new makeover.
What Dixon instinctively understood was that architect Pierre Dufau's original design should be the compass for his renovation, since its mid-century mannerisms have become stylish all over again. To this end, Dixon used rich materials like marble and brass and sensual ones like glove leather to channel the once giddy glamour of the original design, albeit seen with the bemused but respectful critical distance of sixty years.
Staying true to Le Drugstore's original vocation of spontaneity, there are a variety of settings in which to eat and drink here, from a sidewalk terrace, to a glamorous bar, leather banquettes, wing chairs at tables, and more conventional sit-up-straight tables with chairs. You can also sit on stool at a white-marble counter and watch the action in the open kitchen.
Chef Eric Frechon's job was to create a menu would read as sophisticated modern comfort food to both Parisians and the international foot traffic the Champs-Elysées attracts most heavily from April to October. This meant offering an array of foods that would also respect a detailed variety of dietary restrictions, both religious and medical, and proposing dishes that instantly read as pleasure to several dozen different nationalities.  Oh, and the owners also wanted a wink or two at Le Drugstore's original ground-breaking American influenced menu. Faced with a tall order, Frechon pulled it off rather brilliantly.
Stopping by for dinner recently, I knew we'd be in for some fun when I first eyeballed Dixon's striking dining room, spotted a whole section on Frechon's menu entitled 'finger food,' and surveyed the dining room. Here, a pair of Russian blondes with the animation brought on by Andean snow were flirting with the good-looking Lebanese brothers at the table next to them, there three Japanese women were intently examining one another's brand new Louis Vuitton handbags, and everywhere else, dozens of interesting, poignant and often amusing cameo performances were taking place with a similarly international cast.
To accompany well-mixed cocktails, we started with some corn tempura with tandoori salt and accras (deep-fried) beignets of salt cod and tiny gray prawns served with aioli sauce. The nibbles were delicious, and it immediately struck me that the food here was now good enough and interesting enough again to tempt Parisians back to a place most hadn't set foot in for years.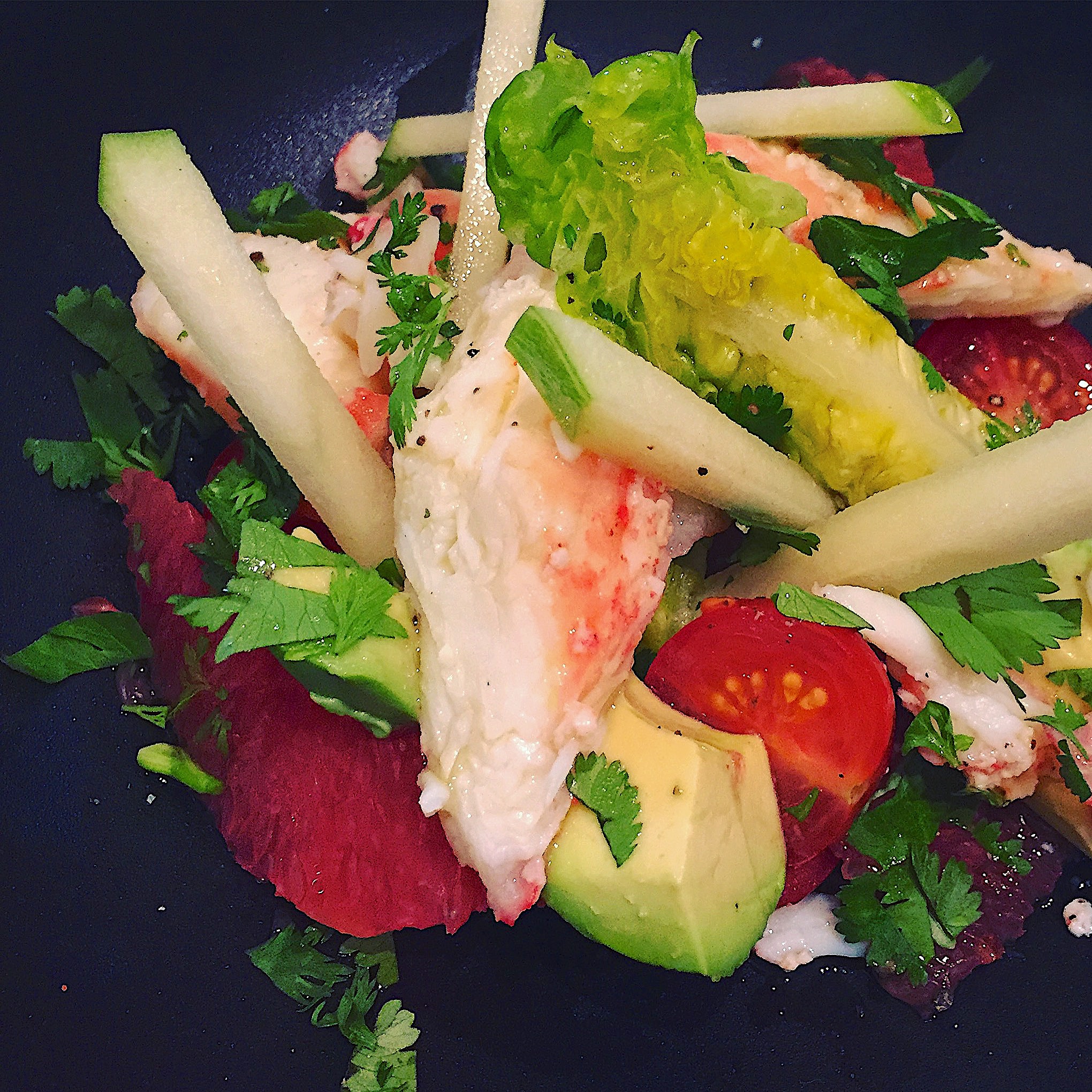 Next, we skated by the section of dishes that are available all day, including cheeseburgers, croque Monsieurs, and Cesar salads, to the main menu, which is divided between sections entitled "Le Cru" (The Raw) and Le Cuit (The Cooked). This may sound gimmicky but isn't, since raw means modishly popular tartares, carpaccios and salads, while cooked ranges from roasted cauliflower with curry oil to grilled red tuna marinated with citrus and ginger. Again, the short take here is seriously well-made international comfort food.
I started with a beautifully composed salad of fresh blue crab, avocado, pink grapefruit, green apple, tomato and butter lettuce in a honey vinaigrette, and Bruno chose the beef carpaccio, which came garnished with a tangle of finely grated daikon, spring onions, coriander and a soy vinaigrette. Both dishes were well-sourced, attractively plated contemporary cosmopolitan classics.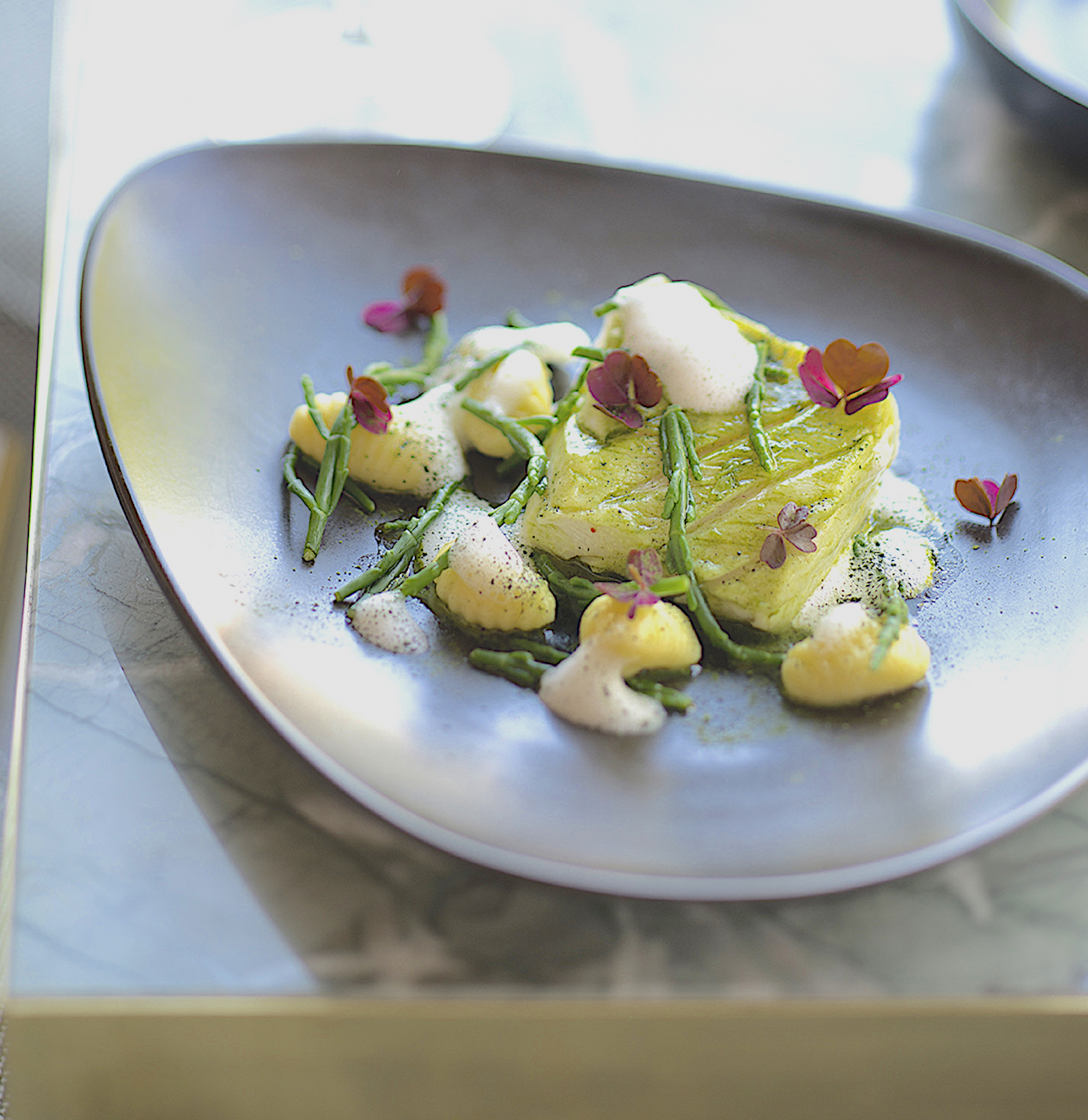 If my main course–a shrimp burger with green onions, coriander and ginger, was rather underwhelming–the 'burger' was too small, the ratio between shrimp and bread crumb was off, and the bun it road too sweet, Bruno was very happy with his cod. Steamed and then lightly seared, it was sprinkled with plankton powder, the super food du jour in Paris right now, and briny samphire seaweed, a crunchy iodine-rich sea vegetable that's a natural pairing with Atlantic fish. A scattering of shell-like gnocchi surrounded the fish and were accented with a gentle garlic foam.
Notable among other choices here is the Japanese Wagyu beef, a sirloin for two that goes for a spritely 195 Euros.
Desserts are excellent at Le Drugstore, and so they should be, since they're an important part of the culinary bait here. To wit, the whole point of this place is to walk through the door off the cuff and decide to eat and drink something that spoils you. This might mean a pineapple carpaccio flamed with aged rum or a nice raspberry financier with passionfruit sorbet.
So Le Drugstore is what I would call a successful situational restaurant, or a place that's very handy should you find yourself in this part of Paris and wanting a meal outside normal meal times, or a comfortable place to dine on your own, or an address that's open on Saturday, Sunday and every other day of the year but which is worth going to for reasons beyond that convenience.
Framed another way, Le Drugstore is a good new incarnation of the emerging new-style 21st century Parisian brasserie and a lot of fun to boot.
133 avenue des Champs-Elysées, 8th Arrondissement, Paris, Tel. (33) 01-44-43-79-00.
Métro: Charles de Gaulle-Etoile or George V. Open daily: Monday – Friday 8am-2am; Saturday, Sunday and holidays, 10am-2am. Average 45 Euros. https://restaurantledrugstore.com/en/ledrugstore