JY's, A- and Wistub Brenner, B | A Delicious Visit to Colmar
December 17, 2015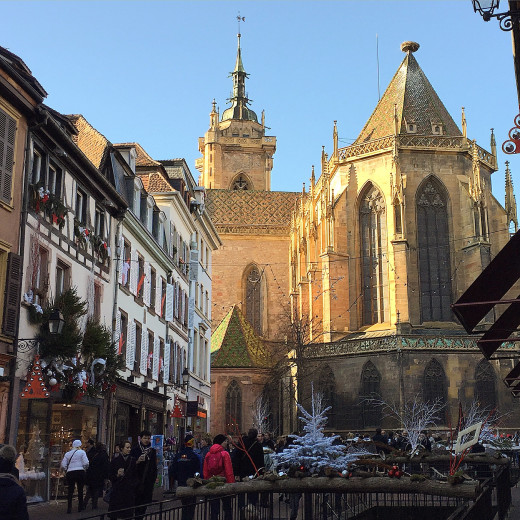 In France, the cold weather always makes me hungry for Alsatian food, which I recently satisfied with two excellent meals at JY's and Wistub Brenner during an overnight trip to Colmar. With the reopening of its superb Musée Unterlinden, which houses the magnificent Issenheim altarpiece in a medieval chapel that was once part of a 13th century convent, Colmar has to be the best weekend away this winter (you can read what I wrote about the newly expanded museum here). If you visit before December 31, 2015, you'll also have the pleasure of the city's five Christmas markets, which sell festive goods like Christmas tree ornaments but also beautifully made metal toys, wooden housewares, jam and other preserves, and the raw-milk munster cheese and smoked marinated pork loin that I bought at the Geismar stand in the Marché de l'Ancienne Douane on a refreshingly brisk Sunday afternoon when I'd walked over to have a look at the museum before a guided visit the following morning.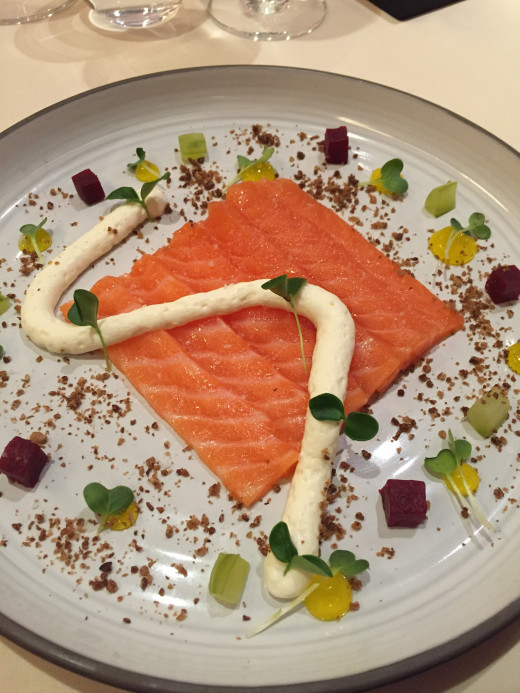 That evening, I decided I'd put the holiday throngs at arm's length by having dinner at JY's, the Michelin one star restaurant that is probably the best restaurant in Colmar. It occupies a very pretty old half-timbered house on the banks of the Lauch river, which would have you expecting a sort of Hansel & Gretel decor once you get inside. Instead, chef Jean-Yves Schillinger, a native of Colmar who lived and cooked in New York City for several years, opted to create a sleek open kitchen and a relaxing streamlined sort of modern lounge-bar look for his restaurant. I hadn't been here for a very longtime, so I came to the table hungry, curious and already knowing what I would order, since I delight in the voyeurism of stalking a menu online before I actually arrive at a restaurant. The marinated salmon I'd already picked out was superb, too, and came with enlivening garnishes of horseradish cream, diced beets and cucumbers, rye bread crumbs, mustard cress, and little dots of pleasantly puckery lemon curd.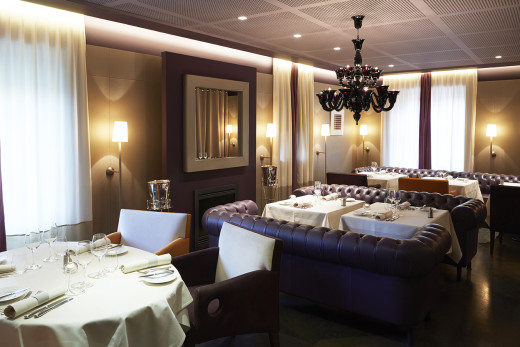 On a rainy Sunday night, there was something hugely pleasant and peaceful about sitting by myself (I almost wrote, 'alone,' but then realized this word unfortunately has a melancholy ring to it for most people) at a large table spread with a crisp white cloth and being a spectator to both what was going on in the open kitchen and the tables that surrounded me on. Nearby, the conversation of a well-heeled foursome see-sawed between the recent French elections and plans for various winter vacations (Megeve, Mauritius–Colmar is a very bourgeois sort of town). There were also two deuces, one a contagiously jolly British husband and wife who were very much enjoying their wine, and the other, an older French pair who seemed to have exhausted all possibilities for conversation many years ago and so studiously avoided each others eyes. I often found the woman looking at me during the course of my meal, and after sending three polite smiles her way, she finally responded with a little grin that sent a blaze of color up her cheeks.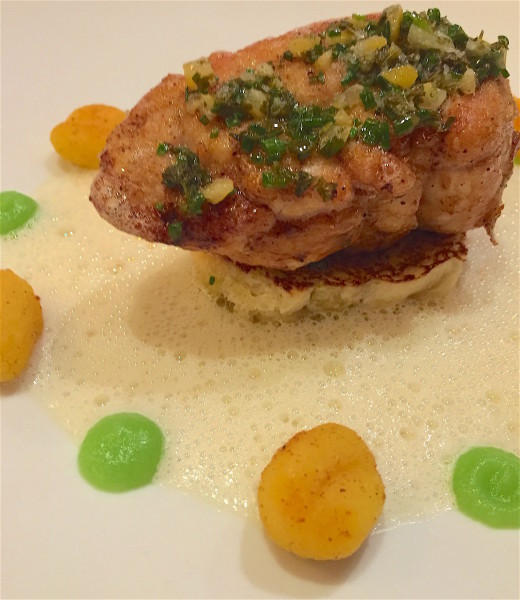 For my part, I was supremely happy with my pan-roasted ris de veau, which arrived riding a little canapé of pain perdu in the middle of a foamy masala sauce that brilliantly and very unexpectedly magnified its earthy but delicate taste. The long flavors of the spice mix–masala comes in infinite variety, but the percussion of this blend came mostly from tumeric, cinnamon, clove, and ginger–were cleverly punctuated by a gremolata, and the succulent organ meat was fancifully fenced in with a ring of gnocchi and dots of pureed pea. This was easily one of the best dishes I'd eaten all year, a delight redoubled by the fact that I'd been looking forward to it ever since I'd boarded a very early train at the Gare de l'Est in Paris for the three-hour journey to Colmar.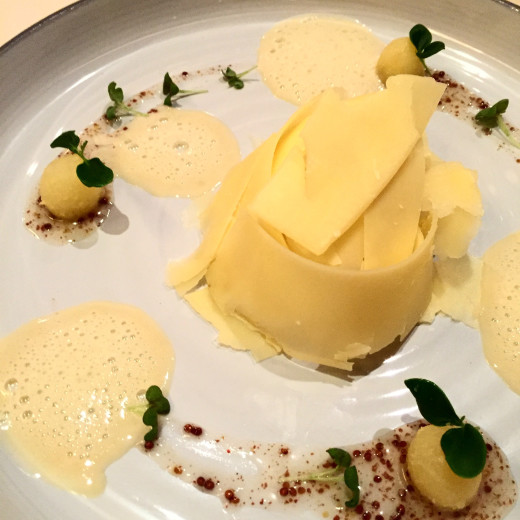 When I learned that the comté has been aged by Bernard Antony, one of the greatest affineurs of cheese in France, whose cellars are found in the little Alsatian village of Vieux-Ferrette, I wasn't going to miss this opportunity, since Antony's specialty is comet, one of my favorite cheeses. A very generous portion arrived with garnishes of cider sauce and apple in mustard syrup, which were interesting but unnecessary, since the cheese itself was so good.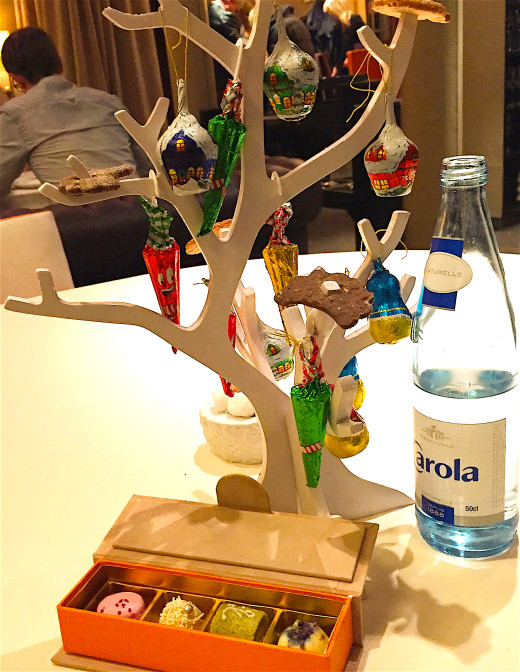 And because Schillinger is a generous man whose pleasure in practicing his metier is first and foremost in making other people happy–as opposed to impressing them with his talent, ample though it may be–my coffee came to the table with an Hermes orange box of mignardises and a tree decorated with chocolates and cookies, a charming conclusion to an excellent meal.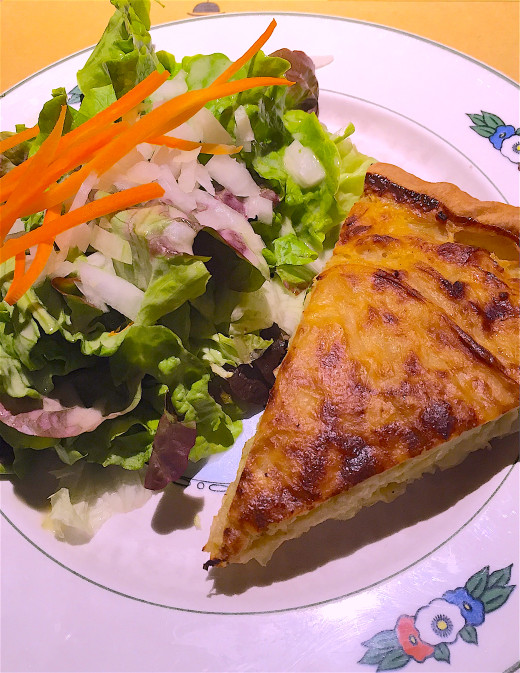 After a wonderful visit to the Musée Unterlinden the following day, I was a man on a mission when I arrived at Wistub Brenner, because I love traditional Alsatian food, which has become almost impossible to find in Paris at any real level of quality. This popular little place had been cleverly redecorated in a sort of clever post-modern riff on the traditional folklore-rich decors that characterize these restaurants where Alsatians go to feast on their own comfort foods. It was gluttonous of me to be sure, but then I long ago decided that a good bout of gluttony not only makes me very happy but is, by my lights, good for my health, because I only ever react this way when the food is of exceptional quality (okay, with the possible exception of a bi-annual gorging on the dip made with sour cream and packets of alarmingly chemical-rich Lipton's Onion Soup). So I ordered the onion tart, which came with a garnish of very fresh salad in a mustardy vinaigrette, to start. It was very good, too, since eastern France loves and excels at making all manner of egg rich open tarts, including quiche Lorraine, bien sur.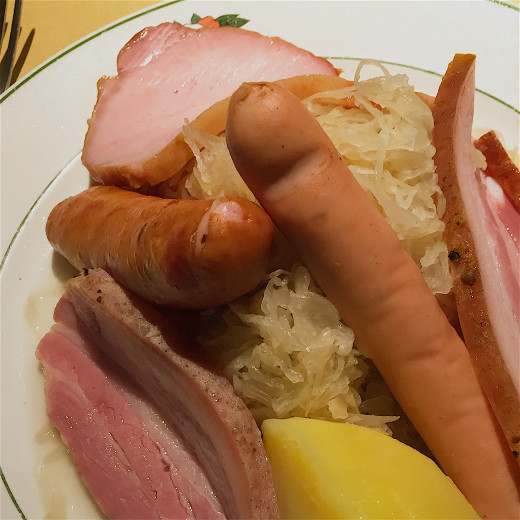 And then, well, who in their right mind would visit Alsace without having at least one good choucroute garni, the region's great monument to good winter-time eating and a mound of gently brined cabbage topped with different types of charcuterie and a waxy potato or two. If you love pork–as smoked bacon, smoked cumin-flecked sausage, smoked pork loin, frankfurter-like saucisses de Strasbourg, etc., as much as I love pork, this will make you very happy indeed. The cabbage dampers the richness of the meat, which, depending on the cut, requires a smear or two of nostril-clearing mustard, and the potato adds some texture and somehow goads you on.
"Eh bien, vous l'avez bien apprécié!" said the waitress when she cleared my nearly empty plate, and yes, I had very much appreciated it indeed, enough, in fact, to know that I'd be missing it all winter, or at least until my next to trip to Colmar, one of the most avidly gastronomic little cities in France.
JY's, 17 Rue de la Poissonnerie, Colmar, Tel. (33) 03-89-215-360. Open Tuesday to Saturday for lunch and dinner (Also open on Sunday's while Colmar Christmas markets are open, November 21, 2015-December 31, 2015). Prix-fixe menus 43 Euros, 64 Euros, 92 Euros, average a la carte 100 Euros. www.jean-yves-schillinger.com 
Wistub Brenner, 1 rue Turenne, Colmar, Tel. (33) 03-89-41-42-33. Open daily for lunch and dinner. Prix-fixe menus 24.20 Euros, 25.20 Euros, 29.40 Euros www.wistub-brenner.fr