LA BRASSERIE DE L'ISLE SAINT LOUIS– A Surprisingly Good Brasserie, B
February 10, 2012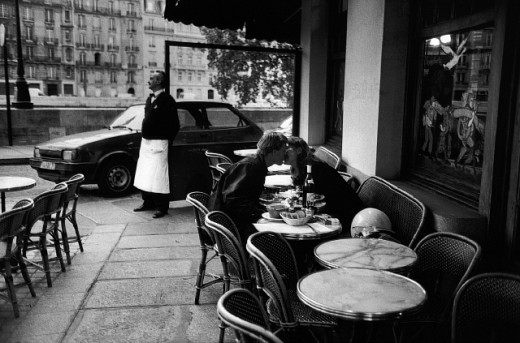 Photo @ Peter Turnley
The tragic skid into an unappetizing senility that most Paris brasseries have experienced during the last twenty-five years is a subject I've often written about, and it remains a sad and sore topic with me, because I so loved the brasseries of Paris before they fell victim to poorly played business schemes to make them part of money-spinning chains. If I've always loved the food of Paris bistros more, nothing could beat the city's brasseries for their irresistible atmospheres of desultory glamour. In my mind's eye, in fact, the brasseries of Paris will always register as they do in the beautiful Peter Turnley photograph above.
With the recent and continuing cold snap in Paris, I found myself craving a good choucroute the other night, and having fallen into conversation about this deeply nourishing Alsatian dish of sauerkraut topped with charcuterie and various cuts of pork and a few potatoes with the elegant old woman in bus who had sweetly complimented the scarf I was wearing, I found myself cajoling Bruno into accompanying me on an unexpected mission the other night. I wanted choucroute, and I was willing to put the nice lady's recommendation of La Brasserie de L'Isle Saint Louis, a place I hadn't been in at least fifteen years, to the test.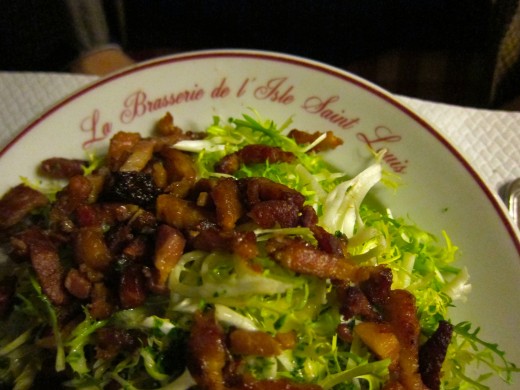 Bruno balked for the same reasons many Parisians might. With the brasserie's extraordinary location on the quai de Bourbon just over the foot bridge from the Ile de la Cite, logic would tell you that it's a tourist trap. A tiny bit of Bruno's exapseration abated when we were warmly welcomed here, and things further improved when we our excellent bottle of Pinot Gris was served. Staring at the wagon wheel chandeliers overhead and the hunting trophies on the wall, I churned through my memory trying to remember on what occasion I'd last been here and with whom, but I kept firing blanks, and then Bruno's frisee and my tarte a l'oignon were served by our amiable, wry and wise-cracking waiter. Both were very good, too.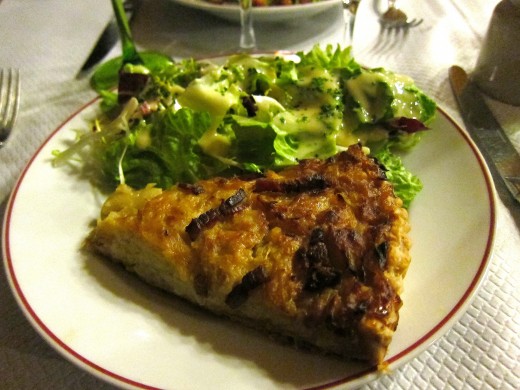 The people watching in this black-and-white dining room was wonderful, too. Aside from two German business men getting politely sozzled across the way, on this cold winter night, the Parisians all looked like people with interesting histories. "But my book was published just after I'd returned to Paris from living in Uruguay for five years," was a snatch of conversation I overheard that made want to listen to the rest of the story.
Just before the choucroute arrived, we fell into conversation with Jerome Kappe, one of the two brothers who are the third generation of their family to run the brasserie, and he told me that they actually make their own choucroute everyday, which was quite a surprise. And then the dish arrived, and it wasn't the choucroute that first convinced me that the old woman on the bus had been right, it was the potatoes. These were real peeled and boiled potatoes, and not the shrink-wrapped pre-skinned and cooked ones you find everywhere in Paris now. The choucroute was excellent, too, and so generously garnished that I regretted having had a first course. "This is really good, what a surprise," mused Bruno, but I was too happy enjoying the sting of mustard in my nostrils and the smoke on my palate from a perfectly grilled piece of pig belly to answer right away.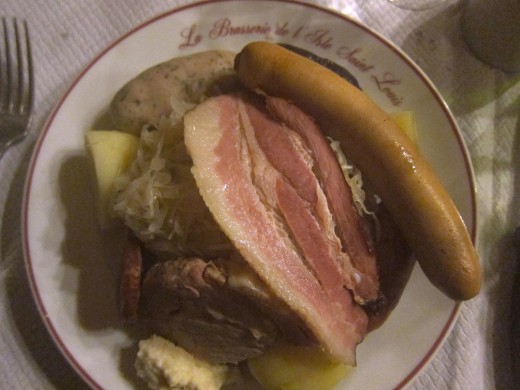 Suffice it to say that I ate a lot more than I should have, but this was the best choucroute I'd had a in a longtime, and the quality of the cooking was such that I'm planning to go back soon as see if their other specialty, cassoulet, is as good as this one was. In the meantime, I've thought of that choucroute at least once a day with the deepest yearning, because it tastes so much like France, the eternal France.
55 quai de Bourbon, 4th, Tél. 01.43.54.02.59. Metro: Pont Marie. No reservations, non-stop service from noon-11pm. Closed Wednesday. Average 35 Euros.