LE COQ RICO–Getting Plumed in Montmartre, C
February 6, 2012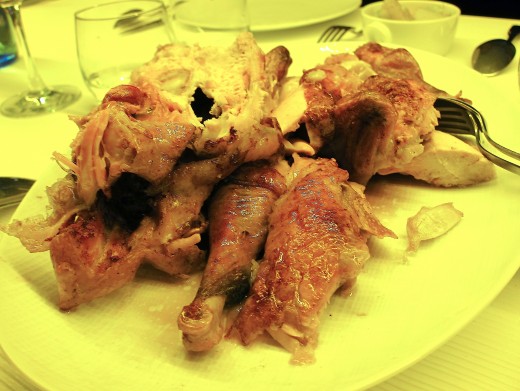 Poulet de Bresse for 2-4: 95 Euros
On the way up to the unfortunately named Le Coq Rico, chef Thierry Lébé's new Antoine Westermann backed rotisserie in Montmartre, last night, I couldn't help but wondering why no one had ever thought of doing a roast-chicken themed restaurant in Paris before. To be sure, there are lots of places that are rightly or mostly wrongly well-known for their roast chicken in Paris–L'Ami Louis, La Rotisserie d'en Face, La Rotisserie du Beaujolais, Le Pere Claude and Chez Maitre Albert among them (they all get a C+ from me), but even the good ones rarely do it better than my favorite roast chicken purveyors, almost all of which are to be found at open-air Parisian markets.
For some reason, the spit-roasted fowl at Paris markets is almost always excellent, and even though it's not cheap, it's a lot cheaper than what you'll be nicked for at most sit-down Paris restaurants. Since I've liked Mr. Westermann and enjoyed his sincere and artful cooking ever since I first sampled it–I was dispatched to Buerehiesel in Strasbourg by a New York magazine after he won three stars in 1993, I'm always eager to see what he's up to. Unfortunately, I've found him to have gone rather consistently off course since he left his Strasbourg restaurant to his son Eric and started opening restaurants in Paris. Mon Vieil Ami on the Ile Saint Louis was quite good when it first opened–I loved the Alsatian inflected farm food, but the service never settled in correctly and its become too expensive, so I deleted it from the last edition of HUNGRY FOR PARIS and don't go anymore. Drouant, Westermann's other Paris table, is similarly mystifying to me–I've never enjoyed a meal there and don't understand the kitchen's odd, gimicky archly urban rustic cooking.
But Mr. Westermann is a delightful man and seriously gifted chef, so off we went to the highest peak in Paris on an arctic evening. Arriving, the presence of an amiable voiturier immediately told me what sort of clientele they were gunning for, or people not like me, which is to say high-rollers who show up in their four-wheel drive fume- spewers and don't mind spending 10 Euros to get someone to take the ton of metal off their hands. And almost from the moment we stepped inside, I knew this place wasn't going to work for me and held my tongue.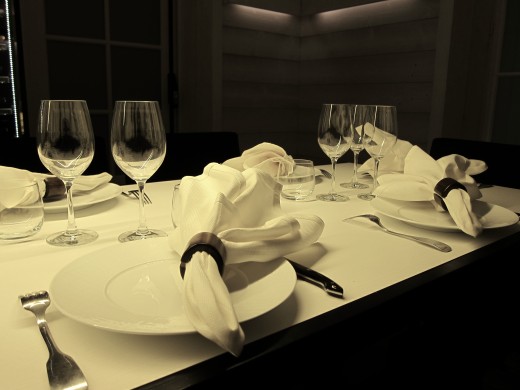 Well-groomed robo-staff types went through the motions of a welcome like the vain and excited ushers at the Cannes film festival, and the white decor felt like a hollowed out sugar cube. To be sure, the working rotisserie off to one side was faced by a counter where you could eat alone, and a few people were dining there, but overall this "m'as tu vu" place felt as though it should be in Courchevel instead of Montmartre. Or in other words, it smelled like a money spinner from the get go.
And then we looked at the menu, which was frankly absurd. Two of us ordered the creme de volaille (creamed chicken) soup as a starter, and even though it was delicious, I was really bothered by the idea that they were charging 11 Euros for a ladle and a half of soup. This starter should have been served in a deep tureen at these prices, and before it came to the table, we should have been offered a help-yourself chicken-liver terrine to soothe us into the spririt of the place over our aperitifs. Instead, this restaurant felt as though the entire menu had been pushed through a very expensive computer-generated cost-analysis program at least five times before they unlocked the front doors for the first time.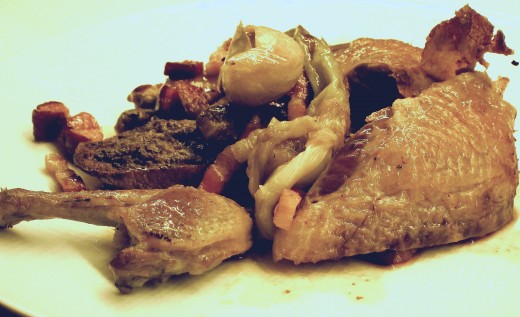 Roast pigeon: 38 Euros
Since we were celebrating a friend's birthday, I kept my beak shut during our dinner, but when 75 minutes went by between our starters and our roasted birds– we'd ordered a pigeon for one and a poulet de Bresse that was caggily described as serving 2-4, I slipped away to see what was going on. What I found was a restaurant that desperately needed a real maitre d'hotel, or someone with a supervailing eye who could greet newcomers, time the kitchen and track the staff all at once. Instead, there was no one home at this place all through a very long and rather trying meal. When it finally arrived, all of the fowl was overcooked, and the airplane style portion-controlled side dishes were offensive. When someone has ordered a 95 Euro roast chicken, salad, frites and macaroni gratin should come to the table in abundance.
Oh to be sure, they brandish some major brand-name birds on the menu–Challans, Bresse, Coucou de Rennes, Géline de Touraine, etc., and their cooking is, as the French would say, "correcte," but the harsh lighting and total absence of generosity at this restaurant were a heart ache, especially since it was my idea that we come here and my friend Laurent sent me a single-line email after we'd all parted company: "Alec, Pigeon a 38 Euros–Putain!"
Le Coq Rico, 98 rue Lepic, 18th, Tel. 01-42-59-82-89. Metro: Lamarck-Caulaincourt. Open daily. Average 50 Euros, with no drinks.