LA CLAIRIERE, A Winningly Funky Bistrot a Vins, B-; ASSAGIO, A Good Italian, B
September 10, 2010
Even though the advent of email has blessedly reduced the frequency of one of my most-dreaded-of-all weekly errands–a visit to the Post Office, I still seem to be in and out of that miserable place every other day for one reason or another, which means I've probably walked past La Clairiere, a sleepy looking bistrot a vins just across the street from La Poste at the corner of the rue Taitbout and the rue Saint Lazare several hundred times during the last few years. What with the churn of the new and the fact that I try to avoid going out to lunch–not because I don't enjoy it, but it chews up the whole day, I'd never set foot in the door until last week. My delightful friend Andrew called and suggested a much needed heart-to-heart, and since La Clairiere is mid-way between us, I told him I'd meet him there and hoped it would be good.
Stepping inside, I was reminded of the odd-ball bistros where we used to go for lunch when I worked as an editor in the rue Cambon–cheap, cheerful, friendly, funky places that looked like a setting for a Simenon mystery novel.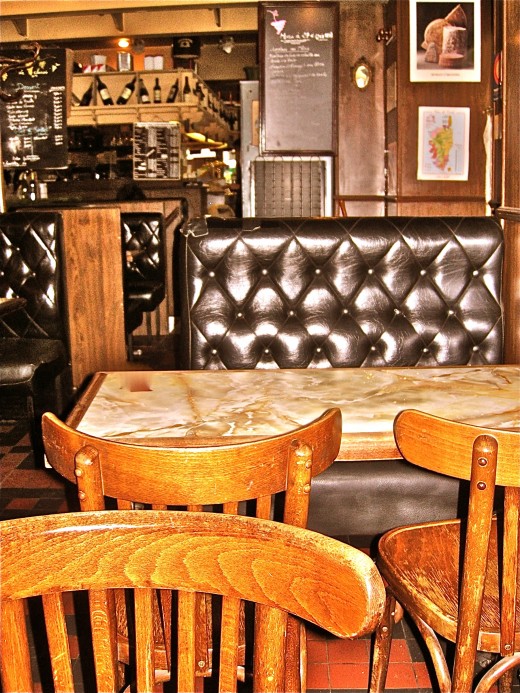 I suspect Andrew may have had some doubts about this place, and maybe I had one or two, too, but we occupied a corner table, ordered a stoneware pitcher of metalic-tasting Beaujolais and studied the chalkboard menu.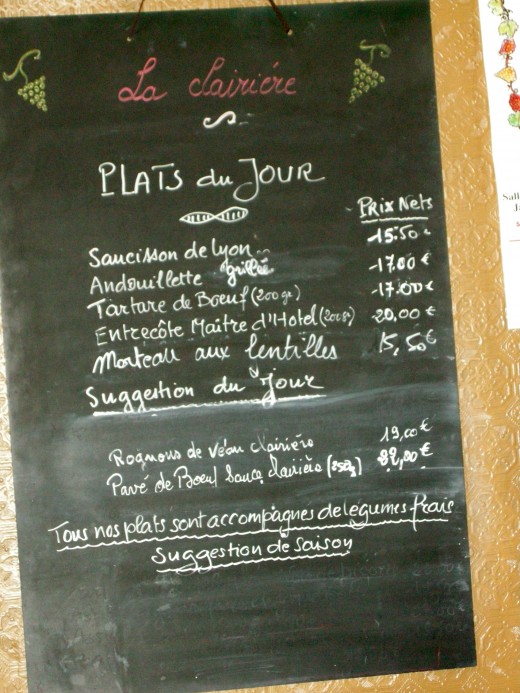 I had a suspicion portions here would be vast, so we just ordered main courses–veal kidneys in a sauce Clairiere for Andrew and saucisson de Lyon with warm potato salad for me, and were deep in conversation and well into the wine when our food arrived.
To my susprise, the saucisson was delicious–thick perfectly cooked slabs of delicious pork sausage studded with bright green pistachios accompanied by a warm, freshly made potato salad lightly dressed in oil and vinegar. Andrew's kidneys were sliced, generously served, and cooked rare as he'd ordered them and came on a bed of bow-tie pasta. The Clairiere sauce seemed to be little more than pan drippings deglazed with red wine and butter, but the results were tasty, and as we were eating, the dining room filled up with a crowd of men in dark suits brightened only here or there by a woman or two in a softly colored suit–wintergreen here, violet there. On a rainy day, this place was cozy and comforting, and ultimately just the ticket for lunch (they're only open Monday to Friday from 8am-7pm).
We finished up with a shared plate of perfectly ripened cheeses–a fresh chevre, a nice runny little hunk of camembert and some Comte, and both pocketed the little macaroon served with the coffee for a late-afternoon treat. All told, this is isn't an address to dash across town for, but it's a far better option for lunch than most of what you find around the big department stores and worth the ten-minute walk to escape the crowds and enjoy the sepia-toned atmosphere of a no-nonsense little bistro that takes an admirable pride in the quality of what it serves and pours.
La Clairiere, 43 rue Saint Lazare, 9th Tel. 01-48-74-32-94. Metro: Trinité – d'Estienne d'Orves. Average 30 Euros.
————————-
As someone who travels a great deal, I am instinctively sympathetic to the jet-lagged, or anyone who's generally discombobulated these uncertain times for that matter, and so I agreed to meet a stressed-out friend who works as a marketing manager for a major New York fashion house for dinner at her hotel in the rue Cambon. Coming from London, she was going to be spending a single day and night in a half-dozen major European cities during the next week and she sounded at wits end on the telephone, explaining that the problem is she's expected to do the same amount of work that she did two years ago but with half the staff. Having recently been in New York, I'd heard the same lament from friends in finance, law, publishing and other fields, and also picked up on the great unspoken in American life today, which is that if you're lucky enough to have a job, you don't complain.
Checking the website of the Hotel Castille before I walked to dinner, I saw that the Italian restaurant there had recently been rebooted as L'Assaggio, with a new chef and a new decor, and I hoped for the best. The last time I'd been there, when it was still being run under the aegis of Alain Ducasse, the food had been florid and the bill a real whopper.
Arriving, my friend said she had a conference call in five minutes and that she'd been downstairs as soon as she could. So I settled into the attractively redecorated lounge, ordered a glass of Pinot Grigio, and feel into conversation with the friendly Italian maitre d'hotel, Gerardo Garguilo, who told me the wine had come from the Trentino region of Italy and enthusiastically described its qualities in oenological poetry. He also vaunted the fact that they serve Cinta Senese prosciutto at the restaurant, Cinta Senese being a rare breed of pig that is native to Tuscany and talked about the work he once did for the brilliant Italian Slow Food group in Calabria, including discovering what he claimed was the best rice in Italy.
A half-hour later, Jennifer finally came downstairs, Blackberry still blinking, and we went into the main dining room for dinner. She eats like a sparrow, not because she doesn't like good food but out of the terror of gaining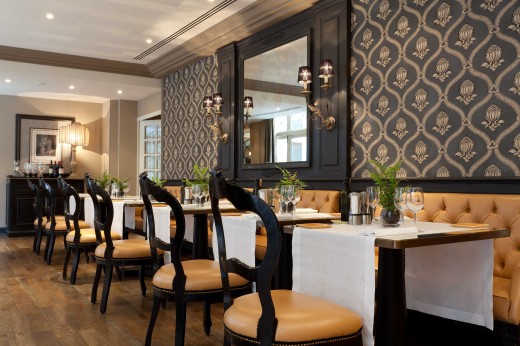 L'Assaggio, main dining room, @David Grimbert
so much as an ounce of weight, but once she'd had a glass of Pinot Grigio and I'd persuaded her to put her Blackberry in her purse for the duration of the meal, we figured out a way to have a meal that would make both of us happy. And for me to be happy here, I had to ignore the prices on the menu and concentrate on having a good time instead.
First up, some of the excellent prosciutto that Gargulio had been talking about. It came with wonderful garnishes of grilled baby cep mushrooms, celery and a few truffle shavings that were by way of gilding the lily, but was delicious, as were all of the breads that were brought to table. I knew that Jennifer was worried that the risotto would take too long–she was very tired after all, but I also knew that there are few better cures for stress and jet-lag than a well-made risotto. So she chose that, and I ordered the linguine with tellines, or baby clams that are dredged up from the sands at the mouth of the Rhone river in the Camargue, and, curiously, brussels sprouts. Next, burrata (that sublimely creamy cheese from Puglia) with oven-roasted cherry tomatoes for her and a veal chop for me. And even though I don't usually enjoy drinking a different wine with every course–my usual roll is a glass of white as an apperitif and then a single well-chosen red–I agreed to Gargulio's eager suggestion that we go by the glass.
Enjoying the ham, we chatted about books–we'd both read and loved "The Story of a Marriage" by Andrew Sean Greer and Jonathan Franzen's brilliant new novel "Freedom" during the summer, our summer hols–me Spain and Greece, she a family reunion in suburban Philadelphia and a week on Nantucket, the Mosque controversy in New York City ("Mosques make me uncomfortable, but if we start reneging on freedom of religion in the U.S. we're in real trouble," said Jennifer), and her face-to-face meeting with Carla Bruni ("Charming! Beautiful!") until our first courses arrived.
Jennifer's risotto was tinted a golden yellow by saffron strands and was so good that she finally told me to keep my fork to myself, and I loved my linguine and was surprised by how well the tiny iodine rich clams married with the buttery, nutty taste of the brussel sprout leaves.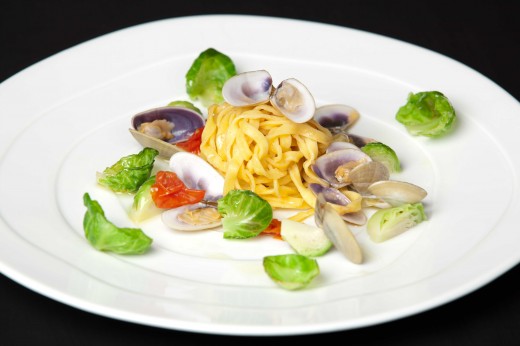 Linguine with baby clams and brussels sprouts @David Grimbert Next I was again banned from eating too much of Jennifer's burrata, and my veal chop in a Barolo wine sauce was succulent and satisfying with a glass of ruddy Sicilian Merlot. By now I was curious about the chef, who I correctly guessed was northern Italian, and Gargulio told us that Gianluca Re Fraschini was from Milan and had cooked with Gaultiero Marchesi, Pierre Gagnaire and other chefs and was a real globetrotter who'd worked in Dubai, Istanbul, Mallorca, London and mostly recently, as the launch chef of the Andrea restaurant at the Pelican Hill Hotel in California.
Though I'd have loved to have had a go at the 36 month old Parmesan mentioned on the menu, Jennifer's Blackberry had crept back on to the table while I went to the men's room, so we stopped here. Overall, it was a very good meal, definitely in the expense-account category (and what a relief that that's where this bill ended up!), but surely one of the best serious Italian restaurants in Paris right now and a perfect address for fashion-tribe types, since it's right in the heart of Paris and the menu is so friendly to calorie-counters.
L'Assaggio, Hotel Castille, 33 rue Cambon, 1st, Tel. 01.44.58.45.67. Metro: Concorde. Open Monday-Friday. Lunch menus 38 and 45 Euros, a la carte 70 Euros.