CHEZ LY, An Excellent Asian in Neuilly, B+; MOUSTACHE, A Pleasant Bistro du Quartier, B-
September 4, 2010
For anyone who loves good food, this rentree, or Fall season, in Paris has some momentous new restaurants in the wings, including the opening of talented chef Jean-Francois Piege's bijoux gastro table over Thoumieux, his stylish brasserie in the 7th, in late September and the arrival of a new chef at Restaurant Alain Ducasse–Christophe Saintagne takes over from Christophe Moret, who's moving to Lasserre, on Monday, September 6, 2010, with a new menu to be unveiled by the chef on September 30. Saintagne formerly ran Ducasse's Parisian bistros and Japanese restaurants.
In the meantime, I was happy to join a friend for dinner at the newest branch of Madame and Monsieur Ly's little empire of Asian restaurants on a lovely Indian summer night when I was dumb with jet lag from having just returned from New York. I've eaten at Chez Ly in the Avenue Niel in the 17th arrondissement several times, and not only is the food excellent, if pricey, but Madame Ly is one of the most charming hostesses in Paris. This remarkably hard-working Asian couple–he's a Vietnamese from Hong Kong and she's Cambodian, have between them now created four very good Asian restaurants that stand out in the crowd for the fact they use first-rate French produce, eschew the usual dragon-in-the-temple decors of so many Asian eateries in Paris, have excellent service and very good wine lists.
Midway between the ghastly La Defense business quarter and the Arc de Triomphe, Chez Ly Neuilly is run by Monsieur Ly, and it's a very attractive and comfortable restaurant with good lighting, a nice decor and a very appealing menu.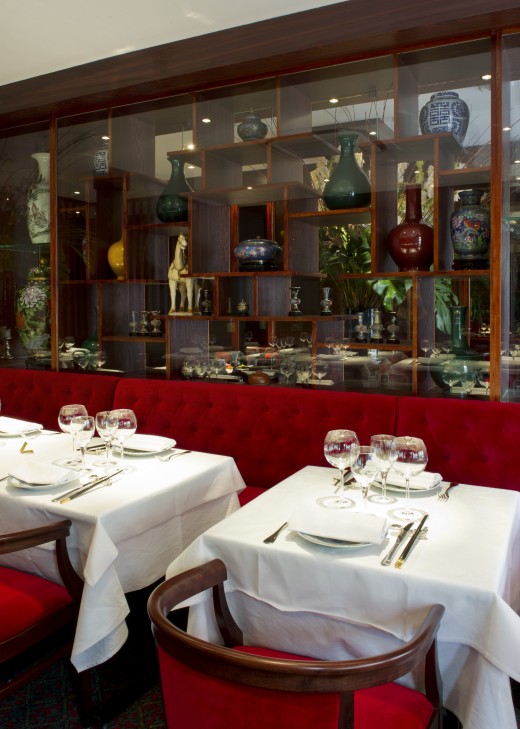 Chez Ly Neuilly Accompanied by a fine bottle of Chablis, we started with tasty Vietnamese ravioli, excellent steamed Cantonese dim-sum stuffed with chicken, shrimp and vegetables, and a lovely Thai style salad of slivered mango and shrimp, Next, remarkably tender beef (filet) cooked with chives and ginger and an interesting sole in caramel sauce. The very fresh fish had been cut off the bone and cooked tempura style, before being artfully arranged on its skeleton in a light caramel and soy sauce. The precision and quality of every dish proved that this newcomer is every bit the equal of Chez Ly on the Avenue Niel, and though I don't often–but probably should–think that much about "business" dining, this place is a perfect address for a meal with an agenda.
And for those whose only priority is great eats and who don't want to leave central Paris, Chez Ly in the Avenue Niel is just the ticket.
Chez Ly Neuilly, 42 Avenue Charles de Gaulle, Neuilly, Tel. 01-55-62-33-88. Metro: Sablons. Open daily. Average 45 Euros.
Chez Ly, 95 Avenue Niel, 17th, Tel. 01-40-53-88-38. Metro: Pereire. Open daily. Average 45 Euros.
————————————
One of the most gratifying recent developments in Paris is the dramatic and often delicious renewal of the city's gastronomic under-brush, or neighborhood bistros. These aren't often places that a visitor to the city will find worth traveling across town for, but if you happen to be staying locally, it's terrific to have a couple of better-than-average bistros just out your door.
In the 6th arrondissement, perhaps the most seriously gastronimically challenged turf in Paris these days because of the fact that rents are so high, the local clientele needed to sustain a good restaurant has been thinned out by absentee owners of pied a terre, and so many of those who do live locally, work late, and so don't do restaurants during the week much anymore, and/or go away to their country houses on the weekend, it was nice to find a very pleasant new bistro in the rue Sainte-Beauve the other night. Just a door or two down from Le Timbre, a really outstanding vest-pocket bistro, Moustache is a quietly stylish place with a New York State of Mind vibe created by wooden floors, a brick wall behind the bar, and a crowd that might be found in Soho if they weren't all wearing suits and often ducking out to the sidewalk every few minutes for a smoke.
Eating off of the very short menu the other night, Bruno and I enjoyed the marinated salmon with mesclun and a very good Asian accented salad of perfectly cooked squid and shrimp on wafer-sliced zucchini, followed by a wonderful steak tartare with very good frites and sea bass filet with lime and wok-sauteed vegetables. Having had rabbit for lunch, I wasn't tempted by the terrine du jour, a rabbit one made by star charcutier Gilles Verot, who supplies New York based French chef Daniel Boulud with charcuterie for his Bar Boulud restaurants in New York and London, but the fact that he is a fourniseur of this relaxed, friendly, quietly hip place is a sure sign of how seriously they take their food.
If my steak tartare was excellent, Bruno's bar filets were a bit anonymous and sad. I always ask if any fish filet is "sauvage" (wild, as opposed to farm-raised) in Paris these days, where industrially produced fish becomes ever more the norm, but even though the answer was that it was "bar de ligne," or line-caught individually landed fish, I had my doubts. These filet were just too tidy and tame in taste to persuade me that they might have been wild. Still, the service was charming, the bread good, and the chalkboard wine-list a nice compendium of well-chosen bottles.
Moustache may not be a destination restaurant, but if your'e staying on the Left Bank in Saint Germain or Montparnasse, it's a nice place for a relaxed contemporary French meal, even if a bit over-priced.
Moustache, 33 rue Sainte-Beuve, 6th, Tel. 01-42-22-56-65. Metro: Vavin. Closed Saturday lunch and Sunday. Average 40 Euros.