LA SCENE, Hotel Prince de Galles–Exquisite Contemporary French Cooking, B+/A-
July 4, 2013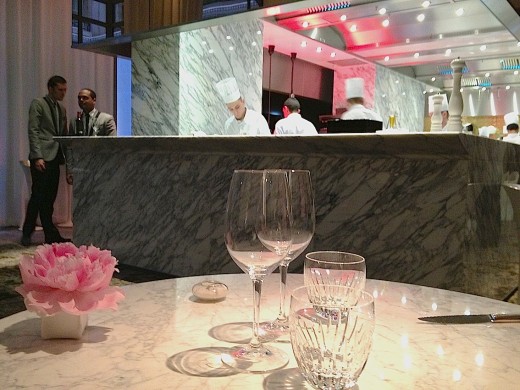 Whispering Maitre d'Hotel, hard-working chefs at La Scene
Within minutes of sitting down at La Scène, the new restaurant at the exquisitely renovated Hotel Prince de Galles on the Avenue George V, I concluded that this is very shrewdly conceived new table indeed. Belgian designer Bruno Borrione, whose work I had last admired at Les Avises hotel in Avize in Champagne, has created a beautiful and boldly contemporary restaurant, which suddenly makes most other hotel dining rooms in Paris look stuffy and dated. Here, chef Stéphanie Le Quellec, one of the most talented female chefs in France, works with her team in a stunning matte-finished white-marble-lined open kitchen that's surely the 'scene' to which the restaurant's name refers. This breaks major conventions of upmarket restaurant protocal in Paris, too, since the kitchen, usually hidden, is in full view and the cooks are cast as characters in the evening's entertainment.
Suffice it to say, however, that this is a very very serious show.
Borrione fleshes out the idea of this restaurant as a sort of gastronomic supper club with white leather lined tub chairs at white marble pedestal tables, low lighting, good sight lines, and a sort of minimalist cosmopolitan aesthetic that wisely reprises the good art deco bones of the hotel, which just reopened after a two-year $100 million renovation that was accomplished with impeccable good taste by Borrione for the adjacent bar and dining room and most public spaces and the ever-present Pierre Yves Rochon for the rooms upstairs. And FYI, the Prince de Galles, which opened in 1928, owes its name to its original ambition, which was to welcome the Prince of Wales, future Edward VIII, son of King George V, to Paris during his annual visits.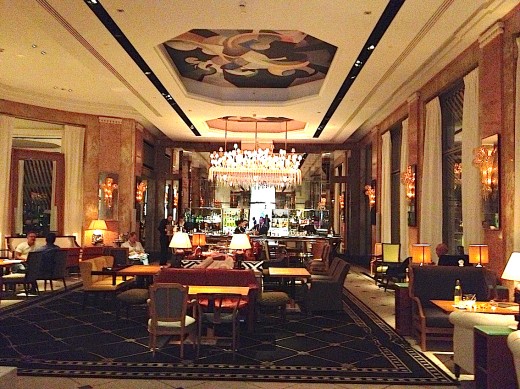 Bar at Hotel Prince de Galles
Despite an entirely absent welcome from the very agitated seeming maitre d'hotel, we settled in over glasses of pink Champagne and read Le Quellec's brilliant little menu, which hits a perfect bull's eye in terms of the prevailing gastronomic gestalt at the highest end of the Gallic food chain in 2013. Suddenly, the goal at this most exalted level of French cooking is all about cross-hatching a serious commitment to healthy eating with an equally serious desire for gastronomic pleasure.
So I started out with several meaty Joël Dupuch oysters, sliced and garnished with tiny fava beans and penja pepper in a sauce of Matcha tea under an aromatic foam of Umbrian olive oil, a dish that was intensely satisfying for its simplicity, juxaposiiton of textures and rippling notes of complementary flavors. Bruno's beautiful vegeteable starter made reference to the cooking I remembered Le Quellec doing while she was Executive chef at the Terre Blanche hotel in Provence when it was still run by Four Seasons. To wit it was precise, delicate and extremely subtle, with the baby vegetables and tofu being amplified by plum vinegar, a pistachio condiment and an herbal sorbet. Needless to say, it made the increasingly herbivorous Bruno very happy.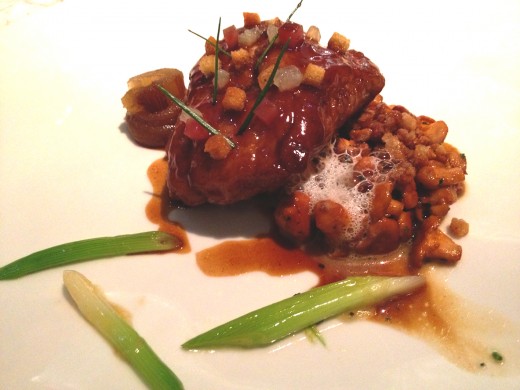 I eat less meat than I ever have before, too, which means that it was a real treat to tuck into impeccably cooked veal sweetbreads with an exquisite riff on a Grenobloise garnish that included tiny cubes of lemon and croutons. The jus was magnificent, too–deeply flavored but wonderfully light, as was a garnish of miniature girolles.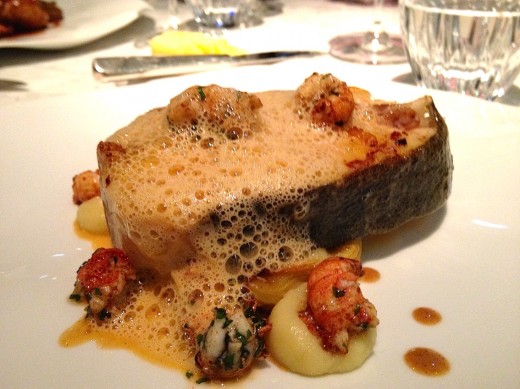 Bruno's turbot with fresh hazelnuts, wild garlic, crayfish and a foamy shellfish jus showed off the wiry mettle of a really talented chef, too, since everything about this dish was impressive–the immaculately cooked fish, the clever garnishes, and the superb sauce. While my veal sweetbreads were textbook perfect, it was this fish dish that showed why Le Quellec, 30, is destined to become one of the great chefs of France–it was as powerfully original as it was technically perfect.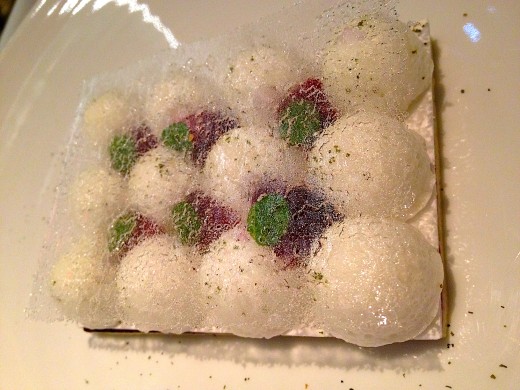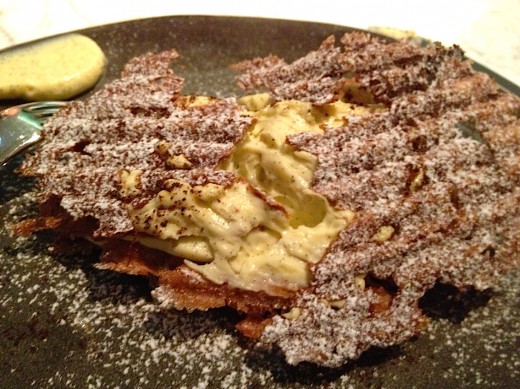 Desserts were excellent, too. Bruno had an ethereal looking and pleasant tasting pastry composed of lemon-verbena foam, panes of sugar, and raspberries, while I savored a sort of post-modern riff on a millefeuille, which was excellent, with parchment thin and crispy pastry and an airy aromatic vanilla-bean flavored pastry cream.
Service was a little shirty all through the evening, but once the team relaxes–it's too stiff and too self-conscious, I think this is going to become an excellent and very popular restaurant and rather expect it to emerge as one of the big hits of La Rentree. It was doubtless with this goal in mind that the restaurant wisely did a quiet opening at the end of May, which gives it the time to find its rhythm during the summer. N.B. It will be closed from July 28th through August 18th.
La Scène, Hotel Prince de Galles, 33 Avenue George V, 8th arrondissement, Tel. 01-53-23-78-50, Metro: George V. Open for lunch Monday-Friday. Open for dinner Monday to Saturday. Sunday brunch only. Reservations required. Prix-fixe menus four-courses 125 Euros, six-courses 165 Euros, average a la carte 120 Euros. www.la-scene-restaurant.com