EDGAR–An Indian Summer Address for Casual Eats in the Sentier, B-
August 25, 2013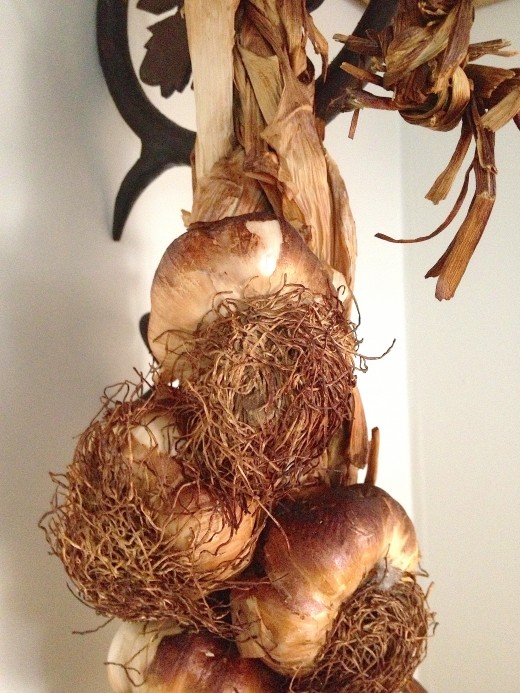 There are few things I love more than discovering a French town by visiting its market, and through many years of doing so, I've developed a short list of favorite French markets, many of which are in smaller cities and towns, including Rennes, Narbonne, Arles, Antibes, Saint Remy and most recently, Provins, a charming little town just an hour east of Paris (N.B. If you have a favorite market in a French provincial town, I'd love to hear about it). This past weekend, I also had a chance to shop at the market in front of the Musee des Beaux Arts in the small northern French city of Valenciennes, and I snared a very rare treat that I've been reading about for years, a tress of l'ail fume d'Arleux, or smoked garlic from the little French town of Arleux, which is famous for same. In fact, the thrill of finding the taste of smoke and garlic combined made it very hard to go out to dinner last night, since I was chomping at the bit to get to work with the odorific braid now dangling in my kitchen, but we hadn't seen our friends Laurent and Carole since they returned from a two-week trip to Thailand, so we agreed to meet for dinner at Edgar, the restaurant of a new hotel by the same name in the Sentier, which is one of my favorite parts of Paris.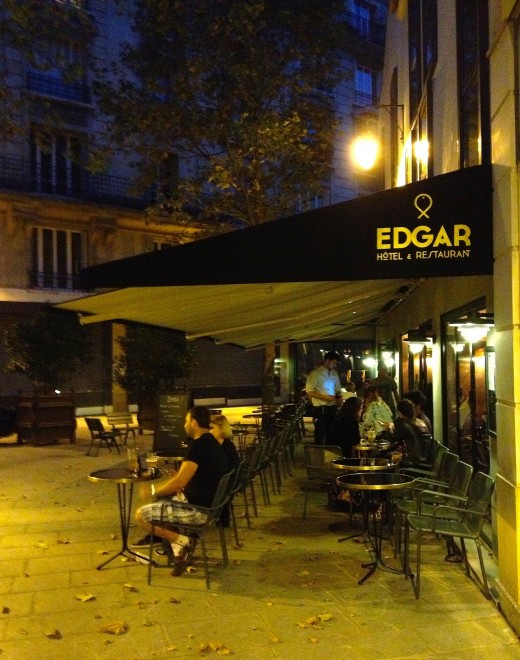 Having been a restaurant sabatical for two weeks while I was writing in a charming borrowed house in the country, I thought it would be good to break my fast with some place light and casual, and in these terms, Edgar, where chef Xavier Thiéry, ex-Le Petit Cheval de Manège is in the kitchen, turned out to be a pretty good choice. It was too cool to sit on the handsome terrace out front of this hotel, but if we have a proper Indian summer in Paris this year, this large terrace overlooking a quiet granite-paved square with very little traffic will continue to be a perfect casual-dining al fresco address.
As it was, we sat inside in the busy dining room at a rather awkward configuration of two tables for two pushed together so that two of us sat side-by-side. The lively dining room was filled with other groups of friends finding each other again after their respective vacations, and it had a great atmosphere with suspented reeditions of Sixties style Scandinavian lamps, retro frump lounge furniture and a young and unexpectedly friendly service team who confirmed my hunch that the days when eating anywhere stylish in Paris meant a nerve-frying encounter with arrogant semi-hostile servers in the style of the Costes establishments, is looking like it's well and truly over. I sure hope so.
Inspecting the short menu here over the cheapest white wine on the drinks list, a decent white Cotes du Rhone, we decided to go the 'small plates' route. A heading entitled "A Partager" (to share) suggested that three dishes for two people as the right portion size so we decided on burrata with poutarge, roasted langoustines with seaweed butter, grilled octopus with cold tomato soup and watermelon, grilled organic shrimp with sesame salt, and two orders of grilled squid with harissa-spiked cucumber pickles. Three main courses were also available–steak, boudin and cod with peas and kumquat puree. I toyed with the idea of the cod, since I was sort of desperate for fish after two weeks in the country, the only local fish available being the rather unappealing selection at the huge Leclerc supermarket outside of Coulommiers, but we decided we'd hold off on mains until we'd had all of the small plates, which came up quickly and were accompanied by a bowl of good mesclun salad and another of delcious frites.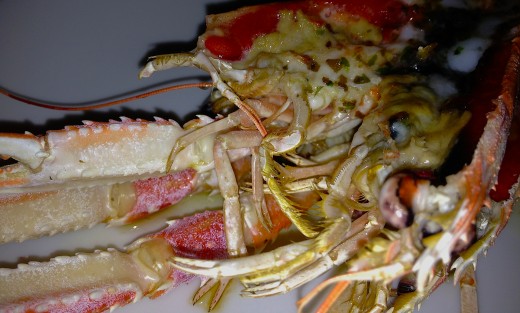 The burrata with poutargue (preserved fish eggs) was pleasant enough, but the langoustines (3) were sliced in half and their meaty was pasty instead of firm, a disappointment for 16 Euros.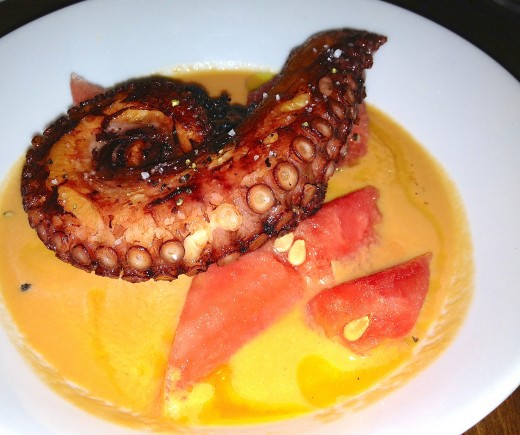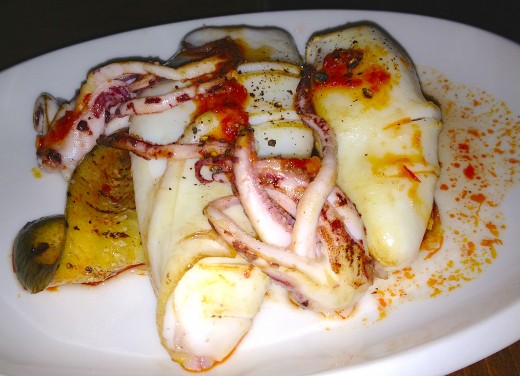 Happily, the octopus was delicious–a perfectly grilled tentacle coiled in a pool of spicy yellow tomato soup with chunks of watermelon that made a feint at the taverna food that most of the crowd here that night had only so recently been eating on Paros, the Greek island of predeliction for trendy Parisians this past summer. The shrimp were plump and juicy and the sesame salt was an inspired garnish for these crustaceans, too. What I really loved, though, were the baby squid, just seared, so that they were still tender and milky with the piquant cucumber pickles offering an unexpectedly complementary garnish in terms of flavor and texture.
Six plates really did work out to be an adequate feed for four, and overall, this comfort-food flush was appealing and successful. We finished up with shared rice pudding with apricot compote and caramel sauce and a vanilla millefeuille from the Moulin de la Vierge chain of bakeries, the brown pastry layers of this later being thick for the convenience of restaurateuers–no one likes a soggy millefeuille, but oddly shirt-cardboard tasting.
Though far from being a head thrown back gastronomic experience, we had fun at the Edgar, which also serves breakfast and brunch on the weekends, and the alert and very pleasant young staff were a major reason that the evening went off so well.
Edgar, Hotel Edgar, 31 rue d'Alexandrie, 2nd, Tel. 01-40-41-05-19. Metro: Sentier, Strasbourg-Saint-Denis, or Réaumur-Sébastopol. Open Monday-Saturday for breakfast, lunch and dinner. Sunday brunch only. www.hoteledgar.com