La Table du 11, Versailles | A Royally Good Young Bistro, B+
February 15, 2016
With the recent opening of the excellent La Table du 11, Versailles finally has the restaurant it has needed to complete its appeal as the greatest of all day-trips out of Paris.
Oddly, even though it's one of the most visited places in France, Versailles has always been pretty underwhelming in terms of its restaurant offer. If I enjoyed the cooking of chef Gérard Vié  when he ran the dining room at the famous Trianon Palace hotel, I've never been convinced by the Gordon Ramsay branded menus currently served in the once beautiful dining room overlooking the park that surrounds the famous chateau. To be sure, L'Angélique, which has a Michelin star, is a pleasant table, but it's not very convenient for anyone visiting the town on foot. It's also rather formal, even stiff, in a très Versaillaise type of way.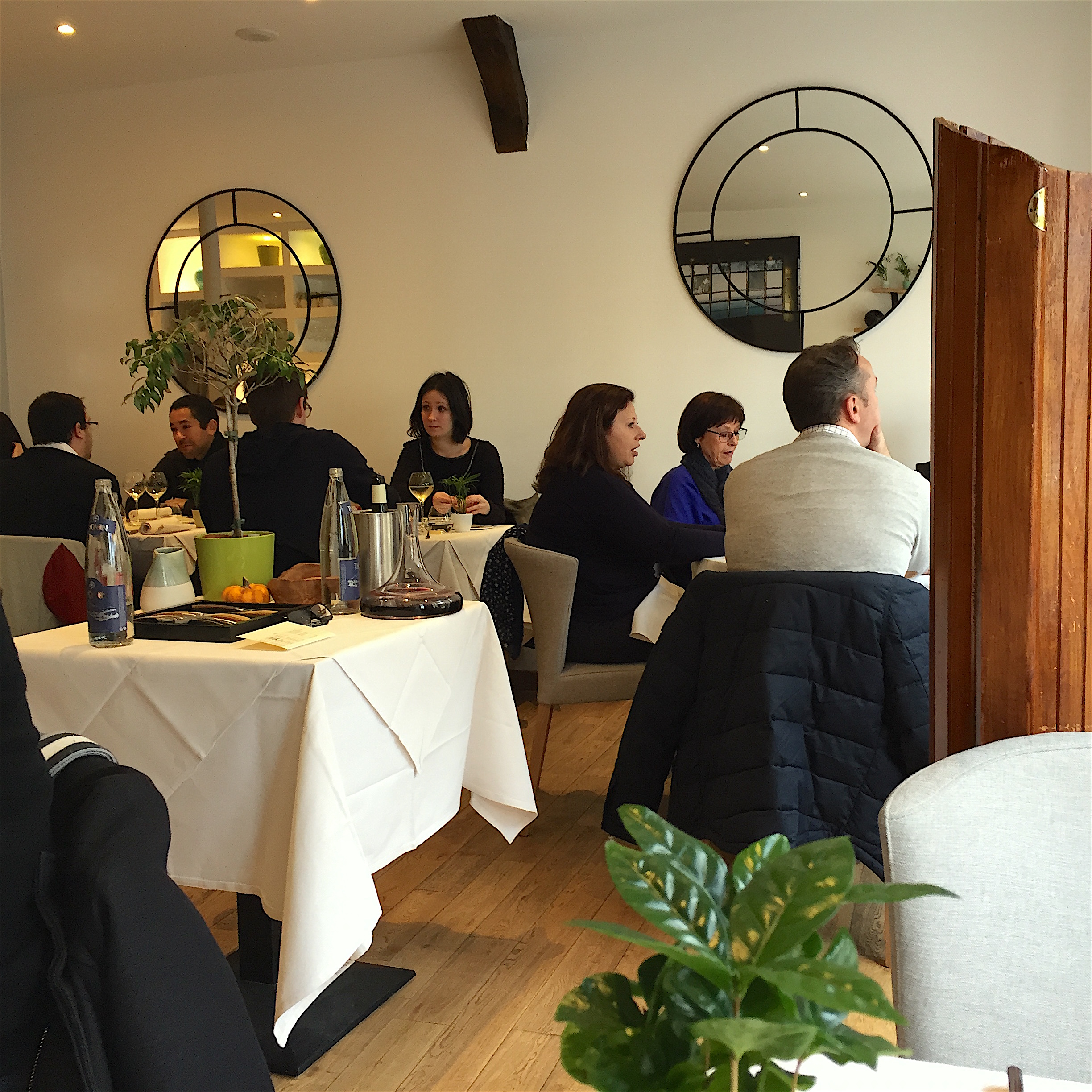 So it's not surprising La Table du 11 has become such a hit that it's often booked weeks in advance, especially on the weekend. If the superb contemporary French cooking of young chef Jean-Baptiste Lavergne Morazzani, 24, is the main reason this fledgling table has so quickly won an enviable reputation, the good-looking storefront dining room across the street from the Cathédrale Saint-Louis de Versailles also charms with its warm hospitality and excellent service, both of which are directed by Jean-François Lavergne Morazzani, the chef's father and a very experienced restaurateur. A further attraction is the fact that it's halfway between the main entrance to the chateau de Versailles and the Versailles Rive Gauche train station, making it ideally convenient for a late lunch after an ambitious morning of touring.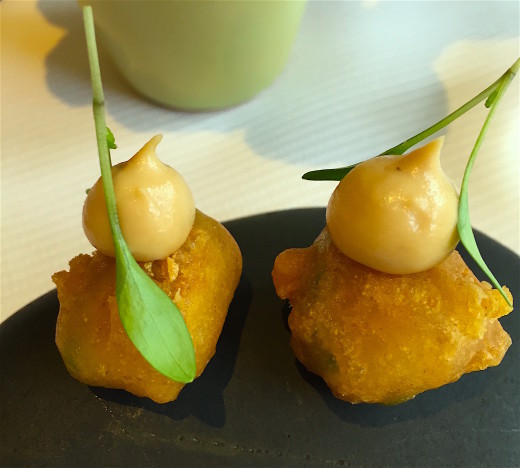 Following a wonderful visit to the Petit Trianon and a brisk walk in the gardens—one of the great luxuries of living in Paris is being able to savour Versailles over the course of regular well-targeted visits instead of having to try and digest its opulence all in a one go—we were hungry when we arrived at La Table du 11 on a flinty winter day under pewter-colored skies. The dining room was full with a well-dressed crowd that constituted an amusing bestiary of the local bourgeoisie, and settling into our table, the welcome from Monsieur Lavergne Morazzani senior was warm and welcoming.
Though I quietly winced when a pair of camembert beignets were served with our Champagne—this hors d'oeuvres immediately revived an old dread of one of the awful dishes common to the misbegotten idiom of 'fine dining' restaurants when I lived in London in the eighties, baked camembert with a crust of toasted almonds, variously served with cranberry chutney or something sort of curried, I was wrong. These feathery nibbles had more to do with tempura than the Anglo horror, and the warm pungent runny cheese the crispy beignets contained teased the yeastiness of the wine beautifully.
Chatting with the amiable Monsieur Lavergne Morazzani, we learned that his son had previously worked in the kitchens of the nearby Trianon Palace for four years, then at Le Meurice in Paris when Yannick Alleno was chef, and finally at Cobéa, the Michelin starred table of Philippe Bélissent, whom the young cook says was his true gastronomic mentor ("It was from Monsieur Bélissent that I learned a style of modern French cooking which could serve as the ballast of my own kitchen," the younger Lavergne Morazzani told us at the end of our meal).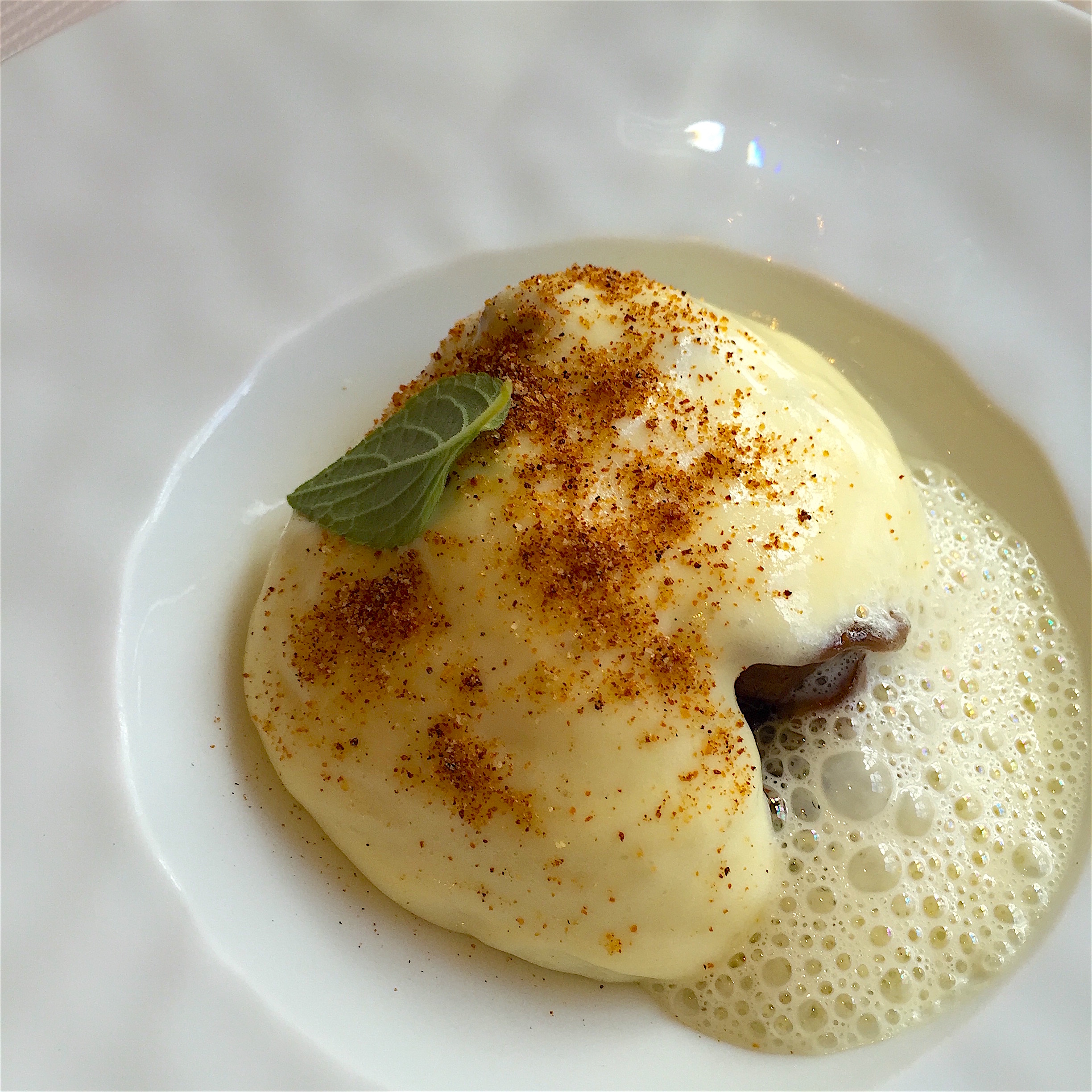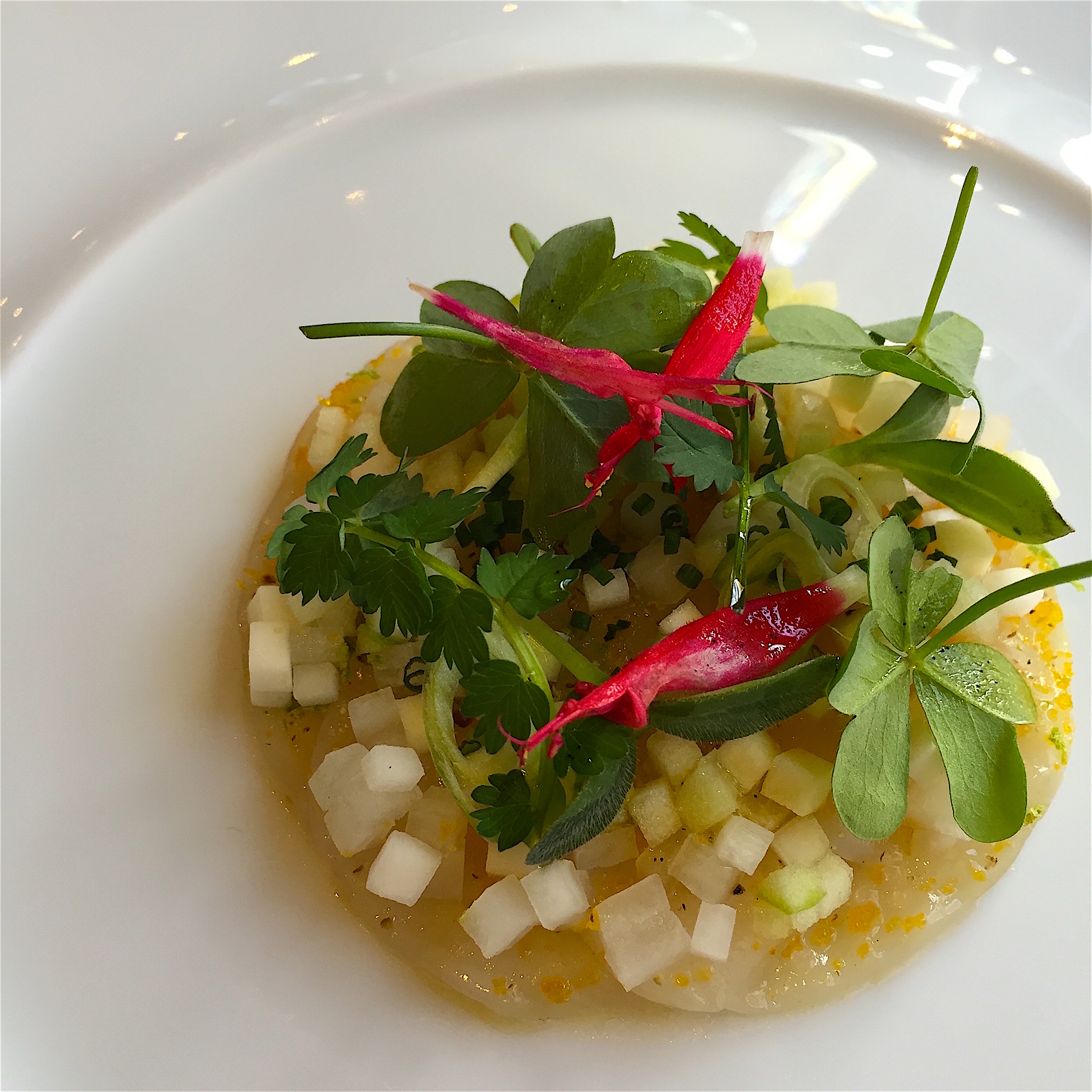 If the cozy earthy comfort of a buttery puree of ratte potatoes garnished with toasted bread crumbs was the perfect blanket for a sauté of wild mushrooms and an excellent way to begin a winter meal, the chef promptly pirouetted away from this maternal register with the next dish, a sexy carpaccio of spiced marinated scallops from Erquy garnished with a fine dice of apple and daikon, plus an astringent hibiscus flower or two. The contrasts within this dish were shrewd and refreshing, since they revived a winter-dulled palate with differing tones of acidity but never overwhelmed the sweetness of the shellfish.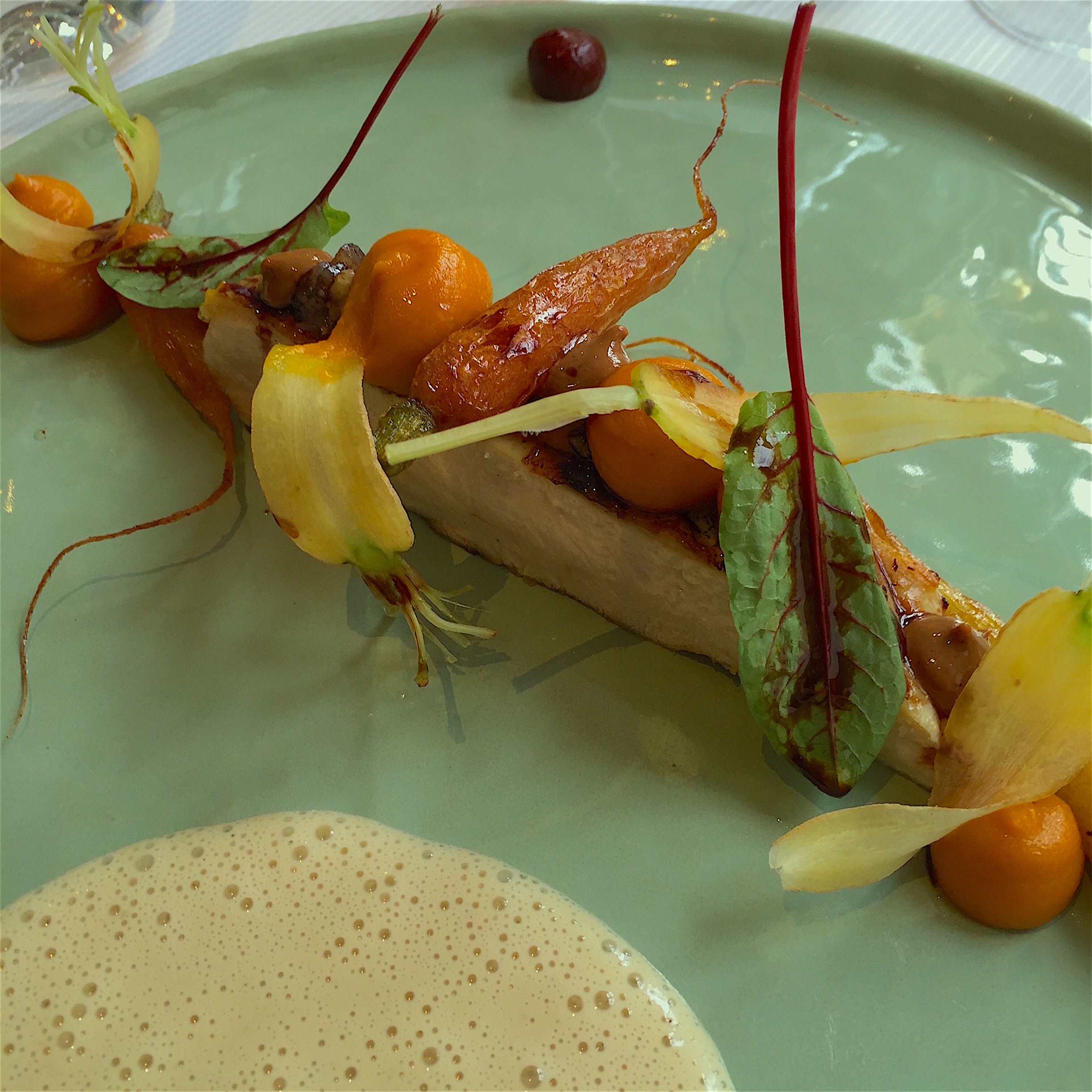 Slow-baked yellow pollack with chickpea puree, charred Pontoise cabbage (it's a turban shaped variety of the vegetable from the Paris suburb of the same name), and a lively citrus-fruit sauce was punctuated by the sourness of fresh wood sorrel; in terms of both taste and texture, the stunning equilibrium of this dish showed off Lavergne Morazzani's remarkably mature but intriguingly original style. It also highlighted the locavore sourcing that's another consistent element of the young chef's kitchen.
In a charming gesture, the curiosity we'd displayed about his son's cooking during our original chat with Lavergne Morazzani Pere led the kitchen to serve us the full lunch menu instead of just the either-or selections. This is why we had both the scallops and the potato puree as starters, and then the fish and an the other intriguing main course, a succulent slice of free-range chicken with crispy skin, a garnish of roasted baby carrots and beet leaves and an improbably good sauce of cooking juices deglazed with an earthy stock and rather improbably enriched with peanut butter, an ingredient I've never come across in a Paris kitchen before, but which actually enhanced the natural tastes of the fowl and the vegetables in an original way by offering an umami base note to the dish.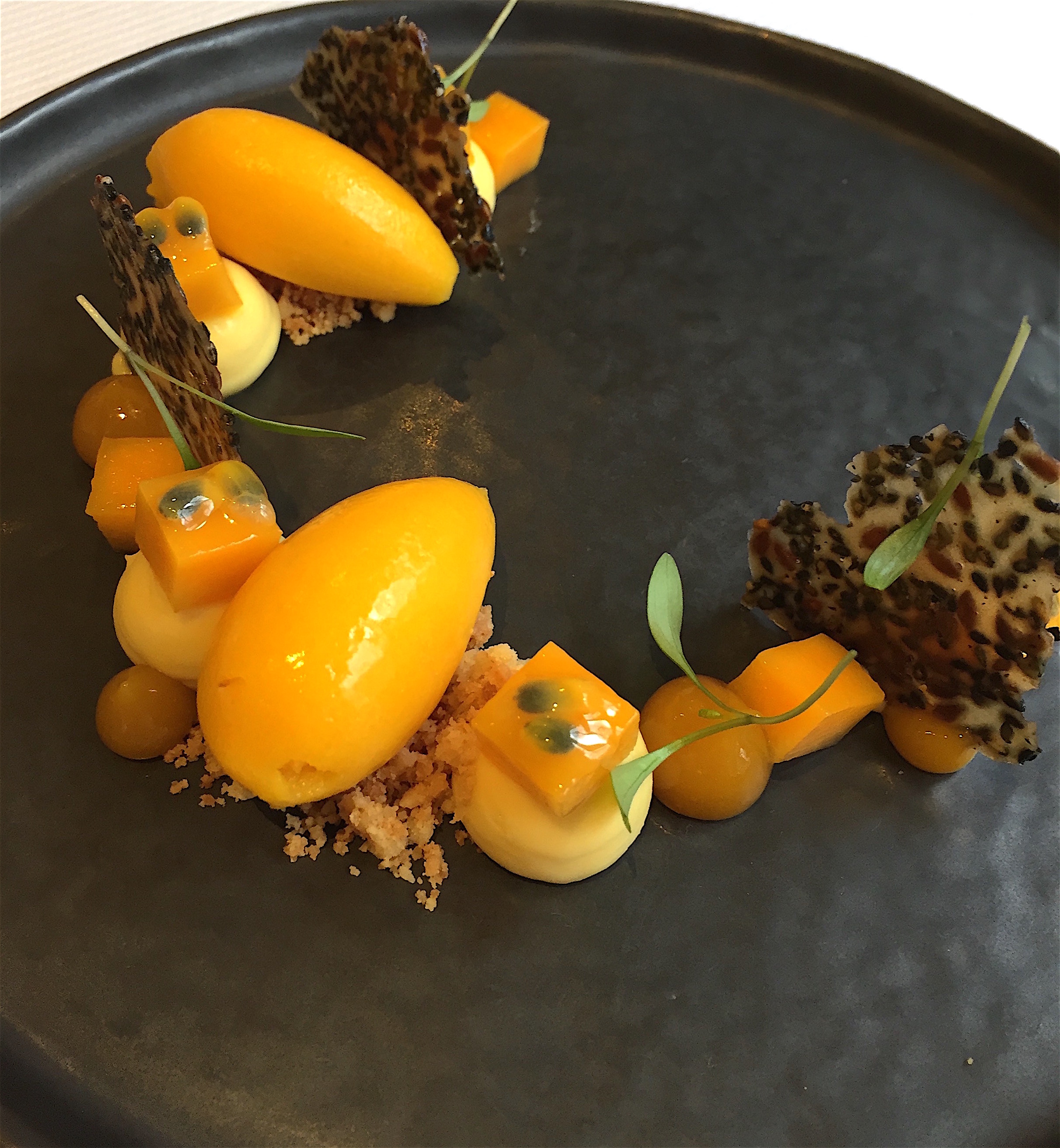 The kitchen also sent out a cheese course, a siphoned preparation of Apenzeller cheese served with fresh apple, and this excellent meal, with which we drank one of my favorite wines, a 2012 Domaine Philippe Gilbert Menetou-Salon, concluded with a very pretty declension of the passionfruit. It came as a tangy sorbert and a gelee, and its seeds were used to add crunch to the caramel wafers that garnished the dish.
This was a very good meal, and La Table du 11 immediately becomes my recommended restaurant in Versailles. The good news, too, is that this talented and very charming father-son team are likely to open a second restaurant in Versailles sometime next Fall. In the meantime, if you live in Paris, make a bee-line for this charming table sometime soon, since it will surely only become more difficult to get a table here as local word-of-mouth continues, and it inevitably becomes known to international travelers visiting Versailles.
La Cour des Senteurs. 8 rue de la Chancellerie à Versailles, Versailles, France, Tel. (33) 09-83-34-76-00, Open Tuesday-Saturday for lunch and dinner, closed Sunday and Monday. Lunch menus 29 Euros, 38 Euros; dinner menu 49 Euros, 65 Euros. www.latabledu11.com