Papillon, Paris | Chef Christophe Saintagne Escapes From the Island With a Good New Bistro, B-
February 27, 2016
Papillon, chef Christophe Saintagne's new bistro in the 17th Arrondissement, brings a bracing shot of hipster energy to a very bourgeois part of Paris. From its cobalt-blue facade to its friendly suspender-wearing waiters and market-driven Nordic inflected modern bistro menu, this relaxed, happy place with a decor of oak tables, parquet floors, and suspended lamps looks like a restaurant you could as easily find in Santa Monica or Sydney as western Paris. And that is a mostly good thing, since this Gaullist redoubt is long overdue for a good social, political and gastronomic shakeup.
Papillon also marks a high-profile change in the life of Saintagne, a talented and hard-working chef who most recently ran the kitchens of the Hotel Meurice under the auspices of Alain Ducasse. Suffice it to say, that Saintagne moved on after the decidedly Machiavellian machinery of the Michelin guide foreshadowed the demotion of this restaurant from three stars to two even before the 2016 Guide was released.
So just an aside here; from my point of view, it would considerably augment the credibility of Bibendum, i.e. Michelin,  if they posted their inspectors' reports online after their annual guides have come out. This way any curious diner could read their assessment, like you can read my assessments of dozens and dozens of restaurants on this site, and come to their own conclusions. Not showing your cards when you're in the business of food criticism rather smacks of antiquated king-making in my book. But then the high dudgeon of the guidebook company is notoriously well-known in both media circles and the food world: it may be the wick of their business, but they themselves do not take kindly to criticism.
At Le Meurice, Saintagne was deputised to launch Ducasse's new healthy haute cuisine for the 21st century, and I think he pulled off this very difficult task brilliantly, because health and ecology have not heretofore been among the main reasons people go to haute cuisine restaurants. Bon, for reasons we don't currently know, Michelin didn't agree, and since their ratings still have staggering commercial impact in terms of any restaurant's bottom-line, the deer caught-in-the-headlights was Monsieur Saintagne, which struck me as very unfair, and this is why I went to dinner at this new restaurant with great expectations. Like Steve McQueen in the film that inspired the bistro's name, Papillon, Saintagne had escaped from the island (McQueen escapes from Devil's Island, the infamous penal colony off the coast of French Guiana), and I was eager to see what he'd do with his freedom.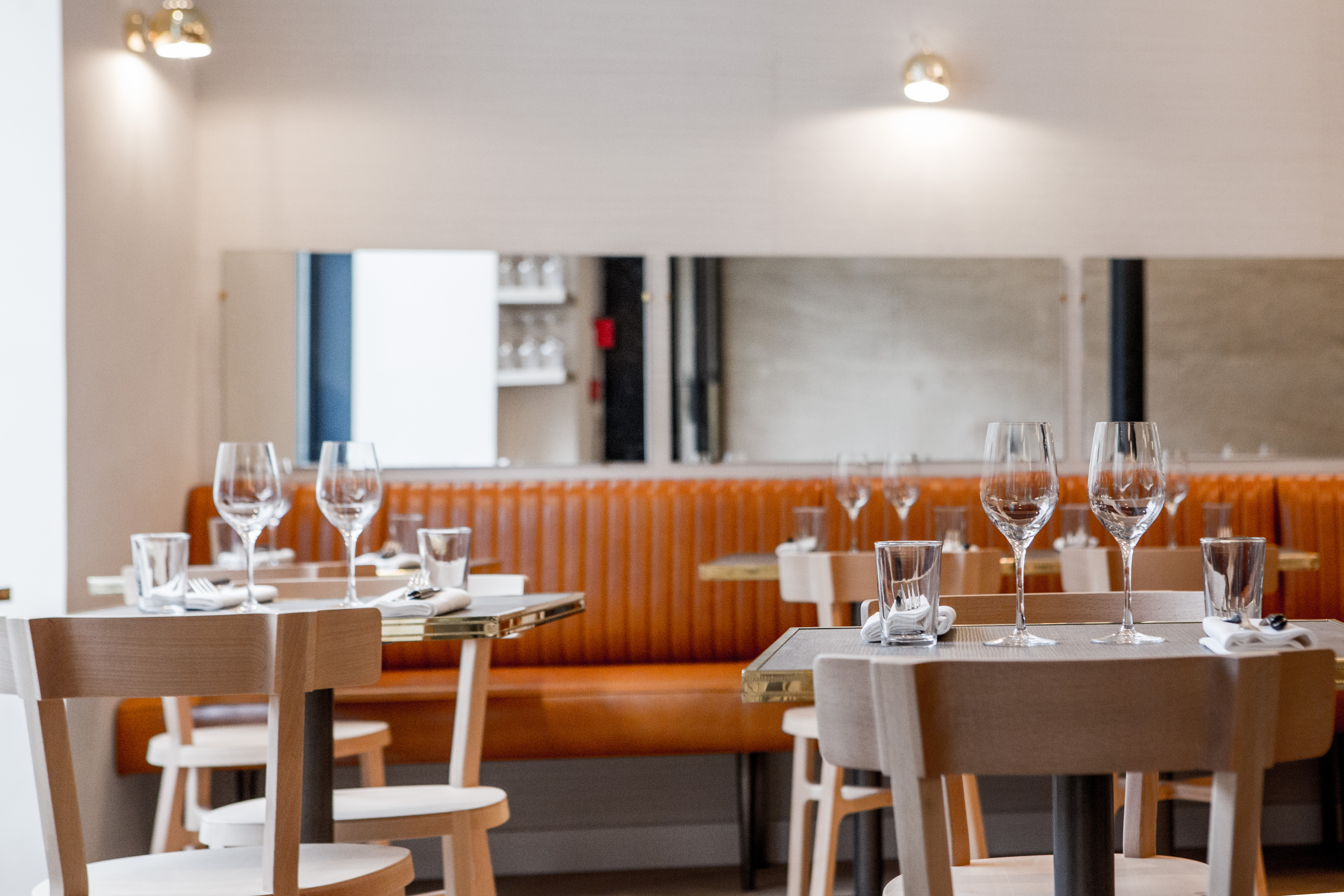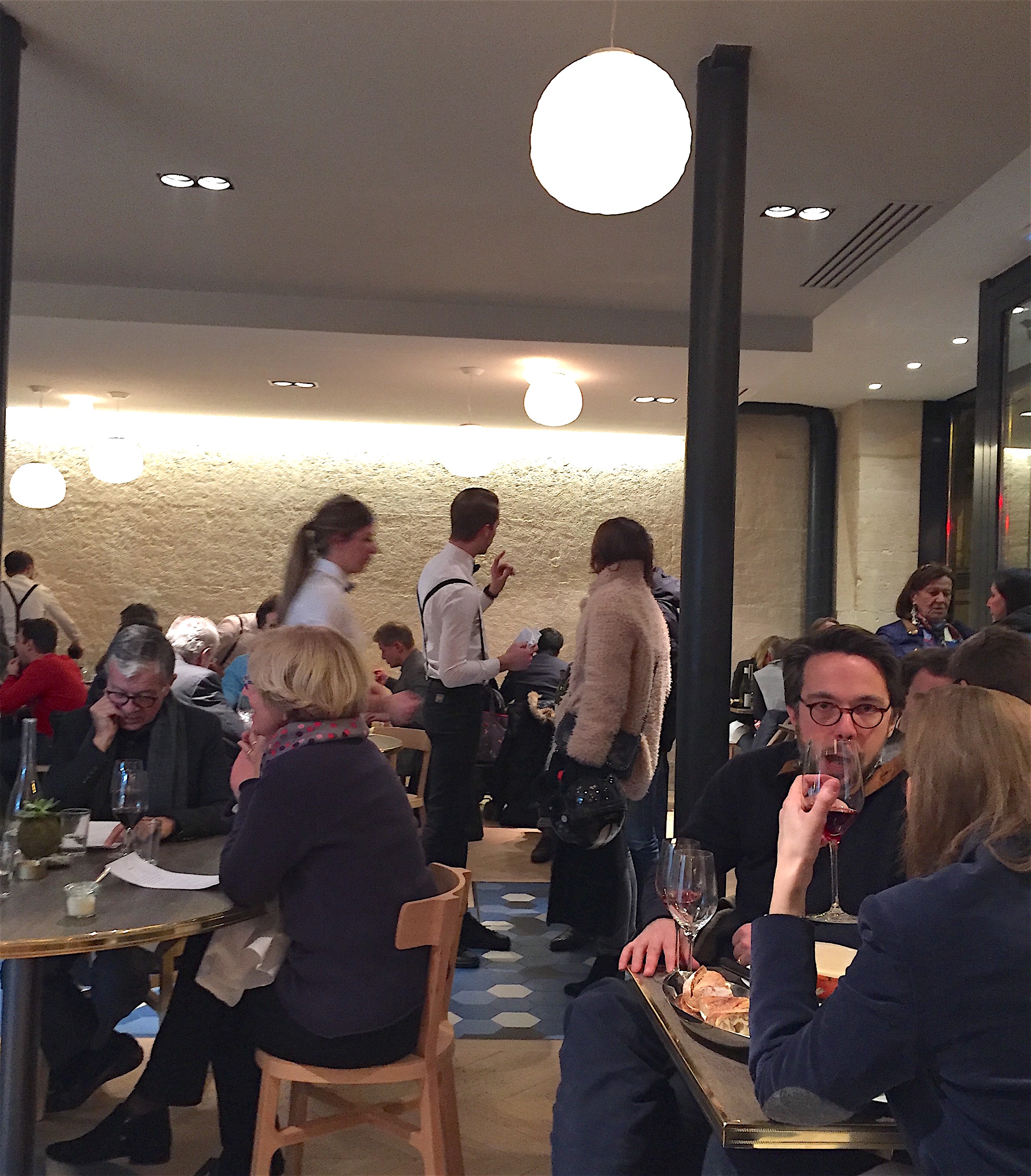 Getting there wasn't easy, because the successful promotion of this new table has completely overwhelmed their ability to do that simplest of tasks to keep the home fires burning–run a reservations book. I must have called a dozen times without ever reaching a live person, and finally, in desperation, I sent an email, which brought the guileless response that they'd been so overwhelmed that they'd stopped answering the phone(!). And yes, they were thinking that they might subscribe to an online reservations service like La Fourchette or some such to make it easier to book a table. I hope they do.
Anyway, we were a great quorum for a meal we'd all been looking forward to, two Franco-American couples who love great food, great wine, and each other. And the evening got off to a nice start when we ordered an excellent bottle of white Cheverny to kick off them meal from the smart and friendly sommelier, who was justifiably proud of his suspenders and his good list. So we scrutinised the short and rather pricey menu and ordered. And some time went by without bread or an amuse bouche, which prices at this level would have cued us to expect.
Well, Simon, Christian and Bruno loved their starters, the winter vegetable salad with bulgur in a light vinaigrette for the first pair, and marinated salmon with beets for Bruno. And me, well, I kept my mouth shut, since instincts gluttonous and wrong-footed landed me with a banging disappointment.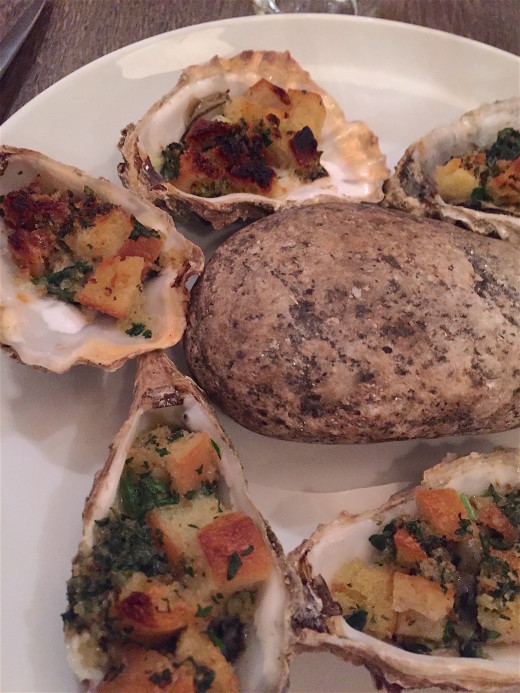 What was I thinking? I'm not sure, but I do love oysters, and oysters Rockefeller and other warm or hot oyster preparations, so I bet my chips on expensive self-indulgence (these tiny bivalves cost twice what the other's starters came in at) and lost. The oysters were overwhelmed by their tasteless crouton stuffing, and the big stone in the middle of the plate didn't work for me as decor, because it called attention to the fact the oysters were so  small.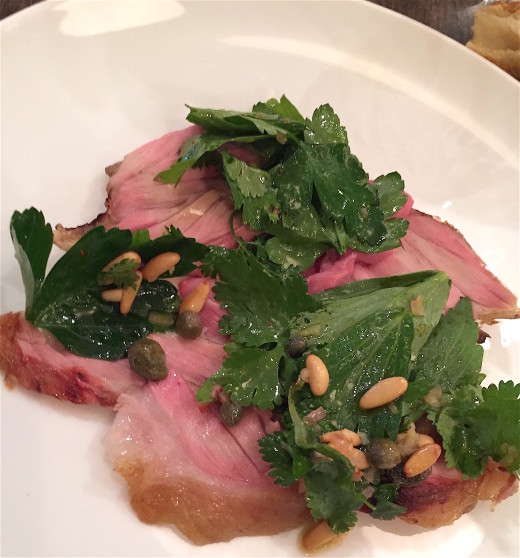 So I hoped for better from my main course and was rewarded by a plate of thinly sliced smoked-in-hay roasted  lamb shoulder that had the fragrance of a summer meadow if you'd drifted off for a nap after a picnic. It was perfectly rare and came with a charming garnish of toasted pine nuts, herbs and capers. The side dish of fregola in a Chinese tea cup of was overcooked and didn't have much taste, but the meat was excellent, and this was the first dish of the evening where I found myself face-to-face with Saintagne's formidable skills as a chef again, which made me very happy.
Oh, and the boys? They ate Bigorre pork belly with a garnish of Utah beach oysters, a dish the waiter explained was Saintagne's hommage to his Norman origins, and whiting on Melba toast spread with tapenade and garnishes of baby spinach and bitter salad. Good food. But everyone had the same reaction beyond the actual quality of the cooking, which was that the portions here are much too small relative to the lofty prices charged, and that this reads as a wilting lack of generosity.
Happily, the cheese course we got up from the table to select from the glass case in the little shop next door that's part of the restaurant was generously served, and the fromages were excellent. They also came to the table with a bowl of incredibly fresh-and-flavorful-for this-time-of-the-year mesclun.
All told, we enjoyed our meal at Papillon, because Saintagne is a good chef and the service was so friendly and professional. I expect the food will be even better here in six month's time, too. For this restaurant to succeed, however, they'll need repeat visitors, and for this to happen, a prix-fixe menu will need to be offered at dinner (there are two set-price lunch menus) and portions will need to grow. As things now stand, the current rapport-qualite-prix (value for money) discourages the evolution of a crucial crowd of regulars in the evening. With these tweaks, however, I this pretty papillon (butterfly) could have a very long life indeed.
Papillon, 8 rue Meissonier, Paris, 17th Arrondissement, Tel. (33) 01-56-79-81-88. Metro: Wagram. Open Monday-Friday for lunch and dinner. Closed Saturday and Sunday. Lunch menus: 28 Euros, 36 Euros. Average a la carte dinner 65 Euros.  www.papillonparis.fr