L'ABEILLE: Spring Buzz in the 16th
March 29, 2011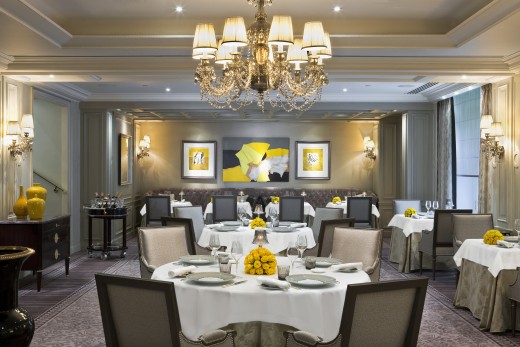 NOTE, September 8, 2014: Chef Philippe L'Abbe is no longer cooking at L'Abeille, so this review remains posted only for reference on this dining room. When a new chef is announced and tried, a new review will follow.
Since it was announced as the newest 'haute cuisine' restaurant in Paris, I found myself vaguely wondering what this term actually means these days as Bruno and I drove over to the new Paris Shangri-La hotel for dinner at the just opened L'Abeille restaurant last Friday night. Technically, 'haute cuisine' means the highest or finest level of cooking on the French food chain, but since such classifications have been rather wonderfully muddled during the last twenty years, with many haute cuisine chefs like Alain Passard embracing an almost Zen-like simplicity and young bistro chefs like Cyril Aveline at Les Bistronomes engineering an amazing technicity into the bistro register.
Arriving, all of the conventions of haute cuisine were very much in place, including highly formatted service and beautifully dressed tables in a very politely decorated dining room which conveyed the message that a serious meal–both in terms of price and the quality of the cooking, was imminent. The name of the restaurant offered another cue, too, since the 'abeille' (bee) is the emblem of the Napoleon family, and Shangri-La has made much of the fact that this grand 1896 mansion was once the home of Prince Roland Bonaparte, Napoleon's grand-nephew.
Tight round bouquets of yellow roses provided the visual focal point at tables set with seriously good stemware and porcelain and the taupe silk brocade chairs were very comfortable. I couldn't help wondering, though, why the hotel hadn't decided to use one of the splendid reception rooms on the first floor for its headliner restaurant, or failing that, a space with a view of the Seine and the Eiffel Tower.
Chef Philippe Labbé, head chef of L'Abeille and also the Shangri-La's La Bauhinia (named for the orchid on the flag of Hong Kong) restaurant, has one of the most impressive resumes of any cook in France today–he's worked at Bernard Loiseau, Les Crayeres in Reims in the time of Gérard Boyer, and Roger Vergé, among others, and was also sous chef to Eric Briffard at the Plaza Athénée before taking over the kitchen at the Château de la Chèvre d'or in Èze in the south of France, and so not surprisingly, his menu made for intriguing and rather tantalizing reading over a flute of Champagne. From the elaborately written menu, I expected really good food here, and I wasn't disappointed.
To be sure, our amuse bouche was a non-starter–a very vinegary salad of beets, and the meal began with an avalanche of same, but both of starters were deeply impressive. Bruno chose the artichokes served two ways–first, as hearts cooked with blood oranges and garnished with crushed pistachios, and then cooked in a pastry-sealed casserole with a orange leaves and served with an elegant nage of artichoke cooking juices, olive oil and blood oranges. It was an elegant, sunny, southern French dish, light and full of flavor.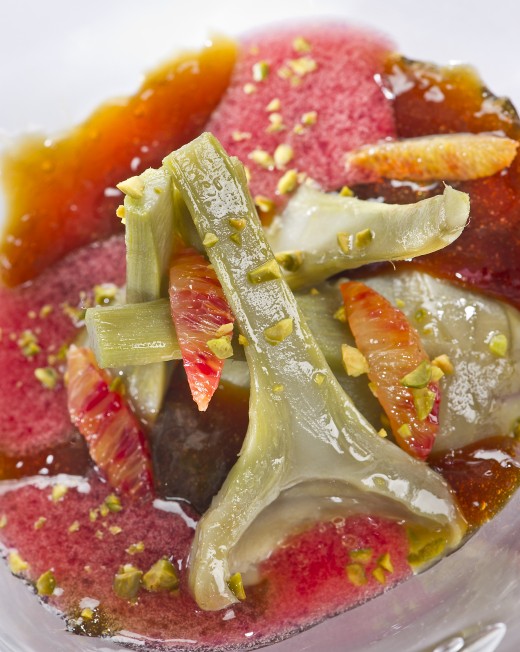 Totally disinclined to dieting, I ordered the foie gras, also cooked two ways: first as a sort of Gallic candy bar deluxe, cooked mi-cuit and filled with crushed praline and roasted bits of cocoa bean and served with a side salad of chioggia beets, and then quite spectacularly cooked in a small coffer of salt, sugar and ground tonka beans (they have a haunting smell and taste of vanilla). The brick was opened table-side, and the foie gras was just rosy and had the sublime texture of a just set pudding. Sauced with duck reduction and accompanied by a side of baby yellow carrots, this dish was the very definition of 'haute cuisine,' or the highest cooking, and eating it, I vacillated between deep pleasure and a profound admiration for the chef.
Next, Bruno's very rare wild salmon from the Ardour River in southwestern France was simply magnificent, a perfectly cooked lozenge of fish with a crust of toasted almond slivers and an accompanying puree of fresh almonds. Curious to see just how exalted Labbé's cooking might be, I ordered the lobster prepared two ways. I almost never order lobster in restaurants, because it's too expensive and also because I have a New Englander's atavistic preference for it prepared as simply as possible. This dish, however, was stunning. The shelled claws arrived 'fish and chips' style–the claws rolled in bread crumbs and lightly fried with a garnish of an exquisite mayonnaise made with lobster coral. The second service was a real hommage to Escoffier–elegant packets of tender Pontoise cabbage wrapped around lobster medallions (tail meat) topped with foie gras and served with a gossamer potato puree generously flecked with black truffle. Rather Robuchonian, this dish was a sleight of consummate Gallic gustatory luxury that wore the 'haute cuisine' label like a crown of laurels and was absolutely delicious.
Rather lamentably, I find I can never manage dessert when eating food this rich, so we concluded with a very good cheese course, and it wasn't until the next day when I was fiddling around in the kitchen at home at lunch-time that I could have shot myself for passing up desserts like head patissier Francois Perret's intriguing sounding tarte with a blanc-manger of almonds and a black truffle garnish, a puree of first-of-season baby peas with fresh almond foam and white chocolate sorbet. Zut alors!
  So to answer the most obvious question, yes, L'Abeille is indeed a haute-cuisine restaurant, and a very fine one which seriously enriches the gastronomic landscape of Paris at that. Oh, and despite the plastic-melting caliber of the prices here, would I go back? Yes, with pleasure, but I think the service should be allowed to relax a bit so that the beauty of Labbé's superb cooking isn't experienced with a constricting corset of outdated formality.
L'Abeille, Hotel Shangri-La Paris, 10 Avenue Iena, 16th, Tel. 01-53-67-19-90. Metro: Trocadero. Open Tuesday to Saturday for dinner only. Average 200 Euros.