BOUTIQUE EAT SHOP (B.E.S.), New York City–Where the Wild Things Are, B-
March 25, 2011
On a sunny Saturday morning in New York City, I found myself poking around in the wonderful Union Square market with two recurring thoughts in my mind–1) I wish we had a market this profoundly local in Paris, and 2) The transformation of this formerly down-and-out patch of urban turf really is a miracle. When I first moved in with Tom on 16th Street between Fifth and Sixth Avenues in the early 1980s, he expressly forbad me to walk through Union Square, which was then the venue of a pretty fierce crew of drug dealers and users. I ignored his warning during the day, but did walk around the edge of the park at night, because there was no doubt it was dangerous. And now it's one of the busiest, liveliest and most attractive parks in New York City, which never ceases to amaze me.
For that matter, almost all of the formerly dodgy bits of Manhattan have been spruced up and sociologically scoured by the great flood of Wall Street money that washed over the island during the last twenty years, and if I certainly don't miss the constant vigilance that was once part of walking New York's streets or the city's once filthy, graffiti covered, non-air-conditioned subways, there are times when I feel a twinge of nostalgia for the bohemian funkiness and artistic edginess that's been dulled by a pervasive corporate prosperity. Walking through Chelsea to meet a friend for dinner the other night, I came across the shuttered premises of the old Empire Diner and it set off a mental slide show of fuzzy images from madcap middle-of-the-night meals surrounded by a wonderfully oddball quorum of transvestite prostitutes, drug-muddled club goers, sozzled artists, and the miscellaneous eccentrics who were once numerous in Manhattan, including an old woman with a heavy Slavic accent who'd come by around 3am in a tattered ball gown with troweled on makeup and a parrot on her shoulder.
So it was fun to arrive at Boutique Eat Shop (B.E.S.) and discover a place that still serves up a slightly boffo only-in-New York slice of bohemia. This new place in the heart of the Chelsea gallery district is the brainchild of NYC night-life impresario Irishman Patrick Duffy, and it's a great looking space with brick walls, low lighting, a big bar, and interesting art by a posse of working NYC based artists.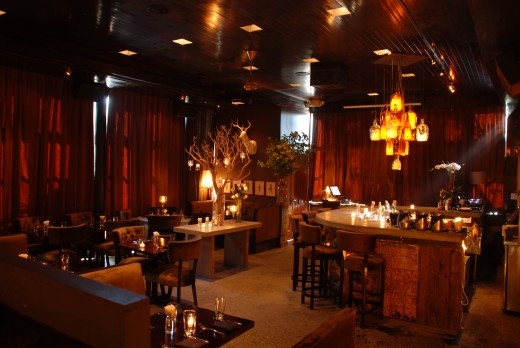 It was interesting to see what New York party people are eating these days, too. Suffice it to say that the days when cheeseburgers, omelettes, and salads kept New York night owls happy are long gone, since Korean-American chef Charles Cho cooks an ambitious and generally successful menu of sophisticated dishes that reference his Asian background and experience cooking in Europe and in various American cities, most recently Los Angeles.
After starting off our meal with a "Patrick III," a pleasant and potent concoction of cava, gin, grapefruit juice and elderflower liqueur, we enjoyed Chao's delicate lobster ravioli in a sauce of creamed corn, wild mushroom risotto, delicious glazed pork belly with water melon salad, ginger-crusted snapper and grilled lamb chops. Though the seasoning could be a bit more authoritative–there was no trace of the 'Tabsco foam' mentioned on the menu with the ravioli and it would have brightened this dish a bit, the quality of the produce was impeccable, and it was obvious that Chao is a very experienced chef. B.E.S. also has an excellent wine list and a really good bar tender, which is probably why it was so appealingly animated on a sleepy Sunday night, too.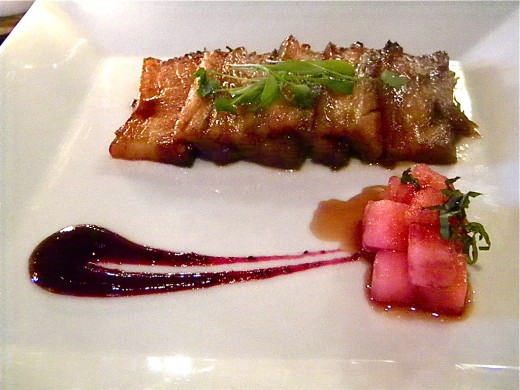 Grilled pork belly with water melon salad The best part of our meal here, however, was the interesting looking crowd, great decor, reassuringly louche atmosphere and the lively chatter of proprietor Patrick Duffy, a bona fide 'bete de nuit." And in an increasingly gentrified Manhattan, it was nice to think that the frisky quartet having dinner next to us weren't all bond traders, but might instead have included a Moldavian tattoo artist without a green card, a professional clown, a dominatrix, and the founder of a popular sex-toy website.
Boutique Eat Shop, 559 W. 22nd Street (at 11th Avenue), Tel. 1-212-414-8700. Open daily. Average dinner $60.