L'AFFABLE–Good Modern Bistro Cooking but Lacking Affability, B-
January 25, 2012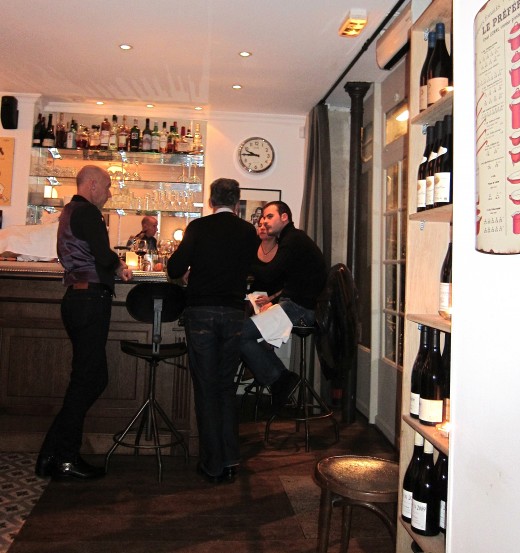 While Yves Camdeborde rightly gets major credit for brilliantly shaking up the definition of what a Parisian bistro should and could be when he opened the original La Reglalade in 1992, there were lots of other places that were pushing the envelope in Paris at the same time. On of them was L'Oeillade (The Wink) in the rue de Saint Simon in the 7th. I was living in the rue du Bac then, and went to L'Oeillade often when it first opened, because the chef so deftly applied the best innovations of la nouvelle cuisine (remember that old chestnut?) to traditional bistro cooking with always interesting and occasionally delicious results. Or to wit, he served stock-based sauces rather than cream-enriched ones, made liberal use of fresh herbs, reduced the cooking times of meat, fish and vegetables, and didn't hesitate to jolt a traditional French recipe with herbs, spices or ingredients from foreign kitchens. In particular, I remember a sublime saute of veal and al dente Spring vegetables brightened by a generous pinch ras el-hanout, the profoundly aromatic blend of spices used in the Moroccan kitchen.
Unfortunately, L'Oeillade eventually developed sort of an arch vieux garcon (batchelor) personality and the prices went up a lot, so I stopped going. I guess I wasn't the only one either, since it closed down sometime back, but this affluent neo-aristocratic corner of Paris desperately needed a good bistro, so I wasn't suprised when a friend who still lives in the neighborhood–the brilliant Franco-Portuguese daughter of my old concierge who's now a very successful business lawyer, mentioned that the lights had gone at these premises again and suggested dinner.
Her and my friendship blossomed inspite of her fiendishly nasty mother, who was my concierge for years and who has now retired to Porto, because I used to give her all of my old English-language magazines when she was in high school and studying l'anglais and also during long lazy August morning chats when we were often the only people in the building back in the days when Paris went into a month-long summertime coma. Ana loves to read; I love to read. She loves good food; I'm obsessed by it, etc., so eventually a real friendship was born despite the fact that my land lady somehow got wind of our having become pals and told me in incredulous tones that becoming friends with your concierge's daughter is a real ça ne se fait pas, or something that just isn't done. So another thing Ana and I would seem to share is a certain social seditiousness.
In any event, the new place is called L'Affable, and it looked affable indeed when I showed up for dinner the other night, with a great new decor of milk-glass globe lamps and geranium-colored banquettes and an oh-so-7eme crowd of loden coat, cashmere sweater, Moncler parka and Hermes scarf wearers of various ages and both sexes. There was a real buzz in the room, too, but even though Ana and I were fifteen minutes late after having had a glass of wine in a cafe nearby first, the owlish owner told us our table wasn't ready and walked away, which hardly got things off to an affable start. There was no one at the bar to get a glass of wine from, so we stood and chatted rather awkwardly for another fifteen minutes and finally I suggested that we decide on a plan B if we weren't seated within another fifteen minutes.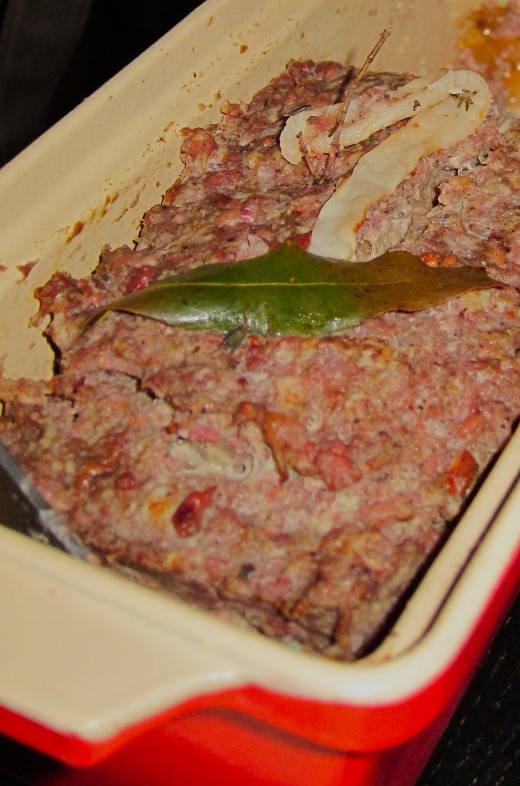 Happily, we were, and our waitress was delightful. She apologized for the wait, offered us glasses of very good Pouilly Fume, and set us up right away with excellent hot bread and very good butter. Ana started with a superb terrine de foie de volaille that was brilliant seasoned with a crushed five-spice blend (fennel, star anise, Szechuan pepper, cinnamon and cloves), while I went with a curious sounding steamed egg with salmon, which turned out to be delicious. The egg and several thick chunks of salmon were steamed, garnished with a foamy cream sauce and sprinkled with crushed bacon. This dish was so good, in fact, that I'm sure I'll attempt to recreate it myself, since it'd be a terrific main course for a weekend brunch.
Our 23 Euro bottle of Bordeaux, one of their cheapest bottles, was excellent, too, and reminded me that I have to make more of an effort to overcome my reflex to drink Rhone Valley wines and embrace the Bordelais. Between courses, I sporadically eavesdropped on a spirited and very interesting conversation about the new French version of the Huffington Post at the table next to us–this quartet had trouble imagining how the admirable Anne Sinclair, Dominique Strauss-Kahn's long-suffering wife, could possibly do an objective job, but I never missed a word of Ana's hilarious accounts of her frequent business trips to Saudi Arabia and Qatar–she goes so often that actually owns one of the bizarre full-body swimming costumes women must wear to swim in public there, and her frustrations at not being taken seriously by the Middle Eastern men she often works with, and we also talked up a storm about food and wine, as we always do.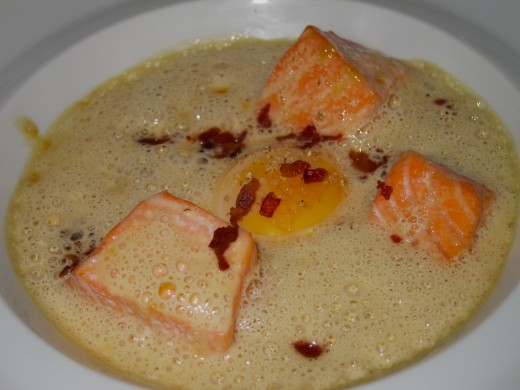 I also found myself hoping that my main course–Argentine beef filet with a citrus vinaigrette, would be as good as my starter, and especially since I'd rather have had the more interesting sounding pork belly with a salsify tatin, but that was sold out by the time we were seated. Well, the beef was excellent–very rare, tender and full of flavor in a light lime vinaigrette with slivered snow peas (mange tout) mixed with bean sprouts and crushed peanuts, a terrific garnish, and Ana loved her grilled scallops with lozenges of roasted red beet in a tangy and light-as-down yuzu fumet. No photos of same, because someone well-known in the room apparently had a fit when he or she saw me wielding a camera–I suspect L'Afffable has instantly become popular both with politicians from the nearby Assemblee Nationale as a place to dine with other pols and/or their mistresses and probably also a locally living celebrity or two. But I did manage a last snap of the friendly folks on the other side of us.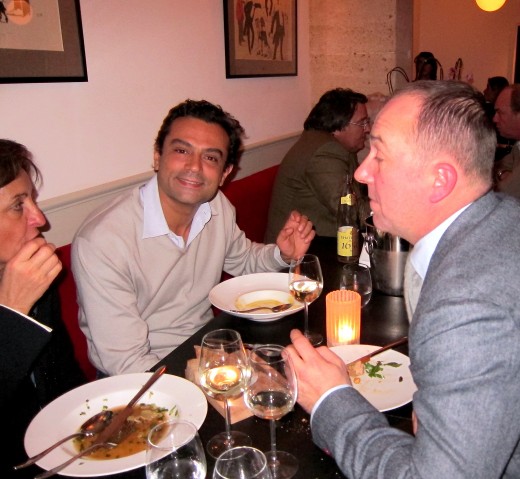 We finished up with a fine plate of cheeses from the nearby and tres snob Bathelemy for me and a pear poached in spiced red wine with excellent shortbread ice cream for Ana. This was intelligent, imaginative, well-prepared food, so I finally asked the waitress who was in the kitchen, and she explained that chef Jean-François Pantaleon had previously cooked at Apius in the 8th and had teamed up with the owlish guy at the door who wasn't very affable–Olivier Helion, to create this chic little bistro that's a gang-busters success.
Over coffee, I asked after Ana's mother, as I always do, and we had a good laugh, as we always do, since this subject is the only taboo between us. I rather suspect that I was the proxy for the fury Maman felt when the Porto cobbler she was madly in love with as a young woman moved to Brazil with a policeman rather than sucuumbing to her charms, but who's to say. And don't even think of asking me how I found this out.
Walking home on a rainy night after dinner, I mused over the cooking at L'Affable, which, while modern and pleasant, certainly isn't breaking any new ground. Instead what it reveals is how much the Parisian definition of bistro comfort food has evolved during the last twenty years. In 1992, almost no one had ever heard of Tonka beans (the sweet vanilla tasting bean that's so very modish in Paris right now), appearing on the chalkboard menu as a foamy emulsion on half-salted cod steak, or the combava, a sort of gnarly lime-like citrus fruit, that was used in the sauce on my beef. If the lessons of nouvelle cuisine first began to be well and truly integrated into modern French bistro cooking twenty years ago, a sourcing revolution has made the world's produce affordable to almost any Parisian chef and an increasingly well-traveled and novelty oriented public is ever on the alert for exotic new tastes and textures. Contemporary French bistro cooking has thus become so profoundly cosmopolitan that is runs a vague but still acceptable risk of becoming deracinated.
So would I go back to L'Affable. Well, yes, I probably would, with my trailing reluctance being about their prices, which are stiff, and the hospitality style. The waitresses are charming and hard-working but a small stylish Left Bank table like this one needs seriously charming and customer-oriented service if it's going to turn into a long-running address.
L'Affable, 10 rue de Saint-Simon, 7th, Tel. 01-42-22-01-60. Metro: rue du Bac. Closed Sunday and Monday. Lunch menu 26 Euros, average dinner a la carte 50 Euros.