VERJUS WINE BAR–Perfect Pours, Great Small Plates, B+
January 29, 2012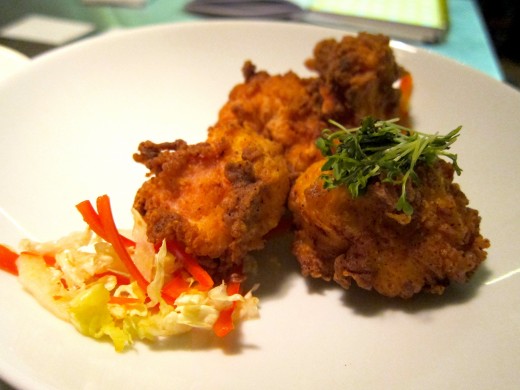 Buttermilk fried chicken
Even though I like winter and would find it disorienting to live somewhere without real seasons, the mid-way point of this leafless gray season in Europe does bring on a certain restlessness. It may be light deprivation–although this winter's been relatively sunny and mild for Paris, or a surfeit of roasted root vegetables, or my hatred of wearing socks, or a combination of all three, but I could use a change of scene, and without buying an airplane ticket or hopping a train, I found one last week when I stopped by the new Verjus wine bar in the Palais Royal. On a wet night, this place was warm, cozy and friendly, and also packed with an outgoing international crowd who were sipping Laura Adrian's excellent wines and snacking on the really delicious small-plates of Braden Perkins, the two comprising the couple who own and run this place.
It was reassuring to see it doing so well, too, because with a couple of exceptions, notably in Le Fooding, it's been rather disappointing to follow the dribble of tepid, pat-on-the-head polite reviews that this terrific restaurant and wine bar opened in December by Americans Perkins and Adrian has received in the French press. I've eaten there several times now, and Perkins's cooking, which was very good the first time I went, just gets better and better, as is generally the case with any solidly good new restaurant, or to wit, it takes time for any chef to settle into a new kitchen and find his or her rhythm.
So what might explain the Gallic reaction to Verjus? I can't say for sure, but it may be a reflection of the great undeclared battle for Google rankings that's quietly being duked out between the robust and intensely reactive Anglophone gastro-blog community in Paris and the rather more lumbering mainstream French food press. There are at least a good dozen excellent well-read English-language blogs covering the Paris gastronomic scene, and they often get there–there being a new restaurant, shop or bar, first, with the result that the reviews which pop up from the churn from Google's search engine are in English not French, and in some quarters, this may rankle to the extent of provoking muted enthusiasm for places that have had major shout-outs from Paris's English-language cyber press.
Be that as it may, I think this critical competition is salutory, because it ultimately leads to better and more varied information for people who care about great eating in Paris, and also that Verjus is a wonderful and important addition to the gastro-scape of Paris. The small-plates menu in the wine bar (open only in the evening from 6pm-11pm) is a great way to discover Braden Perkins's cooking without committing to one of the pricier tasting menus upstairs or remembering to book far enough ahead in advance to snag a table, too, and this grazing format perfect for a night out with friends, too.
Perkins's small-plates menu is a wonderful series of temptations you can heedlessly abandon yourself to, too:
SAVORY
Celeriac dumplings w/ dan-dan sauce, chives & toasted peanuts 7€
Charred broccoli w/ korean rice cake, anchovy, lemon & parm 6€
Pan roasted clams w/ chorizo, lime, chervil & garlic crouton 7€
Buttermilk fried chicken w/ napa cabbage slaw & micro greens 8€
Crispy basque pork belly w/ pickled red chilies & spicy kewpie mayo 8€
Joe's shoestring fries w/ togarashi & catsup 4€
CHEESE
A selection of cheeses from maison Hisada w/ house accompaniments 14€
SWEET
Silverton's butterscotch buddino w/ whipped cream 5€
House s'mores w/ Valrhona chocolate 5€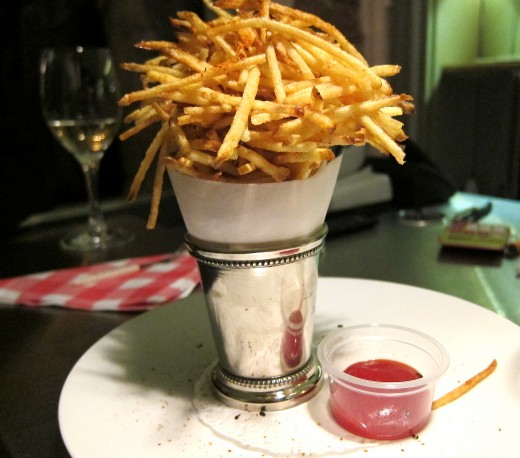 Shoestring fries
Settled in with excellent glasses of white Crozes-Hermitage, my friend Corinne kicked off with the roasted broccoli, which was excellent, and I went with the celeriac-stuffed dumplings, an incredibly clever and delicious idea–potstickers filled with slices of cooked celery root perhaps splashed with black vinegar and served with a creamy sesame-peanut-chilie sauce. Unfortunately there weren't any clams the night we came by–this neo-Lusitanian preparation sounded alluring, but the shoestring fries were excellent, and the buttermilk-battered fried chicken with some Asian inflected cabbage slaw and a little corsage of sprouts was superb. In fact, this chicken was so good that it's a good thing this wine bar isn't open at noon, or it would doubtless lure me away from my keyboard at least once a week. We loved the perfectly aged cheeses, and the butterscotch buddino en homage a Nancy Silverton, too, and I once again came away from this address with not only an eager desire to return but an ever-deepening admiration for Perkins's intricate culinary wit.
Verjus Wine Bar, 47 rue Montpensier, 1st, No phone, Metro: Palais-Royal-Musee-du-Louvre, Pyramide or Bourse, Open Monday-Friday 6pm-11pm. Closed Saturday and Sunday. Average 20 Euros.