L'Amarante | Chef Christophe Philippe's Superb New Bistro, B+
March 26, 2015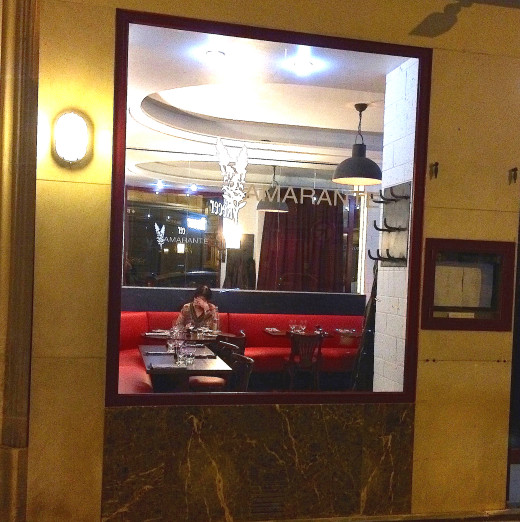 It was a nice surprise when I learned that L'Amarante, chef Christophe Philippe's new bistro in a quiet street not from from the Bastille, is open on Sunday nights. Why? If Monday and Saturday are my least favorite nights of the week to go out to dinner in Paris, because Monday always feels forlorn and there's rarely much fresh fish available, and Saturday is too amped up and noisy, my two favorite nights are Thursday and Sunday. On Thursdays, the average Parisian restaurant kitchen is well limbered up and provisioned and the crowd in the city's dining rooms is still mostly Parisian and in a good mood with just a day left before the weekend. Having a good dinner out on Sunday usually succeeds in dispelling the wistfulness the day can induce by occasionally being being stitched with intimations of mortality conveyed by religion and the fact of an imminent return to work. Sunday nights out feel sort of confidential, too, since most people tend to stay home and get to bed early in preparation for the week to come. Me, I've always liked swimming upstream and throwing such sensible cares to the winds, especially if it means I'll have a good meal.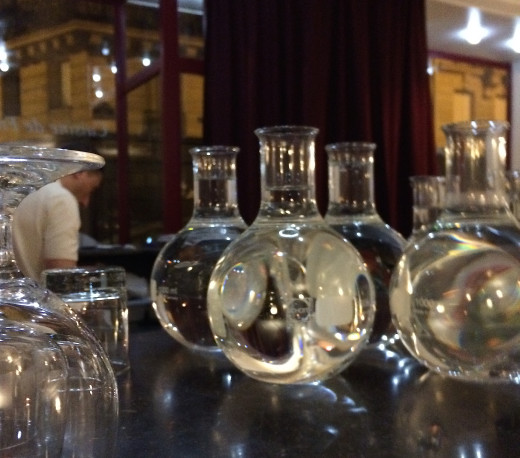 So Bruno and I met our friends Carole and Laurent for dinner at this L-shaped thirties vintage bistro with a big service bar at the joint between its two small dining rooms with bare wooden tables and red banquettes, and I was intrigued to find it busy with an intriguingly diverse-looking crowd of epicures who clearly hadn't come here by chance. For ever so many reasons, the four of us make a good quartet at the table. Carole and Bruno have known each other since they were children in Valenciennes, a pleasant hard-working little city on France's border with Belgium, and Laurent and I always have fun talking about our increasingly distant pasts as reckless feckless creatures of the night in our twenties and thirties, love good wine, are interested in politics, love good food, and enjoy affectionately teasing Bruno and Carole about being from Valenciennes (Laurent is a native Parisian, and I am a child of that part of New England that has been ingested by greater New York, Fairfield County, CT). And we all have different appetites. Bruno loves organ meats, Laurent's wild for game, Carole will only eat fish, and I'm the omnivore sticking my fork into everyone else's plates.
I was keen to come here, because I've loved Christophe Philippe's cooking ever since I first discovered him in a tiny plain dining room in the 5th Arrondissement over ten years ago. This is why I included him in HUNGRY FOR PARIS and why this address has long been one of my permanent recommendations in this part of the city. Now, though, he's crossed the river and set up shop in this new place with a very different menu from the one he served in the Latin Quarter. And he's cooking better than ever.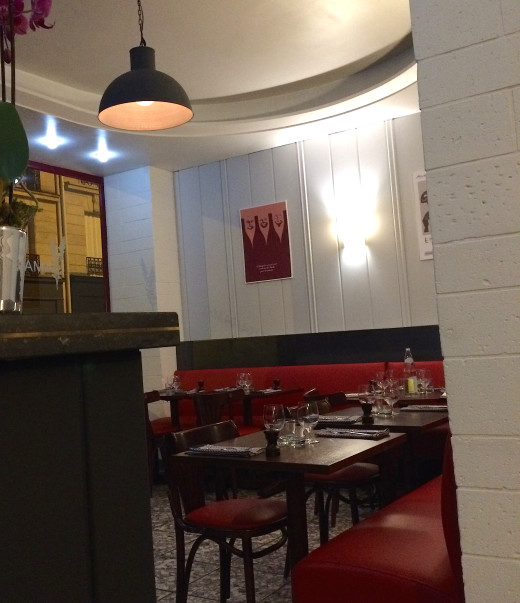 Reading the short menu while we waited for Laurent and Carole, I was sort of intrigued by its plainness. The dishes were very simply described and happily made no mention whatsoever as to whom had supplied what. I say happily, because I am adamantly opposed the creeping brand-name-ization of food that's occurring in France. i.e. Hugo Desnoyer steak with carrots from Annie Bertin in a sauce of Bleu d'Auvergne from Bernard Anthony. If a steak is really good, why do I need to know the name of the butcher it came from? Ditto a plate of carrots or a piece of cheese. The trope of reciting suppliers is one of the tireder ones of 'La Bistronomie,' and it was during the course of an excellent dinner at L'Amaranthe that I realized just how weary and wearisome La Bistronomie has become (For anyone who doesn't know the term, it was coined over ten years ago by the most infelicitously named French food guide Le Fooding to indicate a modern style of bistro cooking, and Le Fooding reviews religiously recite the names of all the brand-names butchers, bakers, vegetable growers, etc. who supply any restaurant in lieu of saying anything more insightful about the cooking). To wit, I'm tired of squiggles, smears, gratuitous fiddly scatterings of micro-cress, etc. and a dinner of supposedly awe-inspiring small-plates that follow this format often leave me tempted to cook some pasta or make a sandwich when I get home.
Musing on this over a glass of excellent Chardonnay from L'Allier, part of an interesting offer of mostly organic and natural wines from lesser known wine producing regions of France, I remembered something chef Yannick Alleno had said to me last year. "There's got to be that place in any meal where people feel they're being fed. You can do all sorts of interesting first courses, but everyone will still subliminally be waiting for the main event, the dish you can sink your teeth into," he said, and I agree. Still, even the simple language of Phlippe's menu might have held a disappointing surprise, because so many chefs have adopted another dulling cliche of La Bistronomie, which is to just list the ingredients of a dish, as in 'beef, beets, banana,' with no reference to their possible transformation by cooking.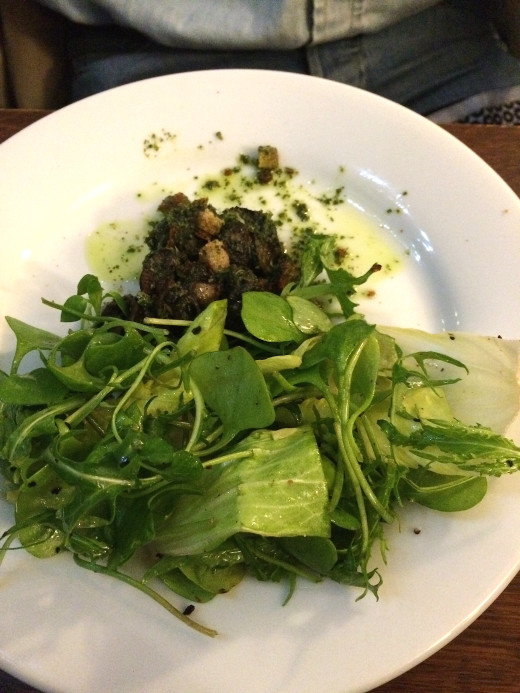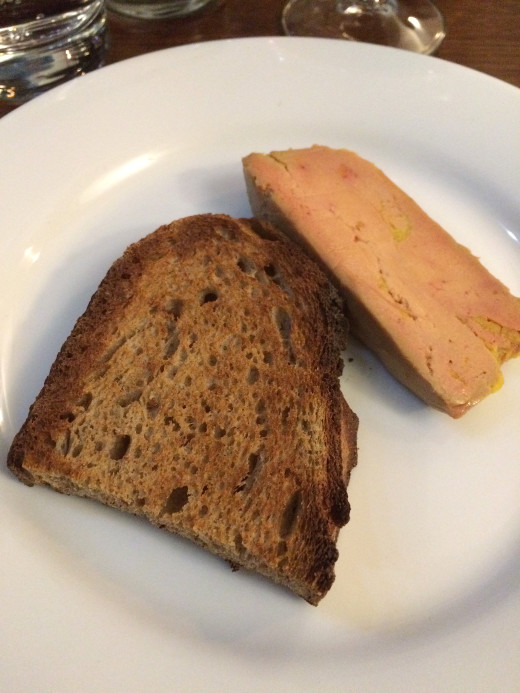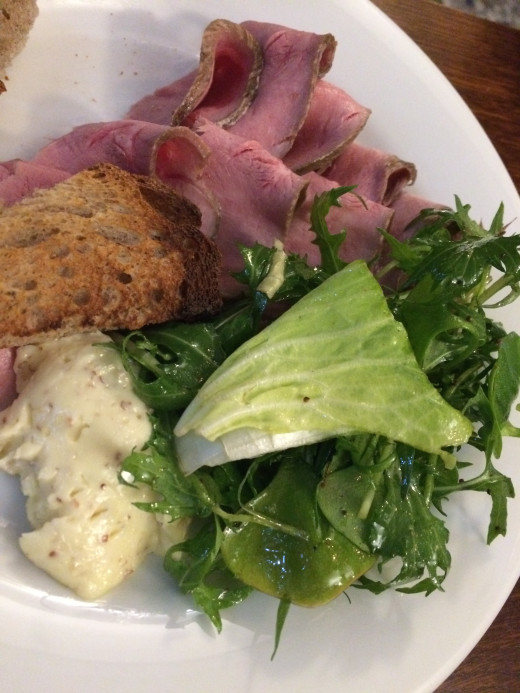 So for starters we ordered escargots, foie gras, and tongue with horseradish mayonnaise and salad (Carole didn't get a starter), and the only surprise here was that the escargots came to the table sans shell as a sauté in a bright green and wonderfully garlicky persillade with the same excellent and incredibly fresh mesclun salad that garnished the tongue. Or actually, all three of these dishes were a surprise, because the corresponded exactly to the way they'd been described on the menu. And they were delicious classic French preparations cooked according to a textbook perfection from superb produce. In fact my foie gras was the best I've eaten in a very long time for being so lushly barnyard ruddy but also so miraculously free of nerves, and even the accompanying toast was perfect–slightly sour country bread topped with a brown lace of crusting.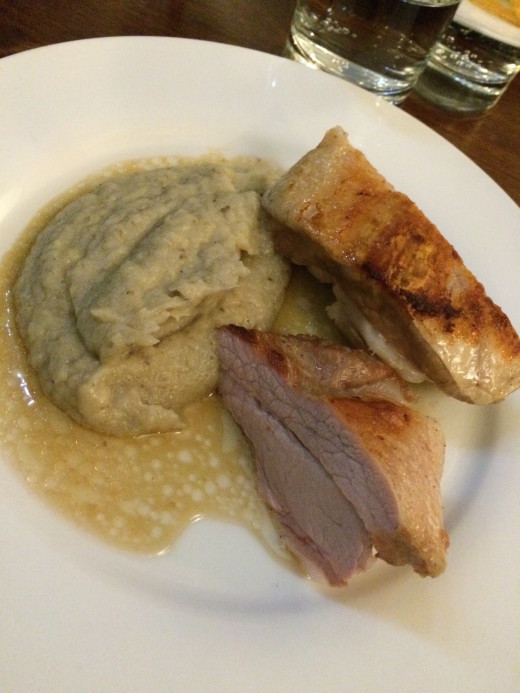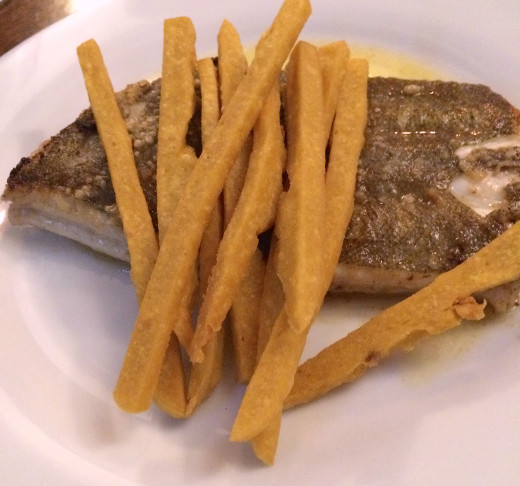 And then we ate roasted veal with Jerusalem artichoke puree, sole with crispy wands of panisse, or chickpea flour fries, and quail. The bird and the roast were lightly garnished with deglazed cooking juices, the sole with good salted butter, nothing more. And these dishes were magisterial in their simplicity, which cloaked a mixture of sincerity and extreme technical precision. It was rather awing, actually, that a chef as good as Philippe had decided he was content just to cook, and cook brilliantly, rather than invent. A mania for invention has been the axis of contemporary French bistro cooking for a longtime, and if it occasionally results in some brilliant dishes at restaurants like Septime, Le Servan, Restaurant David Toutain and a few others, more often then not, these evanescent mannerist compositions leave behind no gastronomic memory whatsoever.
So on this Sunday night we were really well fed, and it made us happy, so we concluded our meal with one of the best chocolate mousses in Paris (Bruno, Carole), because it's made with Claudio Corallo's sublime chocolate from Sao Tome et Principe, and orders of Comte and Camembert (Me and Laurent, respectively, and of course we shared). Christophe Philippe is a cook, not a chef, and that's a compliment.
4 rue Biscornet, 12th Arrondissement, Paris Tel. (33) 07 67 33 21 25. Metro: Bastille. Closed Wednesday and Thursday. Lunch menu 19 Euros, average a la carte 45 Euros.