L'AUBERGE DU 15–A Provincial Bistro in Paris, B-
June 13, 2011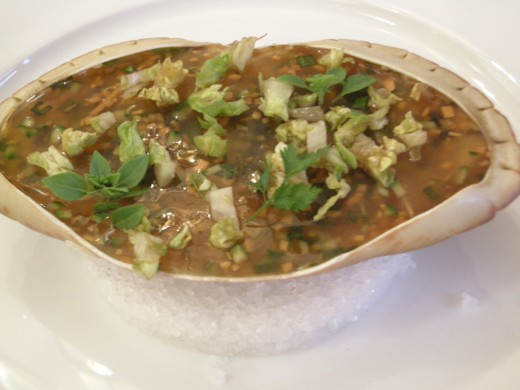 Crab in tarragon-spiked shellfish aspic in its own shell
I love the quieter parts of Paris, or those neighborhoods that no one visits unless they happen to live or maybe work there, and by this measure, the new Auberge du 15 in a very quiet and off-the-beaten track corner of the 13th arrondissement, was a place that I was likely to like even before I arrived for dinner with a friend the other night. After many years of living in Paris, I still don't know this neck of the woods, so I was using my Plan de Paris when I came out of the Metro and ended up taking the long way round to this place, which meant that I passed a charming little park at behind the Gobelins Tapestry works, and en route also spotted a lot of failed 1970s vintage urban renewal projects. All I can say is that Le Corbusier really has a lot to answer for in terms of his catastrophic ideas of skyscrapers in gardens, a model that's failed in almost every city where it was ever attempted.
Finally arriving at the restaurant, I found my pal Devereaux already at the table, and after apologies for my tardiness, we sipped some white wine and studied both the restaurant and the menu. "This place looks like it should be in Bourg en Bresse," Devereaux observed, hitting the nail right on the head. Or in other words, with its carriage lamp chandeliers, faux stone walls, and slightly self-conscious service orchestrated by a moody young maitre d'hotel in a lilac-colored jacket, this table really does seem like the 'important' table in a small city. The crowd, however, was very much that of a recent Paris restaurant opening, to wit, earnest affluent couples who love good food and read the mainstream food press, a couple of younger types who'd probably come through the food-blog Tom-Tom, and at least two tables of invited journalists (I was not among them).
Though the restaurant serves a decent value 26 Euro lunch menu, dining here in the evening comes with prices that will take your breathe away. Though it wasn't well-explained, a complimentary starter proceeds your main course–the night we came it was a cream of sorrel soup, or you can order other starters at additional cost. Neither of us were tempted by the soup, so Devereaux went with the dressed crab in its own shell under a ruddy cap of seafood aspic, and it was delicious, while I ordered Eric Ospital country ham, which came to the table as a plate of messy shavings with no garnish. Meanwhile, service was well-meaning, but slow and a bit disorganized. "Once the bloom of a couple of good reviews wears off, I think they're going to have a helluva time attracting the local clientele that they'll need to make of a good of it with these prices," Devereaux astutely opined.
Even though it cost an astounding 32 Euros, her crab entree really was gorgeous–carefully picked fresh crabmeat, and a lot of it, under an impeccable aspic scattered with fresh herbs, so we hoped for the best with our main courses, pork belly with morel mushrooms for me and langoustines with baby vegetables for her.
When they arrived, the portions were so huge that I immediately asked the waitresses if these dishes were meant to be served for two, but no, these were standard sized main courses.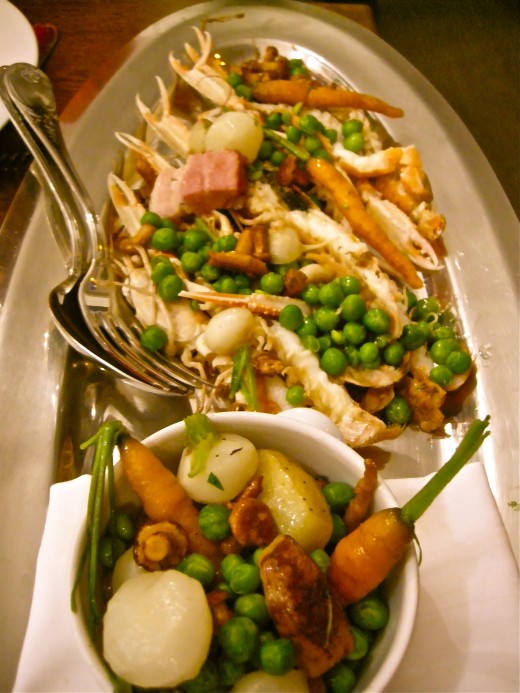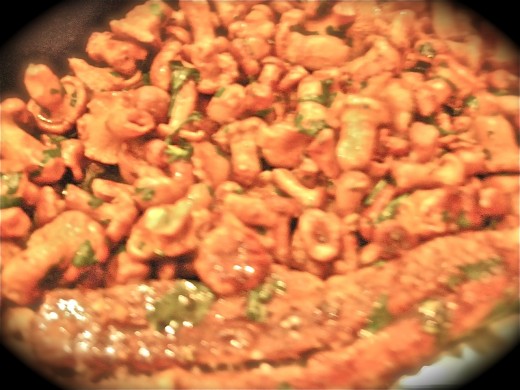 Filling a porcelain serving platter, Devereaux's langoustines had been cut in half and were accompanied by a lavish serving of delicious baby vegetables. Unfortunately, most of the small to medium sized langoustines were overcooked and so rather mushy. This dish cost 43 Euros. I was served a similarly lavish portion of braised pork belly with a small avalanche of morel mushrooms. The pork was flavorful, juicy and nicely cooked, and the mushrooms were excellent, but the portion was so vast I couldn't finish it even though I love mushrooms.
After we'd finished up our 45 Euro bottle of Crozes Hermitage, one of the cheapest wines on the list here, we decided to share a dessert, and the charlotte aux framboises was beautifully made and came to the table with a sauceboat of raspberry coulis. "The service style here reminds me of Sunday lunch with the Priest," said Devereaux, and it's true that this restaurant has a decidedly retro raisonnement, which is fine with me, since I love old-fashioned French cooking, but there are other places in town that pull off this welcome veneration of Gallic gastronomic tradition better than L'Auberge du 15, notably Jadis in the 15th arrondissement (reviewed on this site a year ago).
Young chef Nicholas Castelet clearly has talent, but with the suburban decor, tepid service and stratospheric prices here, it's very hard to imagine what sort of clientele he hopes to target. Local politicians eating out of the public purse? Perhaps doctors from the many nearby hospitals? It's hard to say, but I doubt he'll be getting a lot of crosstown traffic at this restaurant until it becomes friendlier, less expensive and more fun. Curiously but perhaps tellingly enough, this restaurant replaces an Irish pub on the site, and I can't help but wondering if the locals aren't missing their Guinness.
L'Auberge du 15, 15 rue de la Sante, 13th, Tel. 01-47-07-07-45, Metro: Glaciere. Closed Sunday and Monday. Lunch menu 26 Euros, Dinner average a la carte 50-60 Euros.