PIZZA POSITANO–Great Pizza in Saint Germain des Pres, B
June 20, 2011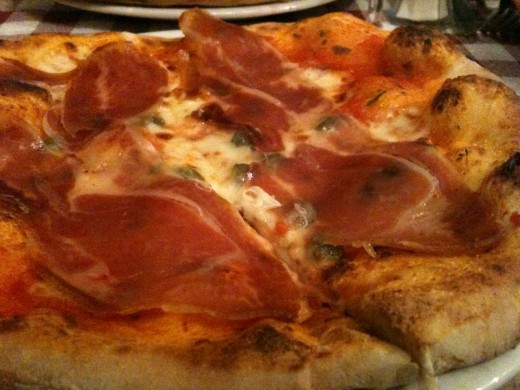 Sometimes only a pizza will do, and when I get that urge, I skip the fancy 'zza spots in Paris like the unaccountably expensive Pizza Chic or the mad-house La Pizzetta near me in the 9th (decent enough pizzas but crummy service) and head to a place I've been going ever since 1986, when I arrived in Paris to work as an editor in the offices of Fairchild Publications. I was living in a hotel in Saint-Germain-des-Pres, and knew no one, so meals were necessarily solo affairs that I sort of dreaded (I hadn't yet become winningly blase about the idea of having a meal alone, and have to admit that learning to dine alone was one of the great turning points in my life). So I'd scrounge around then neighborhood casing restaurants to see if they looked like places I could do on my own without feeling too hopelessly dorky, and this is how I found Pizza Positano on a rainy Tuesday night after going to a movie.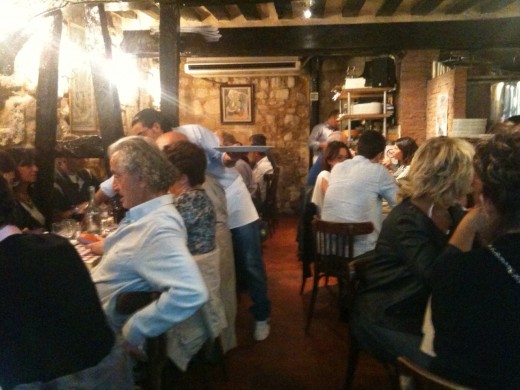 On that fateful night, I was skulking around the doorway when a waiter spotted me and waved me inside. The room was only half full, which was good, and I could see embers burning in the beehive-shaped pizza oven, which immediately made my mouth water. Since arriving in Paris, I'd had some really awful pizza, notably at Pizza Pino (yuck), but something about this place made me think my luck would soon be changing, and I turned out to be right. I toyed with a salad and sipped a half bottle of Bardolino rose while waiting for my pizza–mushrooms, tomato sauce, mozzarella and capers, and when it came, it had several charred bubbles that immediately got my hopes up. I also liked the crowd here, a very Saint Germain des Pres mix of twenty-somethings out to play in the pubs and bars in and around 'la rue de la soif,' (the street of the thirsty, i.e. bibulous), or the little party precinct in and around the rues Princesse, Guisarde and des Canettes, plus lascivious older gents with comely younger ladies, tables of nicely dressed femmes d'un certain age, and quartets of tipsy batchelors. The waiters were friendly, too.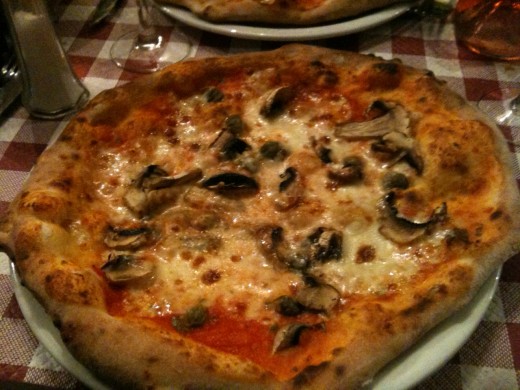 And the pizza was, for Paris, really good, with nicely tart tomato sauce, lots of creamy mozzarella, real as-opposed-to-canned mushrooms, a generous scattering of capers, and a well-made chewy crust. I've since been to this place dozens of times, and have only ever been disappointed when I've gone off the pizza route and ordered pasta–the pasta here isn't very good. Stopping in the other night with Bruno and two friends, who also made the mistake of ordering eggplant Parmesan as a starter–we got two portions to split, because we were really hungry, and this was disappointing, too–baked eggplant in soupy under-seasoned sauce without much cheese. But all was well in the world when the pizzas came to the table. So head here for the mixed antipasti, which is pretty good, and a pizza, and you'll be happy.
Finally, the other thing I like about this place is that it's one of those very rare Saint-Germain-des-Pres institutions that hasn't changed a jot in twenty-five years. Though many people are disturbed to hear that Saint Germain has changed–who doesn't love this storied Gallic turf?–it has, a lot, but it's places like this homely little pizza place keep the flame burning, both for lovers of wood-oven baked pizza and Saint Germain. Now if only they were open on Sunday!
Pizza Positano, 15 rue des Canettes, 6th, Tel. 01-43-26-01-62 (no reservations). Metros: Mabillon, Saint-Germain des Prés & Saint-Sulpice. Closed on Sunday. Average 20 Euros.