LE BAR A HUITRES: Neptune's Bounty, B+; LE CASSE-NOIX: Good Modern Bistro Cooking, B; The Sorry State of Asian Cooking in Paris
December 10, 2010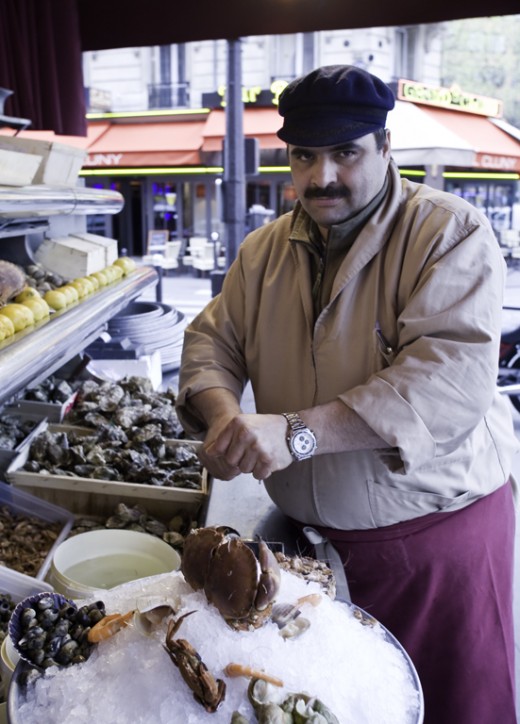 L'ECAILLEUR @ Bob Peterson A longtime ago, when I'd first learned to eat oysters as the result of a short but memorable love affair during my first few months in Paris, I'd often go to Le Bar a Huitres for a feast on these bivalves with my friends Anne and Peter. They love shellfish, too, and they then lived in the Latin Quarter not far from the branch of this mini-chain on the boulevard Saint Germain at the corner of the rue Saint Jacques. As the years went by and I became both more knowledgeable and more exigent about oysters, I sadly detected a slow but steady drift to the bottom of the sea in the quality of what these places were serving, however. At first it was just the cooked food that really fell off, but the last few times I'd been at one of these addresses, the oysters weren't terrific either and eventually I stopped going, since one of the wonderful things about Paris is that they're so many places in the city to have a truly spectacular oyster feast, Garnier and Huitrerie Regis among them.
Occasionally I'd walk by one of these addresses, muse sentimentally over great meals and good times had there in the past, and wish that someone would set these places right, which is why it was with great interest that I read that they'd recently been taken over by Garry Dorr, the son of Willy Dorr, founder of the very successful Bistro & Compagnie chain of bistros, Bistro de Breteuil and Bistro des Deux Theatres among them, where you get a set-price menu of aperitif, half bottle of wine, starter, main, dessert and coffee for 39 Euros. Garry Dorr, 26, is a graduate of the celebrated Lausanne Hotel School, and on the basis of dinner at the Montparnasse branch of Le Bar a Huitres the other night, he's not only a very smart guy but an aces restauranteur, too.
Arriving without a reservation, Bruno and I sipped a complimentary kir in the vestibule for less than five minutes and then were ushered to a table for four, a real treat for two, since nothing abets the appetite like some room to spread out and relax. Then we looked at the menu, and I was thrilled by the way that it had changed. The indifferent and rather anonymous assortment of oysters of yore had gone, to be replaced by a tempting selection of first-rate ones, including Prat ar Coum from ostreiculteur Yvon Madec in Brittany, Gillardeau's, and even oysters from the Etang de Diana in Corsica (they're some of the best I've ever eaten). Since the menu offers oysters par la piece, or individually, instead of forcing you to order a standard-issue seafood platter, we tather piggishly decided on a dozen Prat ar Coum, a dozen Gillardeau, and six Corsican oysters with an order of crevettes rose (cooked pink shrimp from Madgascar) to start.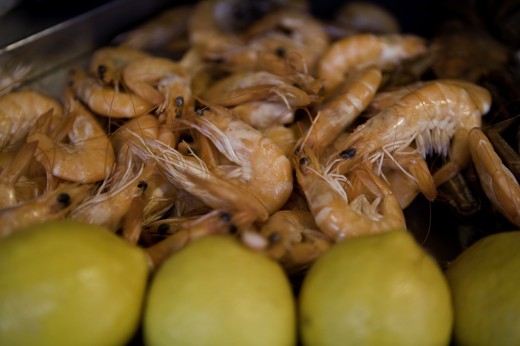 Crevettes rose from Madagascar @ Bob Peterson With a good bottle of white Menetou-Salon at 29 Euros, this was a superb feast, since the oysters were impeccably fresh and perfectly shucked. I was also impressed that the waiter suggested we eat them in terms of their gradated salinity, starting with the Gillardeau, continuing with the Prat ar Coum, and concluding with the Corsican oysters. Bread from Poujauran and Echire butter round out the pleasure here, and I was also surprised to notice that the table salt is pink salt from the Himalayas, the white pepper "hand-picked in the Malabar region," and the olive oil from the Chateau d'Estoublon near Les Baux de Provence. In short, much to my surprise, Le Bar a Huitres has become a real stickler for quality, and so an absolutely terrific place for a spur-of-the-moment shellfish feed during the holidays.
Main courses were very good, too. I loved my nacreous filet of cod with aioli, and Bruno's sole meuniere was beautifully cooked and prepared table-side. I finished up with a perfectly aged Saint Marcellin from the grouchy Mere Richard in Lyon, somewhat curiously served with black cherry preserves, while Bruno went for a second dose of gastro theater with crepes Grand Marnier. I had my doubts about the crepes, and so was very surprised to find that they honestly tasted as though they'd been recently made.
All told this was a very good meal for a very fair price–mind you, fish is expensive in Paris these days for reasons of depressing obviousness, to wit, there's not a lot of wild fish left to catch. And if Le Bar a Huitres isn't a destination restaurant per se, it's terrific last-minute choice for anyone who hasn't had the time to book ahead of time and wants a fine fish feed. Aside from their Montparnasse outpost, they also have branches near the Bastille, the Place des Ternes and in the Latin Quarter.
Le Bar a Huitres, 112 boulevard du Montparnasse, 14th, Tel. 01-43-20-71-01. Metro: Vavin. Open daily. Average 50 Euros.
————————
For some years now, there's been a gastro duel between the 11th and 15th arrondissements as to which part of Parisian turf is the ultimate redoubt of the new Paris bistro, and with the recent opening of Le Casse-Noix, I'd say that the 15th has just nudged ahead a bit with the opening of Le Casse-Noix (The Nutcracker). Located on the border between the 7th and 15th arrondissements, chef Pierre-Olivier Lenormand has created an exceptionally pleasant restaurant in an old atelier space that he's decorated with flea-market finds meant to evoke an eternal Gaul of thrift, wit, bonhommie and gastronomie.
Stopping by for dinner the other night with Bruno, Carole and Laurent, I instantly liked this warm pretty dining room and the friendly welcome we received, and also appreciate their really intelligent selection of wines by the glass, including the excellent white Menetou-Salon (a theme in my life this week) that I had as an aperitif. Unfortunately we arrived too late to get at the scallops that featured on the menu as both a starter and a main course, but the 32 Euro menu offered a lot of other excellent choices, including the delicious marinated salmon–big firm flavorful chunks of the fish prepared gravlax style and served with a nice salad of shaved fennel bulb and herbs, that we all pounced on as our first course.
Main courses were delicious, too. Joue de boeuf was prepared pot au feu style, and came as tender chunks of beef with a side casserole of delicious bouillon, poached winter vegetables, mustard and cornichons, a seasonal dish par excellence, while yellow pollack arrived as two generously served pieces of fish cooked in salted butter with a side of pleurottes mushrooms. A very good trio of cheeses with a side salad and an excellent ile flottante ended this fine feast at a restaurant that I'd recommend with no reservations.
56 rue de la Fédération, 15th, Tel. 01-45-66-09-01. Metro: Bir Hakeim. Closed Saturday and Sunday. Prix-fixe 32 Euros.
———————-
Thoughts on Asian Eating in Paris
Freshly back in Paris after a trip that involved two stopovers in Singapore, I was stung by two truly miserable Asian meals this week. Dinner at Le Santal, a long-running Vietnamese place that wouldn't be in business anymore were it not for the fact that it's just across the street from the Opera Garnier, was flagrantly over-priced and dispiritingly mediocre, a case-book study in how with a few exceptions Asian food in Paris has remained stuck in a timid and dispiriting post-colonial time warp. The other big let-down was at Lao Tseu, a stylish Chinese hole-in-the-wall in Saint-Germain-des-Pres where I've been a regular customer for at least fifteen years (I used to live just a few blocks away in the rue du Bac). Both meals involved gummy flavorless starters–flabby Nem at the former, non-descript Shanghai style dumplings at the later, and main courses at both that ran to a slick of dreary vegetables with shrimp or chicken in corn-starch sauce with almost no flavor whatsoever.
Lacking in sincerity, pride and authenticity, these meals are unfortunately much too typical of the Asian offer in Paris, with the notable exception of some very good Japanese tables. Thinking back on the brilliant meal that I had at Billy Kwong, chef Kylie Kwong's restaurant in the Surry Hills neighborhood of Sydney–I'm still dreaming about her "Homestyle Fried Biodynamic Eggs with Organic Tamari & Homemade XO" and homemade rice noodles with baby clams in chili-soy sauce, both terrific, as was everything else I ate there that night, I don't understand why Paris has to settle for such mediocrity.
Why, I wonder, is the usual Asian offering in Paris so lackluster and dumbed down? I think we have to be more demanding, and one of my hopes for 2011 is that a couple of clever local restauranteurs will re-boot Paris's Asian offerings so that the city begins to approach the leagues of San Francisco, Sydney and London for anyone who seriously loves Asian cooking in all of its multifarious splendor.