PHILOU, A Really Good New Bistro, B+; Le BRISTOL, An Exquisite Meal, A
December 16, 2010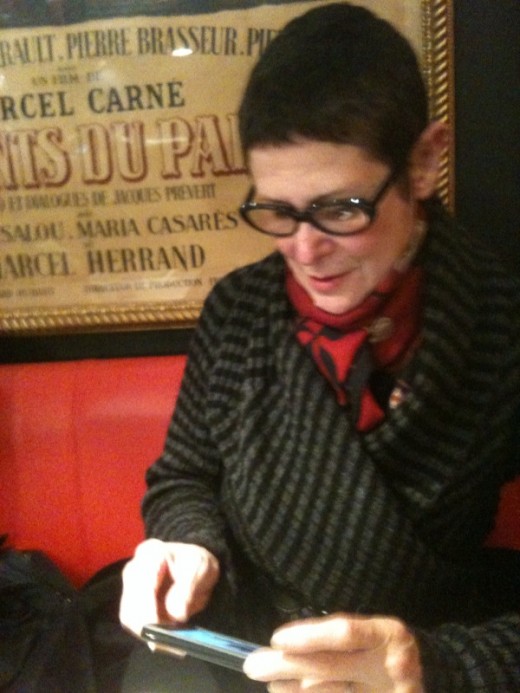 An Elegant Parisienne
The only things that would unfailingly draw me out of my warm lair on a wet and very wintry night in Paris are the possibility of eating really good food and spending time with a favorite friend, so on Wednesday I bundled up and headed off to the 10th arrondissement for dinner with the delightful Dorie and, as it turned out, an excellent meal at Philou, a superb new bistro on a side street just off the pretty Canal Saint Martin. Arriving, I knew I'd like this place right away, since it was friendly and cozy, and the white Saumur Champigny that Dorie and I sipped as an aperitif was a very pleasant pour.
This is the new address of amiable restauranteur Philippe Damas, who formerly ran Le Square Trousseau, so I arrived with solid expectations, too. We studied the chalkboard menu for a while, and finally decided on two starters, a scallop and oyster tartare for me and winter vegetables sauteed in salt butter with sea snails and a light herb pesto for Dorie, and both of them delighted when they arrived. The iodine brightness of the chopped oysters was perfect punctuation for the creamy scallops, which were mixed with finely diced baby endives and a few scattered lingonberries that added some color and bright sweet-and-sour notes to this light and quietly elegant winter preparation. The lightly dressed herb salad atop the tartare was a nice touch, too.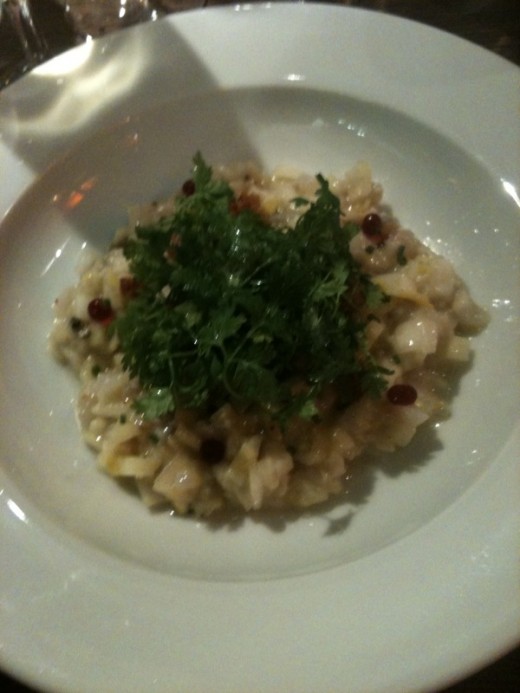 Scallop and oyster tartare
Dorie's vegetables–salsify, daikon, parsnip, potatoes and snow peas were perfectly cooked and the plump chewy sea snails gently poached in a court bouillion brought a touch of oceanic succulence and texture to this beautifully conceived dish.
Our main courses were outstanding, too. My cod on a bed of Le Puy lentils with chopped carrots, celery and lardon was at once light and stick-to-the-ribs consoling on a cold night, while Dorie's wild duck came with a wonderful half of honey-braised eggplant, a brilliant foil for the rich wild meat.
Desserts were less successful. My caramelized banana mille feuille with coconut ice cream was a good idea, but the pastry was tasted commercial and card-boardy, while Dorie's lychee gelee garnished with raspberries, a lady finger and some tea ice cream was conceptually wonderful, but not perfectly executed, since the tea in the ice cream was astringent and the glazed lady finger was dull. The wine list is brief and runs to fashionable lesser known regional pours like the red Arbois with a pleasant red cherry nose that we chose as being sturdy enough for the duck, light enough for the cod. Service is efficient and amiable, and this places attracts an exceptionally good-looking crowd of arty young Parisians, many of whom were repairing to canvas enclosed terrace out front for a brief assignation with Philip Morris. If this bistro was in my neighborhood in the 9th, I'd eat here all the time. One way or another, it finds a solid place on my to-go list, especially since it's also a very good buy.
Philou, 12 Avenue Richerand, 10th, Tel. 01-42-39-04-73. Metro: Republique. Closed on Sunday and Monday.
Formule 15 and 25 € (lunch), menu-carte 25-30 € (dinner).
————–
Ever since I first discovered his cooking at the now defunct Restaurant Eric Frechon in the 19th arrondissement, I've been a huge fan of this chef. Not only is he one of the nicest and hardest working cooks in Paris, his brilliant style, a combination of impeccable classical technique and an earthy, sometimes even funky love of French produce, never fails to deliver a truly exquisite meal.
I don't, of course, go to the three-star Le Bristol very often–it's rather beyond my means, so I was very happy to be invited for dinner the other night. Arriving, the lobby had a festive atmosphere created by a very pretty Christmas tree, and I immediately noticed that the door to the beautiful Hungarian oak panelled dining room had been moved to one side, a clever idea, since this small change instantly makes this beautiful room more intimate.
Though I very much enjoy the company of my host, this was a business meal, which meant that it was a challenge to remain focused on the conversation when I was experiencing so much private pleasure from what we ate. Instead of a jacket and tie, I wanted to be wearing cashmere pajamas and tucking into this feast in front of the fireplace at home so that I could give it full attention. A first course of Sologne caviar–French caviar just gets better and better, was served atop an airy mousseline of ratte potatoes and smoked haddock, a sublime preparation that was accented by a buckwheat pastry tube filled with delicate citrus cream.
The sommelier supplied a blessedly room temperature glass of excellent Vouvray that was ideal with the caviar and also my first course, a carpaccio of some of the best scallops I've ever eaten (you'll note that I like my scallops raw) with a brilliant sorbet of oysters and a sea-water 'boule de neige' topped with caviar.
Next we tasted the Vosne-Romanee aux brulees 1er cru Domaine Meo-Camuzet 2001 that would accompany the rest of our meal, and it was quite simply the best wine I've had all year long. It was so good, in fact, that I am still stung by the tragedy of leaving behind a good inch and a half in the bottle, good manners oblige. The wine was sublime with my main course, too, veal sweetbreads cooked in a tobacco leaf and served with a puree of Jerusalem artichokes with a coffee and reglisse jus. Nothing I've eaten all year provided more solid evidence of the absolute genius of French cooking either.
Another tragedy struck when the cheese trolley was turned away untouched–I'd have savaged this load of lactic pleasures, but the invisible hour-glass on the table informed me that this wouldn't be appropriate, so I concluded with a dessert that was lovely for being so simple and refreshing–skinned pink grapefruit segments with a hibiscus gelee, Campari sorbet, and almond meringue.
Sitting in the Metro on the way home from this stunning meal, I couldn't help but musing on how this meal had been the very definition of a three-star feed and also thinking that the world be an infinitely poorer place without the very occasional pleasure of such transporting gastronomy.
Le Bristol, 112 rue du Faubourg Saint Honore, 8th, Tel. 01-53-43-43-40. Open daily. Average 250 Euros.